10 Best Memorial Day Weekend Getaways in Tennessee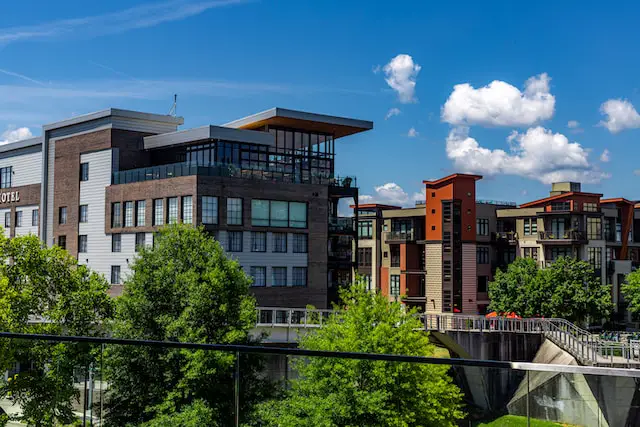 A visit to Nashville, the country music capital of the world, promises an unforgettable experience. Start your tour at the Country Music Hall of Fame and Museum, where you can delve into the history of country music. Don't miss the Grand Ole Opry, the show that made country music famous. From there, you could visit the Ryman Auditorium, known as the "Mother Church of Country Music." Round off your day at the bustling Broadway district, where countless live music venues await. You can even explore the city's burgeoning food scene – with everything from Southern comfort food to experimental cuisine.
Chattanooga: The Scenic City

Nestled along the Tennessee River, Chattanooga offers a range of outdoor adventures perfect for a Memorial Day weekend getaway. Visit the Tennessee Aquarium, one of the highest-rated aquariums in the U.S., or explore the beautiful Lookout Mountain. Here you'll find attractions like Ruby Falls, America's deepest commercial cave and largest underground waterfall, and the Incline Railway, one of the world's steepest passenger railways. Chattanooga's downtown, with its waterfront and the iconic Walnut Street Bridge, offers delightful dining and shopping opportunities.
Great Smoky Mountains National Park: A Hiker's Paradise

As the most-visited national park in the U.S., the Great Smoky Mountains National Park is a natural choice for a Memorial Day getaway. Enjoy hiking on over 800 miles of trails, go fishing in one of its numerous streams, or take a scenic drive on the Newfound Gap Road. The park offers everything from rugged backcountry camping to log cabins. And nearby towns like Gatlinburg and Pigeon Forge offer additional attractions like Dollywood and Ripley's Aquarium of the Smokies.
Knoxville: A Burst of Culture and History

Knoxville offers a rich tapestry of history, culture, and outdoor activities. Explore the Knoxville Museum of Art or take a walk through the historic Market Square with its array of shops and restaurants. For history buffs, a visit to the Civil War site, Fort Dickerson Park, is a must. Nearby, the Ijams Nature Center offers trails, rock formations, and stunning views of the Tennessee River.
Memphis: The Home of the Blues

Memphis is a city steeped in American musical history. Start with Graceland, the home of Elvis Presley, then visit the historic Sun Studio, where artists like Elvis, Johnny Cash, and Jerry Lee Lewis recorded. Beale Street, a significant location in the history of the blues, is teeming with clubs and restaurants. Don't forget to pay a visit to the National Civil Rights Museum located in the former Lorraine Motel, where Martin Luther King Jr. was assassinated.
Franklin: Historic Charm Meets Modern Luxury

Just south of Nashville, Franklin is known for its charming downtown area filled with antique shops, boutiques, and stellar dining. The town is steeped in Civil War history, with sites like the Carnton Plantation and Carter House offering historical tours. Additionally, Franklin is home to the annual Pilgrimage Music & Cultural Festival, which attracts many visitors during Memorial Day weekend.
Cumberland Plateau: A True Outdoor Haven

The Cumberland Plateau offers a variety of natural wonders, from cascading waterfalls to expansive caves. Fall Creek Falls State Park is home to one of the highest waterfalls in the eastern U.S., and Cumberland Caverns features more than 32 miles of caves and underground passageways. With hiking, biking, camping, and more, it's an outdoor enthusiast's paradise.
Natchez Trace Parkway: A Scenic Drive
The Natchez Trace Parkway offers a peaceful drive through 444 miles of beautiful scenery and 10,000 years of North American history. Located near Nashville, the Tennessee section of the parkway boasts charming hiking trails, a multitude of wildlife, and beautiful waterfalls. For a unique lodging experience, consider Leiper's Fork, a small village known for its Southern hospitality, picturesque countryside, and thriving arts scene.
Land Between the Lakes National Recreation Area: Water Enthusiast's Dream

Located in Western Kentucky and Tennessee, the Land Between the Lakes National Recreation Area is an ideal getaway for boating, fishing, and swimming. With 300 miles of natural shoreline, the location offers countless recreational opportunities. There's also a planetarium and an 1850s-style homestead where you can explore the rural history of Tennessee.
Johnson City: Gateway to Appalachian Adventure

In the heart of the Appalachian Mountains, Johnson City offers a wealth of outdoor activities. Hiking trails, mountain biking, and rafting on the Nolichucky River are just a few options for outdoor enthusiasts. Meanwhile, history buffs will enjoy the Tipton-Haynes Historic Site, with its eleven historic buildings, and the Gray Fossil Site, home to a 5-million-year-old fossil site. Downtown Johnson City offers a vibrant dining and craft brewery scene, making it a complete package for a Memorial Day weekend getaway.
In conclusion, Tennessee is brimming with places to explore, each offering unique attractions. Whether you're looking for a deep dive into America's music history, a hike through beautiful national parks, or a peaceful drive along scenic byways, Tennessee offers something for every kind of traveler on Memorial Day weekend. With its rich history, diverse culture, and stunning landscapes, you're guaranteed an unforgettable experience.