A Comprehensive Guide for Digital Nomads Visiting Koh Phangan, Thailand

Koh Phangan, a picturesque island in the Gulf of Thailand, has become a popular destination for digital nomads worldwide. This tropical paradise offers a perfect blend of work-life balance, allowing remote workers to enjoy the island's beauty while staying connected to their global careers. This comprehensive guide aims to provide you with essential information on accommodation, co-working spaces, leisure activities, and local customs, ensuring your experience in Koh Phangan is a truly unforgettable one.
Getting to Koh Phangan

Koh Phangan is accessible by a combination of flights and ferries. The nearest airport is in Koh Samui, which has regular connections to Bangkok, Kuala Lumpur, Singapore, and Hong Kong. From Koh Samui, you can take a ferry to Koh Phangan, which takes approximately 30 minutes to 2.5 hours, depending on the ferry service you choose.
Alternatively, you can fly into Surat Thani Airport on the mainland, which is served by budget airlines from Bangkok, Kuala Lumpur, and Singapore. From Surat Thani, you can take a bus to the ferry terminal and board a ferry to Koh Phangan, which takes about 2.5 to 4 hours.
Accommodation Options

Koh Phangan offers a variety of accommodation options to suit all budgets and preferences. Here are some popular choices for digital nomads:
a. Long-term rentals: If you plan to stay on the island for an extended period, consider renting a house or apartment. Many rentals come fully furnished and include Wi-Fi, making it a comfortable and convenient option for remote workers. Prices range from $300 to $1,500 per month, depending on the location, size, and amenities.
b. Guesthouses and hostels: These budget-friendly options offer both private and shared rooms, often with communal kitchen and lounge areas. Prices range from $10 to $30 per night.
c. Hotels and resorts: For those looking for more upscale accommodations, Koh Phangan has a range of hotels and resorts with varying levels of luxury. Expect to pay anywhere from $50 to $300 per night.
Co-working Spaces

As the digital nomad community on Koh Phangan continues to grow, so does the number of co-working spaces. These shared work environments offer high-speed internet, comfortable workstations, and opportunities for networking with other remote workers. Some popular co-working spaces on the island include:
a. Beachub: Located on the serene Zen Beach, Beachub offers a unique work environment with stunning views of the ocean. Monthly membership starts at $150, with day passes available for $10.
b. Koh Space: Situated in the heart of the island, Koh Space is a modern co-working facility with high-speed fiber-optic internet, a Skype room, and a chill-out zone. Monthly membership starts at $135, with day passes available for $9.
c. Phanganist Hostel & Workspace: This hostel also offers a co-working area for digital nomads, with 24/7 access and high-speed internet. Monthly membership starts at $100, with day passes available for $5.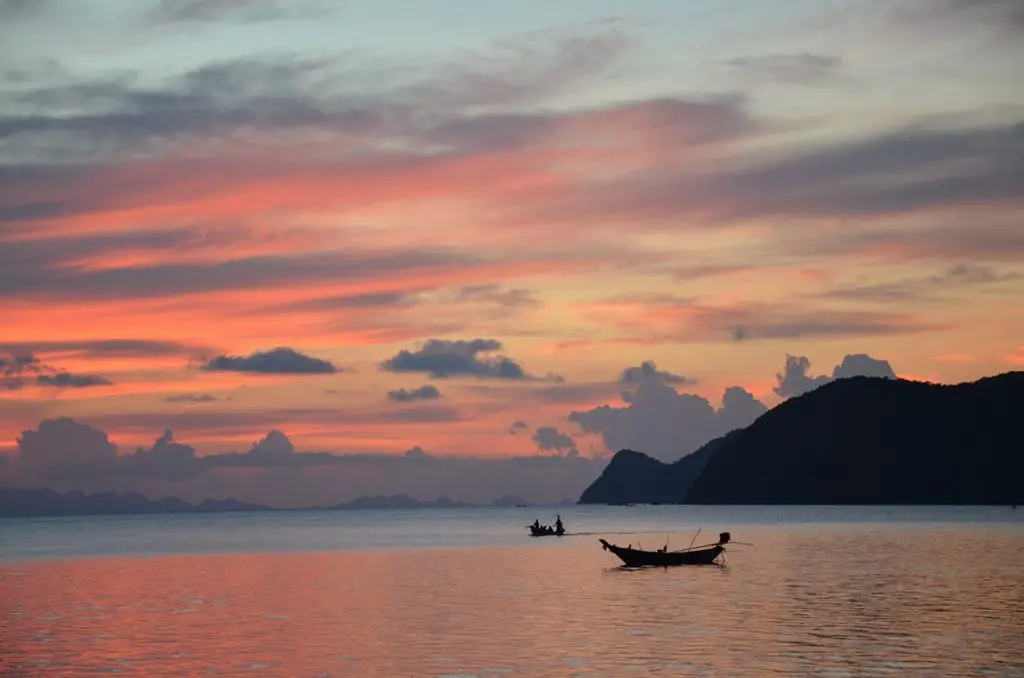 Connectivity and SIM Cards

Internet connectivity in Koh Phangan is generally reliable, with most accommodations and co-working spaces providing high-speed Wi-Fi. However, it's a good idea to purchase a local SIM card for your smartphone to ensure you have data access when you're on the go.
The three major mobile network providers in Thailand are AIS, DTAC, and TrueMove. You can purchase a SIM card at any of their stores, as well as at convenience stores like 7-Eleven and Family Mart. Prepaid data packages are affordable, with prices ranging from $5 to $30, depending on the data allowance and validity period. Be sure to bring your passport, as it's required for registration when purchasing a SIM card.
Food and Dining

Koh Phangan is a gastronomic paradise, offering an array of dining options to suit all tastes and budgets. From mouth-watering street food to fine dining, there's something for everyone. Here are some recommendations:
a. Thai cuisine: Indulge in authentic Thai dishes like pad Thai, green curry, tom yum soup, and mango sticky rice. Street food stalls and local restaurants offer delicious and affordable meals, with prices ranging from $1 to $5 per dish.
b. International cuisine: Koh Phangan's diverse expat community has led to the establishment of numerous international restaurants. Savor Italian, Indian, Mexican, and other global cuisines at prices ranging from $5 to $15 per dish.
c. Vegetarian and vegan: The island is a haven for plant-based eaters, with numerous vegetarian and vegan restaurants offering tasty and healthy meals. Prices typically range from $3 to $10 per dish.
Transportation

Getting around Koh Phangan is relatively easy and affordable. Here are some common transportation options:
a. Scooter: Renting a scooter is the most popular way to explore the island, as it allows you the freedom to travel at your own pace. Prices range from $5 to $10 per day, depending on the scooter model and rental duration. Be sure to wear a helmet and drive cautiously, as road conditions can be challenging.
b. Songthaew: These shared pick-up trucks serve as the island's public transportation system. Fares vary depending on the distance traveled, with prices typically ranging from $1 to $5.
c. Taxis: Metered taxis are rare on Koh Phangan, but private taxi services are available for hire. Fares can be negotiated in advance, and prices are generally higher than songthaews.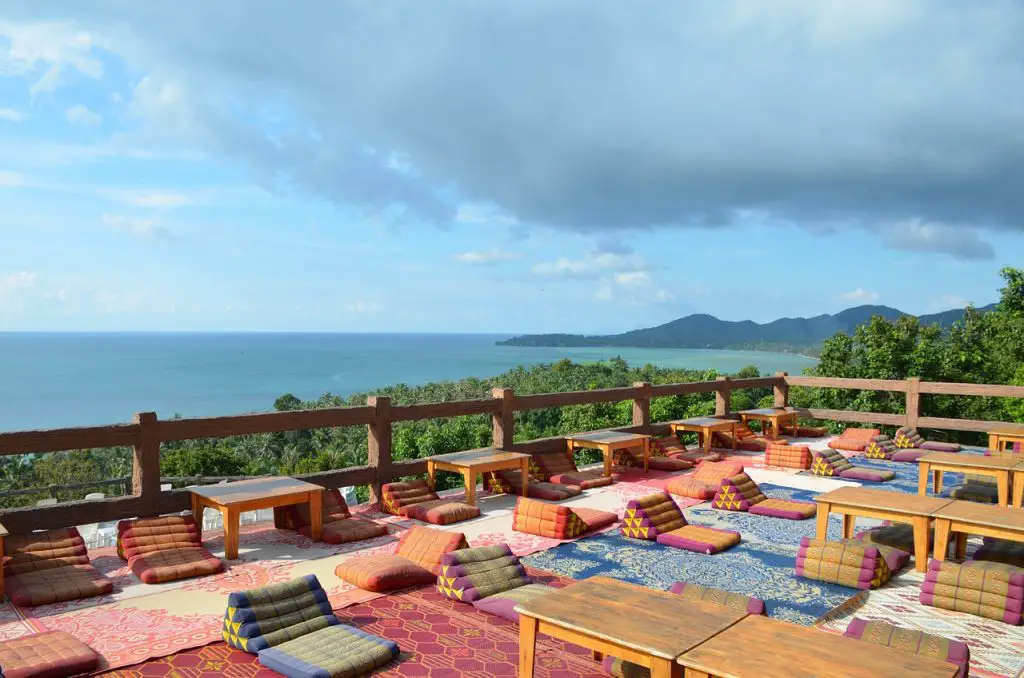 Leisure Activities

Koh Phangan is more than just a digital nomad hotspot; it's also an adventure lover's paradise. Here are some popular activities to enjoy during your downtime:
a. Beaches: Relax on pristine white sand beaches like Haad Rin, Thong Nai Pan, and Bottle Beach. Swim, sunbathe, or indulge in water sports like snorkeling and scuba diving.
b. Yoga and wellness: Enhance your physical and mental well-being by participating in yoga classes, meditation sessions, or holistic therapies at one of the island's many wellness centers.
c. Hiking and exploring: Discover Koh Phangan's lush jungle interior by hiking to viewpoints, waterfalls, and temples. Don't miss the stunning Phaeng Waterfall and Khao Ra, the island's highest peak.
d. Full Moon Party: Experience Koh Phangan's world-famous Full Moon Party, a monthly all-night beach party that attracts thousands of revelers from around the globe.
Local Customs and Etiquette

Understanding and respecting local customs and etiquette is essential when visiting any foreign country. Here are some important tips to keep in mind while in Koh Phangan:
a. Dress modestly when visiting temples, with shoulders and knees covered.
b. Remove your shoes before entering someone's home or a temple.
c. Avoid touching someone's head or pointing your feet at people or religious objects, as both actions are considered disrespectful.
d. Show respect to the Thai royal family, as any negative comments or actions toward them are illegal and punishable by law.
Conclusion
Koh Phangan is a dream destination for digital nomads, offering a unique combination of work and leisure opportunities. With its stunning landscapes, vibrant culture, and welcoming community, it's no wonder that so many remote workers are choosing to call Koh Phangan their home away from home. By following this comprehensive guide, you'll be well-equipped to make the most of your time on this beautiful island, whether you're here for a month or planning to stay indefinitely. Enjoy the perfect balance of work and play while immersing yourself in the rich culture and natural beauty of Koh Phangan, Thailand.