Algarve Travel Guide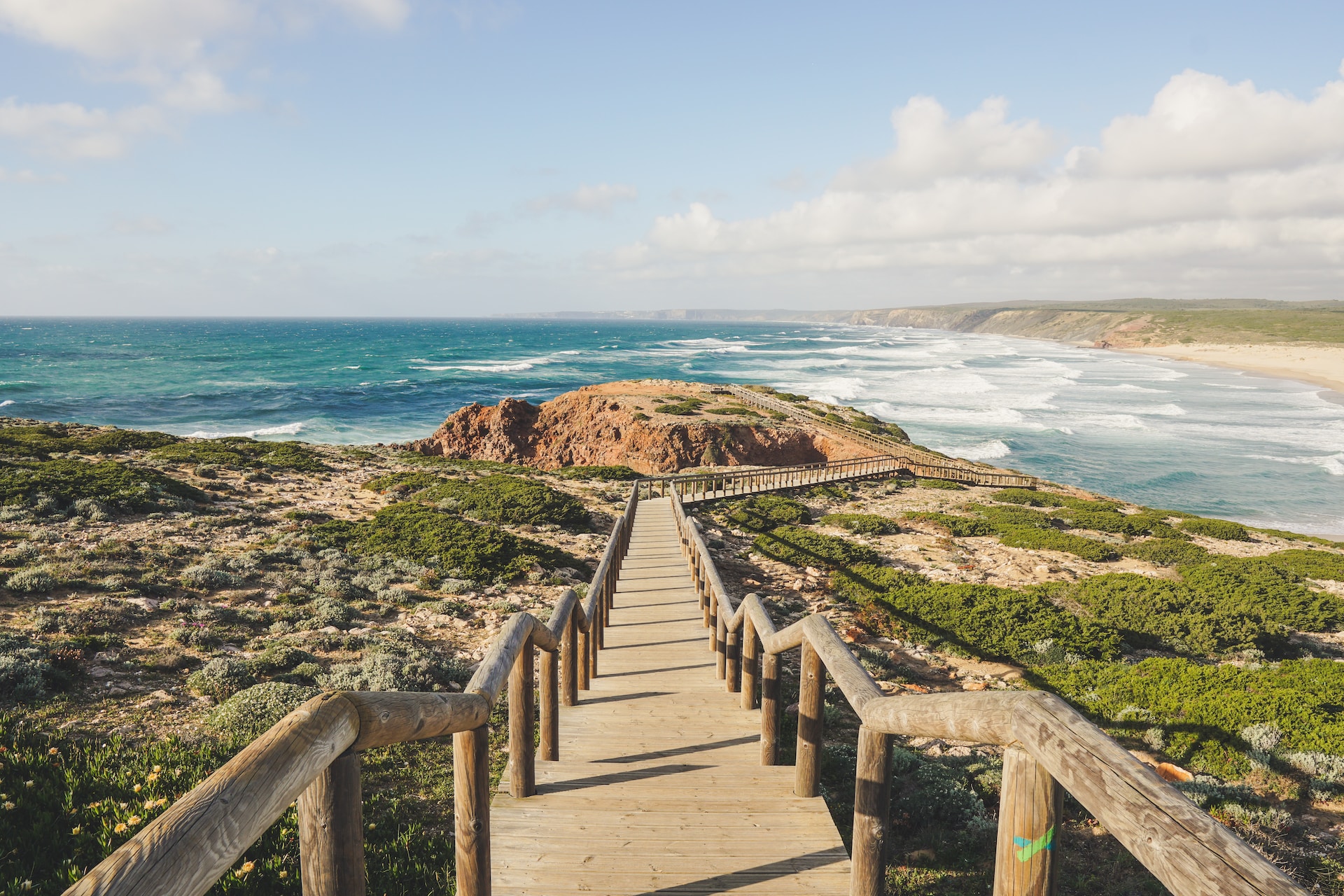 When one thinks of Portugal, images of historic cities, rich seafaring heritage, and delicious pastries might come to mind. Yet, one of its most captivating gems lies in its southernmost region: the Algarve. This picturesque destination boasts a perfect mix of quaint villages, dramatic cliffs, turquoise waters, and a bounty of cultural treasures. Here's a comprehensive guide to experiencing the very best of the Algarve.
Geography & Climate
Nestled at the southern tip of Portugal, the Algarve enjoys a Mediterranean climate. This means warm summers, with temperatures often climbing above 30°C, and mild winters rarely dipping below 10°C. Its favorable weather has made it a sought-after destination, especially for Europeans escaping colder climates.
Key Destinations
a. Faro
As the regional capital and main gateway to the Algarve, Faro offers more than just an airport. Its historic old town is encircled by ancient walls, revealing a maze of pedestrian lanes, outdoor cafes, and historic monuments like the Faro Cathedral.
b. Lagos
Known for its stunning coastline, Lagos offers breathtaking beaches and dramatic cliffs. The town itself brims with character, from its historical sites like the Church of Saint Anthony to its bustling marina filled with yachts.
c. Albufeira
Once a fishing village, Albufeira has grown into a major holiday destination. Its old town retains a certain charm with narrow streets and old-world architecture, while the newer parts cater to tourists with modern amenities.
d. Tavira
Perhaps one of the Algarve's most authentic towns, Tavira is a haven for those seeking a quieter pace. The town is divided by the Gilão River and boasts an ancient Roman bridge that connects its two sides.
Beaches
The Algarve is synonymous with its stunning beaches, many of which are set against a backdrop of dramatic limestone cliffs.
Praia da Marinha: Often hailed as the most beautiful beach in the Algarve, its golden sands and azure waters are sheltered by towering cliffs.
Praia de Benagil: Famous for the Benagil Cave, it's a must-visit. You can reach the cave by boat or kayak.
Praia de Odeceixe: Located on the westernmost tip, this beach offers both river and sea, perfect for families.
Culinary Delights
Portuguese cuisine is a treat, and the Algarve region has its specialties. Fresh seafood is a staple, with dishes like "cataplana" (a seafood stew) being a must-try. Don't forget to taste the region's famed almond pastries and wash it down with a glass of local wine or the ever-popular "medronho," a potent fruit spirit.
Activities
Golfing: The Algarve is a golfer's paradise, with numerous world-class courses set against stunning coastal views.
Hiking: Trails like the Seven Hanging Valleys offer spectacular vistas of the coastline, making it a favorite among nature enthusiasts.
Sailing: Charter a boat and explore the myriad of hidden coves and beaches.
Culture and Festivals
The Algarve is rich in traditions. Festivals such as the Feast of São João in June and the Medieval Fair in Silves in August are cultural extravaganzas that provide a deep dive into local customs and traditions.
Tips for Travelers
Language: Portuguese is the official language, but English is widely spoken in tourist areas.
Currency: Euro (€) is the official currency.
Getting Around: Renting a car is the best way to explore the region. However, public transport like buses and trains are also available.
Safety: The Algarve is generally safe, but like any tourist destination, it's wise to be cautious and aware of your surroundings.

With its enchanting beaches, sumptuous cuisine, rich cultural tapestry, and an array of activities to suit any traveler, the Algarve beckons with an unmatched allure. Whether you're seeking relaxation, adventure, gastronomy, or history, this Portuguese paradise will undoubtedly captivate your heart. So pack your bags, grab a map, and set your sights on this sun-kissed Eden of Europe. Your Algarvian adventure awaits!
Off the Beaten Path: Hidden Gems
a. Monchique
The mountainous area of Monchique is a breath of fresh air for those looking to escape the coastal crowds. Explore the lush forests, take a dip in natural thermal springs, or indulge in traditional Portuguese dishes at a local family-owned restaurant.
b. Olhão
Known for its fishing heritage, Olhão offers a more authentic Algarve experience. Explore its unique cubist architecture, visit the vibrant fish market, or take a ferry to one of the tranquil offshore islands.
c. Alte
Alte is a picturesque village untouched by mass tourism. Stroll through its whitewashed lanes, discover its charming churches, and enjoy the peace and tranquillity by the village's beautiful natural springs.
Family-Friendly Activities
The Algarve isn't just for beach lovers and golf enthusiasts; it's also a wonderful destination for families.
Zoomarine: An amusement park that combines thrilling rides with marine life encounters.
FIESA Sand Sculpture Festival: An annual event showcasing incredible sand sculptures by artists from around the world.
Aqualand: A popular water park offering a variety of slides and pools for all ages.
Nightlife
The Algarve's nightlife caters to diverse tastes. From sophisticated cocktail bars in Vilamoura's marina to energetic nightclubs in Albufeira, there's something for every type of night owl.
Shopping
Whether you're after local handicrafts, fresh produce, or high-end fashion, the Algarve offers a satisfying shopping experience.
Loule Market: A bustling local market with fresh produce, fish, and regional products.
Algarve Shopping: A modern shopping center in Guia, offering a mix of local and international brands.
Health and Wellness
Seeking rejuvenation? The Algarve's beautiful setting, combined with its numerous spas and wellness centers, provides the perfect escape for mind and body healing.
Sustainability Practices
The Algarve is increasingly focusing on sustainable tourism. Look for eco-friendly accommodations, support local businesses, and be mindful of the environment by reducing waste and respecting nature.
Accessibility
The region offers good accessibility for travelers with disabilities. Many hotels, restaurants, and attractions are equipped with necessary facilities.
Festivals and Events Calendar
Here's a quick glance at some key annual events:
Carnaval in Loulé: February
FIESA Sand Sculpture Festival: May to November
Medieval Fair in Silves: August
Algarve International Jazz Festival: October
Final Thoughts
The Algarve, with its sun-soaked beaches, culinary delights, vibrant culture, and diverse activities, offers an unforgettable holiday experience. Whether it's the thrill of discovering a hidden cove, the joy of sampling a homemade delicacy, or the relaxation of a spa retreat, the region's allure lies in its ability to cater to every traveler's whims and fancies.
Plan well, embrace the local culture, explore beyond the tourist hotspots, and allow yourself to be swept away by the charm of the Algarve. From the stunning cliffs of Sagres to the lively streets of Faro, a trip to the Algarve promises memories that will linger long after your tan fades. Happy travels!