Amsterdam Travel Guide on a Budget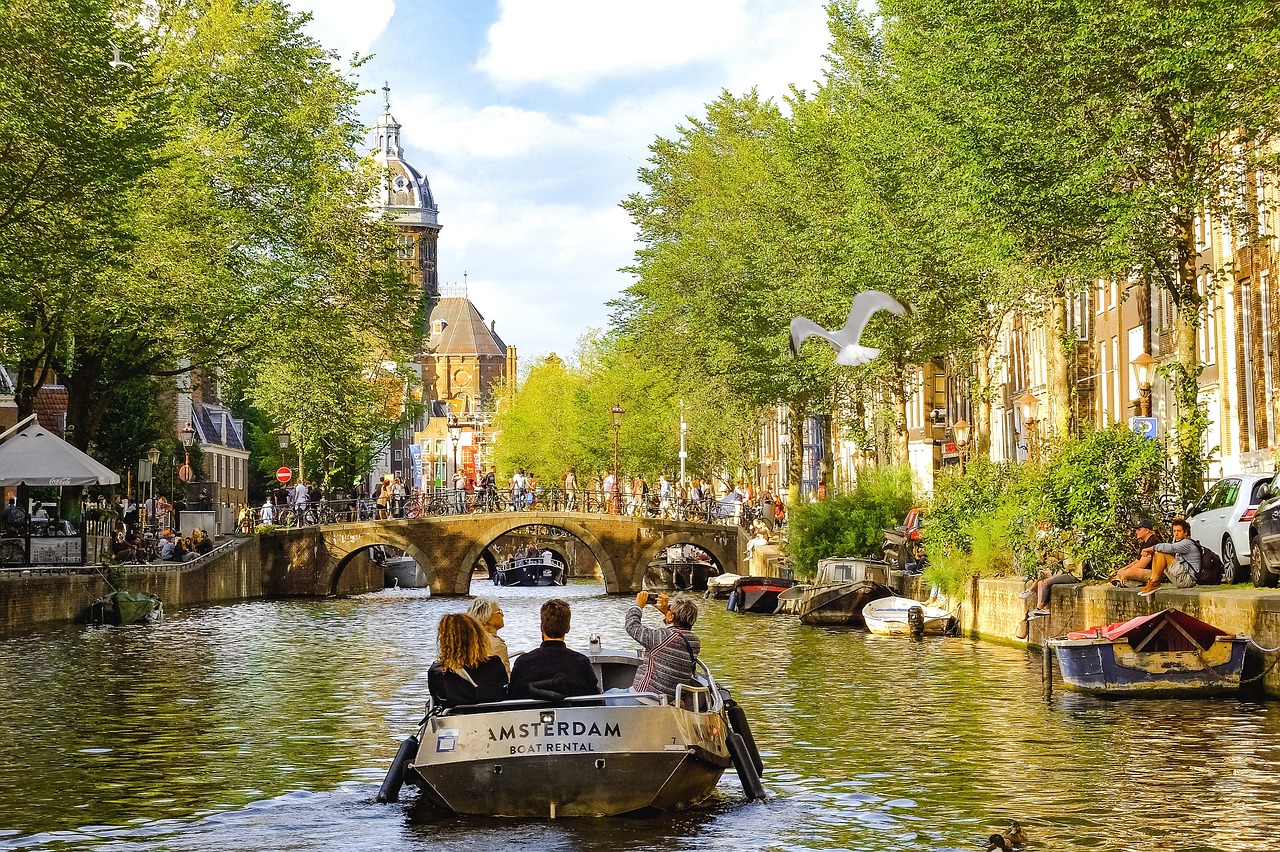 Amsterdam, the capital of the Netherlands, is a charming and vibrant city known for its picturesque canals, historic architecture, and artistic heritage. While it can be an expensive destination, exploring Amsterdam on a budget is entirely possible with careful planning and smart choices. This guide will provide you with tips and recommendations to help you make the most of your trip to Amsterdam without breaking the bank.
II. When to Visit
The best time to visit Amsterdam on a budget is during the shoulder seasons of April to June and September to November. During these periods, you can expect fewer crowds, lower accommodation prices, and more affordable flights. The weather during these months is generally mild, making it ideal for exploring the city on foot or by bike.
III. Getting Around
Amsterdam is a compact and walkable city, making it easy to explore on a budget. The public transportation system, which includes trams, buses, and the metro, is efficient and affordable. Biking is another popular and cost-effective way to get around the city.
A. Public Transportation
The GVB operates Amsterdam's public transportation system, which includes trams, buses, and the metro. To save money, consider purchasing a reloadable OV-chipkaart or an Amsterdam Travel Ticket, which offers unlimited travel on public transportation for a specified period.
B. Biking
Amsterdam is a famously bike-friendly city, with dedicated cycling lanes and bike rental shops throughout the city. Renting a bike can be an affordable and enjoyable way to explore Amsterdam, allowing you to experience the city like a local.
IV. Accommodation
Amsterdam offers a range of budget-friendly accommodation options, including hostels, budget hotels, and Airbnb rentals.
A. Hostels
Hostels are a popular choice for budget travelers, offering dormitory-style rooms and basic facilities at affordable prices. Many hostels also have private rooms available for slightly higher rates. To get the best deals, book your hostel stay in advance and consider staying in neighborhoods outside of the city center, where prices tend to be lower.
B. Budget Hotels
Budget hotels can be found throughout Amsterdam, offering private rooms and basic amenities at reasonable prices. For the best rates, book your accommodation in advance and stay outside of the city center, where prices are typically lower.
C. Airbnb Rentals
Airbnb offers a wide range of budget-friendly accommodation options in Amsterdam, from private rooms to entire apartments. Staying in an Airbnb rental can provide a more authentic experience of Amsterdam life and may include access to kitchen facilities, which can help you save money on dining out. Be sure to book your Airbnb stay well in advance, as popular locations can fill up quickly.
V. Sightseeing and Activities
Amsterdam offers a wealth of budget-friendly sightseeing and activities that cater to a wide range of interests.
A. Museums
Amsterdam is home to numerous world-class museums, such as the Rijksmuseum, the Van Gogh Museum, and the Anne Frank House. Many museums offer discounted or free admission for students, seniors, and children, making them an excellent option for budget travelers. The city's Museumkaart provides unlimited access to many museums and attractions for a fixed price, which can be a cost-effective option for those planning to visit multiple museums.
B. Parks and Gardens
Amsterdam's parks and gardens provide an affordable way to enjoy the city's natural beauty. Popular parks include Vondelpark, Westerpark, and Rembrandtpark. These green spaces are perfect for picnics, leisurely strolls, or simply relaxing and people-watching.
C. Free Walking Tours
Free walking tours are a fantastic way to explore Amsterdam's rich history and architecture on a budget. Several organizations offer free walking tours led by knowledgeable local guides who share their insights into the city's culture and heritage. While the tours are free, it is customary to tip the guide at the end of the tour. This is an excellent way to see the city's main sights, such as the Royal Palace, the Anne Frank House, and the iconic canal houses, while learning about Amsterdam's fascinating history.
D. Canal Cruises
A canal cruise is a quintessential Amsterdam experience and can be an affordable way to see the city's picturesque waterways. Numerous companies offer budget-friendly canal cruises that showcase the beauty and history of Amsterdam's canal belt. Some cruises include a hop-on, hop-off option, allowing you to explore the city at your own pace.
E. Free Attractions and Events
Amsterdam offers a variety of free attractions and events throughout the year. Some notable options include the Albert Cuyp Market, the largest street market in the Netherlands, and the Bloemenmarkt, the world's only floating flower market. Additionally, the city hosts numerous free festivals and events, such as the King's Day celebrations, the Grachtenfestival, and the Amsterdam Light Festival.
VI. Eating and Drinking
Dining out in Amsterdam can be expensive, but there are ways to enjoy Dutch cuisine on a budget.
A. Street Food and Snack Bars
Amsterdam is known for its delicious street food, which is both affordable and satisfying. Popular options include herring, kibbeling (fried fish), stroopwafels (syrup-filled waffles), and Dutch fries served with various toppings. Snack bars, known as "snackbars" or "cafetarias," offer a range of inexpensive fast-food options, including burgers, sandwiches, and croquettes.
B. Supermarkets and Markets
Buying groceries from supermarkets and local markets is a cost-effective way to enjoy Dutch cuisine while sticking to a budget. Many supermarkets offer prepared meals and snacks that are easy to take on-the-go, while local markets are an excellent place to find fresh produce, cheese, and other Dutch specialties at reasonable prices.
C. Lunch Deals
Lunch deals are common in Amsterdam, with many restaurants offering discounted meals during lunch hours. These deals typically include a main course, a side, and a beverage, making them an affordable option for budget-conscious travelers.
D. Happy Hours and Drink Specials
Amsterdam's vibrant bar and café scene can be enjoyed on a budget by taking advantage of happy hours and drink specials. Many establishments offer discounted beverages during specific hours, typically in the early evening. This is a great way to sample Amsterdam's famous beer culture without overspending.
VII. Money-Saving Tips
A few additional money-saving tips can help you stretch your budget further while exploring Amsterdam:
Purchase an I amsterdam City Card: This card offers free entry to many museums and attractions, unlimited public transportation, and discounts on various activities and dining options. The card can be a cost-effective choice for those planning to visit multiple attractions during their stay.
Avoid tourist traps: Amsterdam's most popular tourist areas, such as Dam Square and the Red Light District, tend to have higher prices for food and souvenirs. Exploring neighborhoods like De Pijp, Jordaan, and Oost can provide a more authentic experience and better value for your money.
Rent a bike: Renting a bike is not only an affordable way to explore Amsterdam but also allows you to experience the city like a local. With dedicated cycling lanes and a flat landscape, biking in Amsterdam is safe and enjoyable.
Travel with a reusable water bottle: Tap water in Amsterdam is safe to drink and of high quality. By carrying a reusable water bottle, you can save money on bottled water and help reduce plastic waste
VIII. Conclusion
Amsterdam is a captivating destination that can be enjoyed on a budget with careful planning and smart choices. By taking advantage of affordable accommodation options, public transportation, and low-cost activities, you can experience the best of Amsterdam's culture, history, and natural beauty without spending a fortune. With its picturesque canals, world-class museums, and delicious cuisine, Amsterdam is a city that offers something for every traveler, regardless of budget. By following the tips and recommendations in this guide, you can create an unforgettable Amsterdam experience that won't break the bank.