Budget Traveler's Guide to Hawaii: Top 6 Cheap Eats in Waikiki for Under $15
Hawaii is known for its pristine beaches, lush landscapes, and diverse culture. However, it is often perceived as an expensive destination. But fear not, budget travelers! It is possible to enjoy the tropical paradise without breaking the bank. One of the most popular tourist areas in Hawaii is Waikiki, a bustling neighborhood in Honolulu. In this guide, we will unveil the top 6 cheap eats in Waikiki, where you can fill your stomach for under $15.
Marukame Udon

Located at 2310 Kuhio Ave, Marukame Udon is a popular noodle joint that serves delicious and affordable udon. The restaurant offers a cafeteria-style dining experience, where you can watch the chefs prepare the noodles right in front of you. Choose from a variety of udon options, such as Kake Udon, Zaru Udon, and Curry Udon. Prices range from $5 to $9, leaving you with enough spare change to add some tempura or musubi on the side. Arrive early, as the line can get quite long during peak hours.
Musubi Cafe Iyasume

Musubi Cafe Iyasume, located at 2410 Koa Ave, is a hidden gem that serves up a variety of musubi, a popular Hawaiian snack made of rice, seaweed, and various fillings. This small cafe offers a wide selection of musubi, including Spam, tuna, shrimp, and even vegetarian options. Prices range from $1.50 to $3 per musubi, making it an affordable and convenient option for a quick bite or a takeaway snack. They also serve bento boxes and acai bowls, perfect for a budget-friendly lunch.
Pupukea Grill

Situated at 2255 Kalakaua Ave, Pupukea Grill is a food truck that offers delicious and affordable Hawaiian-style plate lunches. With options like garlic shrimp, teriyaki chicken, and kalua pork, you'll be spoiled for choice. Most plate lunches are served with rice and macaroni salad, and prices range from $8 to $12. There's limited seating available, so you might want to grab your plate lunch and enjoy it on the nearby Waikiki Beach.
Hula Dog

If you're craving a unique twist on the classic hot dog, visit Hula Dog at 2442 Koa Ave. They serve up Hawaiian-style hot dogs, featuring a bun that's toasted from the inside and a choice of Polish or veggie sausage. Customize your Hula Dog with a variety of tropical relishes, such as pineapple, papaya, or coconut, and finish it off with one of their signature sauces. Prices range from $6 to $8 per Hula Dog, making it an affordable and satisfying meal option.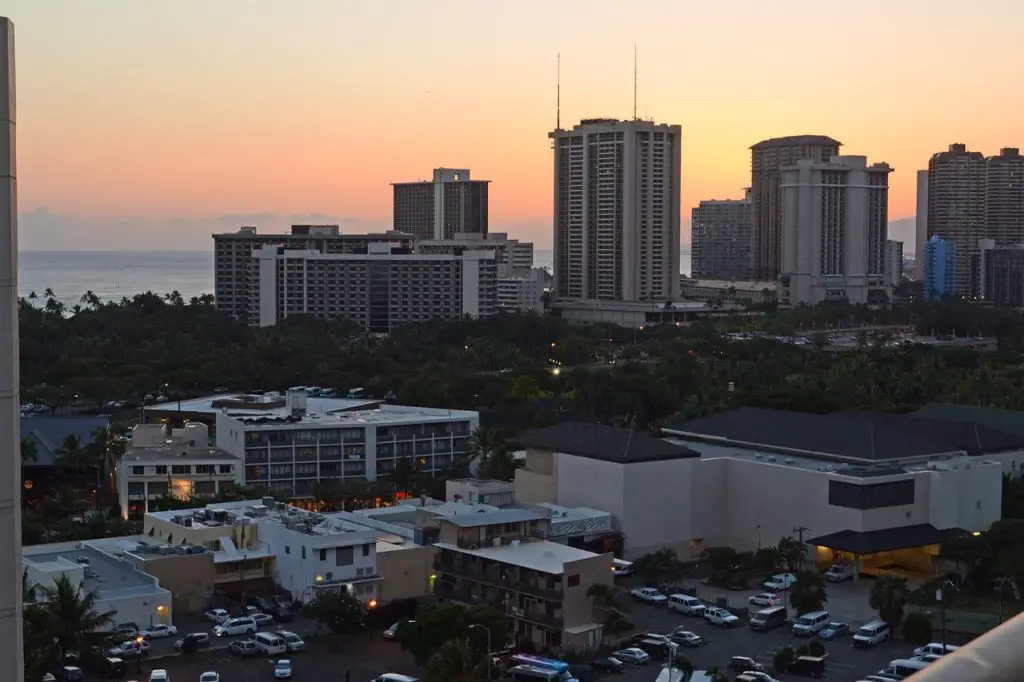 Ono Seafood

Ono Seafood, located at 747 Kapahulu Ave, is a small, family-owned takeout spot that specializes in fresh, delicious poke bowls. Choose from a variety of poke options, including ahi, tako, and salmon, and enjoy your poke over a bed of white or brown rice. Bowls range from $9 to $15, depending on the size and type of poke. Enjoy your meal at one of the few tables available or take it to go and enjoy it at the beach.
Rainbow Drive-In

A local favorite since 1961, Rainbow Drive-In at 3308 Kanaina Ave is known for its classic Hawaiian plate lunches and generous portions. Choose from a variety of options, including loco moco, chicken katsu, and mahi-mahi. Their menu also features other island favorites such as teriyaki beef, kalua pork, and shrimp plates. Served with a heaping scoop of rice and macaroni salad, these plate lunches are perfect for satisfying your hunger while enjoying the beautiful island of Oahu.
In addition to their famous plate lunches, Rainbow Drive-In also offers a selection of sandwiches, burgers, and breakfast options. Their breakfast menu includes popular items like the Portuguese sausage and eggs, Spam and eggs, and a classic American breakfast plate. The eatery is also known for its chili, which pairs perfectly with rice or as a topping for their chili dogs.
Rainbow Drive-In has a laid-back atmosphere, making it an ideal spot to grab a quick, affordable meal. With outdoor seating, you can enjoy your plate lunch in the warm Hawaiian sun or take it to go and head to a nearby beach. The no-frills establishment focuses on serving up delicious, comforting food that has made it a beloved institution among locals and tourists alike.
So if you find yourself in Honolulu and are looking to experience authentic Hawaiian cuisine, make sure to stop by Rainbow Drive-In at 3308 Kanaina Ave. Their generous portions and flavorful dishes will surely leave you wanting to come back for more.
Absolutely! Rainbow Drive-In is a must-visit destination for anyone who wants to enjoy the true taste of Hawaii. With its laid-back atmosphere, mouthwatering plate lunches, and warm aloha spirit, this iconic eatery embodies the essence of Hawaiian culture and cuisine. Located near popular attractions like Waikiki Beach and Diamond Head, it is conveniently situated for both locals and tourists to enjoy a delicious and satisfying meal.
The next time you're in Honolulu, don't miss the opportunity to indulge in a classic Hawaiian plate lunch at Rainbow Drive-In. The combination of savory dishes, generous portions, and affordable prices make it a favorite among food lovers of all backgrounds. Whether you're craving a hearty loco moco or a crispy chicken katsu, there's something for everyone to enjoy at this beloved local institution.