Chiang Rai Travel Guide
Located in the northernmost region of Thailand, Chiang Rai is often overshadowed by its more famous neighbor, Chiang Mai. However, those who venture further to this gem are rewarded with ancient temples, impressive landscapes, and a closer connection to the traditions and cultures of the Golden Triangle – where Thailand, Laos, and Myanmar converge. This guide seeks to shed light on the magic of Chiang Rai and provide travelers with essential information for a memorable visit.
History and Background
Chiang Rai was established in the 13th century by King Meng Rai as the capital of the Lanna Kingdom before it was moved to Chiang Mai. Despite its historical significance, the city remained relatively unknown until recently. Its rich history is reflected in its temples, artifacts, and local traditions which are distinct from those of central and southern Thailand.
Top Attractions
Wat Rong Khun (The White Temple): Arguably the most iconic landmark in Chiang Rai, the White Temple is a contemporary, unconventional, and privately-owned art exhibit in the style of a Buddhist temple. Designed by Thai artist Chalermchai Kositpipat, the temple's striking white color signifies the purity of the Buddha, while embedded pieces of mirror reflect light, symbolizing enlightenment.
The Blue Temple (Wat Rong Suea Ten): A more recent addition to Chiang Rai's list of attractions, the Blue Temple is a masterpiece of contemporary art combined with traditional Lanna architecture. As the name suggests, the temple is adorned with various shades of blue, offset by gold highlights, making it a photographer's dream.
The Golden Triangle: This is where the borders of Thailand, Laos, and Myanmar meet. Historically known for opium production, today, it's a location of great natural beauty with the mighty Mekong River flowing through.
The Black House (Baan Dam Museum): Created by Thai artist Thawan Duchanee, this collection of buildings showcases an eclectic mix of traditional northern Thai buildings and modern artworks. It's both an art studio and a museum, reflecting the darker side of human nature.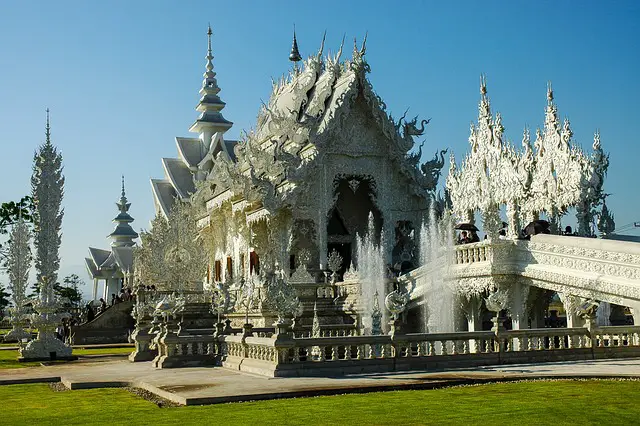 Local Experiences
Night Bazaar: Experience the bustling atmosphere of the Chiang Rai Night Bazaar, where you can indulge in local delicacies, pick up handmade crafts, or simply soak up the vibrant environment.
Hill Tribe Villages: Home to several ethnic groups, Chiang Rai offers a unique opportunity to visit local hill tribe villages such as the Akha, Karen, or Lisu. It provides a closer look at the traditions and daily lives of these communities.
Tea Plantations: The highlands around Chiang Rai are perfect for tea cultivation. Visit one of the many plantations, like Choui Fong Tea Plantation, to witness the tea-making process and sample some of the freshest teas.
Food and Drink
Chiang Rai's cuisine reflects its diverse cultural influences. Local dishes to try include:
Khao Soi: A creamy, spicy noodle soup with deep-fried crispy noodles on top.

Nam Ngiao: A spicy rice noodle soup with a distinctive tangy taste.

Sai Oua: Northern Thai sausage packed with herbs and spices.

For drinks, local tea is a must-try, whether it's green, black, or oolong, thanks to the region's flourishing tea plantations.
Travel Tips
Best Time to Visit: The best time to visit Chiang Rai is between October and February when the weather is cooler and less rainy.

Getting Around: While the city center is walkable, renting a motorbike or bicycle can be an excellent way to explore further.

Respect Local Traditions: When visiting temples, dress modestly by covering shoulders and knees. Always ask for permission before taking photographs, especially in tribal villages.

Chiang Rai, with its mix of historical significance, modern art, and rich culture, offers an unparalleled experience for those seeking a Thai destination off the beaten path. From its temples that challenge traditional aesthetics to its landscapes that captivate the soul, Chiang Rai promises an adventure that both enlightens and inspires. Whether you're a history buff, an art enthusiast, or someone simply looking to immerse themselves in a vibrant culture, Chiang Rai awaits with open arms.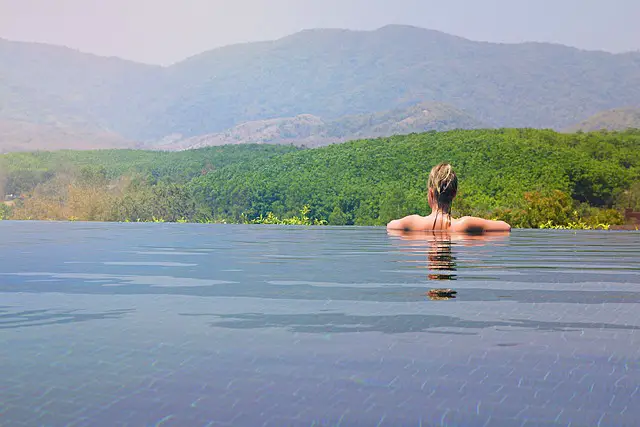 Accommodations
Chiang Rai offers a wide range of accommodations that cater to all types of travelers. From luxury resorts to budget-friendly hostels, here are some recommendations:
Luxury Resorts: For those looking for top-tier comforts, resorts such as The Riverie by Katathani or Le Meridien Chiang Rai Resort provide a lavish experience with picturesque views of the Kok River.
Mid-Range Hotels: Establishments like Laluna Hotel & Resort and De Hug Hotel offer comfortable stays without breaking the bank. They often come with added amenities like pools and on-site restaurants.
Budget Stays: For backpackers and budget travelers, there are numerous hostels and guesthouses like Happynest Hostel and Baanmalai Guest House that offer both private rooms and dormitory options.
Adventures and Excursions
Trekking: The mountainous terrain around Chiang Rai is perfect for trekking. Engage in multi-day hikes through forests, rivers, and hill tribe villages, getting a firsthand experience of the region's natural beauty.
Hot Springs: The Mae Khachan Hot Spring is a popular stopover. It's a great place to relax and even boil eggs in the naturally hot water!
Boat Trips: Take a boat ride along the Mekong River, enjoying the tranquil landscapes and possibly even venturing into Laos for a brief visit.
Cultural Insights
Temples: Apart from the White and Blue Temples, there's also Wat Phra Kaew, which once housed the famous Emerald Buddha now located in Bangkok.
Clock Tower: Designed by the same artist as the White Temple, Chiang Rai's golden clock tower offers a light and sound show every evening.
Traditional Dance: Experience the region's rich cultural heritage by watching a traditional northern Thai dance performance, usually available in cultural parks or some larger hotels.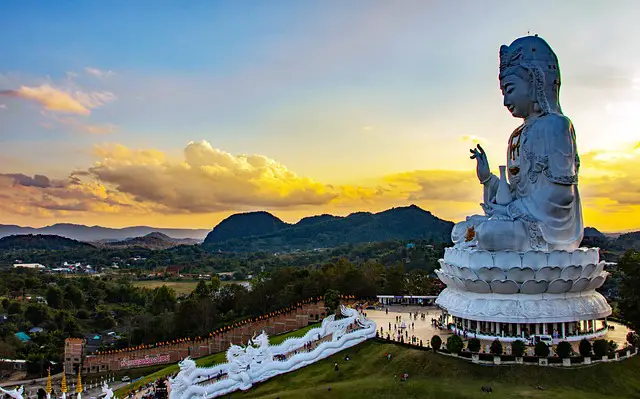 Shopping
Chiang Rai's markets are a haven for souvenir hunters:
Local Crafts: Seek out beautiful hand-woven textiles, wooden carvings, and silver jewelry crafted by the hill tribes.

Mae Sai Market: Located on the Thai-Myanmar border, it's a great place to find unique items from both countries.
Practical Information
Language: Thai is the official language, but English is understood in most tourist areas.

Currency: Thai Baht (THB) is the currency used. ATMs are widely available, and major credit cards are accepted in most establishments.

Safety: Chiang Rai is generally safe, but as with any travel destination, it's essential to be aware of your surroundings and keep personal belongings secure.

Chiang Rai is a captivating blend of history, art, and culture. It's a place where the old intertwines with the new, where tradition meets contemporary, and where every turn holds the promise of discovery. While it may once have been a hidden gem, today, Chiang Rai stands as a beacon for those desiring a more authentic Thai experience. As the sun sets over the horizon, painting the temples in a golden hue, one can't help but feel the magic of this timeless city. So, pack your bags, set your spirit free, and embark on an unforgettable journey to the heart of northern Thailand.