Cleveland
Cleveland, Ohio, is an urban gem located on the southern shore of Lake Erie. Often dubbed as the "Forest City" or "The Rock and Roll Capital of the World," Cleveland has a diverse tapestry of history, culture, industry, and innovation that sets it apart.
Geography and Climate
Spanning 82.47 square miles, Cleveland is located in the northeastern part of Ohio, along the Cuyahoga River and Lake Erie. The city's terrain is generally flat, but it does feature some low hills around the river.
Cleveland has a humid continental climate characterized by warm, humid summers and cold, snowy winters. The city's location on the lakefront causes what's known as a "lake effect," leading to more significant snowfall compared to other parts of the state.
History
Founded in 1796 by General Moses Cleaveland, the city was a key industrial center by the late 19th century, thanks to its strategic location at the intersection of several railroad lines. From iron and steel manufacturing to automotive production, Cleveland established a solid industrial base, which allowed it to flourish.
However, post-World War II saw a decline in manufacturing sectors that hit Cleveland hard. By the 1970s, Cleveland's economy was in a recession, and it became the first major city since the Great Depression to default on its federal loans.
Despite these hardships, Cleveland has staged a significant comeback, transitioning to a more service-based economy, including healthcare, education, finance, and insurance.
Culture
Cleveland's cultural scene is diverse and vibrant. It's famously known as the home of Rock and Roll, with the Rock and Roll Hall of Fame being one of its top tourist attractions. The city is also renowned for its strong jazz history, dating back to the early 20th century.
In addition to music, Cleveland is also a center for the arts. The Cleveland Museum of Art is one of the top art museums in the country, offering free admission to its world-class collection. Playhouse Square, the city's theater district, is one of the largest performing arts centers in the United States outside New York City.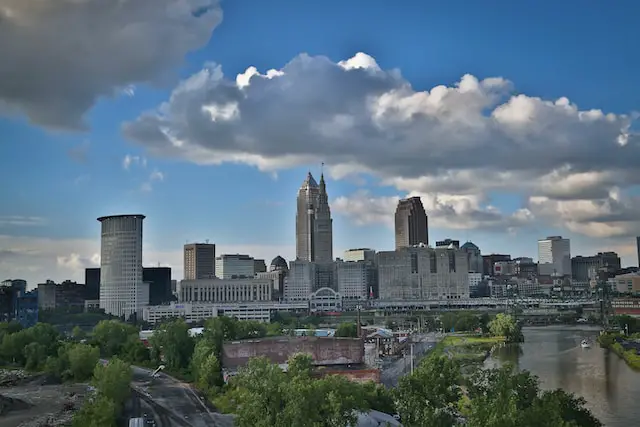 Moreover, Cleveland has a rich sports culture, with dedicated fans of its professional sports teams – the Cavaliers (NBA), the Browns (NFL), and the Indians (MLB).
Economy
Cleveland's economy has transitioned over the past few decades from manufacturing to service industries. Healthcare, in particular, has become a significant economic driver, with the Cleveland Clinic being one of the city's largest employers and internationally recognized for its care and research.
Other vital sectors include banking, finance, insurance, education, and biotechnology. Additionally, Cleveland has also worked to foster a startup ecosystem, attracting entrepreneurs in tech and biomedical fields.
Education
Cleveland is home to several highly respected educational institutions. Case Western Reserve University is renowned for its programs in law, medicine, nursing, and management. The Cleveland Institute of Art and Cleveland Institute of Music are leading schools in their respective fields.
The city is also committed to improving its public education system. The Cleveland Metropolitan School District has implemented the Cleveland Plan, an ambitious reform plan aiming to ensure every child in Cleveland attends a high-quality school.
Tourism
Cleveland attracts visitors with its range of cultural and outdoor attractions. The Rock and Roll Hall of Fame and Museum and the Cleveland Museum of Art draw large numbers of tourists annually. The Great Lakes Science Center and the Cleveland Metroparks Zoo are other popular spots.
Outdoor enthusiasts can enjoy the Cleveland Metroparks system – a "ring" of parks and green spaces encircling the city known as the "Emerald Necklace." The city's location on Lake Erie also provides opportunities for water-based recreation, such as boating and fishing.
The Cuyahoga Valley National Park, a vast expanse of natural beauty spanning over 33,000 acres, is another must-visit outdoor destination. It's conveniently located between Cleveland and Akron, offering activities like hiking, biking, bird watching, and even scenic train rides.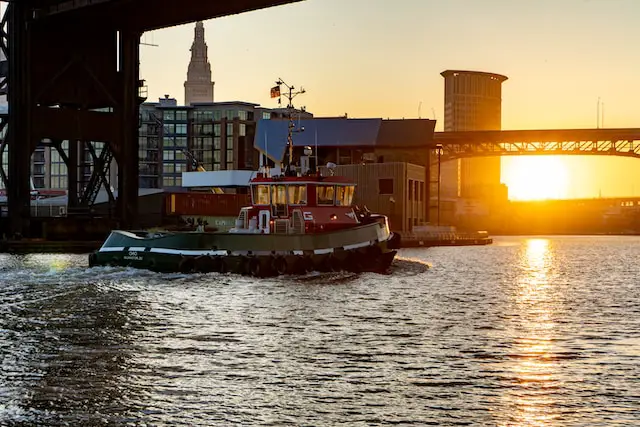 Architecture
Cleveland's architecture is a reflection of its rich history and growth. The city's downtown skyline is dominated by contemporary high-rises, most notably the Key Tower, which stands as the tallest building in Ohio. Still, interspersed amongst these modern structures, you'll find historical buildings that narrate the city's past.
The Terminal Tower, once the tallest building outside of New York City, is an iconic part of the cityscape. Downtown, you'll also find the Cleveland Arcade, one of the country's first indoor shopping malls, featuring a Victorian-era glass skylight.
Neighborhoods such as Ohio City and Tremont are famous for their charming 19th-century homes, while in University Circle, you'll find an impressive array of cultural institutions surrounded by modern and historical architecture.
Cuisine
Cleveland's culinary scene is both diverse and innovative. The West Side Market, Cleveland's oldest publicly owned market, hosts over a hundred vendors selling meats, seafood, fruits, vegetables, baked goods, dairy, flowers, ready-to-eat foods, and more. It's a testament to the city's multicultural heritage and a cornerstone of the local food scene.
The city is also known for its Eastern European influence, visible in the local love for dishes like pierogis and kielbasa. More recently, Cleveland's food scene has gained recognition for its fine dining establishments, local craft breweries, and unique culinary events such as the Taste of Tremont.
Infrastructure and Transportation
Cleveland has a robust infrastructure that includes an extensive road network, rail system, and the Cleveland Hopkins International Airport. The Greater Cleveland Regional Transit Authority operates bus and rapid transit services in the city. The HealthLine, Cleveland's Bus Rapid Transit (BRT), has been recognized internationally for its innovation and efficiency.
Cleveland is also a hub for freight and cargo due to its strategic location on the Great Lakes and the presence of several railroad lines. The Port of Cleveland serves as a vital connection for trade between the Midwest and the rest of the world.
Cleveland represents a city of resilience and innovation. It's a place where the grit of the past meets the promise of the future, and where local traditions blend with outside influences to create a unique cultural mix. From its vibrant arts scene to its outdoor attractions and burgeoning economy, Cleveland offers an enriching experience for residents and visitors alike. Its transition from a manufacturing hub to a center for healthcare, education, and technology exemplifies its ability to adapt and grow in an ever-changing world. Amidst challenges, Cleveland continues to rise, maintaining its place as an essential city in the American landscape.