Cuba Itinerary Travel User Guide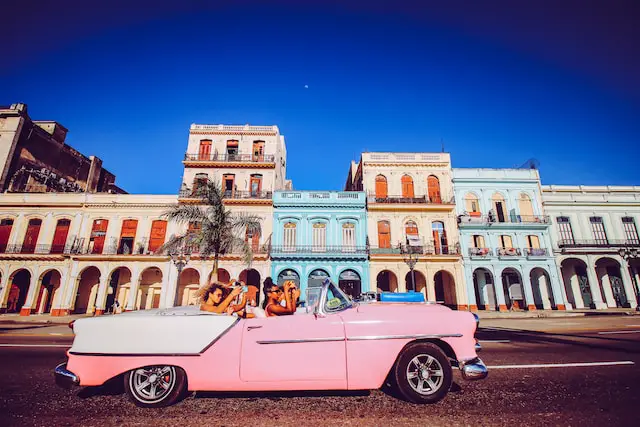 Cuba, with its colorful history, intoxicating culture, and sublime natural beauty, is an unparalleled Caribbean paradise. This country presents an exotic blend of culture, history, and adventure that caters to all types of tourists. From classic 1950s cars cruising past colonial architectures in Havana to the virgin beaches of Varadero, the lush tobacco fields of Viñales, and the vibrant music scene in Trinidad, Cuba offers a truly unique travel experience. This user guide will provide you with a detailed 7-day itinerary that will allow you to fully experience Cuba's splendors.
Day 1: Arrival in Havana

Your journey begins in Havana, Cuba's capital and a city buzzing with energy. Start your day with a visit to the Old Havana (Habana Vieja), a UNESCO World Heritage Site. Wander through its labyrinthine streets, where you can admire the beautifully preserved Spanish colonial architecture such as El Capitolio, Plaza de la Catedral, and Castillo de la Real Fuerza.
In the afternoon, take a ride in one of the city's iconic vintage cars. Drive along the Malecón, Havana's famous 8km-long sea drive, offering stunning views of the ocean on one side and Havana's architectural splendor on the other. End your day at a local paladar, privately-owned restaurants, where you can sample Cuban cuisine like ropa vieja or moros y cristianos.
Day 2: More of Havana

Visit Museo de la Revolución to learn about Cuba's tumultuous history. Next, stop at the Plaza de la Revolución, where you'll find the José Martí Memorial and iconic murals of Che Guevara and Camilo Cienfuegos.
In the afternoon, head to the artsy district of Callejon de Hamel, renowned for its vibrant Afro-Cuban murals and street art. In the evening, check out the live music scene at La Zorra y El Cuervo, Havana's premier jazz club.
Day 3: Day Trip to Viñales

On your third day, take a day trip to the Viñales Valley, located about 3 hours west of Havana. Explore the verdant landscape of this UNESCO World Heritage Site, renowned for its traditional agricultural techniques. Tour a tobacco farm and learn about the process of making Cuban cigars, one of the country's most famous exports.
Back in Viñales town, enjoy some local food in a casa particular, a type of homestay unique to Cuba. Savor dishes such as lechón asado or congri, while interacting with locals.
Day 4: Varadero Beach Day

On day four, head to Varadero, a beach resort town located on the Hicacos Peninsula. Here, you'll find one of the most beautiful beaches in the Caribbean, with powdery white sands and azure waters. Spend the day relaxing on the beach, or indulge in water sports like snorkeling or scuba diving.
Day 5: En Route to Trinidad

Leave for Trinidad, a well-preserved Spanish colonial city. On the way, make a stop at Cienfuegos, known as the "Pearl of the South". Visit the city's French-inspired Palacio de Valle, or stroll around the main square, Parque José Martí.
Continue your journey to Trinidad, and upon arrival, check into a local casa particular. In the evening, visit Casa de la Música for some live salsa music, and perhaps even join the locals for a dance.
Day 6: Explore Trinidad

Trinidad is a step back in time with its cobbled streets, pastel-colored houses, and horse-drawn carts. Visit Museo Histórico Municipal to explore the city's history. Continue to Plaza Mayor, the city's central square surrounded by beautifully restored colonial buildings. Don't miss the Convento de San Francisco de Asis, now a museum and bell tower offering panoramic views of the city.
In the afternoon, head to the Valle de los Ingenios, or Valley of the Sugar Mills, a significant relic of Trinidad's sugar-producing era and a UNESCO World Heritage Site. Take a tour of the old sugar plantations, haciendas, and slave quarters, and learn about the region's somber history.
In the evening, enjoy some traditional Cuban food at a local paladar. Try local specialties like cerdo asado (roast pork) or camarones enchilados (spicy shrimp). Finish off your day with a visit to Casa de la Trova, where you can listen to authentic Cuban folk music and perhaps even join in on the dance floor.
Day 7: Departure or Extend Your Stay

On your final day, you can choose to relax in Trinidad, perhaps visit the nearby Playa Ancon for a relaxing beach day, or begin your journey back to Havana in preparation for your departure. If you have more time, consider extending your stay to explore other parts of Cuba such as the eco-tourism destination Las Terrazas, the historic Bay of Pigs, or the charming Baracoa, Cuba's oldest and most isolated town.
Before leaving, ensure you take home some authentic Cuban souvenirs like locally produced rum, artisanal handicrafts, or famed Cuban cigars.
Final Tips:

Visa and Travel Regulations: U.S. citizens were required to obtain a visa or a 'Tourist Card' and to comply with U.S. government regulations related to authorized travel to Cuba. Ensure you check the latest rules from official sources before planning your trip.
Currency: Cuba has a dual currency system – the Cuban Peso (CUP) and the Cuban Convertible Peso (CUC). Be aware of the difference and the exchange rates.
Internet Access: Internet access in Cuba is not as readily available as in other countries. ETECSA, the government-run telecommunications service, provides Wi-Fi hotspots in certain locations.
Safety: Cuba is generally safe for tourists. However, it's always wise to take standard precautions to safeguard your belongings.
This itinerary provides a taste of the Cuban experience, with its rich history, lively culture, and stunning landscapes. Whether you're a history buff, a beach lover, or a cultural enthusiast, you'll find something to love in this vibrant Caribbean nation.