Denver Travel Guide on a Budget
Denver, the capital of Colorado, is known for its vibrant arts and culture scene, craft breweries, and proximity to the Rocky Mountains. With its diverse range of attractions and experiences, it's no wonder that Denver is a popular destination for travelers. Exploring Denver on a budget is entirely possible with careful planning and smart decision-making. This comprehensive guide will provide you with tips and advice on how to explore Denver on a budget.
Affordable Transportation

Getting around Denver on a budget is achievable with a variety of transportation options:
a. Public Transportation
Denver's Regional Transportation District (RTD) offers an extensive network of buses and light rail trains that connect downtown Denver with surrounding areas. Fares are affordable, and multi-ride or day passes are available for added convenience and savings.
b. Biking and Bike Sharing
Denver is a bike-friendly city with numerous dedicated bike lanes and bike-sharing programs. Denver B-cycle, the city's bike-sharing program, offers affordable rates for short-term rentals, making it an eco-friendly and budget-friendly way to explore the city.
c. Ride-Sharing and Taxis
Ride-sharing services like Uber and Lyft are available in Denver and can be a cost-effective alternative to traditional taxis, especially when traveling with a group or during off-peak hours.
Budget-friendly Accommodation

Denver offers a variety of affordable accommodation options, including hostels, motels, budget hotels, and vacation rentals:
a. Hostels
Hostels provide dormitory-style rooms with shared facilities at affordable prices, making them a popular choice for budget travelers. Denver has a few hostels, including Hostel Fish and Ember Hostel, both of which are located in convenient locations for exploring the city.
b. Motels and Budget Hotels
Denver has numerous motels and budget hotels that offer basic yet comfortable accommodations. Popular budget hotel chains include Motel 6, Super 8, and La Quinta Inn. To get the best rates, book your accommodation well in advance and consider staying in less central areas with good access to public transportation.
c. Vacation Rentals
Renting an apartment or a private room through platforms like Airbnb and Vrbo can be a cost-effective option for budget travelers, especially if you're traveling with a group or planning an extended stay. This option also allows you to save money by preparing your meals instead of eating out.
Eating on a Budget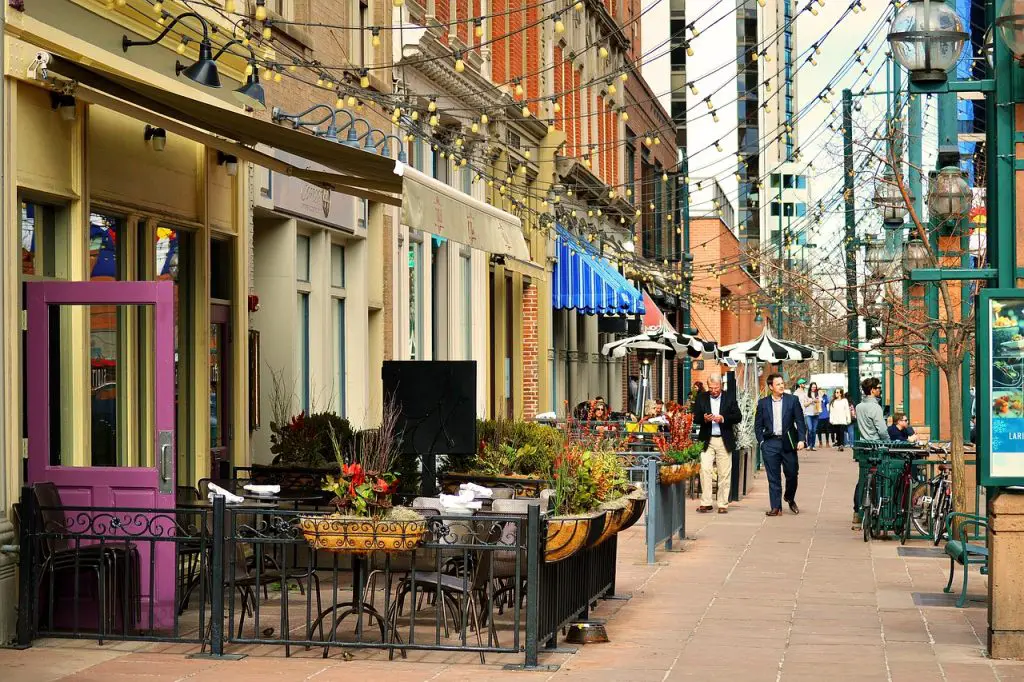 Denver's food scene is diverse and offers various budget-friendly options:
a. Food Trucks and Street Food
Food trucks are a popular and affordable way to enjoy local cuisine in Denver. You'll find them scattered throughout the city, offering everything from tacos and sandwiches to gourmet fusion dishes. Civic Center EATS, a food truck event that takes place in Civic Center Park during the summer months, is a great place to sample a variety of dishes at reasonable prices.
b. Casual Eateries and Cafes
Look for casual eateries, cafes, and diners that serve delicious food at reasonable prices. Some popular budget-friendly restaurants in Denver include Biker Jim's Gourmet Dogs, Illegal Pete's, and WaterCourse Foods.
c. Grocery Stores and Farmers' Markets
Save money by shopping at local grocery stores and farmers' markets, where you can purchase fresh produce, meats, and other ingredients to prepare your meals. Denver's Union Station Farmers' Market and Cherry Creek Fresh Market are great places to find local and seasonal products. Preparing your meals or packing a picnic can be an affordable and enjoyable way to experience local flavors.
Top Budget Attractions

Many of Denver's top attractions are either free or have a low entrance fee, making them ideal for budget travelers:
a. Parks and Outdoor
Denver is known for its abundant green spaces and outdoor recreational opportunities, many of which are free or low-cost. Some popular budget-friendly parks and outdoor attractions include City Park, Washington Park, and Confluence Park. Take advantage of the city's beautiful parks for picnics, jogging, or relaxing, and enjoy the stunning views of the Rocky Mountains.
b. Museums and Cultural Institutions
Many Denver museums offer free or discounted admission, making them an affordable way to learn about the city's history, culture, and art. The Denver Art Museum, the Denver Museum of Nature & Science, and the History Colorado Center all offer free or discounted admission days throughout the year. Be sure to check their websites for details.
c. Street Art and Murals
Denver's vibrant street art scene is another budget-friendly attraction that can be enjoyed while exploring the city. The River North (RiNo) Art District, the Santa Fe Arts District, and the East Colfax neighborhood are all home to stunning murals and street art installations that can be admired for free.
d. Free Events and Festivals
Denver hosts numerous free events and festivals throughout the year, offering budget travelers a chance to experience the city's unique culture and traditions. Some popular free events include the Five Points Jazz Festival, the Cherry Creek Arts Festival, and the Denver Day of Rock.
Budget Travel Tips for Denver

To make the most of your Denver adventure, keep these budget travel tips in mind:
a. Plan your itinerary: Prioritize the attractions you want to visit and consider their costs when planning your trip. Be flexible with your plans, as visiting certain attractions on specific days or times can result in significant savings.
b. Book in advance: Book your accommodation, transportation, and attractions in advance to secure the best deals and avoid last-minute price surges.
c. Travel during the off-season: Avoid the peak tourist season (summer months) to enjoy lower prices on accommodation and attractions, as well as fewer crowds.
d. Look for discounts and deals: Many attractions, restaurants, and retailers offer discounts and deals, especially for students, seniors, and families. Be sure to check websites and inquire about any available discounts. If you plan to visit multiple attractions, consider purchasing a city pass or museum card for additional savings.
Conclusion
Traveling to Denver on a budget is entirely possible with careful planning and smart decision-making. By utilizing affordable transportation options, visiting budget-friendly attractions, choosing cost-effective accommodations, and dining at inexpensive eateries, you can experience the best of the Mile High City without breaking the bank. Follow the tips in this guide, and you'll be well on your way to enjoying an unforgettable and budget-friendly trip to Denver.