Dublin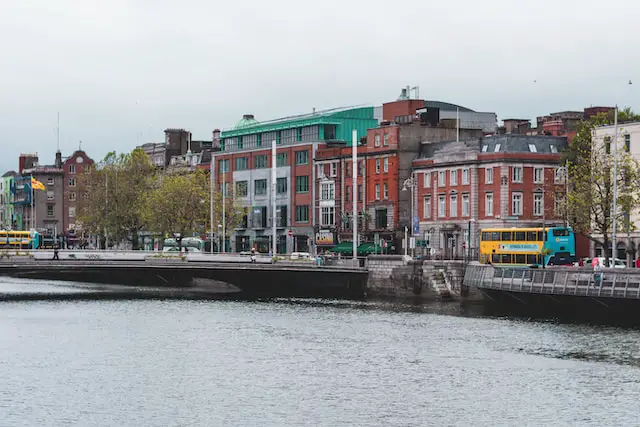 Dublin, Ireland's vibrant capital, sits at the mouth of the River Liffey, offering a blend of historical richness, literary traditions, and a dynamic contemporary culture. With a population of over 1.4 million, Dublin is a city that pulses with energy, where the old and the new converge seamlessly. Let's explore the irresistible charm of this city.
Historical Footprints
Dublin's history is etched in every cobblestone and corner. It stretches back over a millennium, when it was first established as a Viking settlement. Dublin Castle, a significant remnant of the city's past, stands as a testament to centuries of British rule in Ireland, while the General Post Office (GPO) bears the bullet holes of the 1916 Easter Rising, a seminal moment in Ireland's fight for independence.
A tour through the city reveals an abundance of Georgian architecture, characterized by balanced proportions and classical detailing. Marvel at the rows of Georgian houses, most notably around Merrion Square and Fitzwilliam Square, distinguished by their colorful doors.
Cultural Treasures
Dublin is an UNESCO City of Literature, boasting literary greats such as James Joyce, Oscar Wilde, and W.B. Yeats. Trace the city's literary heritage with a visit to the Dublin Writers Museum or embark on a literary pub crawl. Don't forget to pay a visit to the Chester Beatty Library, housing a world-famous collection of manuscripts and rare books.
Museums abound in Dublin, and the National Museum of Ireland – Archaeology is a must-visit with its prehistoric gold artifacts and preserved bog bodies. The Irish Museum of Modern Art and National Gallery of Ireland are treasures for art lovers.
The Spirit of Dublin: Pub Culture
Dublin's pub culture is legendary. The city is dotted with pubs, from traditional establishments like The Brazen Head, Dublin's oldest pub, to trendy microbreweries. Dublin is the birthplace of Guinness, and a trip to the Guinness Storehouse is essential. The seven-story visitor experience tells the story of the iconic stout, ending with a pint and a 360-degree view of Dublin in the Gravity Bar.
Live traditional Irish music can be found in many Dublin pubs. There's nothing like ending your day with a pint of Guinness and the lively tunes of a traditional Irish session.
The Green Oasis
Despite being a bustling city, Dublin is rich in green spaces. St. Stephen's Green, a Victorian park, is a tranquil retreat in the heart of the city. Phoenix Park, one of the largest enclosed city parks in Europe, is home to the Dublin Zoo and a herd of wild deer.
Culinary Scene
Dublin's culinary scene is a delightful surprise, from traditional Irish dishes to international cuisine. Visit the English Market, a food emporium that has been serving the city since the 18th century. Dining options range from high-end restaurants like Chapter One, to charming cafés and gastropubs. Dublin's seafood is a must-try, with fresh oysters, Dublin Bay prawns, and smoked salmon topping the list.
Day Trips
Dublin's location makes it an ideal base for exploring Ireland's stunning landscapes. The ancient passage tomb of Newgrange, the cliffs of Howth, and the Wicklow Mountains National Park are all within a day's trip.
In conclusion, Dublin is a city that is both a repository of memories and a venue for new experiences. Its rich history, vibrant arts scene, enticing culinary delights, and the legendary Irish 'craic' make it a compelling destination for any traveler. Whether you're exploring the cobblestone streets, listening to a traditional music session, or simply chatting with friendly locals over a pint of Guinness, you'll be captivated by Dublin's unique charm. It's a city that is intimately connected to its past while constantly innovating and evolving.
Dublin's famous hospitality, known as the "Céad Míle Fáilte" (a hundred thousand welcomes), is tangible, with locals always ready with a warm greeting, a story to tell, or advice to give. The city is also a gateway to Ireland's rugged landscapes and mystical heritage, offering the opportunity to immerse yourself in the verdant hills, ancient sites, and folklore of the Emerald Isle.
The city's thriving arts scene is not just confined to museums and galleries but spills onto the streets in the form of public art, colourful murals, street performances, and bustling markets. Whether it's the poignant poetry of Yeats or the rebellious rock of U2, Dublin's cultural impact resonates globally, earning it a well-deserved spot on the cultural map.
Culinary enthusiasts will be thrilled with Dublin's gastronomic offerings. The city has been undergoing a food revolution, with innovative chefs using locally-sourced ingredients to create exciting and modern interpretations of Irish cuisine. The revitalised food scene reflects the diversity of the city, offering a cosmopolitan range of cuisines and dining experiences.
Dublin, with its blend of cosmopolitan modernity and old-world charm, offers a travel experience like no other. It's a city that invites exploration, from the landmarks that have shaped its history and culture, to the vibrant streets filled with music and laughter, to the serene parks that offer a respite from the city's bustling energy.
It is a city that charms and surprises, inviting you to lose yourself in its rich tapestry of history, culture, gastronomy, and, most importantly, its people. Dublin is not just a destination; it's an experience, a feeling, a story waiting to unfold. So, whether you're a history buff, a literary fan, a food lover, or simply a curious wanderer, Dublin is a city that is sure to inspire, entertain, and make you feel right at home.