Frontier Airlines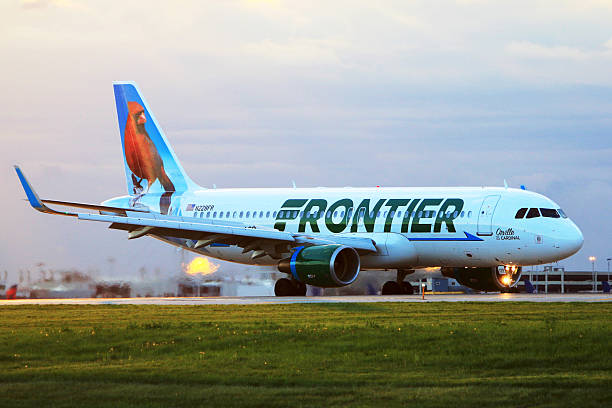 Frontier Airlines is a major low-cost carrier in the United States, known for its affordable fares and extensive route network. Despite its current success, the airline had humble beginnings as a small regional carrier. This comprehensive account delves into the origin of Frontier Airlines, exploring its early years, growth, and evolution into a prominent player in the American aviation industry.
The Birth of Frontier Airlines (1994)

Frontier Airlines was founded on February 8, 1994, by a group of aviation industry veterans and executives. The company was established in the wake of Continental Airlines' decision to scale down its hub operations at Denver's Stapleton International Airport. Recognizing the market opportunity, Frontier's founders aimed to create a low-cost, customer-focused airline serving the Denver area.
The original Frontier Airlines team included key figures such as Sam Addoms, who became the company's first CEO, and Barry Biffle, who later served as the airline's president. With the founders' combined experience in the aviation industry, Frontier Airlines was well-positioned for growth and success from the outset.
Early Operations and Expansion (1994-2001)

Frontier Airlines commenced operations on July 5, 1994, with a single aircraft, a Boeing 737-200. The airline's first flight was from Denver to Bismarck, North Dakota. In its initial years, Frontier focused on providing service to underserved markets in the Rocky Mountain region, primarily targeting leisure travelers with low fares and quality service.
Throughout the 1990s, Frontier gradually expanded its fleet and route network, adding destinations like Fargo, North Dakota; Salt Lake City, Utah; and Albuquerque, New Mexico. By the end of the decade, the airline was operating a fleet of 12 aircraft and serving over 20 destinations across the United States.
In 1998, Frontier began transitioning to an all-Airbus fleet with the delivery of its first A318 and A319 aircraft. This move allowed the airline to achieve better fuel efficiency and increase its capacity for serving new markets.
The Impact of 9/11 and Industry Challenges (2001-2004)

The tragic events of September 11, 2001, had a profound impact on the aviation industry, with many airlines experiencing financial difficulties in the years that followed. Frontier Airlines was no exception. The airline faced several challenges, including a sharp decline in passenger demand, increased security costs, and rising fuel prices.
Despite these obstacles, Frontier continued to grow its route network and fleet during this period, even launching service to its first international destination, Cancun, Mexico, in 2002. The airline's management team focused on maintaining a strong balance sheet, optimizing operations, and keeping costs low, which allowed Frontier to weather the storm and emerge stronger in the post-9/11 era.
The Emergence of Frontier as a Major Low-Cost Carrier (2004-2010)

In the mid-2000s, Frontier Airlines began to establish itself as a significant player in the American low-cost carrier market. The airline continued to expand its route network, adding more destinations across the United States, Mexico, and the Caribbean.
During this period, Frontier also introduced various innovative services and amenities aimed at enhancing the customer experience. In 2004, the airline became one of the first carriers to offer live television at every seat, thanks to a partnership with DirecTV. Frontier also launched its frequent flyer program, Frontier Miles, which rewarded loyal customers with flight discounts, priority services, and other perks.
In 2006, the airline moved its operations from Stapleton International Airport to the newly constructed Denver International Airport, which allowed for further growth and expansion. With its strategic location in Denver, Frontier was able to capitalize on the city's growing population and thriving economy, positioning the airline as a major low-cost competitor in the region.
Bankruptcy and Restructuring (2008-2009)

Like many airlines during the global financial crisis of 2008, Frontier faced significant financial challenges, including rising fuel prices and a decrease in consumer spending. As a result, the airline filed for Chapter 11 bankruptcy protection in April 2008. However, Frontier continued to operate during the bankruptcy process, maintaining its commitment to providing affordable air travel to its customers.
The bankruptcy proceedings allowed Frontier to restructure its operations and debt, ultimately leading to the airline's acquisition by Republic Airways Holdings in October 2009. The acquisition proved to be a turning point for Frontier, providing the company with the financial resources and support needed to embark on a new phase of growth and expansion.
Post-Acquisition Growth and Expansion (2010-Present)

Under the ownership of Republic Airways, Frontier Airlines continued to strengthen its position as a leading low-cost carrier in the United States. The airline further expanded its route network, adding numerous destinations throughout the U.S., Mexico, Central America, and the Caribbean. Frontier also focused on improving its operational efficiency, investing in new, fuel-efficient aircraft and implementing cost-saving measures across its business.
In 2013, Frontier Airlines underwent a significant transformation, embracing the ultra-low-cost carrier (ULCC) business model. This shift involved introducing ancillary fees for services such as checked baggage, seat assignments, and onboard refreshments, enabling the airline to offer even lower base fares to its customers.
In December 2013, Republic Airways sold Frontier to Indigo Partners, an investment firm with extensive experience in the aviation industry. Under the leadership of Indigo Partners, Frontier has continued to expand its presence in the low-cost market, adding new routes and further refining its ULCC model.
Today, Frontier Airlines operates a fleet of over 100 aircraft and serves more than 100 destinations across the United States, Mexico, Central America, and the Caribbean. With its focus on low fares, operational efficiency, and customer satisfaction, the airline remains a major player in the competitive American aviation landscape.
Conclusion
The origin of Frontier Airlines can be traced back to its humble beginnings as a small regional carrier in the mid-1990s. Since then, the airline has experienced numerous challenges and opportunities, from the impact of 9/11 and the global financial crisis to strategic acquisitions and the adoption of the ultra-low-cost carrier model.
Throughout its history, Frontier Airlines has demonstrated a remarkable ability to adapt and innovate in response to changing market conditions, allowing the company to evolve into a major low-cost carrier in the United States. As Frontier continues to grow and expand its route network, the airline remains committed to providing affordable, quality air travel to millions of passengers each year.