How to Become a Digital Nomad in Portugal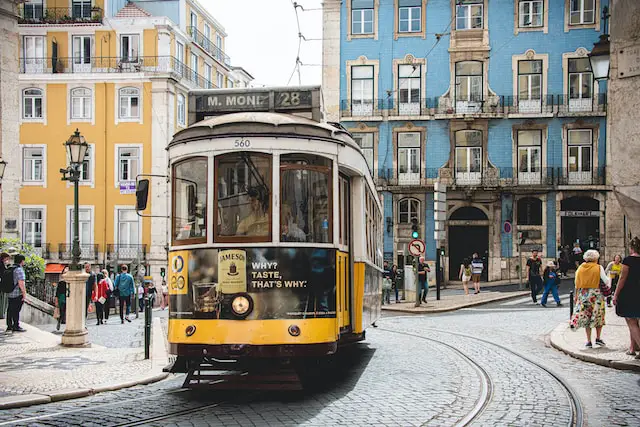 For a growing number of individuals worldwide, the lure of living a location-independent lifestyle as a digital nomad is incredibly compelling. This dynamic lifestyle involves working remotely while traveling, and it is becoming more and more popular thanks to improvements in technology and changes in work culture.
Among the various countries that attract digital nomads, Portugal stands out as a top choice. With its warm climate, rich history, picturesque landscapes, and friendly people, Portugal offers a perfect blend of work and leisure opportunities. Furthermore, Portugal has a thriving digital nomad community, reliable internet, and a relatively low cost of living compared to other European countries.
This article will guide you through the steps you need to take to become a digital nomad in Portugal.
Step 1: Understand the Concept of Digital Nomadism
Before making any major life changes, you need to understand what it means to be a digital nomad fully. A digital nomad is someone who works remotely, typically in a job that relies heavily on internet access, while traveling. This means you won't have a fixed home base and instead will be moving around—sometimes frequently. This lifestyle requires adaptability, resilience, and strong skills in planning and organization.
Step 2: Secure Remote Work
The foundation of being a digital nomad is the ability to work remotely. This could be either through an existing job that allows remote work, freelancing, or starting your own online business. The type of work digital nomads do varies greatly, from software development and graphic design to content creation, consulting, and online teaching.
Before making the leap, ensure that you have a stable source of income that can be maintained while you're on the move. Also, consider diversifying your income sources to mitigate any potential risks.
Step 3: Legalities – Visas and Residency
Portugal allows visa-free travel for up to 90 days within a 180-day period for many countries, including the United States, Canada, Australia, and the UK. If you plan to stay longer, you'll need to apply for a longer-term visa, such as a Temporary Stay Visa or a Residence Visa. You may want to consult with an immigration lawyer or specialist to understand the requirements.
Portugal is known for being friendly to expats and digital nomads, with various visa options available. For instance, the D7 Passive Income Visa is a popular choice among digital nomads, as it allows individuals with stable income sources to live in the country.
Step 4: Plan for Health Insurance
Having a solid health insurance plan is critical for any digital nomad. Make sure that your plan covers you in Portugal and includes provisions for both emergency and routine care. Various companies provide international health insurance plans designed for digital nomads and long-term travelers.
Step 5: Choose Your Destination
Portugal is a diverse country with cities and towns that cater to different preferences. Lisbon and Porto are vibrant cities with lively digital nomad communities, coworking spaces, and a rich cultural scene. The Algarve region offers beautiful beaches and a slower pace of life. For surfers and nature lovers, Ericeira and Peniche are excellent choices.
Step 6: Find Accommodation
Portugal offers a wide range of accommodation options, from apartments to hostels and dedicated co-living spaces. Many digital nomads use platforms like Airbnb or Booking.com for short-term rentals, while local websites like Idealista can be useful for longer stays.
Step 7: Set Up a Routine
While the digital nomad lifestyle offers great flexibility, having a routine is essential for staying productive. Find a balance that works for you, blending work, leisure, exploration, and relaxation. Regularly visiting local co-working spaces can help provide structure, stimulate creativity, and provide opportunities to network with other digital nomads and locals alike.
Step 8: Manage Your Finances
Living as a digital nomad necessitates careful management of your finances. You'll need to budget for accommodation, food, travel, entertainment, and unforeseen expenses. Consider opening a bank account that offers low international transaction fees or use a financial service designed for digital nomads or international travelers. Portugal's cost of living is relatively low compared to many European countries, but it's still important to manage your money carefully.
Step 9: Networking and Community
One of the best aspects of being a digital nomad in Portugal is the sense of community. Various groups and networks can help you settle in, make friends, and even find new work opportunities. Look for local events or meetups, engage with co-working spaces, and join Portugal-specific digital nomad online groups.
Step 10: Embrace the Culture
Portugal is rich in history and culture. From its delectable cuisine to its traditional music (Fado), there's much to explore and enjoy. Learning some basic Portuguese will also be immensely helpful and appreciated by locals. While many people speak English, especially in larger cities, knowing the local language will enable deeper connections and enrich your experience.
Step 11: Travel Responsibly
As a digital nomad, it's important to respect the places you visit and contribute positively to the local communities. Be mindful of local customs, support local businesses, and minimize your environmental impact. Responsible travel ensures that the places we love to visit remain beautiful and welcoming for future generations.
Becoming a digital nomad in Portugal is an exciting journey that combines the freedom of travel with the ability to work remotely. By planning carefully, respecting local laws and customs, and actively engaging in the digital nomad community, you can make the most of your experience. Portugal's appealing climate, friendly locals, and digital infrastructure make it an excellent choice for digital nomads. Ready to pack your bags and laptop? Boa viagem – have a great trip!