Liechtenstein Travel Guide
Nestled between Switzerland and Austria, Liechtenstein is a tiny yet enchanting European microstate that often gets overlooked by travelers in favor of its larger neighbors. With its picturesque landscapes, rich history, and charming villages, Liechtenstein offers a unique and captivating experience for those who choose to visit. In this comprehensive travel guide, we will take you on a journey through this hidden gem of a country, covering everything from its history and culture to its natural wonders and top attractions.
Introduction to Liechtenstein

A Brief Overview

Liechtenstein, officially known as the Principality of Liechtenstein, is a doubly landlocked alpine country in Central Europe. With an area of just 160.4 square kilometers (61.9 square miles) and a population of around 39,000 people, it is one of the smallest countries in the world. Despite its size, Liechtenstein has managed to carve out a unique identity and charm that attracts visitors from around the globe.
History and Culture

Liechtenstein's history is closely tied to its rulers, the Princes of Liechtenstein, who acquired the territory through a series of land purchases in the 17th and 18th centuries. The country was established as a principality in 1719 and has remained a hereditary monarchy ever since. Today, Prince Hans-Adam II is the reigning monarch.
The culture of Liechtenstein is a blend of Swiss and Austrian influences, with a strong emphasis on Alpine traditions. The country's official language is German, and its people are known for their warm hospitality and love of outdoor activities. Liechtenstein is also famous for its philatelic heritage, producing some of the world's most beautiful and sought-after postage stamps.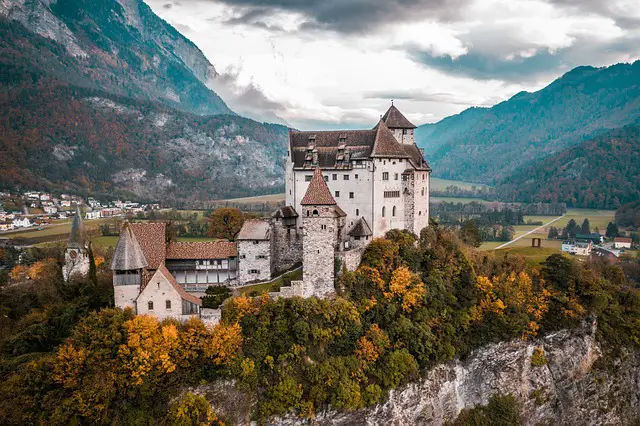 Getting to Liechtenstein

By Air

While Liechtenstein does not have its own international airport, the closest major airports are Zurich Airport in Switzerland and Altenrhein Airport in Austria. From these airports, you can easily reach Liechtenstein by train, bus, or car.
By Train

Liechtenstein is well-connected to its neighboring countries by train. The nearest train station is in Buchs, Switzerland, just a short bus ride away from the capital, Vaduz. Trains run regularly between Buchs and major Swiss cities like Zurich and St. Gallen.
By Car

If you prefer to travel by car, Liechtenstein is accessible via the Swiss and Austrian road networks. The country has excellent road infrastructure, making it easy to explore at your own pace. Be sure to check the border crossing regulations and requirements for your specific nationality before embarking on your journey.
Where to Stay in Liechtenstein

Despite its small size, Liechtenstein offers a range of accommodation options to suit various budgets and preferences. The capital city, Vaduz, has several hotels and guesthouses, but you can also find charming accommodations in the country's picturesque villages. Here are a few recommendations:
Vaduz

Hotel Residence Vaduz: A comfortable and centrally located hotel with stunning views of the Alps.
Park-Hotel Sonnenhof: A luxurious option for those looking for a high-end experience.
Hotel Gasthof Löwen: A cozy guesthouse with a traditional Swiss-Austrian ambiance.
Triesenberg

Hotel Oberland: Situated in the picturesque village of Triesenberg, this hotel offers breathtaking mountain views.
Gasthaus Krone: A charming inn with a restaurant serving delicious regional cuisine.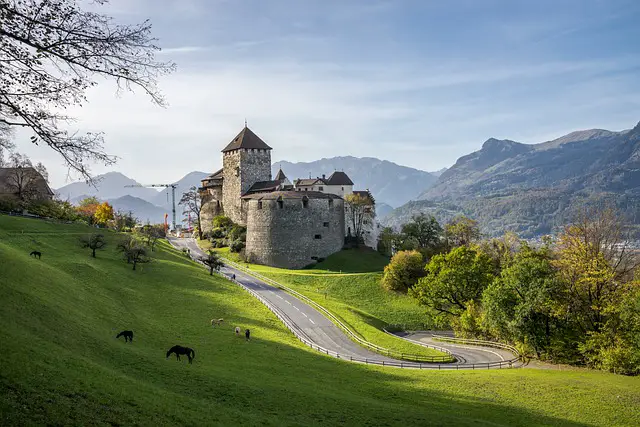 Things to Do in Liechtenstein

Liechtenstein may be small, but it offers a wide range of activities and attractions for visitors to enjoy. Whether you're a nature enthusiast, history buff, or simply seeking a peaceful getaway, there's something for everyone in this captivating country.
Explore Vaduz

Vaduz Castle

Start your exploration in the capital city, Vaduz, and make your way to Vaduz Castle. Perched on a hilltop overlooking the city, this iconic castle is the official residence of the Prince of Liechtenstein. While the interior is not open to the public, the views from the castle grounds are simply breathtaking. It's a popular spot for photos and a great place to soak in the scenery.
Kunstmuseum Liechtenstein

Art lovers will appreciate a visit to the Kunstmuseum Liechtenstein, the country's premier art museum. The museum features a diverse collection of modern and contemporary art, including works by renowned artists like Marc Chagall, Joan Miró, and Roy Lichtenstein.
Hike in the Rhine Valley

Liechtenstein's natural beauty shines through in its stunning landscapes. One of the best ways to experience this beauty is by hiking in the Rhine Valley. The country offers numerous well-marked hiking trails suitable for all levels of hikers. Some popular routes include the Fürstensteig trail and the Three Sisters trail, both of which offer fantastic views of the surrounding mountains.
Visit the Red House

Located in the village of Vaduz, the Red House (Rotes Haus) is a historic building that now houses the Liechtenstein National Museum. The museum provides a fascinating look into the country's history and culture, with exhibits showcasing everything from archaeological finds to traditional crafts.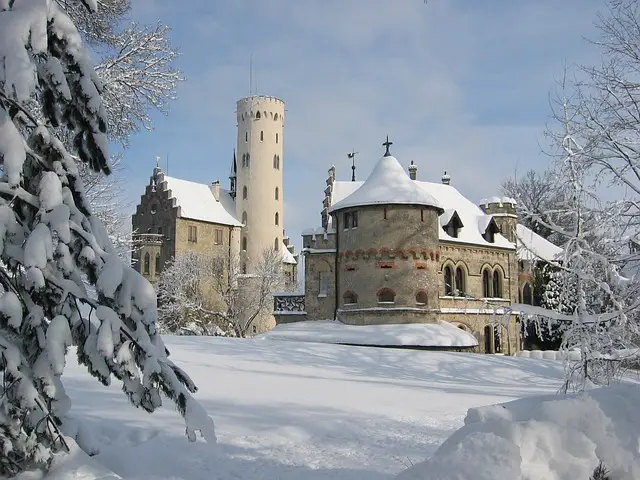 Enjoy Winter Sports

In the winter months, Liechtenstein transforms into a winter wonderland, making it an ideal destination for skiing and snowboarding enthusiasts. The Malbun ski resort is the country's primary winter sports destination, offering a range of slopes for all skill levels. Additionally, you can partake in activities like cross-country skiing and snowshoeing in the picturesque Alpine landscape.
Taste Local Cuisine

Don't miss the opportunity to savor the flavors of Liechtenstein's cuisine. Traditional dishes often feature Alpine ingredients like cheese, potatoes, and hearty meats. Try käsknöpfle, a pasta dish similar to Swiss spaetzle, or order a hearty raclette with melted cheese and potatoes. Wash it all down with a glass of local wine or a beer from one of the country's microbreweries.
Day Trip to Balzers

A short drive from Vaduz, the village of Balzers offers a different perspective on Liechtenstein's history and culture. Visit Gutenberg Castle, which dates back to the 12th century, and explore its well-preserved interiors and beautiful gardens. Balzers also provides a tranquil setting for a leisurely walk or bike ride.
Practical Tips for Travelers

Currency

The currency used in Liechtenstein is the Swiss Franc (CHF). Credit cards are widely accepted, but it's advisable to carry some cash for smaller establishments and rural areas.
Language

The official language of Liechtenstein is German, so it's helpful to know some basic German phrases, although English is also widely spoken, especially in tourist areas.
Safety

Liechtenstein is one of the safest countries in the world, with a low crime rate. However, it's always a good practice to exercise normal precautions, such as safeguarding your belongings.
Transportation

The public transportation system in Liechtenstein is efficient and reliable. Consider purchasing a Swiss Travel Pass or an Austrian Rail Pass if you plan to explore the surrounding regions as well.
Weather
The weather in Liechtenstein varies depending on the season. Summers are mild, making it an excellent time for outdoor activities. In contrast, winters can be cold and snowy, perfect for winter sports enthusiasts.

Liechtenstein may be small in size, but it offers a wealth of experiences for travelers seeking a unique and off-the-beaten-path destination. Whether you're drawn to its rich history, stunning natural landscapes, or charming villages, Liechtenstein has something to offer every visitor. So, pack your bags, explore this enchanting microstate, and discover the hidden beauty of Liechtenstein for yourself.
While Liechtenstein itself is a captivating destination, it's also conveniently located for day trips to nearby attractions in Switzerland and Austria. Here are some recommended day trips to consider during your visit:
St. Gallen, Switzerland

Located just a short train ride from Liechtenstein, St. Gallen is a picturesque Swiss city with a rich cultural heritage. The highlight of your visit should be the Abbey of St. Gallen, a UNESCO World Heritage Site known for its stunning Baroque architecture and library, which houses a remarkable collection of ancient manuscripts.
Lake Constance (Bodensee), Austria

A day trip to Lake Constance offers the opportunity to explore charming lakeside towns such as Bregenz and Lindau. You can take a boat tour on the lake, visit the beautiful Mainau Island with its lush gardens, or simply relax by the water and enjoy the serene atmosphere.
Appenzell, Switzerland

Known for its traditional Swiss culture, Appenzell is a delightful Swiss town renowned for its colorful houses and vibrant traditions. Wander through the cobbled streets, visit the Appenzell Museum, and try a slice of the local cheese known as "Appenzeller."
Feldkirch, Austria

Just across the border from Liechtenstein, Feldkirch is a historic Austrian town with well-preserved medieval architecture. Explore the charming old town, visit Schattenburg Castle, and immerse yourself in the town's rich history.
Zurich, Switzerland

If you have more time to spare, consider a day trip to Zurich, Switzerland's largest city. Explore the vibrant city center, visit world-class museums like the Swiss National Museum, and stroll along the picturesque shores of Lake Zurich.
Shopping in Liechtenstein

Liechtenstein may not be known as a shopping mecca, but it offers some unique shopping experiences that are worth exploring:
Vaduz Market

Visit Vaduz on a Saturday morning and explore the local market. You'll find stalls selling fresh produce, artisanal cheeses, handmade crafts, and other regional products. It's a great place to interact with locals and pick up some authentic souvenirs.
Philately

Liechtenstein is famous for its postage stamps, and you can explore this passion at the Philately Museum in Vaduz. Stamp collectors will appreciate the opportunity to purchase rare and beautifully designed stamps as unique souvenirs.
Special Events and Festivals

To make the most of your visit to Liechtenstein, consider timing your trip to coincide with one of the country's special events or festivals:
Vaduz Castle Festival

Held annually in August, the Vaduz Castle Festival is a cultural extravaganza featuring music performances, art exhibitions, and culinary delights. The highlight is the open-air concert on the castle grounds, where you can enjoy live music against the backdrop of the majestic Alps.
National Day (Staatsfeiertag)

Liechtenstein's National Day is celebrated on August 15th. The festivities include a colorful parade through Vaduz, a fireworks display, and various cultural events. It's an excellent opportunity to experience the country's patriotic spirit.
Triesenberg Alpabfahrt

In September, the picturesque village of Triesenberg hosts the Alpabfahrt, a traditional Alpine cattle drive. Witness cows adorned with flowers as they descend from the mountain pastures into the valley—a sight that encapsulates Liechtenstein's rural traditions.

Liechtenstein may be one of Europe's smallest countries, but it packs a big punch when it comes to natural beauty, cultural richness, and unique experiences. From exploring the charming streets of Vaduz to hiking in the stunning Rhine Valley and embarking on day trips to neighboring countries, there's something for everyone in this enchanting microstate.
As you plan your Liechtenstein adventure, remember to check the latest travel advisories and entry requirements, as these may change due to external circumstances. Whether you're a history enthusiast, an outdoor adventurer, or simply seeking a peaceful escape, Liechtenstein welcomes you with open arms to discover its hidden treasures and unforgettable experiences. So, set your sights on this Alpine gem, and let Liechtenstein's beauty and charm captivate your heart and soul.