Moulin Rouge Travel User Guide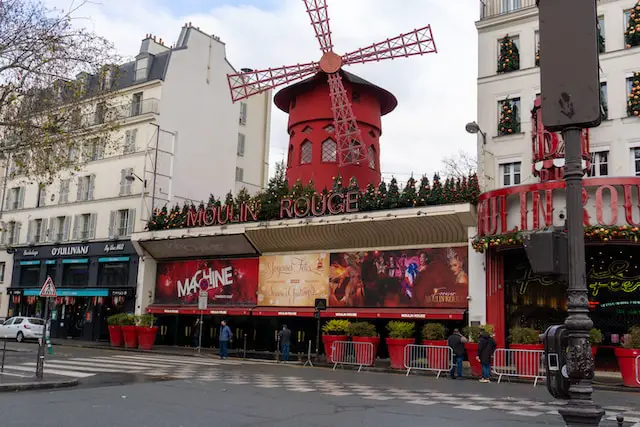 Visiting Paris, the City of Lights, would not be complete without experiencing the magic and excitement of the Moulin Rouge, the world-renowned cabaret that has been setting hearts racing for over a century. The Moulin Rouge, with its iconic red windmill, has stood as a symbol of Parisian nightlife since its inauguration in 1889. Here is a comprehensive guide to help you plan your visit to this enchanting venue.
History
The Moulin Rouge, translating to "Red Mill" in English, was created by Charles Zidler and Joseph Oller. It quickly gained a reputation as a place where the social classes could mingle, with everyone from aristocrats to workers enjoying the bohemian charm and provocative performances. This was the birthplace of the modern can-can dance, a high-energy and risqué performance that was originally a seductive dance for courtesans to attract potential clients.
Over the years, the Moulin Rouge has seen performances from many of the world's most famous entertainers, including Édith Piaf, Frank Sinatra, and Elton John. The venue has also inspired numerous artists and writers, such as Henri de Toulouse-Lautrec, whose paintings of the Moulin Rouge dancers have become iconic.
Location
The Moulin Rouge is located in the lively Montmartre district in the 18th arrondissement of Paris. It's easily accessible by metro, with the nearest station being Blanche on Line 2. The area is known for its bohemian past and its vibrant café culture and nightlife. The iconic Sacré-Cœur Basilica and the charming Place du Tertre, where artists gather and create on-the-spot portraits, are also located in Montmartre, making it worth exploring before or after your Moulin Rouge visit.
The Show
Currently, the Moulin Rouge presents its resident show, "Féerie." This spectacular production includes a troupe of 80 artists, including 60 Doriss Girls, recruited internationally. The show includes performances in extravagant costumes featuring feathers, rhinestones, and sequins, all made in the most famous Parisian workshops.
"Féerie" consists of a series of tableaux, including the Moulin Rouge's famous French Cancan, showcasing dancing, music, and scenes performed in original settings. Throughout the night, you'll be drawn into a world of fantasy, intrigue, and beauty.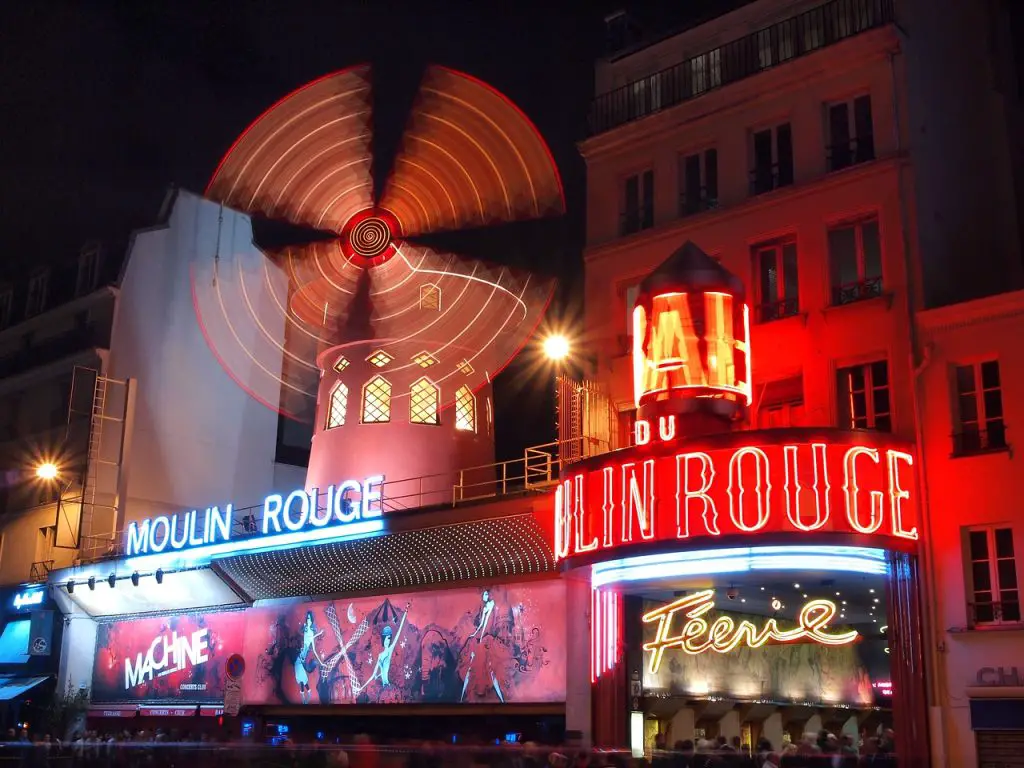 Booking Tickets
It's highly recommended to book your tickets in advance, as shows often sell out. You can purchase tickets through the official Moulin Rouge website, where you'll have the option of show only or dinner and show combinations.
There are two shows each night, one at 9 PM and the other at 11 PM. If you opt for a dinner and show ticket, note that dinner starts at 7 PM. Ticket prices vary depending on the package chosen.
Dinner at Moulin Rouge
If you choose a dinner option, you'll be treated to a delicious meal designed by chef David Le Quellec and prepared on site. The menu reflects traditional French cuisine, and there are multiple options, including vegetarian and vegan choices. Dinner is accompanied by a half bottle of champagne per person, ensuring a festive atmosphere.
Dress Code
The Moulin Rouge maintains an elegant dress code. For men, a jacket and tie are appreciated but not mandatory. However, sportswear, jeans, shorts, sport shoes, and flip flops are not allowed.
Tips for the Visit
Arrive early to find your seat and soak up the atmosphere. Photography and filming are not allowed during the performance, but you can take photos before and after the show. Be prepared for a night of unforgettable entertainment in an atmosphere buzzing with anticipation and excitement.
Remember, the Moulin Rouge is a popular tourist attraction, so it may be crowded, particularly during the peak tourist seasons. To avoid long waits, consider booking VIP tickets, which offer fast pass entry, premium seating, and other exclusive amenities.
Souvenir Shopping
A boutique store is available on-site, where you can buy official Moulin Rouge merchandise including posters, keychains, and even champagne glasses. This is the perfect place to grab a memento of your unforgettable evening.
Nearby Attractions
Apart from the show, consider exploring the vibrant neighborhood. The charming streets of Montmartre are worth a stroll, particularly the artistic hub around the Place du Tertre. The magnificent Sacré-Cœur Basilica is nearby and offers a stunning panoramic view of Paris.
Accessible Experience
The Moulin Rouge is committed to providing a welcoming environment for all its visitors. The venue is accessible for visitors with reduced mobility. However, it's recommended to contact the establishment in advance to ensure appropriate arrangements.
A trip to the Moulin Rouge is more than just a night at the theater; it's a dive into over a century's worth of Parisian history and culture, a sensory feast of music, dance, and color. Whether you're a fan of musical performances or just keen to experience a true Parisian night out, the Moulin Rouge is a destination that promises an evening of glamour, excitement, and pure joie de vivre. As the lights dim and the curtain rises, you'll understand why this legendary cabaret has captivated audiences for more than a century. Enjoy the show!