Nashville, Tennessee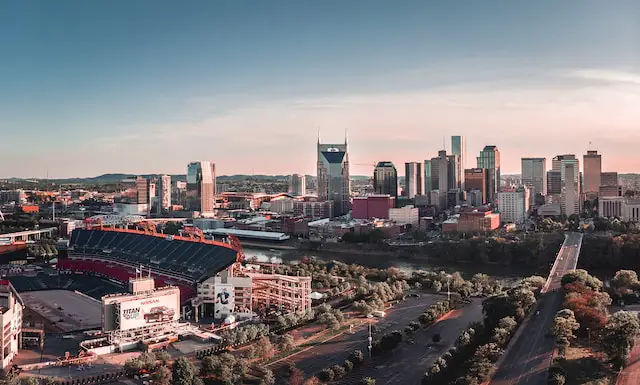 Nashville, a city located in the heart of Tennessee, is a captivating destination renowned for its Southern charm, vibrant culture, and compelling history. Nestled on the Cumberland River, this Music City is known worldwide for its diverse music scene, buzzing nightlife, renowned cuisine, and numerous historic landmarks, making it a must-visit spot for any American adventure.
A city with a rich cultural tapestry, Nashville is best known for its pivotal role in the music industry. This city is the undisputed capital of country music, a title it earned and maintained through the famous Grand Ole Opry, a radio show turned concert that has hosted countless country music stars since it first broadcasted in 1925. Other notable music attractions include the Ryman Auditorium, also known as the "Mother Church of Country Music," and the Country Music Hall of Fame and Museum, where visitors can immerse themselves in the rich history and legacy of country music.
However, Nashville's music scene transcends country music; it also encompasses a wide variety of genres like blues, rock, and pop. This variety is a testament to the city's deeply ingrained musical culture. Music Row, an area packed with recording studios, radio stations, and record companies, has seen the birth of countless hit songs across multiple genres.
Nashville is also a city of remarkable academic institutions, including Vanderbilt University, Belmont University, and Tennessee State University. Vanderbilt University, in particular, is recognized globally for its research programs and academic prestige. These institutions contribute to Nashville's vibrant intellectual scene, with local bookstores, poetry nights, and literary festivals taking center stage.
The city also boasts a robust culinary scene, with a distinct food culture that draws both locals and tourists alike. Nashville's signature dish, the hot chicken, is a mouthwatering spicy fried chicken served with pickles on a slice of bread. Other Southern delicacies, such as barbecue ribs, biscuits, and grits, are staples in Nashville's cuisine. The city's many food festivals, such as the Music City Food + Wine Festival, serve as a testament to its dynamic food culture.
Beyond its music and food, Nashville's landscape is dotted with a plethora of historic landmarks. The Tennessee State Capitol, the Parthenon replica in Centennial Park, and the Belle Meade Plantation are just a few examples of the city's historic treasures. These landmarks provide a glimpse into Nashville's storied past, tracing its transformation from a frontier town into a bustling modern city.
Nashville's thriving art scene is also worthy of recognition. The Frist Art Museum is known for its diverse collection and rotating exhibits, providing a platform for local and international artists. Nashville's art culture extends to the streets as well, with numerous public murals and sculptures adorning the cityscape, turning everyday walks into art tours.
The city's love for sports is well-known, housing teams like the Tennessee Titans (NFL) and the Nashville Predators (NHL). The roar of the crowd at Nissan Stadium or Bridgestone Arena on game days is a testament to the city's sports passion. Moreover, NASCAR's decision to return to Nashville in 2021 is indicative of the city's ongoing sporting renaissance.
Above all, Nashville's soul lies in its warm and welcoming people. The Southern hospitality, a combination of politeness, helpfulness, and charm, is deeply ingrained in the city's ethos. This spirit of inclusivity and friendliness is palpable, whether you're in a honky-tonk bar on Lower Broadway, a quirky coffee shop in East Nashville, or walking through the historic Germantown district.
All in all, Nashville is a city with a vibrant past and a promising future. It is a city that is proudly Southern yet continuously evolving. It's a place where history meets modernity, where the comforting strains of country music serve as a backdrop for an ever-evolving cityscape. From the neon lights of Broadway to the grandeur of the Opry, Nashville sings a timeless tune of Southern hospitality and cultural richness.
Walking through the streets of Nashville, you are bound to be immersed in its legacy. This is not a city that shies away from its past; instead, it embraces its heritage, preserving its historic buildings and sites and allowing them to coexist with modern establishments. This amalgamation of the old and new is part of what makes Nashville a uniquely charming destination.
Its neighborhoods provide a microcosm of this blend. For instance, the East Nashville district, known for its lively arts scene, eclectic shops, and charming bungalows, showcases the city's ability to be both hip and vintage. The Gulch, a former industrial area, has transformed into a dynamic neighborhood with contemporary condominiums, high-end boutiques, and popular eateries.
Nashville's diverse arts scene extends beyond music and visual arts. It also has a vibrant theatre community with institutions like the Tennessee Performing Arts Center and the Nashville Children's Theatre offering a range of performances, from Broadway shows to children's productions. The Nashville Film Festival, one of the oldest running film festivals in the U.S., showcases the city's love for cinema, attracting filmmakers and enthusiasts from around the world.
What truly ties the city together, though, is its music. Music is the lifeblood of Nashville, pulsating through its veins, and shaping its character. From the twang of a guitar at a Lower Broadway honky-tonk bar to the eloquent symphonies at the Schermerhorn Symphony Center, the city reverberates with an unending rhythm.
Music is not just an entertainment form here; it is a way of life and a means of expressing the city's soul. Nashville's music tells its story, carrying the legacy of its past and the dreams of its future, embodying the city's resilience, spirit, and charm. This city gave rise to legends such as Johnny Cash, Dolly Parton, and Jimi Hendrix, and continues to foster the talent of budding musicians.
The city's commitment to education and innovation is also noteworthy. Nashville is striving to become a leader in the healthcare sector, with numerous hospitals and research centers located within the city. Moreover, Nashville's push towards technological innovation, evident in its booming tech industry and startup culture, is positioning it as a significant player in the digital age.
However, amidst its progress and evolution, Nashville remains grounded in its traditions and values. Its hospitality, kindness, and warmth reflect a city that has retained its essence while looking towards the future. It is this essence that invites visitors to come and partake in Nashville's story, to dance to its music, to savor its food, and to bask in its Southern charm.
In conclusion, Nashville, TN, is more than just a city; it is an experience. It is a city where the music never stops, where creativity and innovation are nurtured, where history is cherished, and the future is eagerly anticipated. Nashville is a city of resilience, grace, and warmth, whose vibrant culture and authentic Southern hospitality continue to enchant its residents and visitors alike.