Playa del Carmen Travel Guide: Discover the Best Vacation Experiences and Trip Ideas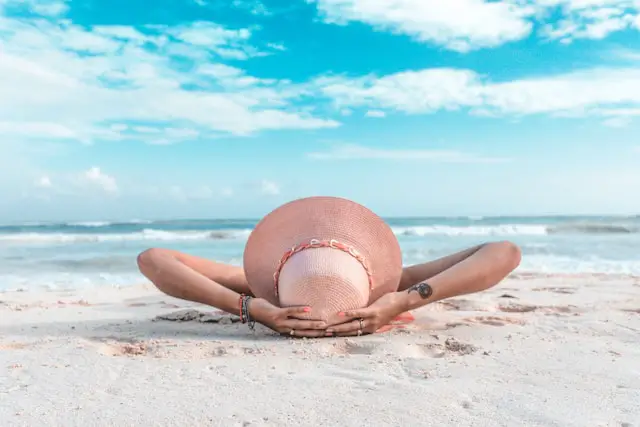 Playa del Carmen, fondly known as 'Playa' by locals, is a radiant jewel nestled along the Yucatan Peninsula's eastern coast. This tropical haven, known for its pristine beaches, azure waters, and vibrant nightlife, welcomes travelers worldwide to experience an intoxicating blend of relaxation and adventure. In this travel guide, we'll uncover the best vacation experiences and trip ideas in Playa del Carmen, aiming to ensure you get the most out of your visit to this enchanting Mexican paradise.
Getting There and Around
Playa del Carmen doesn't have its own airport; the closest one is in Cancun, approximately 55 kilometers north. Once landed, it's easy to catch a bus, taxi, or private transfer straight to the heart of Playa. Once you're there, getting around is a breeze. Playa is a pedestrian-friendly town with Avenida Quinta (5th Avenue) at its core, a long, vibrant street that runs parallel to the beach, lined with shops, restaurants, and bars.
Accommodation
There's no shortage of accommodation options in Playa, catering to all budgets and preferences. Luxurious beachfront resorts like The Royal Playa del Carmen and Fairmont Mayakoba offer opulent rooms, stunning sea views, and first-class service. Mid-range options include The Palm at Playa and Aventura Mexicana, providing comfortable, clean rooms at a more affordable price. For budget-conscious travelers, hostels like the 3B Hostel offer shared rooms in a great location.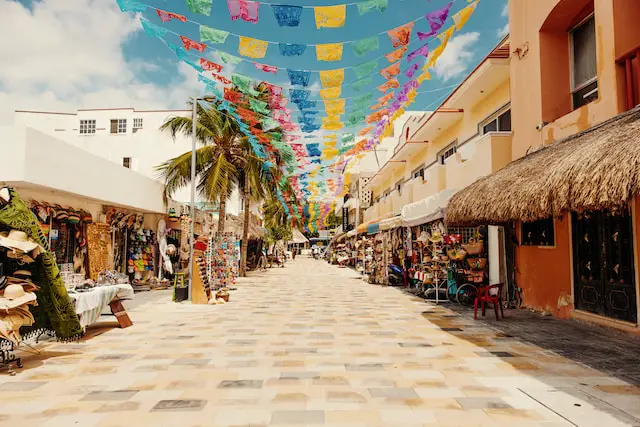 Exploring Playa del Carmen
Playa's main attraction is its sprawling, sun-drenched beach – perfect for basking under the Mexican sun, enjoying water sports, or simply watching the world go by. However, Playa offers so much more than just a beach holiday.
La Quinta Avenida is the town's vibrant, pedestrian-friendly thoroughfare where you can shop, dine, and drink to your heart's content. It's the perfect place to experience local cuisine, buy souvenirs, and immerse yourself in the city's lively atmosphere.
Another must-see is Parque Fundadores, a lovely public park located near the Cozumel Ferry Terminal. Here, you'll find the iconic Portal Maya statue, a stage where local artists perform traditional dances, and a lovely sandy beach to relax.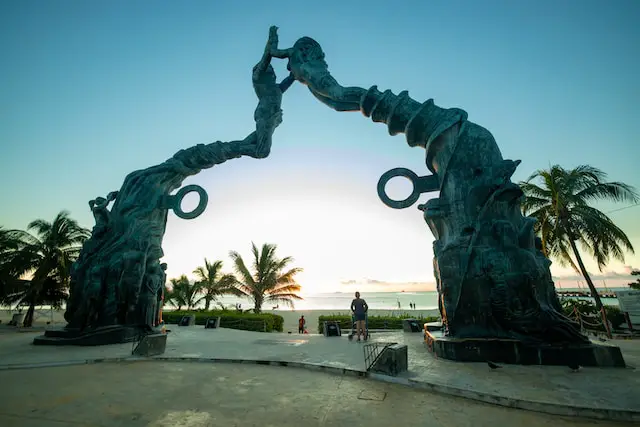 Excursions and Day Trips
Playa del Carmen's central location along the Riviera Maya makes it an ideal base for various day trips and excursions. A visit to the eco-archaeological park Xcaret is highly recommended. It's a theme park that showcases Mexico's biodiversity, history, and culture. You can explore underground rivers, witness exciting performances, and learn about local flora and fauna.
Another popular excursion is a visit to the Mayan ruins of Tulum. Located about 60 km south of Playa, these ruins are perched on a cliff overlooking the Caribbean Sea, offering stunning views and fascinating insights into the Mayan civilization.
For a unique experience, explore the area's famed cenotes. These natural sinkholes are great spots for swimming, snorkeling, or diving in crystal-clear freshwater. Some of the most popular include the Gran Cenote, Cenote Azul, and Dos Ojos.
Food and Drink
Food lovers will rejoice in Playa del Carmen's diverse culinary scene, which ranges from street food stalls to upscale dining. Local specialties like tacos al pastor, ceviche, and cochinita pibil are a must-try. For an upscale dining experience, places like Oh Lala and Plank Gourmet Grill offer gourmet dishes in a chic, intimate setting. If you crave international cuisine, options abound from sushi and Italian, to French and vegetarian fusion.
Nightlife
As the sun sets, Playa del Carmen transforms into a vibrant nightlife hub. Bars, clubs, and lounges along La Quinta Avenida come alive, offering everything from chilled-out live music to high-energy dance clubs. The iconic Coco Bongo combines a nightclub with a Las Vegas-style show, featuring acrobats, bands, and impersonators in a non-stop extravaganza. For a more relaxed evening, enjoy a cocktail while taking in the stunning beach views at Zenzi Beach Bar.
Outdoor Activities
For outdoor enthusiasts, Playa del Carmen does not disappoint. Deep-sea fishing, snorkeling, and scuba diving are all readily available thanks to the town's proximity to the Caribbean Sea and the Mesoamerican Reef, the second-largest coral reef system in the world. Several tour operators offer trips to dive sites suitable for beginners and advanced divers alike.
For those interested in golf, there are top-notch golf courses in the area, such as the Grand Coral and Playacar Golf Club. Hiking and bird-watching enthusiasts will enjoy Sian Ka'an Biosphere Reserve, a UNESCO World Heritage site teeming with wildlife.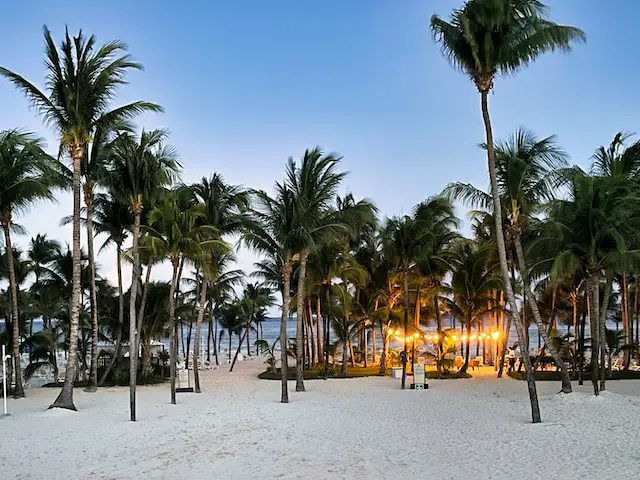 Festivals and Events
Playa del Carmen hosts several exciting events throughout the year. The BPM Festival in January is a significant draw for electronic music fans, while the Riviera Maya Film Festival in April showcases international films in a variety of genres. If your visit coincides with the Day of the Dead celebrations in November, you'll witness a vibrant display of Mexican cultural heritage.
Travel Tips
Playa del Carmen enjoys a tropical climate with high temperatures year-round. The best time to visit is between December and April, when the weather is less humid, and there's a lower chance of rain. It's worth noting that hurricane season runs from June to November.
While the official currency is the Mexican Peso, US Dollars are widely accepted. Remember, Spanish is the primary language, though English is often spoken in tourist areas.
Travel insurance is highly recommended, and it's always important to stay safe by drinking bottled water and taking care when swimming in the sea due to occasional strong currents.
From its golden beaches and crystal-clear waters to its vibrant nightlife and cultural heritage, Playa del Carmen offers an enticing blend of relaxation and adventure. Whether you're a history buff, a nature lover, a foodie, or simply looking for a beach getaway, you'll find what you're looking for in Playa. We hope this guide helps you discover and enjoy the best of this Mexican paradise.