Qatar Travel User Guide
Qatar, a small yet prosperous nation on the northeastern coast of the Arabian Peninsula, has become an increasingly popular travel destination in recent years. With its rich history, vibrant culture, modern architectural marvels, and world-class hospitality, Qatar offers a unique and unforgettable experience for visitors from around the world. This comprehensive guide will provide you with essential information and insider tips for making the most of your trip to this fascinating country.
Visa and Entry Requirements

Before planning your trip to Qatar, it's important to familiarize yourself with the country's visa and entry requirements. Citizens of many countries, including the United States, Canada, Australia, and most European countries, can obtain a visa-free entry or visa on arrival for a stay of up to 30 days.
To determine the specific visa requirements for your nationality, visit the official Qatar Visa Service website (https://www.qatarvisaservice.com). You can also find information on visa extensions, multiple-entry visas, and other types of visas for longer stays or specific purposes, such as work or study.
In addition to a valid visa, you'll also need:
A passport with at least six months of remaining validity from the date of entry.

A confirmed return or onward ticket.

Proof of accommodation for the duration of your stay in Qatar.

Sufficient funds to cover your expenses while in the country.

Best Time to Visit

Qatar has a desert climate, with hot summers and mild winters. The best time to visit is during the cooler months from November to early April when temperatures are more comfortable, ranging from 15°C to 25°C (59°F to 77°F).
During the summer months, temperatures can soar above 40°C (104°F), making outdoor activities and sightseeing quite challenging. However, if you're comfortable with high temperatures and don't mind spending most of your time indoors, you may find better deals on flights and accommodations during the low season.
Getting to Qatar

Qatar's main international gateway is Hamad International Airport (DOH) in the capital city of Doha. Numerous airlines operate flights to Doha, including Qatar Airways, the country's national carrier.
Qatar Airways offers direct flights from many cities worldwide, including New York, London, Paris, Sydney, and Tokyo. It's worth checking for special promotions or discounted fares, as the airline often offers competitive prices on flights to Doha.
Transportation within Qatar

Once you arrive in Qatar, you have several options for getting around:
Renting a car: If you prefer to explore at your own pace, renting a car can be a convenient option. Numerous car rental agencies operate at Hamad International Airport and throughout Doha. Keep in mind that you'll need an International Driving Permit to rent a car in Qatar.
Taxis and ridesharing services: Taxis are readily available in Doha and other major cities. You can also use ridesharing services like Uber or the local app, Karwa, for a more convenient and cashless experience.
Public transportation: Qatar's public transportation system includes buses and the recently launched Doha Metro. The buses, operated by Mowasalat, cover most parts of Doha and its suburbs, while the Doha Metro currently has three lines connecting key areas within the city.
Accommodations

Qatar offers a wide range of accommodations to suit various budgets and preferences. From luxury five-star hotels to budget-friendly hostels, you can find the perfect place to stay during your trip.
In Doha, popular areas for accommodations include West Bay, the Corniche, and Souq Waqif. For a more authentic experience, consider staying in a traditional
Qatari guesthouse or boutique hotel in the heart of Souq Waqif, where you'll be surrounded by the vibrant atmosphere of the bustling market and historic architecture.
When choosing accommodations outside of Doha, you can opt for luxury desert camps and resorts, beachfront hotels, or family-friendly properties in cities like Al Khor, Al Wakrah, and Madinat ash Shamal.
To get the best deals on accommodations, consider booking well in advance or traveling during the low season when prices are generally lower.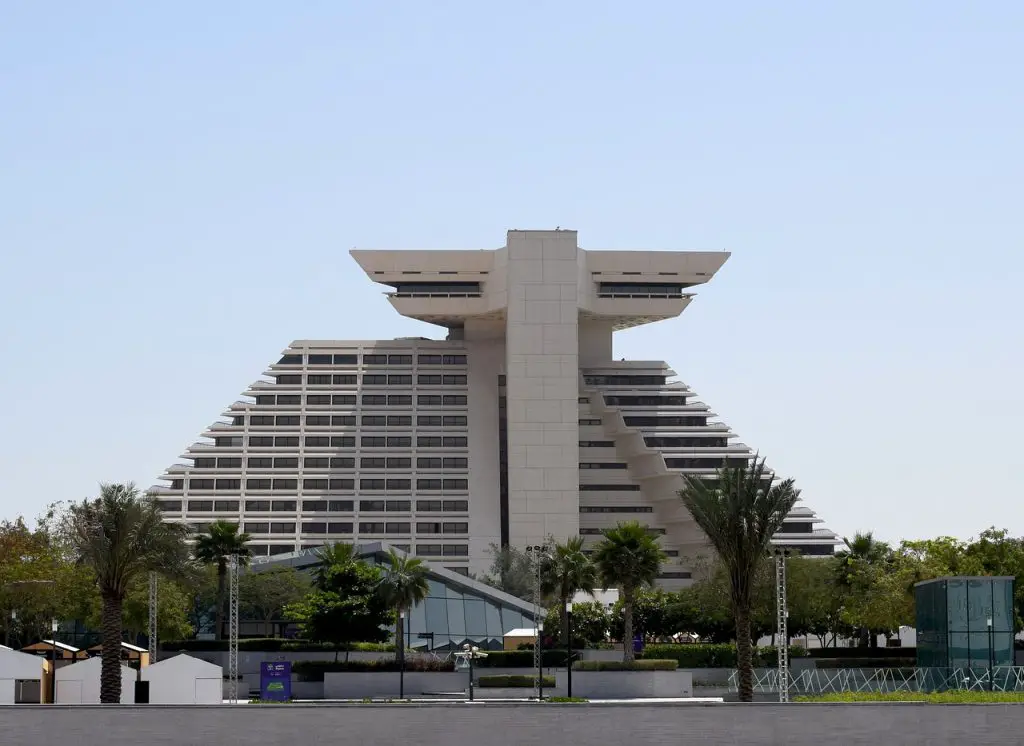 Top Attractions and Activities

Qatar offers a diverse range of attractions and activities that cater to different interests, from history and culture enthusiasts to adventure seekers and families.
Doha: The capital city is home to iconic landmarks such as the Museum of Islamic Art, the National Museum of Qatar, and the Pearl-Qatar, a luxurious man-made island with high-end shopping, dining, and entertainment options. Don't miss a visit to Souq Waqif, the city's bustling market, where you can shop for traditional handicrafts, spices, and souvenirs.
Desert Adventures: Experience the beauty of the Qatari desert with a thrilling dune bashing excursion, a camel ride, or an overnight stay in a luxury desert camp. Popular desert destinations include Khor Al Adaid (the Inland Sea), a UNESCO-recognized natural reserve, and the striking desert formations of Zekreet and Ras Abrouq.
Beaches and Water Sports: Qatar boasts several beautiful beaches along its coastline, such as Fuwairit Beach, Al Wakrah Beach, and Sealine Beach. These beaches offer opportunities for swimming, sunbathing, and water sports like jet skiing, paddleboarding, and kitesurfing.
Cultural Experiences: Visit the historical forts and archaeological sites scattered across the country, such as Al Zubarah Fort, a UNESCO World Heritage site, or the ancient rock carvings of Al Jassasiya. You can also immerse yourself in Qatari culture by attending a traditional falconry demonstration or visiting the Sheikh Faisal Bin Qassim Al Thani Museum, which houses a vast collection of Qatari artifacts, art, and vehicles.
Outdoor Activities: Explore Qatar's diverse landscapes with activities like kayaking in the mangrove forests of Al Thakira or birdwatching at the Al Reem Biosphere Reserve. The country also offers several world-class golf courses and equestrian centers for those interested in sports and outdoor recreation.
Dining and Cuisine

Qatari cuisine is a blend of Middle Eastern, Indian, and North African flavors, with an emphasis on fresh ingredients and aromatic spices. Some traditional dishes you must try during your visit include:
Machboos: A fragrant rice dish cooked with spices, vegetables, and your choice of meat, such as chicken, lamb, or seafood.
Thareed: A slow-cooked stew made with vegetables, meat, and pieces of bread soaked in the flavorful broth.
Harees: A hearty porridge made with wheat and meat, typically served during special occasions and Ramadan.
In addition to traditional Qatari cuisine, you'll find a diverse range of international dining options in Qatar, from upscale restaurants helmed by renowned chefs to casual eateries and fast-food chains. For a memorable dining experience, try booking a table at one of Doha's rooftop restaurants or enjoying a traditional Qatari meal at a local family's home.
Shopping

Qatar offers a unique shopping experience, where modern malls and traditional markets coexist. In Doha, you can shop for luxury brands and high-end fashion at the Pearl-Qatar, Lagoona Mall, or Villaggio Mall. For a more traditional shopping experience, visit
Souq Waqif, where you can find a wide array of local products, including spices, textiles, handicrafts, and gold jewelry.
In addition to Doha, other cities in Qatar also offer shopping opportunities. Al Khor Mall and Al Wakrah Souq are popular destinations for shopping enthusiasts looking to explore beyond the capital.
When shopping in Qatar, remember to practice your bargaining skills, especially in traditional markets, as haggling is a common and expected part of the experience.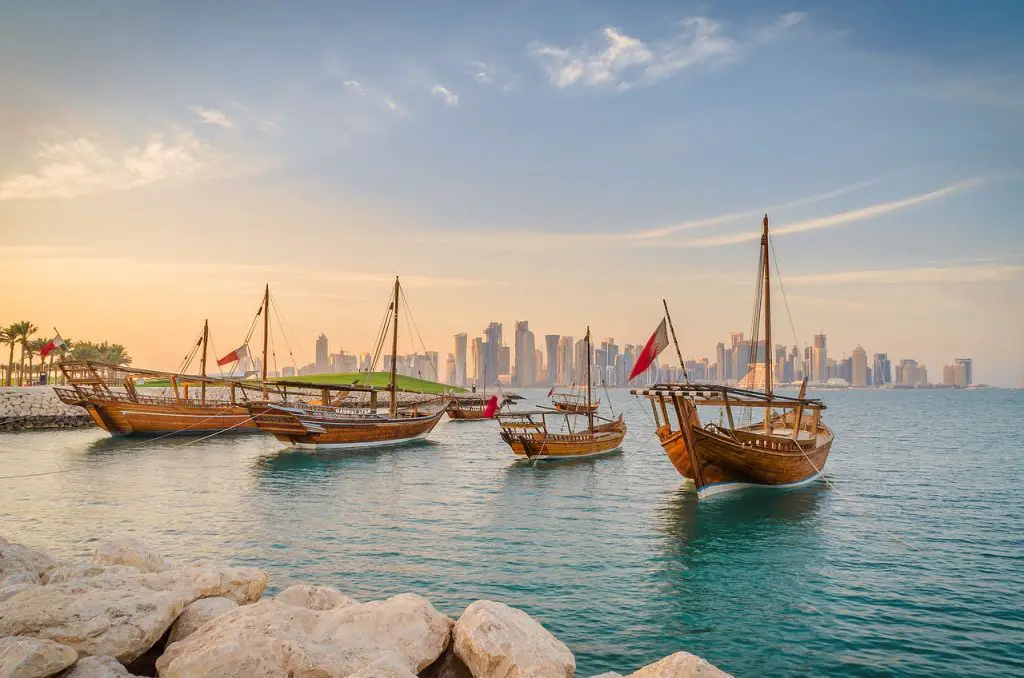 Local Customs and Etiquette

As an Islamic country, Qatar has certain customs and etiquette rules that visitors should be aware of to ensure a respectful and enjoyable trip.
Dress modestly: Both men and women should dress modestly in public, covering shoulders, knees, and avoiding tight or revealing clothing.
Alcohol consumption: Alcohol is only available in licensed hotels, restaurants, and bars, and it's illegal to drink alcohol in public places or bring alcohol into the country.
Public displays of affection: Avoid public displays of affection, as they are considered inappropriate and disrespectful in Qatari culture.
Respect local traditions: During the holy month of Ramadan, eating, drinking, and smoking in public during daylight hours are prohibited, even for non-Muslims. Be respectful of the local customs and participate in the spirit of the month by refraining from these activities in public.
Photography: Be mindful of people's privacy and always ask permission before taking photos of locals, especially women.
Safety and Health

Qatar is a safe country for travelers, with low crime rates and a welcoming attitude towards visitors. However, it's always a good idea to exercise common sense and take basic safety precautions, such as avoiding poorly lit areas at night and keeping your personal belongings secure.
In terms of health, Qatar has high-quality healthcare facilities, and no specific vaccinations are required for entry. However, it's recommended to be up-to-date with routine vaccinations and carry comprehensive travel insurance that covers medical expenses.
During the hot summer months, take precautions against heatstroke and dehydration by staying well-hydrated, wearing sun protection, and limiting outdoor activities during peak heat hours.
Conclusion
Qatar offers a captivating blend of ancient traditions, modern architecture, and world-class hospitality, making it an increasingly popular travel destination. This comprehensive guide aims to provide you with the essential information and insider tips for making the most of your trip to this fascinating country. From understanding visa requirements and planning your itinerary to immersing yourself in local culture and enjoying the diverse range of attractions and activities, your journey to Qatar promises to be a truly unforgettable experience.