Rio de Janeiro Itinerary Travel User Guide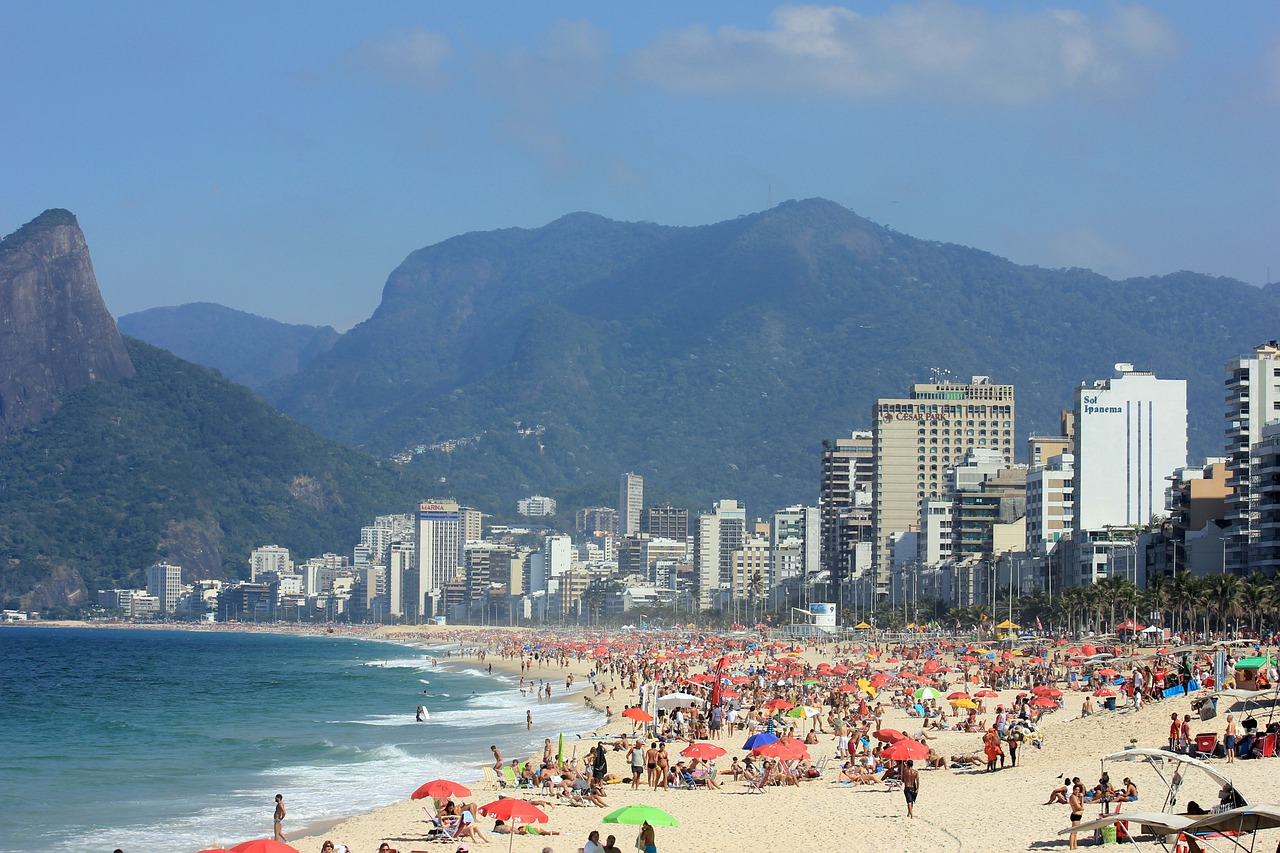 Rio de Janeiro, often referred to as the "Cidade Maravilhosa" or Marvelous City, is a vibrant and diverse destination in Brazil. With its stunning natural beauty, iconic landmarks, and lively culture, Rio offers countless experiences for visitors. In this comprehensive itinerary travel user guide, we will cover the must-see attractions, hidden gems, and local experiences to help you plan your perfect trip to Rio de Janeiro.
Day 1: Arrival and Copacabana Beach
Arrival in Rio de Janeiro: Upon arrival at Rio de Janeiro/Galeão–Antonio Carlos Jobim International Airport (GIG), take a taxi, Uber, or airport shuttle to your hotel. Depending on your arrival time, you may want to rest and freshen up before exploring the city.
Copacabana Beach: Start your Rio adventure by heading to the famous Copacabana Beach. This 2.5-mile-long stretch of sand is lined with hotels, restaurants, and bars, making it a lively and bustling spot. Take a leisurely stroll along the iconic black-and-white wave-patterned sidewalk, rent a beach chair and umbrella to relax on the sand, or dip your toes in the Atlantic Ocean.
Lunch at a Kilo Restaurant: Experience a local dining tradition by having lunch at a "kilo" restaurant, where you pay for your food by weight. These buffet-style establishments offer a wide variety of Brazilian and international dishes, allowing you to sample different flavors and ingredients.
Forte de Copacabana: After lunch, visit Forte de Copacabana, a historical military base built in 1914. The fort houses the Museu Histórico do Exército (Army Historical Museum) and offers stunning views of Copacabana Beach and Sugarloaf Mountain. Don't miss the opportunity to have a coffee or snack at Confeitaria Colombo, a beautiful Belle Époque-style café located inside the fort.
Sunset at Arpoador: As the day winds down, make your way to Arpoador, a small peninsula between Copacabana and Ipanema beaches. This rocky outcrop is a popular spot for watching the sunset and offers breathtaking views of the city and ocean.
Dinner at a Churrascaria: For your first dinner in Rio, treat yourself to a traditional Brazilian churrascaria, or steakhouse. Skewers of various cuts of meat are brought to your table, and you can choose which ones to sample. These all-you-can-eat establishments often also offer extensive salad bars and side dishes.
Day 2: Christ the Redeemer and Sugarloaf Mountain
Breakfast: Start your day with a hearty breakfast at your hotel or a local bakery, such as Confeitaria Colombo, which has multiple locations throughout the city.
Christ the Redeemer: Head to Corcovado Mountain to visit the iconic Christ the Redeemer statue, one of the New Seven Wonders of the World. The best way to reach the statue is by taking the scenic Corcovado Train, which departs from Cosme Velho Station. Be sure to book your tickets in advance online to avoid long queues.
Lunch in Santa Teresa: After your visit to Christ the Redeemer, make your way to the bohemian neighborhood of Santa Teresa for lunch. This area is known for its colorful street art, winding cobblestone streets, and a variety of restaurants and bars offering delicious food and live music.
Sugarloaf Mountain: In the afternoon, head to Sugarloaf Mountain for another iconic Rio experience. Take the cable car from
Praia Vermelha (Red Beach) to the first stop, Morro da Urca, and then continue to the summit of Sugarloaf Mountain. At the top, you'll be rewarded with panoramic views of Rio de Janeiro, including Copacabana Beach, the city center, and the surrounding mountains. Plan your visit around sunset to enjoy the stunning colors over the cityscape.
Dinner in Lapa: After descending from Sugarloaf Mountain, head to the lively neighborhood of Lapa for dinner. This area is famous for its vibrant nightlife, with numerous bars, restaurants, and live music venues. Choose from a variety of dining options, from traditional Brazilian fare to international cuisine.
Lapa Arches and Samba Night: While in Lapa, don't miss the chance to visit the iconic Lapa Arches, a historic aqueduct turned into a tram bridge. At night, the area comes alive with music and dancing. Join the locals at one of the many samba clubs or bars featuring live music, and dance the night away.
Day 3: Jardim Botânico and Ipanema Beach
Breakfast: Start your day with a traditional Brazilian breakfast at a local bakery or café.
Jardim Botânico: Visit the Rio de Janeiro Botanical Garden, a 137-hectare park featuring more than 6,000 plant species from Brazil and around the world. Wander through the beautiful grounds, admiring the lush greenery, ponds, and historic buildings.
Lunch at Palaphita Kitch: For a unique dining experience, have lunch at Palaphita Kitch, a charming open-air restaurant located within the botanical garden. The menu features a mix of Brazilian and international cuisine, with an emphasis on locally sourced ingredients.
Ipanema Beach: In the afternoon, head to Ipanema Beach, one of Rio's most famous and fashionable stretches of sand. Relax on the beach, rent a stand-up paddleboard, or take a dip in the ocean. Don't forget to try some refreshing água de coco (coconut water) from one of the many beach vendors.
Hippy Fair: If your visit falls on a Sunday, be sure to check out the Feira Hippie de Ipanema (Hippy Fair) in General Osório Square. This popular outdoor market features local artisans selling crafts, clothing, and souvenirs, as well as food stalls offering Brazilian street food.
Dinner in Leblon: End your day with dinner in the upscale neighborhood of Leblon. Choose from a variety of dining options, including seafood, sushi, Italian, and traditional Brazilian cuisine.
Day 4: Day Trip to Ilha Grande or Búzios
Day Trip Options: On your fourth day in Rio de Janeiro, consider taking a day trip to one of the nearby destinations. Two popular options are Ilha Grande, a beautiful island with pristine beaches and lush rainforest, or Búzios, a charming coastal town with a lively atmosphere.
Ilha Grande: If you choose Ilha Grande, take a bus or transfer to Angra dos Reis, followed by a boat or ferry to the island. Spend your day exploring the island's beaches, hiking trails, and snorkeling spots, or take a boat tour to the famous Lopes Mendes Beach.
Búzios: If you opt for Búzios, take a bus or transfer from Rio de Janeiro to the town. Wander through the charming cobblestone streets, relax on one of the many beautiful beaches, or take a boat tour to explore the surrounding coastline.
Return to Rio de Janeiro: After your day trip, return to Rio de Janeiro in the evening. Depending on your arrival time, you may want to rest and freshen up at your hotel before venturing out for dinner.
Dinner in Botafogo: For your final night in Rio de Janeiro, enjoy dinner in the lively neighborhood of Botafogo. This area offers a range of dining options, from casual street food to upscale restaurants, serving both local and international cuisine.
Nightlife: If you still have energy after your day trip, consider exploring Rio's nightlife one last time. Head to Lapa, Ipanema, or Copacabana for a variety of bars, clubs, and live music venues to suit every taste.
Day 5: Departure
Breakfast: Start your last day in Rio de Janeiro with a leisurely breakfast at your hotel or a local bakery.
Souvenir Shopping: Before leaving the city, take some time to shop for souvenirs and gifts for friends and family. Visit local markets, such as the Hippie Fair in Ipanema or the Saara Market in downtown Rio, to find unique and locally-made items.
Lunch: Enjoy one final meal in Rio de Janeiro, choosing from the wide variety of dining options available throughout the city.
Departure: Depending on your departure time, you may have some additional time to explore the city or relax on the beach. When it's time to head to the airport, take a taxi, Uber, or airport shuttle from your hotel to Rio de Janeiro/Galeão–Antonio Carlos Jobim International Airport (GIG).
Conclusion
This Rio de Janeiro itinerary travel user guide provides a comprehensive plan for exploring the Marvelous City. By following this guide, you'll experience the best of Rio's iconic landmarks, vibrant neighborhoods, beautiful beaches, and diverse cuisine. As you explore the city and its surroundings, you'll undoubtedly create lasting memories and fall in love with the rich culture and natural beauty of Rio de Janeiro.