San Diego Travel User Guide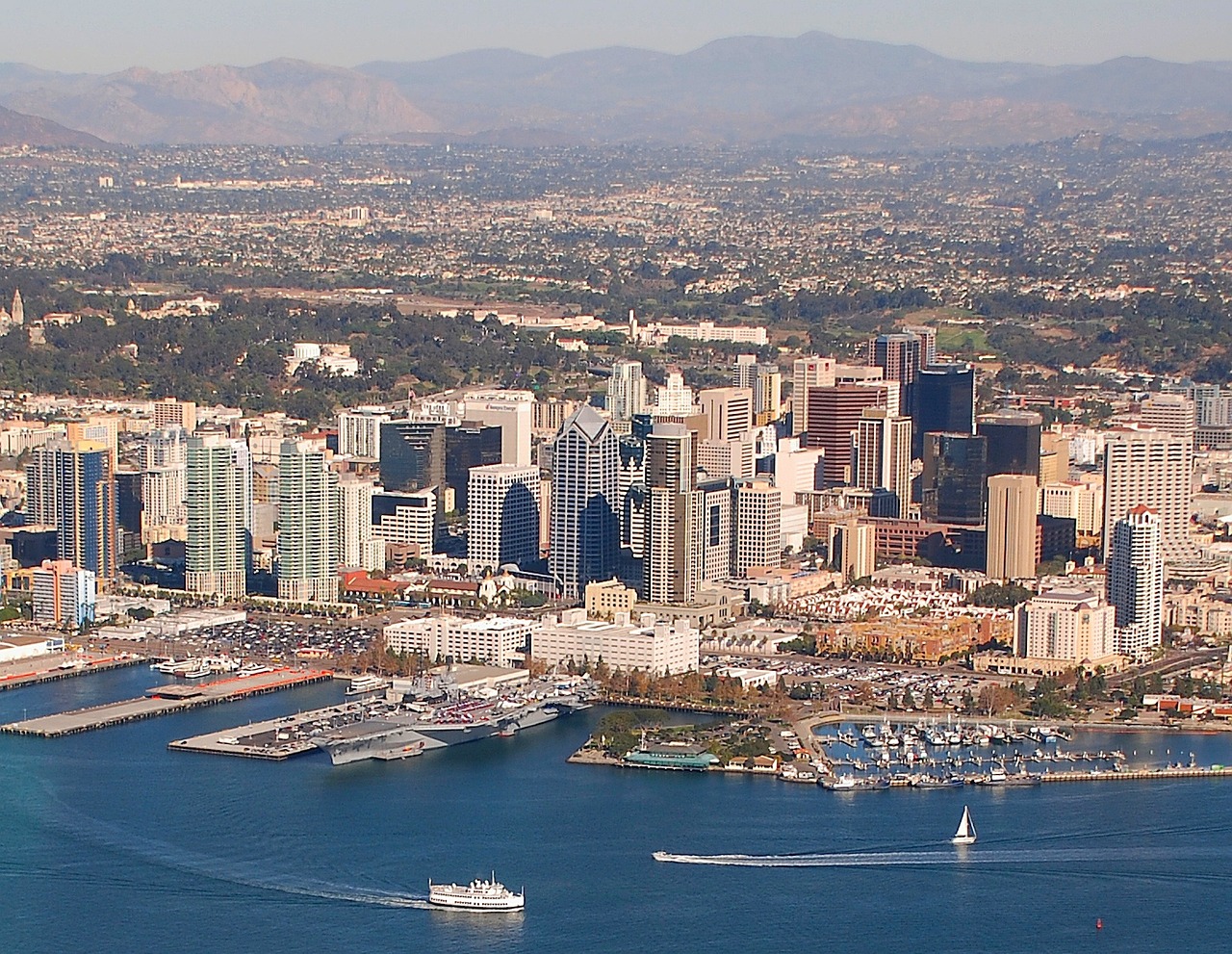 San Diego, California, is a coastal paradise known for its year-round sunshine, pristine beaches, and diverse attractions. This comprehensive travel user guide provides an in-depth look at some of the must-see sights, activities, and hidden gems that the city has to offer.
Getting to San Diego

San Diego International Airport (SAN) is the primary airport serving the city and is conveniently located just three miles northwest of downtown.
The airport is well-connected with both domestic and international flights, making it easily accessible from various locations. Alternatively, travelers can reach San Diego by train, bus, or car via the extensive interstate highway system.
Getting Around San Diego

Public Transportation: San Diego boasts an extensive public transportation network that includes buses, trolleys, and trains. The Metropolitan Transit System (MTS) operates buses and trolleys throughout the city, while the North County Transit District (NCTD) manages the COASTER commuter train and SPRINTER light rail services.
Car Rentals: Renting a car is a popular option for exploring San Diego and its surrounding areas. Numerous car rental agencies are available at the airport and throughout the city.
Rideshares and Taxis: Uber, Lyft, and traditional taxi services are readily available in San Diego, providing convenient transportation options for visitors.
Top Attractions

4.1 Balboa Park
Balboa Park is a 1,200-acre urban cultural park housing numerous museums, gardens, and attractions, including the world-famous San Diego Zoo.
The park is home to the San Diego Museum of Art, the Fleet Science Center, and the San Diego Air & Space Museum, among others. Stroll through the beautiful gardens, such as the Japanese Friendship Garden and the Botanical Building, or catch a live performance at the historic Old Globe Theatre.
4.2 San Diego Zoo
Located within Balboa Park, the San Diego Zoo is one of the largest and most renowned zoos in the world. Home to over 3,700 animals representing more than 650 species, the zoo offers an unforgettable experience for visitors of all ages. Don't miss the Giant Panda exhibit, the Elephant Odyssey, or the Australian Outback, where you can get up close and personal with kangaroos and koalas.
4.3 USS Midway Museum
The USS Midway Museum is a maritime museum located on the historic aircraft carrier USS Midway. Visitors can explore the ship's decks, view the impressive collection of aircraft, and experience life at sea for the sailors who served on board. Interactive exhibits and guided tours provide a fascinating look into the ship's history and its role in the United States Navy.
4.4 La Jolla Cove
La Jolla Cove is a small, picturesque beach nestled between sandstone cliffs in the upscale neighborhood of La Jolla. The cove is a popular destination for swimming, snorkeling, and scuba diving, thanks to its crystal-clear waters and abundant marine life. Nearby, the La Jolla Underwater Park offers a protected marine reserve for snorkelers and divers to explore.
4.5 SeaWorld San Diego
SeaWorld San Diego is a marine life theme park and aquarium that offers thrilling rides, live shows, and up-close encounters with marine animals. Experience the high-speed roller coaster Manta, watch dolphins perform in the Dolphin Days show, or visit the famous orca whales at the Orca Encounter.
Outdoor Activities and Adventures

5.1 Surfing
San Diego is a surfer's paradise, with numerous beaches catering to both beginners and experienced surfers. Popular surfing spots include Pacific Beach, Ocean Beach, and Swami's in Encinitas. Several surf schools and rental shops are available for those looking to learn or
hone their skills.
5.2 Hiking
San Diego offers an abundance of hiking trails for outdoor enthusiasts of all skill levels. Torrey Pines State Natural Reserve features scenic trails along the cliffs overlooking the Pacific Ocean, while the challenging hike to the summit of Cowles Mountain rewards visitors with panoramic views of the city. For a more leisurely walk, head to Cabrillo National Monument and enjoy the coastal trails and tide pools.
5.3 Biking
With its mild climate and varied terrain, San Diego is an excellent destination for cycling enthusiasts. Bike-friendly routes such as the Bayshore Bikeway and the San Diego River Trail provide picturesque settings for leisurely rides. For more adventurous cyclists, the mountain biking trails in Mission Trails Regional Park and the San Elijo Lagoon offer thrilling experiences.
5.4 Kayaking and Paddleboarding
The calm waters of San Diego Bay and the nearby La Jolla Shores provide the perfect environment for kayaking and paddle-boarding. Explore the area's diverse marine life, including sea lions, leopard sharks, and colorful fish, as you paddle through the La Jolla Sea Caves or glide along the waterfront in the bay.
Dining and Nightlife

San Diego boasts a vibrant culinary scene that caters to a wide range of tastes and budgets. From gourmet farm-to-table dining experiences to casual beachfront taco shops, the city offers something for everyone.
6.1 Neighborhoods for Dining
Little Italy: This lively neighborhood is home to numerous Italian restaurants, pizzerias, and wine bars, as well as the popular Little Italy Mercato Farmers' Market.

Gaslamp Quarter: San Diego's historic downtown district features a variety of dining options, from trendy rooftop bars and fine dining establishments to casual gastropubs and late-night eateries.

North Park and South Park: These adjacent neighborhoods are known for their diverse culinary offerings, including craft breweries, ethnic restaurants, and innovative cafes.

6.2 Nightlife
San Diego's nightlife scene ranges from laid-back beach bars and live music venues to sophisticated cocktail lounges and bustling nightclubs. Popular nightlife destinations include the Gaslamp Quarter, Pacific Beach, and the downtown East Village.
Accommodation

San Diego offers a wide array of accommodation options to suit every traveler's needs and budget. Choose from luxury hotels and resorts, boutique properties, vacation rentals, or budget-friendly motels and hostels. Some popular areas to stay include:
Downtown San Diego: This central location provides easy access to attractions, dining, and nightlife, with a range of hotels to choose from.

Mission Bay: Ideal for families and water sports enthusiasts, Mission Bay offers numerous waterfront hotels and vacation rentals.

La Jolla: This upscale neighborhood features luxury hotels and resorts with stunning ocean views, as well as more budget-friendly options.

Annual Events and Festivals

San Diego hosts a variety of annual events and festivals that showcase the city's vibrant culture and community spirit. Some highlights include:
San Diego Comic-Con International: Held in July, this world-renowned pop culture convention attracts thousands of fans, artists, and celebrities.

San Diego Pride: This annual LGBTQ+ celebration takes place in July and features a colorful parade, music festival, and various community events.

San Diego Bay Wine + Food Festival: Held in November, this week-long culinary event showcases the region's finest food, wine, and craft beer offerings.

Conclusion

With its stunning coastline, diverse attractions, and lively neighborhoods, San Diego is an ideal travel destination for visitors of all ages and interests. This travel user guide provides a comprehensive overview of the city's top sights, activities, dining options, and accommodations, ensuring a memorable and enjoyable experience for all who visit.