San Miguel de Allende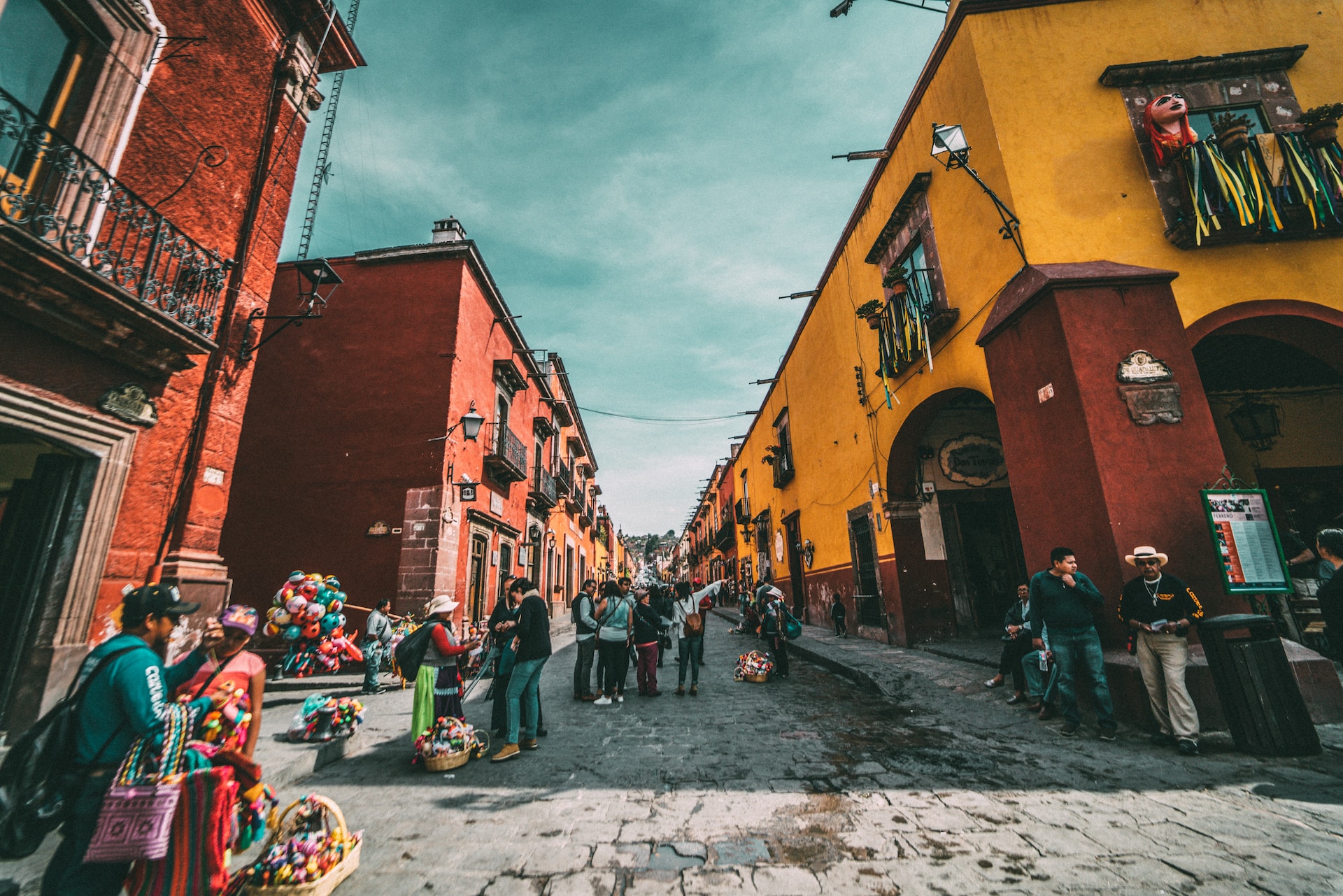 Situated in the eastern part of the state of Guanajuato, San Miguel de Allende stands as a testament to Mexico's rich history, vibrant culture, and unparalleled beauty. Designated a UNESCO World Heritage Site in 2008, this town's enchanting cobblestone streets, baroque colonial architecture, and thriving arts scene draw in travelers from all over the world. This article takes you through the charm and allure of San Miguel de Allende, unveiling why it's often regarded as one of the best cities in the world to visit.
Historical Overview
The history of San Miguel de Allende is a tapestry woven with threads of indigenous cultures, Spanish conquests, and the fight for Mexican independence. Originally known as San Miguel el Grande, it played a pivotal role during Mexico's War of Independence. The town was renamed in the 19th century in honor of Ignacio Allende, a national hero who was born here and played a crucial part in the country's fight for sovereignty.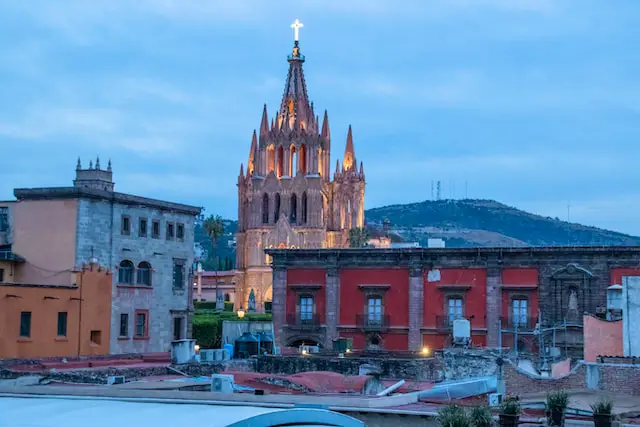 Top Attractions
Parroquia de San Miguel Arcángel: The town's iconic pink neo-Gothic church stands tall in the heart of the city. It's not just a place of worship but an architectural wonder that defines San Miguel's skyline.
El Jardín (Main Plaza): This central square is a social hub, where locals and tourists congregate to enjoy the town's vibrant atmosphere. Surrounded by cafes, restaurants, and shops, it's the perfect place to soak in the local culture.
La Esquina Mexican Toy Museum: A delightful museum that offers a glimpse into Mexico's rich tradition of toy making, showcasing over 1,000 handcrafted toys from all over the country.
Fabrica La Aurora: Once a textile factory, this space has been transformed into a haven for art lovers, housing galleries, studios, and design shops.
Cultural Festivities
San Miguel is renowned for its colorful festivals, which infuse the streets with energy, music, and tradition.
Fiesta de San Miguel: Held in late September, this event celebrates the town's patron saint, San Miguel Arcángel. The festivities are marked by parades, fireworks, and traditional dances.
Day of the Dead (Día de los Muertos): A deeply rooted Mexican tradition, this early November celebration honors deceased loved ones with altars, offerings, and processions.
Gastronomic Delights
The culinary landscape of San Miguel is a blend of traditional Mexican flavors and international influences.
Street Food: From tasty tacos to churros drizzled with chocolate, the street food in San Miguel is a journey of flavors. Don't miss the local delicacies like tamales and enchiladas.
Fine Dining: The town also offers a plethora of upscale restaurants where chefs blend traditional ingredients with contemporary techniques.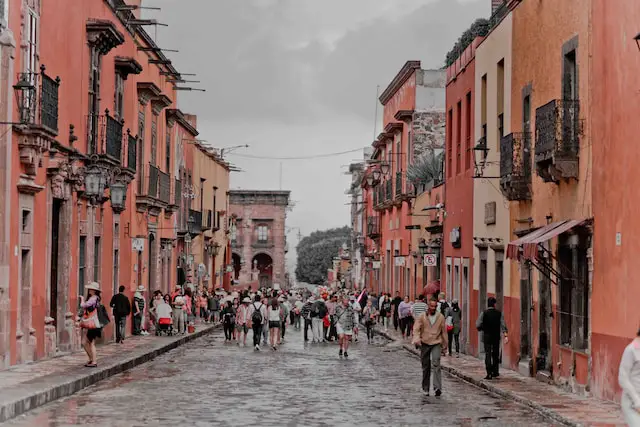 Local Art and Craft
San Miguel has long been a magnet for artists, writers, and creatives from around the globe.
Art Institutes: Institutions like the Instituto Allende and Bellas Artes offer classes in painting, sculpture, and other art forms, allowing visitors to immerse themselves in creative pursuits.
Mercado de Artesanías: This market is a paradise for those seeking handcrafted goods, from colorful pottery to intricately woven textiles.
Travel Tips
Weather: San Miguel enjoys a temperate climate, but the nights can get chilly. It's advisable to pack layers.
Transport: While the town is best explored on foot, taxis are plentiful and affordable. There's no need for a car within the city limits.
Safety: San Miguel is generally safe for tourists, but like any destination, it's wise to be cautious and aware of your surroundings.
San Miguel de Allende, with its fusion of history, art, and culture, offers a timeless allure. Its preserved colonial charm, juxtaposed with a modern and vibrant art scene, creates a unique blend that enchants every traveler. As you wander through its narrow alleys, indulge in its culinary delights, and engage with its warm locals, you'll understand why San Miguel has captivated the hearts of many. Whether you're seeking artistic inspiration, historical insights, or simply a beautiful escape, San Miguel de Allende stands as a beacon of Mexico's rich heritage and contemporary vibrancy.
Natural Beauty and Surroundings
Beyond its captivating streets and historic landmarks, San Miguel de Allende is cradled by nature's bounty, which offers a refreshing contrast to its urban charm.
El Charco del Ingenio: This botanical garden and nature reserve spreads over 170 acres and is home to a vast collection of cacti and other native plants. It's an oasis of peace, with its scenic canyons, wetlands, and a reservoir, providing visitors an opportunity to reconnect with nature.
Hot Springs: Surrounding San Miguel are several hot springs, such as La Gruta and Escondido Place. These thermal waters offer a relaxing escape, perfect for unwinding after a day of exploration.
Local Traditions and Workshops
San Miguel's essence lies not just in its landmarks but in the daily lives of its residents.
Traditional Workshops: Engage in local crafts by participating in workshops that offer hands-on experiences, from pottery and weaving to traditional Mexican cooking. It's not just a learning opportunity but a chance to connect with the town's soul.
Puppetry: The tradition of puppet-making and puppet shows, known as "mojigangas," is a distinctive aspect of San Miguel's culture. These oversized, vibrant puppets are often showcased during parades and festivals.
Nightlife and Entertainment
Even after the sun dips below the horizon, San Miguel continues to pulsate with energy.
La Mezcaleria: For those keen on trying the traditional Mexican spirit, mezcal, this bar offers an extensive selection along with expert guidance on its rich flavors and history.
Jazz Clubs: San Miguel's nightlife isn't just about bars and nightclubs. The town boasts some intimate jazz venues, like La Noche, where visitors can enjoy live performances in a cozy setting.
Shopping and Souvenirs
The artisanal spirit of San Miguel is reflected in its array of shops and boutiques.
Local Crafts: From handcrafted jewelry and textiles to leather goods and ceramics, the town's shops offer a plethora of unique souvenirs.
Organic Markets: San Miguel has embraced the organic movement, with markets like the Mercado Sano, where you can find locally-sourced produce, artisanal cheeses, and handcrafted goods.
Accommodation
From opulent colonial mansions converted into boutique hotels to charming bed-and-breakfasts, San Miguel de Allende caters to every taste and budget. Many accommodations feature traditional courtyards, terracotta tiles, and handcrafted furnishings, ensuring an authentic experience.
San Miguel de Allende is more than just a travel destination; it's an experience, a sentiment, a story waiting to be lived. Every corner holds a tale, every face a story, and every moment a memory in the making. Its blend of history, art, and natural beauty ensures that every visit, whether it's your first or your fiftieth, offers something new to discover. As you leave its cobblestoned streets behind, San Miguel de Allende is bound to leave an indelible mark on your heart, beckoning you to return time and again.