Sayulita Travel Guide for Digital Nomads
Nestled along the Pacific coastline of Nayarit, Sayulita is a gem of a town that has steadily risen in popularity over the past decade. It's a place where verdant jungle meets pristine beaches, where the hum of the waves mingles with the songs of tropical birds. While its allure lies significantly in its laid-back atmosphere and bohemian spirit, Sayulita has also carved a niche for itself among digital nomads. Here's a comprehensive travel guide tailored for digital wanderers heading to this Mexican paradise.
Internet and Workspaces
a. Internet Connectivity: Sayulita's transformation from a quaint fishing village to a digital nomad hub has been bolstered by its improved internet infrastructure. Wi-Fi in cafes, accommodations, and dedicated co-working spaces is generally reliable, with speeds suitable for standard online tasks.
b. Co-working Spaces: 'Sayulita CoWork' is a known space, offering fast internet, air-conditioning, and a community vibe that's perfect for networking.
c. Cafes: Cafes like 'El Espresso' and 'Yah-Yah Sayulita Café' are popular among the digital crowd, providing decent Wi-Fi, delicious brews, and a relaxed working ambiance.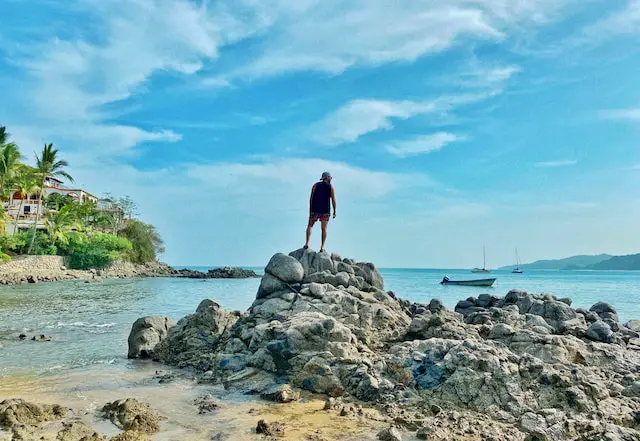 Accommodation
a. Apartments & Villas: A plethora of options exists, from beachfront apartments to jungle villas. Prices can vary, but digital nomads can expect to pay anywhere from $500 to $1,500 per month, depending on amenities and location.
b. Hostels: For those on a tighter budget, hostels like 'Lush' and 'Hostel Tortuga' are perfect, offering both dormitories and private rooms. Many have begun catering to digital nomads with dedicated workspaces.
Leisure Activities
a. Surfing: Sayulita is renowned for its surf breaks. Beginners can take lessons, while experienced surfers can head straight to the waves.
b. Yoga & Wellness: Numerous yoga studios and wellness retreats dot the town, providing opportunities for relaxation and self-care.
c. Jungle Adventures: From horseback riding to hiking, the surrounding jungle offers countless adventures.
Networking & Socializing
a. Meetups: The growing community of digital nomads often organizes informal meetups, beach outings, and even skill-sharing workshops.
b. Festivals: Sayulita is home to several festivals throughout the year, like the 'Sayulita Fest'. These events offer a perfect backdrop for networking and reveling in the local culture.
Transportation
While Sayulita is walkable, for longer distances:
a. Buses: Local buses connect Sayulita to nearby towns like Puerto Vallarta.
b. Bicycles & Scooters: Rentals are available and are a preferred mode of transport for many residents and visitors.
c. Taxis: Convenient for quick trips, always agree on a fare before beginning the journey.
Dining & Cuisine
a. Street Food: Don't miss out on the local tacos, ceviches, and tamales available at various street vendors.
b. Restaurants: From traditional Mexican to international cuisines, the dining scene is eclectic. 'Achara Thai Kitchen' and 'Mary's' are a few must-tries.
Health & Safety
a. Medical: While basic medical facilities are available in Sayulita, serious conditions might require a visit to a bigger city like Puerto Vallarta.
b. Safety: Sayulita is generally safe. However, it's wise to avoid deserted areas at night and keep an eye on personal belongings.
Local Etiquette & Culture
a. Respect Local Customs: When visiting religious or culturally significant sites, dress modestly and act respectfully.
b. Learn Some Spanish: Even basic phrases can make a world of difference in daily interactions.
Climate
Sayulita enjoys tropical weather, with warm temperatures year-round. The rainy season from June to October sees occasional downpours, while the rest of the year is relatively dry.
Tips for a Sustainable Stay
a. Eco-conscious Choices: Opt for accommodations and eateries that follow sustainable practices.
b. Limit Plastic Use: With many local initiatives pushing for reduced plastic consumption, carry reusable water bottles and bags.
c. Support Local: From shopping at local markets to choosing local guides for tours, ensure your stay benefits the community.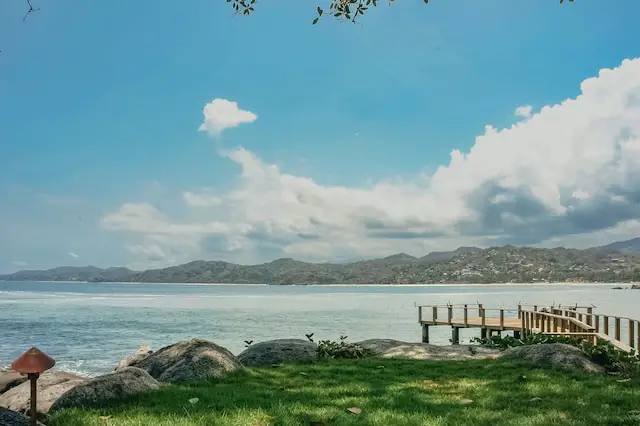 Sayulita, with its blend of beach vibes, vibrant culture, and budding infrastructure, is a dream destination for many digital nomads. Its balance of work and play, combined with the welcoming nature of its inhabitants, makes it a location hard to resist. If the idea of working to the sound of waves and spending evenings watching breathtaking sunsets appeals to you, then Sayulita might just be the digital nomad paradise you've been searching for.
Extended Stays and Integration
a. Long-term Rentals: For those considering an extended stay, many property managers and landlords offer discounts for leases of several months. Check local listings or ask around in the digital nomad community.
b. Integration into the Community: Joining local classes, from salsa dancing to traditional cooking, can be a great way to integrate and understand the cultural nuances of Sayulita.
c. Volunteering: Several local organizations welcome the help of foreigners, be it in environmental conservation, teaching English, or community development projects. This can be an enriching way to give back.
Essential Facilities
a. Banking: While there are numerous ATMs around, it's good to have some cash on hand as not all places accept card payments.
b. Groceries & Markets: Weekly markets, like the 'Mercado del Pueblo', offer organic produce, artisanal goods, and more. For daily needs, there are several grocery stores around town.
c. Fitness Centers: Stay fit with several gyms, fitness centers, and even beachfront workout sessions available in Sayulita.
Nearby Attractions and Day Trips
a. Punta de Mita: A short drive away, this peninsula is perfect for surfing, diving, and even whale-watching during certain seasons.
b. San Pancho: Just north of Sayulita, San Pancho offers a quieter beach experience and a chance to escape the bustle.
c. Marietas Islands: Accessible by boat, these islands are a nature reserve known for their hidden beaches and abundant marine life.
Staying Connected with Home
a. Time Zones: Conveniently located in the Central Time Zone, staying in sync with clients or family back in North America is relatively easy.
b. Postal Services: Need to send or receive mail? Sayulita's local post office and several courier services can assist with these needs.
c. Local SIM & Mobile Connectivity: Acquiring a local SIM card is straightforward. Companies like Telcel or AT&T provide good coverage in the area.
Personal Growth & Opportunities
a. Skill Workshops: Sayulita hosts various workshops, from photography to creative writing, allowing nomads to enhance their skill set.
b. Spiritual Retreats: Given its serene environment, several retreats focusing on meditation, spiritual healing, and personal growth are hosted in and around Sayulita.

Sayulita's charm goes beyond its sun-kissed beaches and vibrant streets. It's a place where nature, culture, and modern amenities intertwine to create a conducive environment for digital nomads. Its resilience in evolving with the times while retaining its authentic essence makes it a magnet for those seeking a balanced life. Whether you're planning a short work-cation or considering a more permanent move, Sayulita promises a transformative experience, one where work, play, and personal growth coexist in harmony.