Scotland Itinerary Travel User Guide
Scotland, a land of stunning landscapes, rich history, and vibrant culture, is a must-visit destination for any traveler. From the bustling cities of Edinburgh and Glasgow to the rugged beauty of the Highlands and the enchanting Isle of Skye, Scotland offers a diverse array of attractions and experiences. In this comprehensive travel user guide, we will explore the best ways to experience Scotland, providing a suggested itinerary, insider tips, and essential travel information.
Planning Your Scotland Itinerary

When planning your Scotland itinerary, consider factors such as the length of your stay, your budget, and your preferred activities. This will help you create an itinerary that meets your needs and allows you to make the most of your time in Scotland.
a. Length of Stay: We recommend a stay of at least two weeks to fully experience the best that Scotland has to offer. This will give you ample time to explore the main attractions, delve into the country's history and culture, and take in the breathtaking scenery.
b. Budget: Your budget will play a significant role in determining your accommodations, dining options, and activities during your stay. Scotland offers a range of options to suit various budgets, from luxury hotels and fine dining to more affordable hostels and traditional pubs.
c. Preferred Activities: Scotland offers a diverse array of activities, including hiking, whisky tasting, and exploring historical sites. Consider your interests and preferences when planning your itinerary to ensure that you make the most of your time in the country.
Suggested Scotland Itinerary

Day 1: Arrival in Edinburgh
Upon arrival at Edinburgh Airport, check into your chosen accommodation and spend the remainder of the day exploring Scotland's capital city. Be sure to visit the iconic Edinburgh Castle, stroll along the Royal Mile, and take in the views from Calton Hill. For dinner, sample some traditional Scottish cuisine at a local restaurant or pub.
Day 2: Edinburgh Sightseeing
Spend the day discovering more of Edinburgh's attractions, such as the Palace of Holyroodhouse, the Scottish Parliament, and the National Museum of Scotland. In the evening, consider attending a traditional Scottish ceilidh for an evening of music, dancing, and fun.
Day 3: Day Trip to Stirling and Loch Lomond
Take a day trip to the historic city of Stirling, visiting Stirling Castle and the Wallace Monument. Continue to the picturesque Loch Lomond, where you can enjoy a scenic boat cruise or take a leisurely walk along the loch's shores.
Day 4: Glasgow
Travel to Glasgow, Scotland's largest city, and explore its diverse array of attractions, including the Kelvingrove Art Gallery and Museum, the Riverside Museum, and the Glasgow Cathedral. In the evening, experience Glasgow's vibrant nightlife at one of the city's many bars, clubs, or live music venues.
Day 5: Glencoe and Fort William
Head north towards the Scottish Highlands, stopping at the dramatic Glencoe valley, known for its breathtaking scenery and fascinating history. Continue to Fort William, a popular base for outdoor enthusiasts, and consider taking a ride on the Jacobite Steam Train, known as the "Hogwarts Express" from the Harry Potter films.
Day 6: Isle of Skye
Take a day trip to the enchanting Isle of Skye, exploring its dramatic landscapes, including the Old Man of Storr, the Quiraing, and the Fairy Pools. Be sure to visit the picturesque towns of Portree and Dunvegan, home to the historic Dunvegan Castle.
Day 7: Inverness and Loch Ness
Travel to Inverness, the capital of the Highlands, and explore its attractions, such as Inverness Castle and the Inverness Museum and Art Gallery. In the afternoon, visit the legendary Loch Ness, where you can take a boat tour in search of the mythical Loch Ness Monster and explore the ruins of the historic Urquhart Castle.
Day 8: Speyside Whisky Trail
Embark on a journey along the Speyside Whisky Trail, visiting some of Scotland's most famous distilleries, such as Glenfiddich, The Macallan, and Glenlivet. Learn about the history and production of Scotch whisky, and sample some of the finest drams during guided tastings.
Day 9: Cairngorms National Park
Spend the day exploring the stunning landscapes of Cairngorms National Park, home to five of the UK's six highest mountains, vast forests, and sparkling lochs. Enjoy outdoor activities such as hiking, wildlife watching, or mountain biking, or visit the Highland Wildlife Park for a unique wildlife experience.
Day 10: Aberdeen
Travel to Aberdeen, Scotland's "Granite City," known for its beautiful architecture and vibrant cultural scene. Visit attractions such as the Aberdeen Maritime Museum, the historic Old Aberdeen, and the picturesque Duthie Park.
Day 11: St. Andrews and Dundee
Head to the charming town of St. Andrews, known as the "Home of Golf," and visit its famous Old Course, as well as the historic St. Andrews Cathedral and Castle. Continue to Dundee, Scotland's fourth-largest city, and explore attractions such as the V&A Dundee design museum and the historic RRS Discovery ship.
Day 12: Perthshire and the Trossachs
Explore the scenic beauty of Perthshire and the Trossachs, a region known for its stunning landscapes and picturesque villages. Visit the charming towns of Pitlochry and Callander, and consider taking a hike in the beautiful Ben Ledi or Ben A'an mountains for breathtaking views.
Day 13: Edinburgh – Free Day
Return to Edinburgh for a free day to further explore the city, revisit your favorite sites, or discover new attractions. Consider taking a guided ghost tour, visiting the Royal Botanic Garden, or shopping for souvenirs along Princes Street.
Day 14: Departure
Bid farewell to Scotland and depart from Edinburgh Airport, taking with you a wealth of memories and experiences to cherish for a lifetime.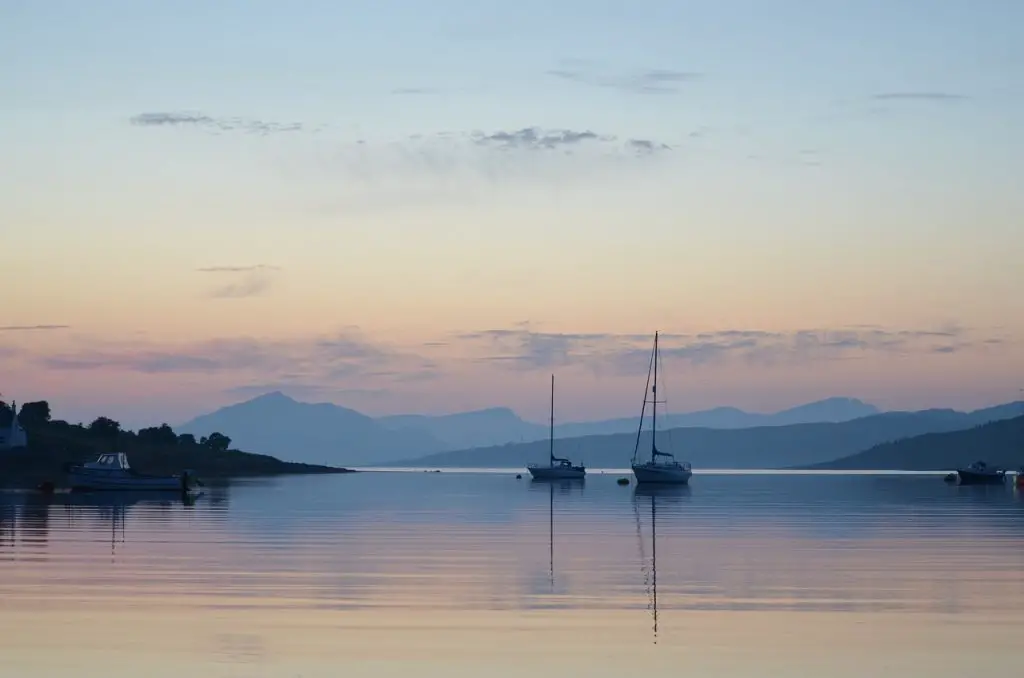 Essential Travel Information for Scotland

a. Entry Requirements: Travelers to Scotland must have a valid passport with at least six months of validity remaining. Depending on your nationality and the length of your stay, a visa may also be required. Be sure to check the entry requirements for your specific country before your trip.
b. Currency: The official currency of Scotland is the British Pound Sterling (GBP). Credit cards are widely accepted at hotels, restaurants, and shops, though it is advisable to carry some cash for smaller purchases or in case of emergencies.
c. Language: English is the official language of Scotland, and most locals speak English. Some areas, particularly in the Highlands and Islands, also speak Scottish Gaelic, but this should not pose any communication difficulties for travelers.
d. Weather and Best Time to Visit: Scotland has a temperate maritime climate, with cool summers and mild winters. The best time to visit is during the late spring and summer months (May to September), when the weather is generally more settled and days are longer. Be prepared for changeable weather and pack layers, as well as waterproof clothing.
e. Health and Safety: Scotland is generally considered a safe destination, with low crime rates and a friendly local population. However, it is always essential to exercise caution and follow common-sense safety measures, such as securing your valuables and avoiding poorly lit or deserted areas at night. No specific vaccinations are required for travel to Scotland, but it is advisable to be up-to-date on routine vaccinations such as measles-mumps-rubella (MMR), tetanus-diphtheria-pertussis, and the seasonal flu vaccine.
f. Transportation: Scotland offers a variety of transportation options, including trains, buses, and car rentals. The train network is extensive and connects most major cities and towns, while buses are a more affordable option for traveling between smaller towns and villages. Renting a car is recommended if you plan to explore the more remote areas of the Highlands and Islands, as public transportation in these regions can be limited.
g. Accommodations: Scotland offers a wide range of accommodation options to suit various budgets and preferences. Choose from luxury hotels, charming bed and breakfasts, cozy self-catering cottages, or budget-friendly hostels. Be sure to book your accommodations well in advance, particularly during the peak travel season, to secure your preferred choice and avoid disappointment.
h. Local Customs and Etiquette: Scotland is known for its warm hospitality and friendly people. When interacting with locals, be polite and respectful, and observe local customs and etiquette. Tipping is customary in Scotland, with a standard 10-15% tip expected in restaurants, bars, and taxis. However, tipping is not necessary for fast-food establishments or self-service restaurants.
Conclusion
Scotland offers a unique travel experience, combining breathtaking landscapes, rich history, and vibrant culture. By following this suggested itinerary and considering the essential travel information provided, you can make the most of your time in Scotland and create lasting memories to cherish for years to come. Whether you're exploring the bustling cities of Edinburgh and Glasgow, delving into the country's storied past, or immersing yourself in the rugged beauty of the Highlands, Scotland promises an unforgettable adventure for every traveler.