Sedona Travel Guide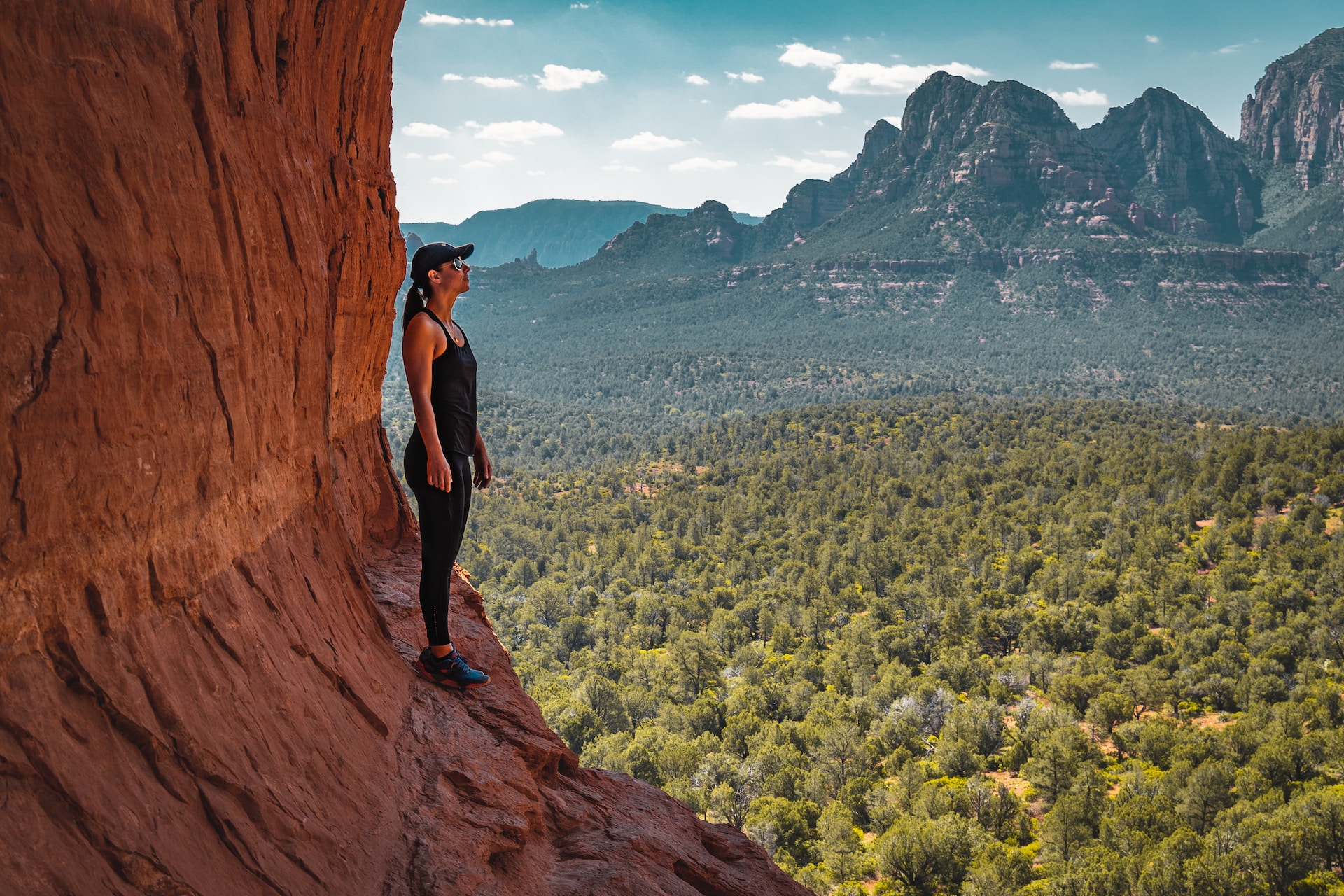 Sedona, located in the heart of Arizona, is a destination that enchants travelers with its vivid red rock formations, mystical energy vortexes, indigenous history, and a plethora of outdoor activities. Whether you're a nature lover, an adventure enthusiast, or someone seeking spiritual renewal, Sedona has something to offer. This guide will take you through the must-see attractions, hidden gems, and essential experiences of this southwestern wonder.
The Magnificent Red Rocks:
The primary allure of Sedona is its stunning red rock formations that glow brilliantly during sunrise and sunset. Some of the most iconic formations include:
Bell Rock: Shaped like a massive bell, it's not only a visual treat but also a hotspot for energy vortexes.

Cathedral Rock: Renowned for its towering spires and majestic presence, it's a popular spot for photographers and hikers alike.

Devil's Bridge: The largest natural sandstone arch in the Sedona area, it offers a breathtaking view after a moderate hike.
Vortexes and Spiritual Renewal:
Many believe Sedona is a spiritual powerhouse with energy vortexes that are conducive to healing and meditation. Even if you're a skeptic, the serenity and beauty of the locations are undeniable. Key vortex sites are:
Boynton Canyon: A balance of masculine and feminine energy, this spot is known for its nurturing and strengthening vibes.

Airport Mesa: Offering panoramic views of Sedona, it is said to enhance self-confidence and the awareness of one's environment.
Rich Indigenous Heritage:
Before it became a popular tourist destination, Sedona was home to Native American tribes. Their influence is evident in:
Palatki Heritage Site: Discover ancient cliff dwellings and rock art that date back over 6,000 years.

Honanki Heritage Site: Another remarkable site with cliff dwellings and pictographs showcasing the lives of the Sinagua people.
Outdoor Adventures:
Beyond the rock formations and spiritual sites, Sedona offers an array of outdoor activities:
Hiking: With trails like the West Fork Oak Creek Trail and Soldier Pass, hikers of all levels can explore the diverse landscapes.

Mountain Biking: Sedona is a paradise for mountain bikers, with trails like the Slim Shady and Broken Arrow offering thrilling rides.

Jeep Tours: Experience the rugged terrain of Sedona's backcountry with expert guides, making sure you don't miss out on any hidden spots.
Art and Culture:
Sedona is also a cultural hub, teeming with art galleries, festivals, and events:
Tlaquepaque Arts & Crafts Village: A beautifully crafted shopping village inspired by Mexican traditions, it houses a myriad of art galleries, craft shops, and restaurants.

Sedona Film Festival: Celebrate independent cinema surrounded by red rocks, attracting filmmakers and enthusiasts from all over.
Culinary Delights:
Sedona's food scene is as diverse as its landscapes. From gourmet restaurants to cozy cafes, the town is brimming with culinary surprises:
Elote Café: Serving authentic Mexican cuisine with a modern twist, it's a must-visit for food lovers.
ChocolaTree Organic Eatery: This is a haven for vegetarians and vegans, with a menu filled with organic and sustainably sourced dishes.
Stay in Style:
There are numerous accommodation options in Sedona, ranging from luxury resorts to quaint bed and breakfasts:
Enchantment Resort: Nestled amidst the red rocks, this luxury resort offers an immersive experience with its world-class spa and fine dining options.

Sedona Rouge Hotel and Spa: An elegant hotel known for its rooftop terrace, from where guests can enjoy panoramic views of the red rocks.
Hidden Gems:
While Sedona's main attractions are undeniably stunning, there are several lesser-known spots that are worth the visit:
Oak Creek Canyon: A river gorge located between Sedona and Flagstaff, it offers scenic drives and serene picnic spots.

Chapel of the Holy Cross: Built into the buttes, this chapel offers peace, quiet, and mesmerizing views.
Sedona's charm lies in its fusion of natural beauty, spiritual energy, and rich cultural heritage. Whether you're hiking its trails, meditating by a vortex, appreciating art, or simply soaking in the views, Sedona promises an experience that is truly unforgettable. So, pack your bags, and let the magic of Sedona's red rocks enchant you.
Sedona by Season:
Each season brings a unique touch to Sedona's already vibrant landscape.
Spring: This is arguably the best time to visit. The temperature is moderate, the flora is in full bloom, and the town buzzes with energy. Catch the Sedona Spring Music Festival to enrich your experience.

Summer: While it can be hot during midday, mornings and evenings are pleasant. It's a great time for stargazing, given the clear desert skies.

Fall: The cooler temperatures make outdoor activities delightful, and the fall foliage, especially in Oak Creek Canyon, is a sight to behold.
Winter: Snow-capped red rocks present an enchanting contrast. The town is quieter, offering a more intimate experience.
Local Events and Festivals:
Sedona International Yoga Festival: Embrace the spiritual vibes with this event, attracting yoga enthusiasts from worldwide.

Illuminate Film Festival: Focuses on conscious cinema, promoting mindfulness and holistic wellness.

Sedona Winefest: Celebrate Arizona's growing wine-making industry with tastings, music, and more.
Shopping and Souvenirs:
No trip is complete without some souvenirs:
Sedona Crystal Vortex: Offers a wide range of crystals, gemstones, and jewelry – perfect for those seeking metaphysical items.

Kachina House: For authentic Native American pottery, artifacts, and arts, this is the place to visit.
Practical Tips:
Getting Around: While Sedona is best explored by car, there are also trolleys and tours available for those who'd rather not drive.

Respect the Environment: Sedona's beauty is pristine. Always remember to leave no trace, keeping the trails and parks clean.

Stay Hydrated: Especially if visiting in the warmer months, the dry desert climate can dehydrate you quickly.

Conclusion:
With its unique blend of natural grandeur, spiritual essence, and cultural richness, Sedona stands out as a destination that beckons travelers with varied interests. Whether you're looking to reconnect with nature, seek spiritual enlightenment, indulge in adrenaline-pumping activities, or simply unwind and rejuvenate, Sedona has it all.
As you traverse the mesmerizing trails, explore the vibrant arts scene, and delve into the local history, you'll find that Sedona's allure goes beyond its iconic red rocks. It's a place where the heart, soul, and mind find harmony. A trip to Sedona is more than just a journey; it's a transformative experience that lingers long after you've left its magical embrace.