The 20 Best Things to Do in Norway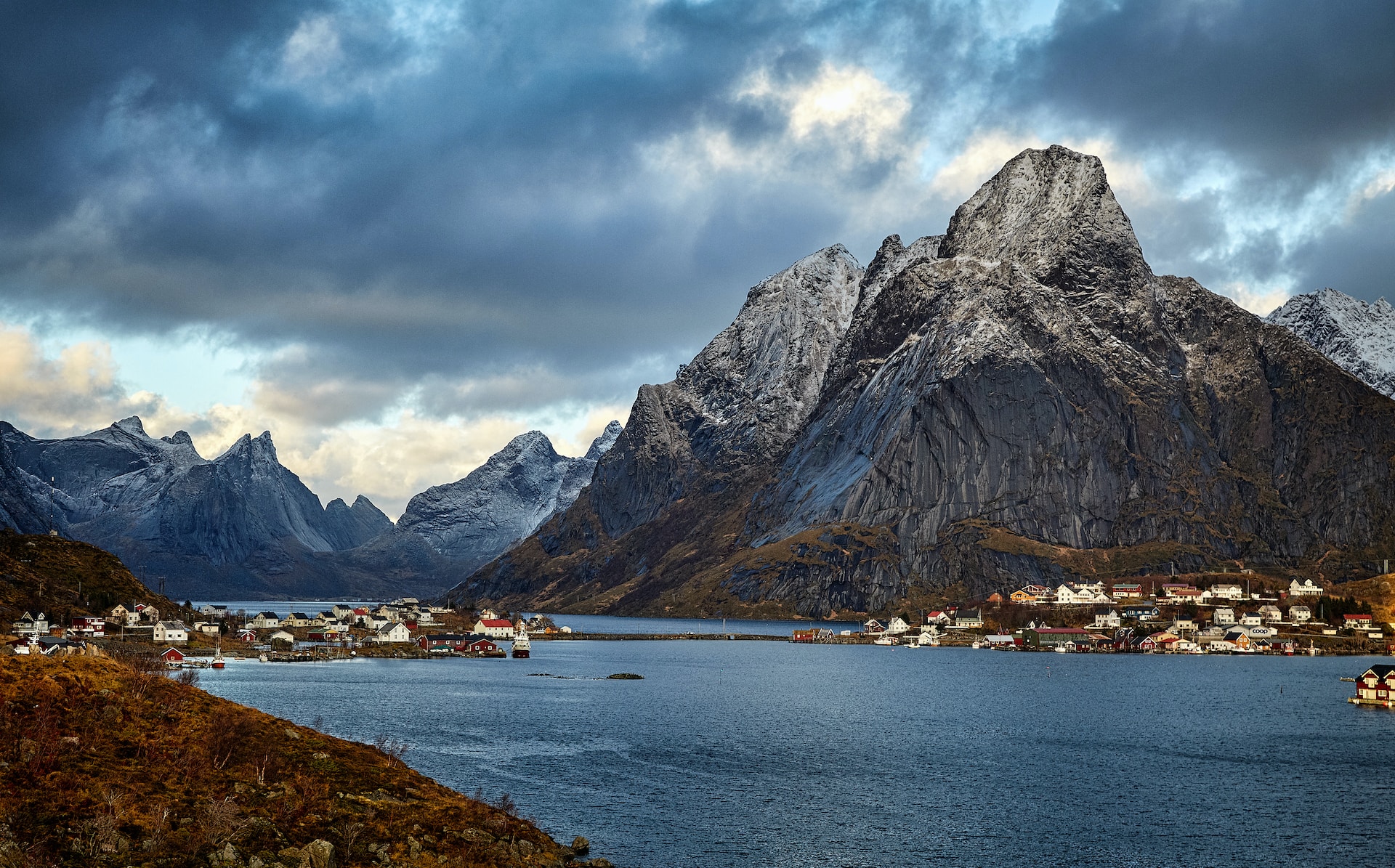 Norway, known for its dramatic landscapes, midnight sun, and vibrant coastal cities, offers a myriad of activities that cater to both nature enthusiasts and urban explorers. This Scandinavian jewel is packed with historic attractions, natural wonders, and unique experiences. Here's our pick for the 20 best things to do in Norway.
Visit the Northern Lights in Tromsø: Witnessing the Aurora Borealis, nature's most mesmerizing light show, is a must. Tromsø, being inside the Arctic Circle, offers an unparalleled view, especially between September and March.
The Oslo Opera House: This iconic building stands out with its unique architectural design. You can walk on its sloping marble roof and enjoy panoramic views of the Oslo fjord.
The Bergen Rail: One of the most scenic train rides in the world, this journey takes you through picturesque landscapes, fjords, and traditional Norwegian villages.
Cruise the Nærøyfjord: A UNESCO World Heritage site, Nærøyfjord is one of the most narrow and picturesque fjords. Cruising through its deep blue waters surrounded by towering cliffs is an unforgettable experience.
The Viking Ship Museum in Oslo: Dive into Viking history and gaze upon well-preserved Viking ships and artifacts.
Preikestolen (Pulpit Rock): Challenge yourself with a hike to this iconic cliff, which rises 604 meters above the Lysefjord, offering breathtaking views.
Kjeragbolten: For the thrill-seekers, this boulder wedged between two cliffs with a sheer drop below is not only a fantastic hiking destination but also a popular spot for photo ops.
Explore Lofoten Islands: Known for their magnificent scenery, traditional fishing villages, and the midnight sun, these islands offer an authentic Norwegian experience.
Drive the Atlantic Road: This 8.3-km long stretch connects a series of islands through bridges and viaducts. The drive offers dramatic views of the Atlantic Ocean, especially during storms.
The Hanseatic Wharf in Bergen: A UNESCO World Heritage site, the colorful houses in Bryggen tell tales of a seafaring past and are home to museums, galleries, and eateries.
Visit the Sami in Finnmark: Experience the indigenous culture by meeting the Sami people, participating in reindeer sledding, and staying in a traditional lavvu (tent).
The Geirangerfjord: Another UNESCO-listed fjord, its pristine beauty is marked by snow-covered peaks, waterfalls, and verdant cliffs.
Hike to Trolltunga: The "Troll's tongue" is a rock formation jutting out of a mountain about 700 meters above the lake Ringedalsvatnet, offering some of the best views in Norway.
Visit the Munch Museum in Oslo: Home to more than half of Edvard Munch's entire production, including his famous painting, "The Scream."
Vøringsfossen Waterfall: One of Norway's most famous waterfalls, it boasts a drop of 182 meters with a major drop of 163 meters. The surrounding areas also offer some of the best hiking trails.
Stave Churches: These medieval wooden Christian churches, like the Borgund Stave Church, are a testament to Norway's historic craftsmanship and are sprinkled throughout the country.
Ride the Flåm Railway: Known as one of the steepest standard-gauge railways in Europe, this train journey offers striking panoramas of the Norwegian fjord landscape.
Svalbard: Located in the High Arctic, it's an adventurer's paradise. Witness polar bears in the wild, explore ice caves, or try dog sledding across this frosty landscape.
Akershus Fortress in Oslo: Overlooking the Oslo fjord, this medieval castle has witnessed 700 years of Norwegian history. It's an ideal spot for a deep dive into the nation's past.
Taste Norwegian Cuisine in Trondheim: Norway's gastronomy is more than just seafood. Visit Trondheim to experience some of the country's best traditional and modern Nordic dishes.
Norway is a haven for travelers seeking a blend of natural beauty, rich history, and contemporary culture. Whether you're marveling at the Northern Lights, cruising down serene fjords, or indulging in delicious Nordic cuisine, Norway promises an unforgettable experience. Don't wait any longer; pack your bags and explore the best of what Norway has to offer!
Trondheim's Nidaros Cathedral: This stunning Gothic masterpiece, built over the burial site of Saint King Olav II, is Northern Europe's largest medieval building. It serves both as Norway's national sanctuary and as a glorious reminder of the country's Christian past.
Stay in an Ice Hotel in Kirkenes: Experience a unique stay in a hotel constructed entirely of ice and snow. With intricately carved ice sculptures, themed suites, and even an ice bar, it's a once-in-a-lifetime experience – especially when topped with a Northern Lights display.
Oslo's Vigeland Park: Sculptor Gustav Vigeland's life work is displayed in this open-air gallery, featuring over 200 sculptures in bronze, granite, and wrought iron, encapsulating the circle of life.
The Royal Palace in Oslo: A symbol of Norwegian monarchy, visitors can watch the changing of the guard and during summers, explore the stately rooms of the palace.
Visit the Arctic Cathedral in Tromsø: With its sharp, clear lines and luminous interior, the Ishavskatedralen or Arctic Cathedral is a modern architectural marvel and a beacon of spirituality.
Senja Island: Often referred to as "Norway in Miniature", Senja offers fjords, fishing villages, mountains, and beaches all in one, making it a haven for hikers and photographers.
Norwegian Folk Museums: Delve into Norway's cultural past by visiting open-air museums like the Norsk Folkemuseum in Oslo, showcasing more than 150 traditional houses from different parts of the country.
Røros: A UNESCO World Heritage site, this historic mining town has well-preserved wooden buildings and offers a journey into the country's industrial past.
Rafting in Voss: For adventure enthusiasts, Voss offers thrilling white-water rafting experiences, with varied difficulty levels catering to both novices and experts.
Jostedalsbreen National Park: Home to the largest glacier in mainland Europe, Jostedalsbreen, the park offers numerous opportunities for ice-caving and glacier hiking.
Norwegian Cider: While in the fjord country, specifically in the Hardanger region, make sure to taste the local cider. With a tradition going back 1000 years, the area offers cider tours covering orchards, cider houses, and production methods.
Fishing: Given Norway's extensive coastline and rich maritime tradition, trying your hand at fishing, especially in places like Lofoten, can be a rewarding experience.
Runde Island: For birdwatchers, this island is a paradise, hosting about 500,000 seabirds across more than 230 species, especially during the nesting season.
Sognefjellet National Tourist Route: This 108-km drive across the highest mountain pass in Northern Europe offers dramatic landscapes, from fjords and glacial valleys to snowy peaks.
Maihaugen in Lillehammer: One of Europe's largest open-air museums, it gives visitors insights into Norway's cultural and architectural history, showcasing more than 200 buildings from different time periods.
Norwegian Seafood: While in Norway, relishing fresh seafood is a must. From salmon and cod to king crab and rakfisk, there's a myriad of flavors to explore.
Visit an Authentic Sauna: Experience the traditional Norwegian way of relaxation by visiting a wood-burning sauna, preferably by a fjord or a lake, followed by a refreshing dip.
Hurtigruten Coastal Voyage: Often dubbed as the "world's most beautiful sea voyage", this journey along Norway's western and northern coast offers an up-close view of its coastal life and landscapes.
The Midnight Sun Marathon in Tromsø: For running enthusiasts, participating in the world's northernmost AIMS certified marathon under the midnight sun is a unique experience.
Visit the Polar Museum in Tromsø: Understand the challenging lives of the early Arctic explorers and get insights into the history of hunting in the Arctic.
From natural wonders to cultural experiences, Norway offers an unparalleled variety of attractions. Each corner of this beautiful country has its story, waiting to be discovered. So, whether you're chasing the Northern Lights or delving into Viking history, every moment in Norway promises to be enchanting.