The Best Things to Do in Geneva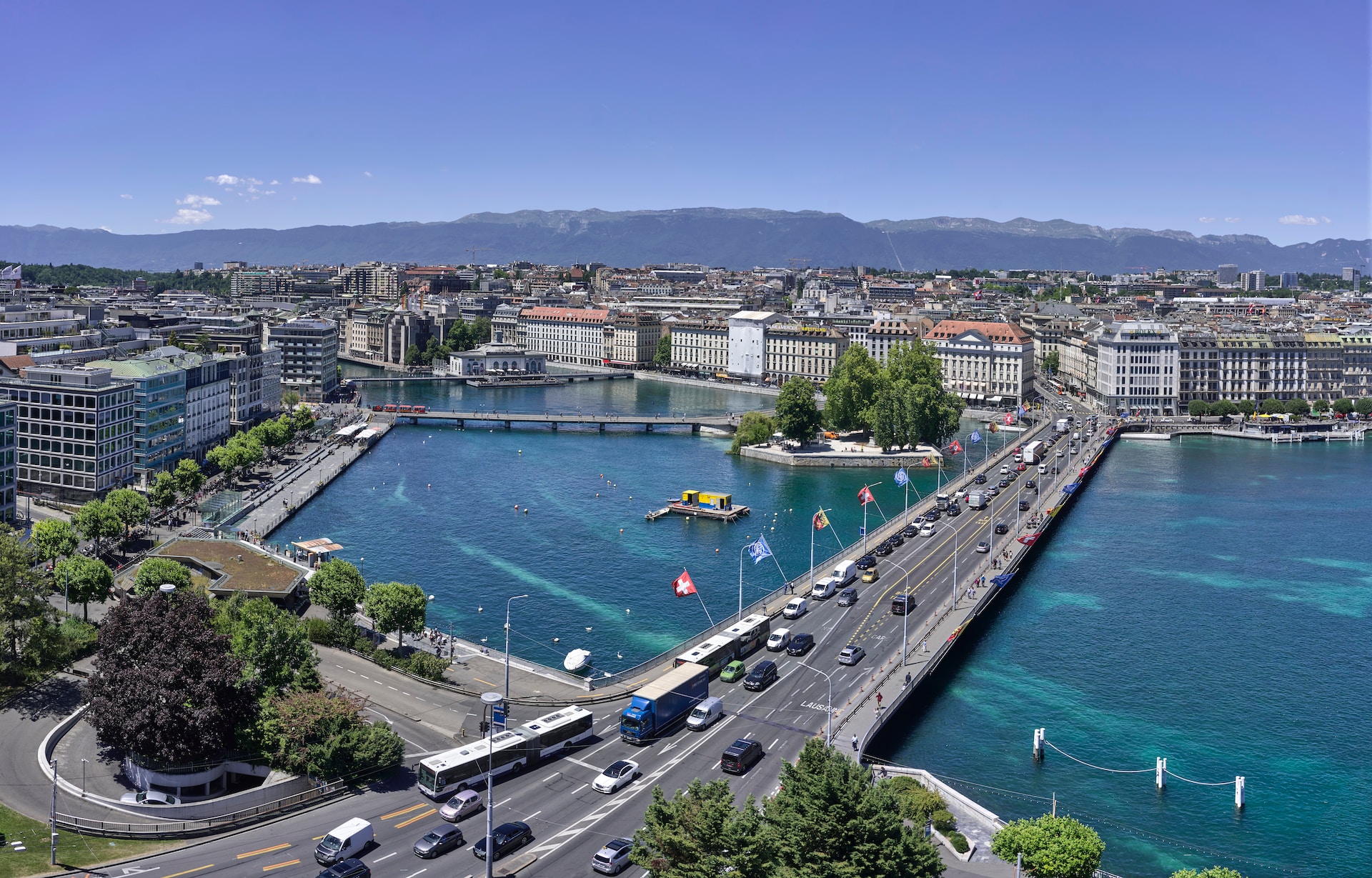 Geneva, located at the westernmost tip of Switzerland, is often referred to as the "City of Peace" due to its rich history as the headquarters for numerous international organizations, including the United Nations and the Red Cross. Nestled along the shores of Lake Geneva and flanked by the Alps and the Jura mountains, this cosmopolitan city is not just a hub for diplomacy but also a treasure trove of culture, history, and scenic beauty.
Whether you're a history buff, a nature lover, or a connoisseur of fine art, Geneva has something for everyone. Here are the best things to do in Geneva:
Visit the Jet d'Eau: This iconic water fountain, shooting water 140 meters into the air, is one of Geneva's most recognizable landmarks. It's best viewed from the lakeside or, if you're feeling adventurous, from a boat on Lake Geneva.
Stroll Through Parc des Bastions: A serene haven in the middle of the city, this park houses the University of Geneva, the Palais Eynard, and the Reformation Wall—a monument commemorating the leaders of the Protestant Reformation.
Explore the Old Town (Vieille Ville): Wander through the cobblestone streets and alleys of Geneva's historic heart. Stop by the St. Peter's Cathedral and climb its towers for a panoramic view of the city.
Visit the Palace of Nations (Palais des Nations): The European headquarters of the United Nations offers guided tours, allowing visitors to explore the Assembly Hall and other significant rooms.
Marvel at the Flower Clock (L'Horloge Fleurie): Located in the Jardin Anglais, this is a symbol of the city's commitment to nature and its reputation as a center for watchmaking.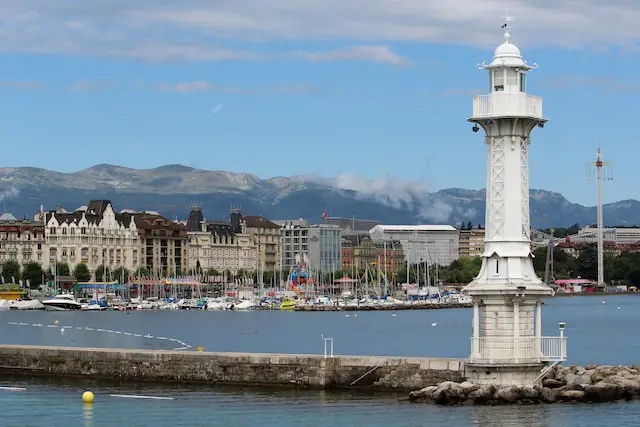 Discover the Patek Philippe Museum: Dive into the fascinating world of watchmaking and see a collection that traces the history of timepieces from the 16th century to the present day.
Enjoy Lake Geneva: Whether you want to go for a leisurely boat ride, paddleboarding, or simply sit by its shores and admire the view, the lake offers various recreational activities.
Museum of Art and History: This museum houses an extensive collection of art, archaeology, and applied arts from various eras and regions.
Red Cross and Red Crescent Museum: Learn about the humanitarian work of the Red Cross and the challenges of delivering aid in crisis zones through interactive exhibits.
Botanical Gardens (Conservatoire et Jardin botaniques de la Ville de Genève): Home to over 14,000 species of plants and trees, these gardens are a tranquil spot for nature enthusiasts.
Taste Swiss Chocolate and Fondue: No visit to Geneva would be complete without indulging in its world-famous chocolates and trying a traditional cheese fondue.
Shop on Rue du Rhône: This is Geneva's premier shopping street, where you'll find luxury boutiques, watchmakers, and world-renowned brands.
Carouge: A Mediterranean-styled suburb just a tram ride away, Carouge is known for its bohemian atmosphere, art studios, and bustling night life.
Take a Day Trip to Mont Salève: Although it's technically in France, this mountain offers incredible views of Geneva and the Alps. You can reach the summit by cable car and indulge in hiking, paragliding, or simply enjoying the view.
Visit the Museum of Natural History: From dioramas of regional wildlife to a diorama of regional fauna, this museum offers insights into the natural world.
Relax at Bains des Pâquis: These public baths on Lake Geneva are popular year-round. In winter, brave the cold waters and then warm up in the saunas. In summer, it's a perfect spot for sunbathing and swimming.
Ariana Museum: Devoted to ceramics and glasswork, this museum showcases pieces from the last 1,000 years, blending both art and craftsmanship.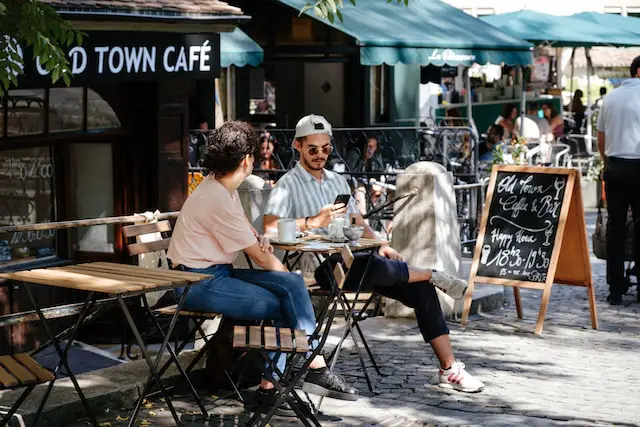 Experience Local Festivals: Depending on when you visit, Geneva has various cultural events like the Geneva International Film Festival, the Fête de la Musique, and the Geneva Lake Festival, which lights up the city with fireworks, music, and parades.
Geneva Ethnography Museum: Explore exhibitions that present artifacts from societies across the world, giving visitors a deeper understanding of global cultures.
Take a Wine Tour: The surrounding region of Geneva boasts vineyards that produce exquisite wines. Take a guided tour, walk through the vineyards, and enjoy tasting sessions.
Geneva, with its fusion of Swiss precision and a cosmopolitan spirit, manages to feel both intimately charming and expansively international. The city effortlessly combines its rich history with modernity. As you explore, you'll find each corner reveals a new perspective, whether it's a quiet coffee shop in the Old Town, a vibrant marketplace, or the serene beauty of the lake against the backdrop of snowy peaks. It's this unique blend that makes a visit to Geneva an unforgettable experience.
Attend a Performance at the Grand Théâtre de Genève: This historic opera house is the place to enjoy world-class performances ranging from opera and ballet to theater. The building itself, with its opulent interior and intricate architecture, is a testament to Geneva's commitment to the arts.
Geneva Science Museum: This is a paradise for those intrigued by the mysteries of the universe. With interactive exhibits focusing on everything from the basic principles of physics to the complexities of space exploration, it's a must-visit for science enthusiasts.
Explore the Maison Tavel: Known as Geneva's oldest house, this museum offers a captivating journey through the city's history, from its ancient foundations to its modern-day prominence.
Indulge in Café Culture: Geneva boasts a vibrant café culture. Spend an afternoon sipping coffee or hot chocolate in one of the city's many cozy cafés, and watch the world go by.
Visit the Russian Orthodox Church: With its golden domes and intricate details, the Russian Church in Geneva is an architectural masterpiece and a beacon of the city's multicultural heritage.
Walk Along the Promenade du Lac: This lakeside walkway offers breathtaking views of the Jet d'Eau, the surrounding Alps, and the hustle and bustle of boat activity on the lake. It's especially beautiful during sunset.
Engage in Water Sports: Lake Geneva provides ample opportunities for water enthusiasts. From sailing and windsurfing to kayaking, there's a myriad of activities to keep you engaged.
Wander through Plainpalais Flea Market: Open several days a week, this large open-air market is a treasure trove for antique lovers, vintage seekers, and those looking to get a feel for the local atmosphere.
Visit the International Museum of the Reformation: Located in the Old Town, this museum offers insights into the tumultuous period of the Reformation, its impacts, and its key figures like John Calvin.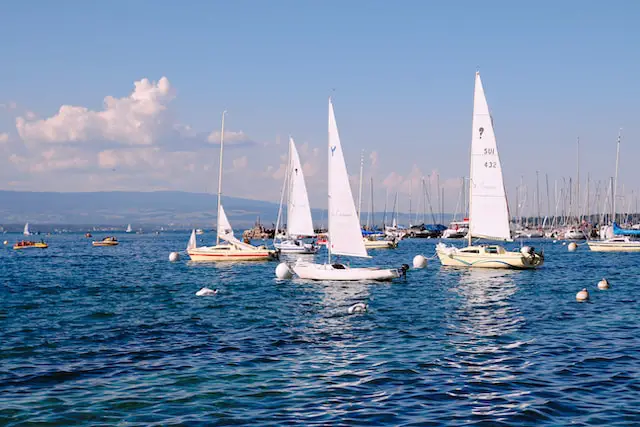 Geneva's Beaches: Yes, Geneva has beaches! Visit places like Plage de la Bâtie or Baby Plage, and enjoy a sunny day lounging on the sand or taking a refreshing swim.
Join a Guided City Tour: To delve deeper into Geneva's history and landmarks, consider joining a guided tour. Many are led by knowledgeable locals who provide unique insights and anecdotes about the city.
Savor the City's Culinary Scene: Geneva boasts a myriad of restaurants offering Swiss specialties and international cuisine. From upscale eateries to quaint bistros, there's a gastronomic experience waiting around every corner.
Engage in Winter Sports: If you're visiting Geneva during the winter months, the surrounding regions offer excellent opportunities for skiing, snowboarding, and other winter activities.
Visit the MAMCO (Museum of Modern and Contemporary Art): This institution is known for its dynamic exhibitions, offering a comprehensive view of contemporary artistic creation.
Stroll through Parc La Bâtie: This vast park, once the site of a medieval castle, today offers forested areas, playgrounds, and open spaces perfect for picnics.
Explore the English Garden (Jardin Anglais): A beautifully landscaped garden along the lake, it's a perfect spot to relax and enjoy nature's beauty.
Geneva seamlessly blends centuries of history with the vibrancy of modern life. It's a city where every visit feels too short, given the wealth of experiences waiting to be discovered. Whether you're drawn to its international character, its rich tapestry of arts and culture, or simply the allure of Lake Geneva set against the majestic Alps, Geneva promises a memorable experience for every traveler.