Top Places to Visit in Chester, England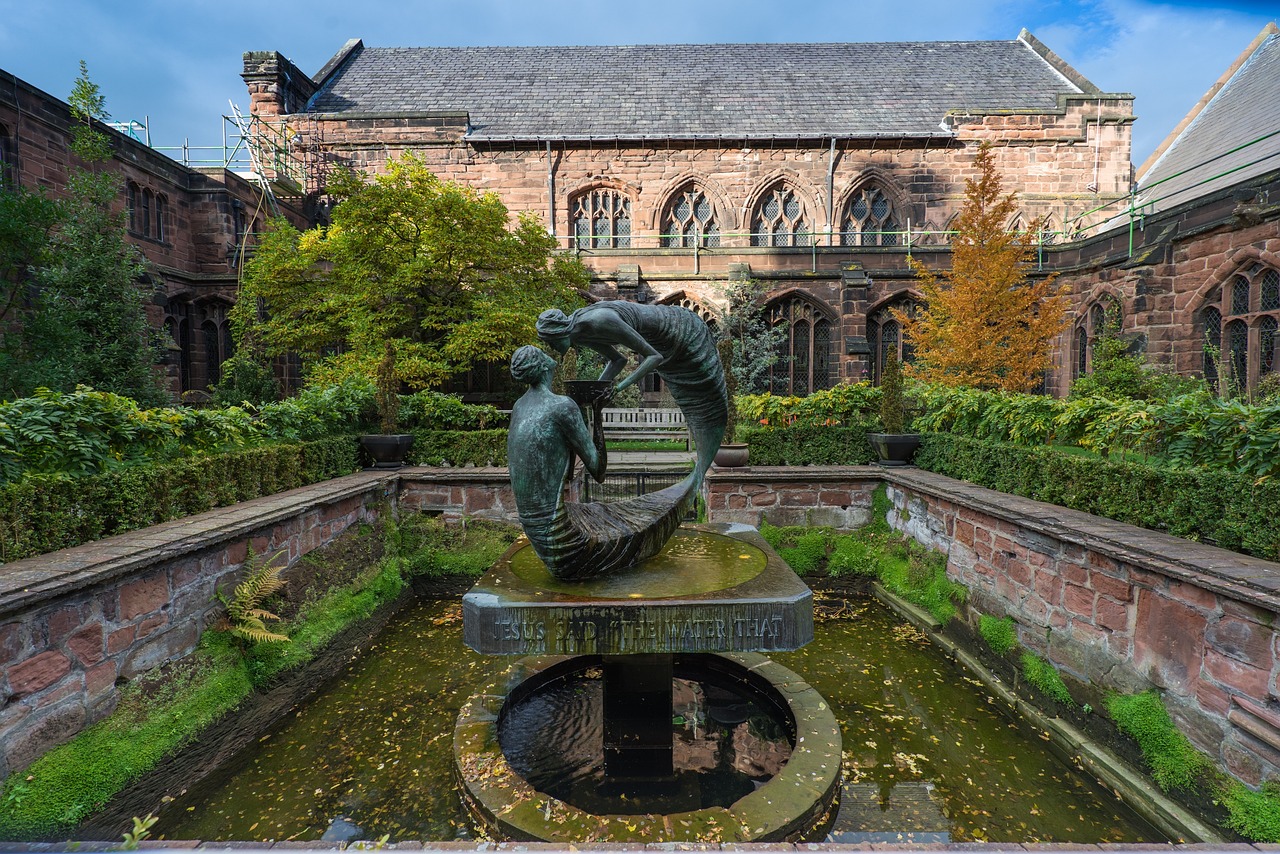 Chester, with its Roman roots, Tudor-style facades, and medieval walls, is a city that seamlessly weaves its vibrant history into the tapestry of modern life. Located in the northwest of England, close to the border with Wales, Chester offers a unique blend of culture, architecture, and natural beauty. In this guide, we delve into the top attractions and hidden gems that make Chester an unmissable destination.
Chester City Walls
Encircling the city, the Chester City Walls are Britain's most complete medieval defensive walls. A walk along these ancient ramparts provides a panoramic view of the city and insight into Chester's storied past. Key highlights along the way include the Eastgate Clock, the Water Tower, and the Roman Gardens.
Chester Cathedral
This magnificent edifice stands as a testament to over 1,000 years of religious worship. Boasting a mix of Norman and Gothic architectural elements, the cathedral is not only a place of worship but also a venue for cultural events and exhibitions. The tower offers sweeping views of the city, while the interior is adorned with intricate stained glass and carvings.
The Rows
Unique to Chester, The Rows are continuous half-timbered galleries, reached by steps, forming a second row of shops above those at street level. Dating back to the 13th century, these historic shopping arcades exude old-world charm, housing boutique stores, quaint cafes, and historical displays.
Roman Amphitheatre
The largest Roman Amphitheatre in Britain, this archaeological wonder was once the site of gladiator contests, military drills, and public spectacles. Today, its ruins transport visitors back to Chester's Roman origins and offer a fascinating glimpse into ancient entertainment and gatherings.
Grosvenor Park
A haven of tranquillity amidst the urban landscape, Grosvenor Park is a beautifully landscaped Victorian park. Perfect for leisurely strolls, picnics, and boat rides along the River Dee, this green space also hosts open-air theatre performances in summer.
Chester Zoo
One of the UK's top wildlife attractions, Chester Zoo spans 125 acres and is home to over 27,000 animals. From African elephants and Asian lions to exotic birds and reptiles, the zoo offers an immersive experience into the world of biodiversity and conservation.
River Dee
The serene River Dee meanders through Chester, offering a range of water-based activities. Embark on a river cruise, rent a rowboat, or simply stroll along its picturesque banks. The river is also flanked by eateries and pubs, making it a perfect spot for a leisurely day.
Cheshire Military Museum
Dive into the illustrious military history of Cheshire regiments at this dedicated museum. From the 17th century to the present day, the exhibits cover a vast timeline, showcasing artifacts, uniforms, and personal stories of soldiers.
Chester Racecourse
Dubbed the "Roodee," this is Britain's oldest operating racecourse, with a history spanning over 450 years. Apart from exhilarating horse races, the venue hosts events, exhibitions, and offers dining experiences with scenic views of the racetrack.
Hidden Treasures of Chester
St. John's Church: Located outside the city walls, this ancient church has roots dating back to the 7th century. Its atmospheric ruins and quiet surroundings make it a peaceful retreat.
Chester Castle: Overlooking the River Dee, the castle complex includes the Agricola Tower and remains of medieval fortifications.
Godstall Lane: A hidden alleyway, brimming with character, boutique stores, and the city's oldest pub.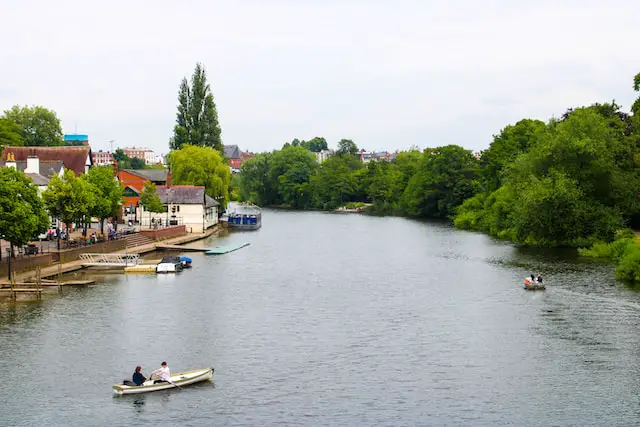 Travel Tips:

Getting Around: Chester's compact size makes it perfect for exploration on foot. However, there's also an extensive bus network and hop-on-hop-off sightseeing buses for tourists.
Weather: Typical of the UK, Chester experiences unpredictable weather. It's advisable to carry an umbrella and wear layers.
Guided Tours: To enhance your understanding of the city's rich history, consider joining a guided tour. Themed tours, from Roman history to ghost tours, offer unique perspectives on Chester.
Accommodations: The city offers a range of lodging options, from luxury hotels and charming B&Bs to budget-friendly hostels.

Chester, with its Roman roots, medieval charm, and modern vibrancy, is a city that caters to history buffs, shopping enthusiasts, nature lovers, and gastronomes alike. Whether you're uncovering ancient ruins, indulging in retail therapy at The Rows, or simply soaking in the city's ambiance, Chester promises a journey of discovery and delight. As you traverse its cobbled lanes and verdant parks, you'll find yourself stepping back in time while remaining firmly rooted in the present. So pack your bags and embark on a Chester adventure that will etch memories for a lifetime.
Chester's Cultural Festivities
Chester Literature Festival: An annual gathering of authors, poets, and book enthusiasts, this festival is a treat for literary buffs. Events range from workshops and panel discussions to spoken word performances.
Chester Food, Drink & Lifestyle Festival: Held over the Easter weekend, this festival showcases the best of Cheshire's culinary offerings. Expect mouthwatering food stalls, cooking demonstrations, and artisanal produce.
Midsummer Watch Parade: A tradition since the 15th century, this parade takes place in June and boasts a colorful procession of mythical beasts, giants, and historical characters that animate the city streets.
Parks and Open Spaces
Calderstones Park: While Grosvenor Park is the most renowned, Calderstones Park is another green gem. Home to ancient megaliths, a botanical garden, and a serene lake, it's a wonderful spot for relaxation and recreation.
The Meadows: Situated beside the River Dee, this expansive green space is ideal for picnics, bird watching, and enjoying panoramic views of the city.
Art and Theatre
Chester's Storyhouse: This cultural hub comprises a theatre, cinema, library, and café. Hosting a diverse range of events, from plays and film screenings to community programs, it's the heartbeat of Chester's arts scene.
Dining and Nightlife
Chester Indoor Market: A gastronomic paradise, this market houses numerous food stalls offering international cuisines, fresh produce, and local delicacies. It's a great place to savor the flavors of Chester.
Cruise Nightclub: For those looking for a vibrant nightlife, Cruise offers multiple dance floors, bars, and lounges, playing everything from classic tunes to contemporary hits.
Nearby Attractions
Delamere Forest: Just a short drive from Chester, this forest reserve is a haven for hiking, cycling, and nature photography. Its serene landscapes, punctuated with lakes and wildlife, offer a refreshing escape from urban life.
Cheshire Oaks Designer Outlet: Shopaholics will delight in this expansive outlet mall, boasting over 140 stores, from high-end brands to local artisans.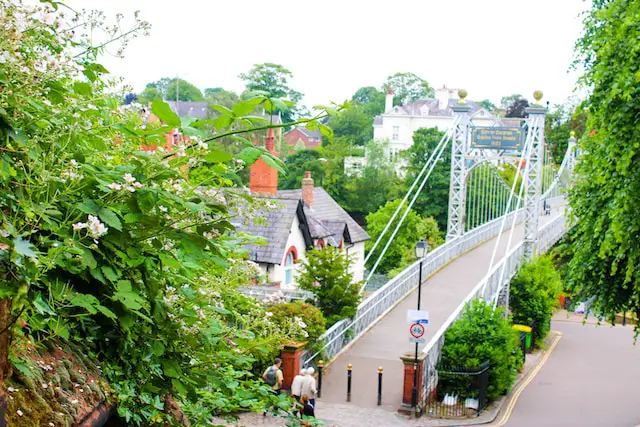 Local Cuisine: Don't miss trying the Chester Pudding, a traditional dessert, and the Cheshire cheese, which is one of the oldest recorded cheeses in British history.
Museums and Attractions: While many attractions charge an entry fee, there are also several free museums and galleries, offering a budget-friendly cultural experience.
Stay Connected: Most of the city, including public spaces and cafes, offers free Wi-Fi, making it easy for travelers to stay connected.

Bearing the imprints of Roman legions, medieval guilds, and Victorian innovations, Chester is a living museum where every corner whispers tales from bygone eras. Yet, it doesn't rest on its historical laurels. The city pulsates with a contemporary energy, evident in its bustling markets, vibrant arts scene, and dynamic nightlife.
Every visit to Chester promises a new discovery, be it an unseen architectural detail on The Rows, a freshly opened boutique, or a seasonal festival that sweeps the entire town in its fervor. It's a city that invites exploration, celebrates its rich legacy, and warmly welcomes all with its blend of heritage and modernity.
So, whether you're a history enthusiast tracing ancient Roman paths, a food lover seeking culinary delights, or a traveler thirsty for new experiences, Chester has a world waiting for you. Come, immerse yourself in its enchanting embrace, and let Chester unveil its myriad wonders to you.