Toronto City in Ontario, Canada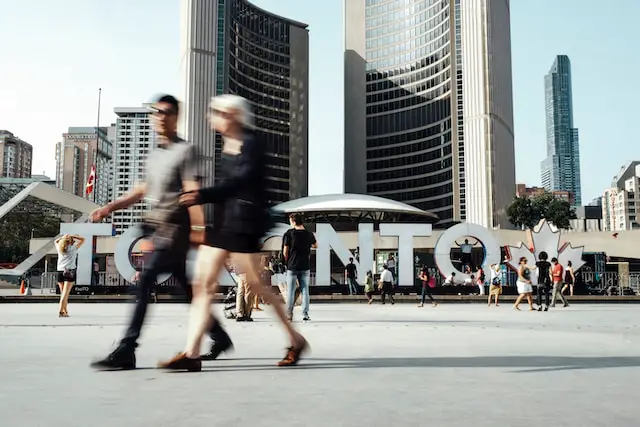 Toronto, the capital city of Ontario, is Canada's most populous city and the fourth most populous city in North America. As of my knowledge cutoff in September 2021, Toronto had a population of nearly 2.7 million residents, and the Greater Toronto Area (GTA) housed over 6.4 million people. This figure has likely grown, making the city an even more vibrant, diverse and bustling urban center.
Toronto, known as "The Six," sits along the northwestern shore of Lake Ontario, is an international centre for business, finance, arts, and culture. It's a dynamic metropolis filled with skyscrapers, yet interspersed with beautiful green spaces like the expansive High Park and the Toronto Islands, providing a diverse mix of city life and natural beauty.
When thinking of Toronto, the image that comes to mind for many is the iconic CN Tower, once the world's tallest free-standing structure. This architectural marvel offers breathtaking panoramic views of the city. Its 360 Restaurant provides a dining experience with a revolving view of Toronto and the surrounding areas. At night, it's illuminated in various color schemes, creating an awe-inspiring spectacle against the night sky.
Not far from the CN Tower is the Rogers Centre, home to Major League Baseball's Toronto Blue Jays. It's one of the few stadiums with a fully retractable roof, allowing for open-air games during the warmer months and ensuring games can go ahead during inclement weather. Toronto is a city passionate about sports, also supporting the Toronto Maple Leafs (NHL), Toronto Raptors (NBA), and Toronto FC (MLS). The spirit of these teams reverberates through the streets, bars, and homes across the city.
Toronto's cultural diversity is another compelling facet of its identity. Over 200 distinct ethnic origins were reported by the people of Toronto in the 2016 Census. This multicultural tapestry is expressed vividly in its neighborhoods: Little Italy, Chinatown, Greektown, Little India, and Koreatown, among others. Each offers its unique foods, goods, and festivities. This cultural plurality extends to languages too. Beyond English and French, over 160 languages are spoken in Toronto.
A world-renowned attraction is the Royal Ontario Museum (ROM), one of the largest museums in North America. It showcases art, culture, and nature from across the globe and across the ages. The ROM's striking Michael Lee-Chin Crystal, a modernist addition to the original building, is a work of art in itself, evoking a sense of the innovative spirit of Toronto.
Toronto's dynamic food scene is a testament to its multicultural roots. The city is a gastronomic playground where you can find everything from haute cuisine in upscale restaurants to delicious street food in bustling markets, like the St. Lawrence Market. Taste the world in this city, with authentic dishes from countless international cuisines.
The city's commitment to art and culture is visible in the Toronto International Film Festival (TIFF). As one of the most prestigious film festivals in the world, it has become a launching pad for the best of international, Hollywood, and Canadian cinema. The festival transforms Toronto into a hub of glamour, attracting the biggest names in film and throngs of cinema lovers.
Yet, Toronto is not all urban. One of its gems is the Toronto Islands, a chain of 15 small islands in Lake Ontario, just off the shore from the city center. The islands offer tranquility away from the city's hustle and bustle, with lovely beaches, picnic areas, and canoe rentals. The view of the Toronto skyline from the islands is a must-see.
For nature lovers, there is the expansive High Park. Covering 161 hectares, it offers hiking trails, sports facilities, diverse vegetation, a beautiful lakefront, a zoo, and even a petting zoo. The park is renowned for its stunning cherry blossoms in spring, attracting both locals and tourists alike.
Toronto's waterfront along Lake Ontario is another hotspot for leisurely activities. The Harbourfront Center, an innovative cultural organization, provides exciting programming in contemporary arts. With its outdoor skating rink in the winter, marinas, parks, and an array of shops and restaurants, the waterfront is abuzz with activities year-round.
Toronto also boasts one of the world's most vibrant music scenes, with more live music venues per capita than nearly any other city worldwide. From intimate pubs and coffeehouses to larger concert halls and arenas like the Budweiser Stage and Scotiabank Arena, these spaces host a plethora of talent, including global superstars and up-and-coming local artists. The city is a significant destination for international music festivals too, like the Toronto Jazz Festival and Canadian Music Week.
The city's appeal extends to its educational institutions as well. The University of Toronto, one of Canada's top universities, and Ryerson University, known for its career-focused programs, are both based here. These institutions, along with several others, contribute to Toronto's identity as an international centre for higher learning and research.
The Ontario Science Centre is another point of interest, especially for families and young visitors. Its interactive exhibits on nature, technology, and science make learning fun and engaging. Similarly, the Toronto Zoo, one of the largest in the world, houses over 5,000 animals representing more than 450 species – a testament to Toronto's commitment to education, conservation, and appreciation of global biodiversity.
Toronto's robust public transportation system, spearheaded by the Toronto Transit Commission (TTC), links these myriad attractions. The TTC operates subway, streetcar, and bus routes that traverse the city, making Toronto's sites and neighbourhoods easily accessible.
Toronto's history is a tapestry woven with the threads of Indigenous, French, and British influences. The city's name is derived from the Mohawk word tkaronto, meaning 'place where trees stand in the water.' You can explore this rich past at the city's many historic sites, such as the Distillery District, known for its well-preserved Victorian-era buildings and now a lively neighborhood filled with boutiques, restaurants, and art galleries.
Living up to its name's origin, Toronto has a commitment to green spaces. The city's parks, ravines, and woodlands cover about 13% of the city's area. The extensive ravine system is a distinctive feature of Toronto, contributing to its status as one of the greenest cities in the world.
In conclusion, Toronto, the cultural, entertainment, and financial capital of Canada, pulses with the energy of a cosmopolitan city while maintaining a certain charm through its parks and historic sites. Its diversity and multiculturalism, iconic skyline, bustling arts scene, gastronomic delights, and renowned festivals offer an irresistible appeal. Whether you are an adventurer, a foodie, a sports enthusiast, an arts lover, a scholar, or a nature lover, Toronto welcomes you with open arms and endless possibilities.