Trastevere Rome Travel Guide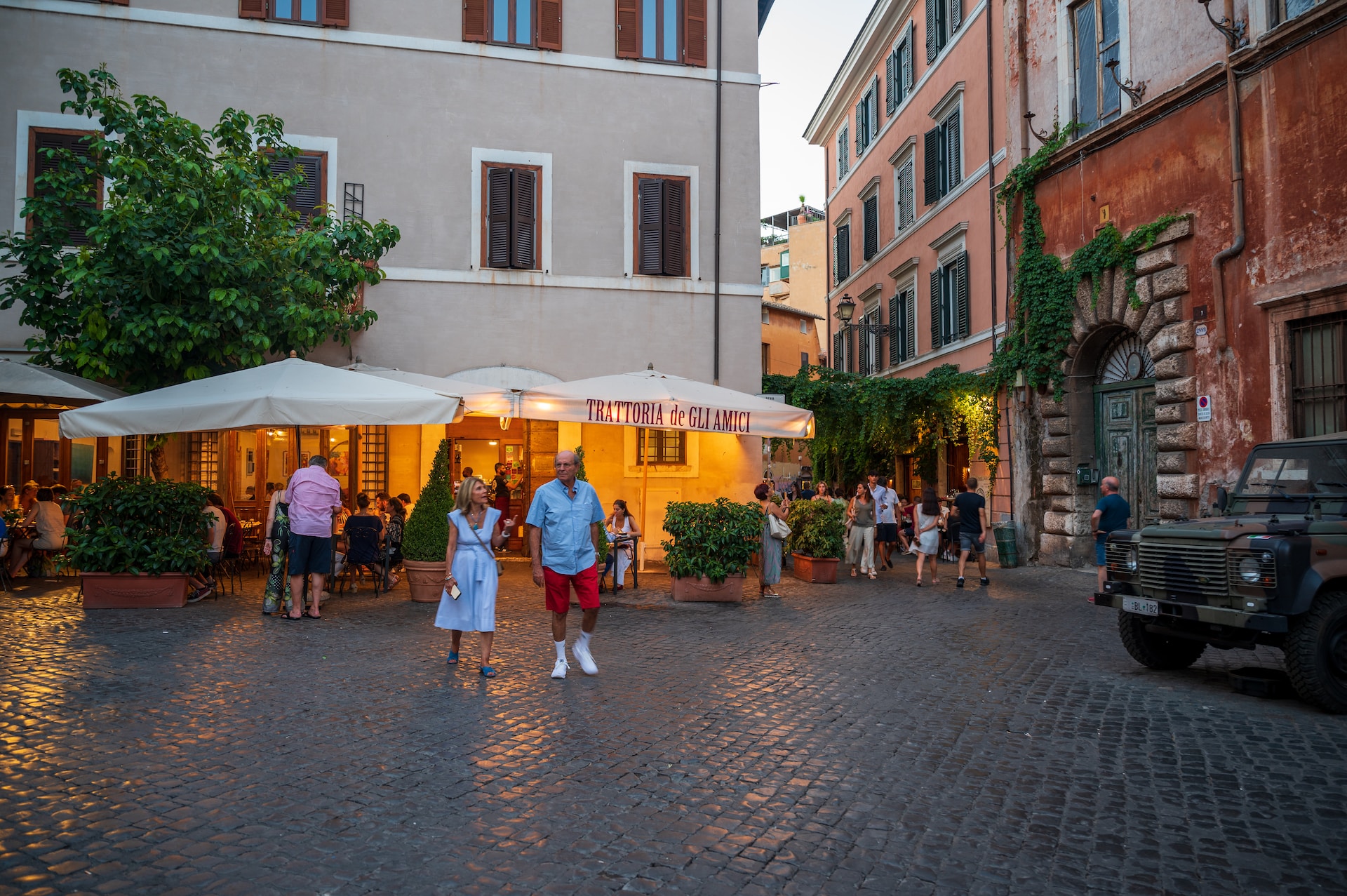 Settled on the west bank of the Tiber River, away from Rome's central hustle, is Trastevere, a historical gem blending antiquity with modern charisma. Characterized by narrow cobbled streets, faded palazzos, and spirited piazzas, Trastevere is Rome's bohemian heartbeat. In this guide, we'll help you explore Trastevere, showcasing its myriad attractions, gastronomic delights, and hidden treasures.
History and Significance
Trastevere, or "across the Tiber," was once the city's multi-ethnic quarter. Over time, it evolved from a working-class district to a hub of artists, intellectuals, and even Roman nobility. Today, its rich tapestry of history and culture makes it a must-visit.
Top Attractions
Basilica di Santa Maria in Trastevere: This ancient church, standing in the district's main square, dates back to the 3rd century. Known for its shimmering mosaics and the gilded ceiling, it's a stunning blend of history and architecture.
Villa Farnesina: Renaissance splendor finds a home in Villa Farnesina. Adorned with frescoes by artists like Raphael, it stands as a testament to the era's artistic brilliance.
Ponte Sisto: An evening walk along this pedestrian bridge offers enchanting views of the city, especially during sunset.
Palazzo Corsini: A Baroque palace housing the National Gallery of Ancient Art. With works from artists like Caravaggio, it's an art lover's paradise.
Culinary Delights
Trastevere is a gastronome's dream. Traditional trattorias, contemporary eateries, and street food vendors offer an array of Roman delicacies.
Da Enzo al 29: An iconic trattoria, it's the go-to place for classics like carbonara and cacio e pepe.
Trapizzino: A modern eatery blending pizza with sandwiches, offering delectable fillings like chicken cacciatore.
Bir & Fud: For those seeking craft beers to accompany their pizza, this spot is ideal.
Tiramisù Trastevere: As the name suggests, this dessert haven offers Rome's favorite, tiramisu, in various flavors.
Nightlife and Entertainment
Freni e Frizioni: A former mechanic's shop turned cocktail bar, it's a favorite for its lively atmosphere and creative drinks.
Ombre Rosse: A café by day, bar by night, offering live music that resonates with Trastevere's artsy ambiance.
Big Star: Dive into Rome's rock scene at this iconic club, known for its energetic performances.
Shopping and Markets
Porta Portese: Rome's largest flea market, held every Sunday, is a treasure trove of antiques, vintage clothes, and handcrafted items.
Via della Lungaretta and Via del Moro: Lined with boutique stores, from artisanal jewelry to leather goods, they're perfect for unique souvenirs.
Local Festivals
Experience Trastevere's cultural depth by attending local festivals:
Festa de' Noantri: Celebrated in July, it's a religious festival honoring Our Lady of Mount Carmel. Processions, traditional music, and food stalls bring the neighborhood alive.
Settimana della Cultura: A week in April when Rome's state-owned museums and sites become free, including those in Trastevere.
Tips for Travelers
Walking Tour: The best way to discover Trastevere's secrets is on foot. Guided tours offer insights into its history and legends.
Stay Locally: To truly absorb Trastevere's essence, consider staying in one of its boutique guesthouses or B&Bs.
Dress Appropriately: When visiting religious sites, ensure you dress modestly, covering knees and shoulders.
Language: While most locals understand English, a few Italian phrases will undoubtedly enrich your interactions.
Getting There
Trastevere is well-connected via public transport:
Tram: Line 8 connects Trastevere with central Rome.

Train: Stazione di Roma Trastevere links it to other Roman neighborhoods.

On Foot: From Campo de' Fiori or Piazza Navona, it's a short walk across the Ponte Sisto.

Trastevere, with its amalgamation of ancient allure and modern vivacity, offers travelers a distinctive Roman experience. Its enchanting streets, brimming with stories, its culinary offerings that tantalize the senses, and its vibrant culture make it a microcosm of Rome's eternal charm. Dive into Trastevere, and you'll discover not just a neighborhood but the soul of Rome. Whether you're a history buff, an art enthusiast, a food lover, or a wanderer at heart, Trastevere awaits with open arms, promising memories to cherish.
While the main streets and attractions of Trastevere are undoubtedly captivating, the real essence of the district lies in its hidden corners and lesser-known gems.
Basilica di Santa Cecilia in Trastevere: Away from the usual tourist circuit, this basilica, dedicated to the patron saint of music, is a sanctuary of tranquility and beauty. Beneath its humble exterior lies a crypt with early Christian frescoes and Roman remains.
Torre degli Anguillara: This medieval tower, commonly known as the "House of Dante," gives an insight into medieval Roman architecture and also offers an elevated view of the neighborhood.
Studio of Pietro Ruffo: This contemporary artist's studio is a hub of modern creativity within Trastevere's ancient walls. Visits, usually by appointment, offer a glimpse into Rome's modern art scene.
Culinary Off-the-Beaten-Path
Beyond the famous eateries, Trastevere is home to hidden culinary gems:
Antica Caciara: This century-old shop, run by the Polica family, offers authentic Roman cheeses and cured meats. The pecorino romano here is a must-try.
Osteria Le Mani in Pasta: A cozy eatery, it's famed for its fresh seafood and handmade pastas. While not as widely publicized, it remains a favorite among locals.
Pasticceria Valzani: Since 1925, this pastry shop has been delighting patrons with traditional Roman desserts. Their ricotta e visciole (ricotta and sour cherry) tart is legendary.
Relax and Unwind
Trastevere, with its laid-back charm, also offers spaces to relax:
Orto Botanico: Run by the city's university, this botanical garden is a lush oasis, home to over 3000 plant species. The bamboo grove and Japanese garden are particularly calming.
Hammam Roma: Experience Roman relaxation in this traditional hammam or Turkish bath, complete with steam rooms, massages, and other wellness treatments.
Engage with the Local Community
While Trastevere attracts numerous visitors, it has retained its close-knit community vibe:
Mercato di San Cosimato: Smaller than the famed Porta Portese, this daily market allows visitors to mingle with locals, buy fresh produce, and even pick up some Roman cooking tips.
Community Events: Keep an eye on local bulletin boards or ask around. Trastevere often hosts community theater, music events, or neighborhood gatherings, allowing for genuine interaction with residents.
Practical Tips
Wear Comfortable Shoes: Trastevere's cobblestone streets are charming but can be uneven. Comfortable walking shoes are a must.
Beware of Pickpockets: Like any popular tourist destination, it's essential to be cautious of your belongings, especially in crowded areas.
Try a Vespa Tour: For a truly Roman experience, rent a Vespa or join a Vespa tour. It's a fun way to navigate Trastevere's winding lanes.
While Rome's grand monuments and historical sites are undeniable attractions, the soul of the city often resides in districts like Trastevere. Here, past and present coalesce seamlessly, offering visitors a slice of authentic Roman life. From its culinary adventures to its artistic endeavors, from its ancient stones whispering tales of yore to its streets resonating with modern melodies, Trastevere is a symphony of experiences waiting to be savored. Dive deep, explore its alleys, engage with its residents, and let Trastevere enchant you with its timeless magic.