Vienna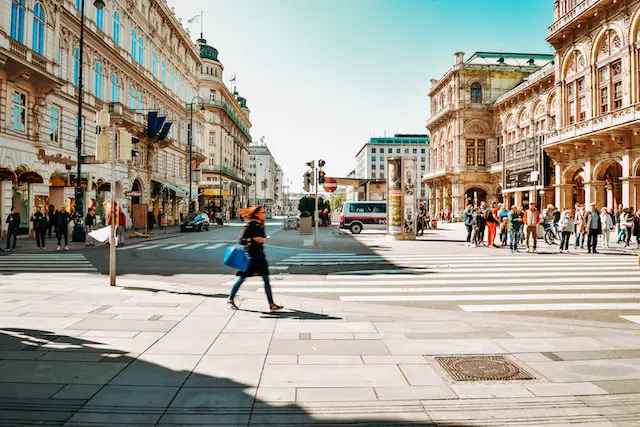 Vienna, the capital of Austria, is a city teeming with history, culture, and the charm that reverberates through its immaculate architecture, atmospheric coffeehouses, magnificent music halls, and vibrant art scenes.
Enriched with nearly a millennium's worth of history, Vienna initially emerged as a modest Roman settlement, Vindobona. However, the city truly blossomed in the 12th century, transforming into a prominent political and cultural epicenter of Europe. It thrived under the auspices of the Habsburg Dynasty, which presided over Austria for over six centuries, ushering the city into an era of prosperity and prestige that imprinted an indelible architectural and cultural legacy.
The architecture in Vienna is nothing short of breathtaking. Gothic masterpieces like St. Stephen's Cathedral stand as testaments to the city's medieval roots, while the palatial grandeur of the Hofburg and Schönbrunn Palaces bear witness to its imperial past. Embellished with opulent Baroque details, these former residences of the Habsburgs now serve as enduring symbols of Vienna's historic importance.
The Ringstrasse, a circular boulevard tracing the old city walls' location, is home to a unique ensemble of grand buildings that encapsulate styles ranging from neo-Gothic to neo-Renaissance. Among these, the Vienna State Opera and the Parliament Building are remarkable, both for their grandiosity and the cultural importance they hold in contemporary Vienna.
One cannot talk about Vienna without acknowledging its status as the 'City of Music.' Vienna's symphonies have echoed through its concert halls for centuries, earning this title because of the multitude of composers who have been born, lived, and worked here, including Mozart, Beethoven, and Haydn. The Vienna Philharmonic Orchestra continues this musical tradition, providing performances that resonate with exquisite harmonies and captivating the city's audiences.
The famed Wiener Musikverein and Vienna State Opera offer not just an auditory feast of classical performances but are also visual spectacles, with interiors replete with plush red velvet, gleaming gold, and grand chandeliers. The spirit of the composers lives on through their homes-turned-museums, where enthusiasts can explore and gain insights into their lives and creative processes.
Vienna's reputation as a city of culture extends beyond music into the realm of art, home to a variety of museums that celebrate both classical and modern works. The Art History Museum is a treasure trove of ancient and classical artworks, while the Leopold Museum and the Museum of Modern Art (MUMOK) showcase extensive collections of modern and contemporary art.
The Belvedere Palace, with its stunning Baroque architecture, houses the world's largest collection of paintings by Gustav Klimt, including the iconic 'The Kiss.' The MuseumsQuartier, where some of these museums are located, is an art complex unique in the world for its successful blend of historic buildings and modern architecture. It serves as a cultural playground, brimming with exhibitions, events, and cafes.
The Viennese coffee house is a quintessential part of life in Vienna, a space where time slows down and conversation, reading, and the enjoyment of coffee take center stage. Declared an Intangible Cultural Heritage by UNESCO, these coffeehouses, such as Café Central and Café Sperl, are vestiges of a bygone era, their interiors often harking back to the 19th century. They offer an array of coffee specialties and traditional pastries like Apfelstrudel and Sachertorte in an atmosphere that encourages relaxation and contemplation.
Vienna's culinary scene is diverse and vibrant, drawing on its Austro-Hungarian heritage. The city is famous for its Wiener Schnitzel, a breaded and fried veal cutlet, and Tafelspitz, boiled beef in broth served with apple and horseradish sauces. Vienna is also known for its Wurstelstands (sausage stands), which offer a quick, hearty bite for locals and visitors alike.
The city's sweeter offerings include the internationally acclaimed Sachertorte, a chocolate cake with a layer of apricot jam, often enjoyed with a dollop of whipped cream. Strudels are another local favourite, with fillings ranging from the traditional apple to cherry and poppy seed.
Vienna's wine culture is unique, with numerous vineyards actually within the city limits. The tradition of Heuriger, rustic wine taverns where local winemakers serve their most recent year's wines, provides a delightful culinary experience. These establishments offer a convivial atmosphere, often with live, traditional Schrammelmusik, and serve a variety of cold Austrian dishes to accompany the wine.
The city's Prater, a large public park, combines vast green spaces, forested areas, and the iconic Wiener Riesenrad, a giant Ferris wheel that provides a panoramic view of the city. It is not just a recreational space for locals but also a symbol of the city, often featured in international films.
At the core of Vienna's charm is its ability to seamlessly blend the old with the new. The city's historic quarters, inscribed as a UNESCO World Heritage Site, coexist with modern architectural marvels such as the Hundertwasserhaus, an apartment house designed by artist Friedensreich Hundertwasser, characterized by its colorful façade and the absence of straight lines.
Vienna's commitment to innovation extends to its environmental initiatives. It is considered one of the most sustainable cities in the world due to its efficient public transportation, extensive cycling network, and large green spaces. The city has also invested significantly in renewable energy and waste management, further enhancing its reputation as a city that merges tradition with progressive thinking.
Vienna is a city where culture is cherished, from classical music to modern art, from traditional coffeehouses to contemporary culinary delights. It is a city that thrives on preserving its history while embracing the future, making it a remarkable destination for travelers. Its rich tapestry of architectural masterpieces, sublime music, world-class museums, and culinary delights make Vienna not just the heart of Austria but also a city that truly embodies the spirit of Europe. This is Vienna – an ode to the past, a toast to the future, and a celebration of the enduring beauty of culture and history.