Viking Octantis Itinerary User Guide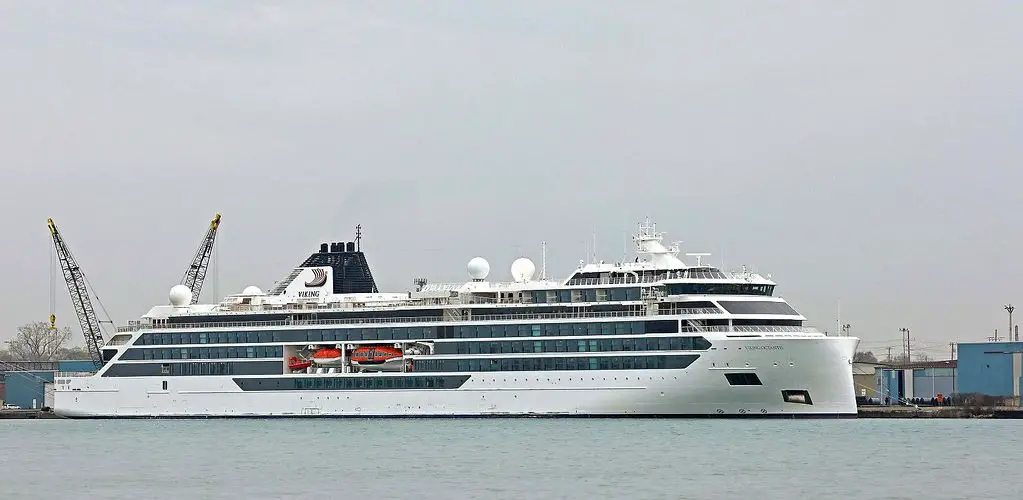 Embarking on a journey aboard the Viking Octantis offers an unforgettable and enriching travel experience that fuses luxury, comfort, and adventure.
This expedition ship is designed to navigate some of the most remote and captivating destinations, offering passengers the opportunity to explore the pristine landscapes and wildlife of the polar regions. This Viking Octantis Itinerary User Guide is your ultimate resource for planning your voyage and making the most of your time onboard.
Section 1: The Viking Octantis Ship
1.1. Design and Amenities
The Viking Octantis is a state-of-the-art expedition vessel specifically designed to provide the utmost safety, comfort, and accessibility to its passengers. Key features of the ship include:
A PC6 Polar Class hull, which enables the vessel to navigate through some of the most challenging polar conditions.

A sleek and stylish Scandinavian-inspired design, with modern and comfortable accommodations, public spaces, and dining venues.

An onboard Science Center, where guests can attend lectures, workshops, and demonstrations led by expert scientists and educators.

A fully equipped fitness center, spa, and heated pool, allowing guests to maintain their well-being while exploring remote destinations.

A spacious observation lounge and multiple outdoor decks, providing passengers with unparalleled views of the surrounding landscapes and wildlife.

1.2. Accommodations
The Viking Octantis offers a range of staterooms and suites, each designed with comfort and functionality in mind. All accommodations feature:
A private bathroom with heated floors and anti-fog mirrors.

Comfortable king-sized beds that can be converted into two twin beds.

A seating area with a sofa, coffee table, and writing desk.

Ample storage space, including a wardrobe, drawers, and under-bed storage.

A flat-screen TV with an extensive selection of movies and television shows on demand.

Complimentary Wi-Fi access.

A minibar stocked with your preferred beverages and snacks.

1.3. Dining
The Viking Octantis boasts a variety of dining venues, offering an array of culinary experiences to suit all tastes:
The Restaurant: A spacious and elegant dining room offering breakfast, lunch, and dinner. The menu features an array of international dishes, as well as local specialties inspired by the regions visited during the voyage.

The World Café: A casual buffet-style eatery, serving an extensive selection of hot and cold dishes for breakfast, lunch, and dinner. The café also offers al fresco dining on the Aquavit Terrace, weather permitting.

The Chef's Table: An intimate dining experience available by reservation only, featuring a multicourse tasting menu with wine pairings, designed and prepared by the ship's executive chef.

Mamsen's: A cozy café offering Norwegian-inspired dishes and snacks, such as open-faced sandwiches, pastries, and waffles.

Pool Grill: An outdoor grill serving casual fare, including burgers, hot dogs, and salads, as well as specialty items inspired by the ship's itinerary.

Section 2: Itineraries and Destinations
The Viking Octantis offers a selection of itineraries that explore the polar regions, including the Arctic and Antarctic, as well as the Great Lakes and coastal regions of North America.
2.1. Arctic Itineraries
Embark on a journey to the Arctic, where you'll experience the breathtaking beauty of the region's rugged landscapes, abundant wildlife, and fascinating indigenous cultures. Popular Arctic itineraries include:
Greenland and Iceland Exploration: Discover the spectacular landscapes of Greenland and Iceland, including massive glaciers, geothermal hotspots, and colorful, picturesque towns. Along the way, encounter whales, seals, and seabirds, and learn about the rich history and culture of the region.
Svalbard and the Polar
Ice Edge: Immerse yourself in the pristine wilderness of Svalbard, a remote archipelago located midway between mainland Norway and the North Pole. This itinerary takes you along the edge of the polar ice cap, where you can witness the dramatic effects of climate change on the Arctic landscape. Encounter polar bears, walruses, reindeer, and a variety of seabird species as you explore the rugged coastlines and fjords of this unique destination.
Northwest Passage: Embark on a once-in-a-lifetime voyage through the legendary Northwest Passage, a sea route that connects the Atlantic and Pacific Oceans through the Canadian Arctic Archipelago. Trace the footsteps of famous explorers and experience the stark beauty of the Arctic landscape, while witnessing the fascinating wildlife and rich cultural heritage of the region.
2.2. Antarctic Itineraries
Set sail for the southernmost continent and explore the awe-inspiring landscapes and abundant wildlife of Antarctica. Popular Antarctic itineraries include:
Antarctic Explorer: Journey to the Antarctic Peninsula, the most accessible region of the continent, where you'll encounter towering icebergs, immense glaciers, and an array of wildlife, including penguins, seals, and whales. Attend lectures and workshops led by expert scientists and educators, and participate in optional activities such as kayaking, snowshoeing, and ice camping for a truly immersive experience.
South Georgia and the Falkland Islands: Venture to the remote sub-Antarctic islands of South Georgia and the Falklands, where you'll discover diverse wildlife, fascinating history, and stunning landscapes. Witness vast colonies of king penguins, visit the gravesite of famed explorer Sir Ernest Shackleton, and explore the rich cultural heritage of the Falkland Islands' capital, Stanley.
2.3. Great Lakes and North American Coastal Itineraries
Explore the natural beauty and rich history of the Great Lakes and the coastal regions of North America aboard the Viking Octantis. Popular itineraries in this region include:
Great Lakes Explorer: Discover the scenic splendor and unique history of the Great Lakes region, as you journey from Toronto to Milwaukee, stopping at iconic destinations such as Niagara Falls, Mackinac Island, and the picturesque coastal towns of Lake Superior.
Eastern Seaboard Explorer: Cruise along the Atlantic coast of the United States and Canada, visiting historic cities such as Boston, New York, and Halifax, as well as the charming coastal towns of New England and the Canadian Maritimes.
Section 3: Onboard Experiences and Enrichment Programs
3.1. Enrichment Programs
The Viking Octantis offers a diverse range of onboard enrichment programs, aimed at providing passengers with a deeper understanding of the destinations they visit. These programs include:
The Expedition Team: A group of expert scientists, historians, and naturalists who accompany each voyage, providing lectures, workshops, and guided tours that offer insight into the region's natural and cultural history.

The Science Center: An onboard laboratory and research facility, where passengers can participate in hands-on activities, such as microscope demonstrations, wildlife identification, and citizen science projects.

The Library: A curated collection of books, maps, and reference materials related to the ship's itineraries, available for passengers to browse and enjoy during their voyage.

3.2. Optional Excursions and Activities
In addition to the included shore excursions, the Viking Octantis offers a selection of optional activities designed to enhance your travel experience. These may include:
Zodiac Cruises: Explore remote coastlines, fjords, and icebergs aboard a fleet of small, maneuverable inflatable boats known as Zodiacs, guided by expert members of the Expedition Team.

Kayaking: Experience the tranquility and beauty of the polar regions from the unique vantage point of a
kayak. Glide silently through the water, surrounded by icebergs, glaciers, and breathtaking landscapes, as you observe wildlife up-close and personal. Guided by experienced kayak instructors, this activity is suitable for both novice and experienced kayakers.
Snowshoeing: Strap on a pair of snowshoes and explore the pristine, snow-covered landscapes of the polar regions. Led by experienced guides, this activity allows you to immerse yourself in the natural beauty of your surroundings while getting some exercise in the great outdoors.
Ice Camping: For the truly adventurous, spend a night camping on the ice in the heart of the polar wilderness. Under the guidance of experienced expedition staff, set up camp on a secure and stable ice floe, and enjoy an unforgettable evening beneath the stars or the mesmerizing polar twilight.
Wildlife Watching: Join the ship's naturalists for guided wildlife watching excursions, designed to maximize your chances of encountering the iconic species of the polar regions. Observe polar bears, walruses, penguins, seals, and whales in their natural habitat, and learn about their behavior, biology, and conservation.
Cultural Encounters: Engage with the indigenous communities of the Arctic and Antarctic, gaining a deeper understanding of their unique history, traditions, and way of life. Participate in traditional ceremonies, visit local museums and cultural centers, and learn about the challenges and opportunities faced by these communities in a rapidly changing world.
Section 4: Preparing for Your Voyage
4.1. Packing Essentials
When preparing for your Viking Octantis expedition, it's essential to pack appropriate clothing and gear to ensure your comfort and safety during the voyage. Key items to include in your packing list are:
Waterproof and insulated clothing, including a parka, waterproof pants, gloves, and a warm hat.

Layers of breathable, moisture-wicking clothing, such as thermal base layers, fleece jackets, and softshell jackets.

Sturdy, waterproof boots with good traction for walking on slippery surfaces.

Sunglasses with UV protection and a wide-brimmed hat for sun protection.

A reusable water bottle and a daypack for shore excursions.

A camera with extra batteries and memory cards to capture the breathtaking scenery and wildlife encounters.

Personal medications, including seasickness remedies and any prescription medications you may need.

4.2. Health and Safety
Your health and safety are of utmost importance during your Viking Octantis expedition. To ensure a safe and enjoyable voyage, consider the following tips:
Consult with your physician prior to your trip to discuss any health concerns or medical conditions that may affect your ability to participate in activities or excursions.

Ensure that you are up-to-date on any necessary vaccinations and bring a copy of your vaccination record with you.

Follow all safety guidelines and instructions provided by the ship's crew and Expedition Team, especially during shore excursions and onboard activities.

Stay well-hydrated and apply sunscreen regularly to protect yourself from the intense sun exposure in the polar regions.

4.3. Travel Documentation
Ensure that you have all necessary travel documents for your voyage, including a valid passport with at least six months' validity beyond the end date of your trip. Depending on your itinerary, you may also require visas or permits to enter certain countries or regions. Consult with your travel agent or the relevant embassies for the most up-to-date visa requirements.
Conclusion
Embarking on a voyage aboard the Viking Octantis offers an unparalleled opportunity to explore the remote and captivating destinations of the polar regions and beyond. With this Viking Octantis Itinerary User Guide, you'll be well-prepared to make the most of your expedition, from selecting the perfect itinerary to packing the right gear and participating in enriching onboard experiences. So, set sail for the adventure of a lifetime, and discover the wonders of our planet's most pristine and awe-inspiring destinations. From the Arctic's majestic icebergs and unique wildlife to the Antarctic's vast wilderness and dramatic landscapes, each journey aboard the Viking Octantis is sure to leave you with memories that will last a lifetime. Don't miss the chance to immerse yourself in the natural beauty and cultural richness of these incredible regions while enjoying the luxury, comfort, and personalized service that Viking is known for. Begin planning your unforgettable voyage today, and embark on the adventure that awaits you aboard the Viking Octantis.