Where to Eat, Stay, and Explore in Florence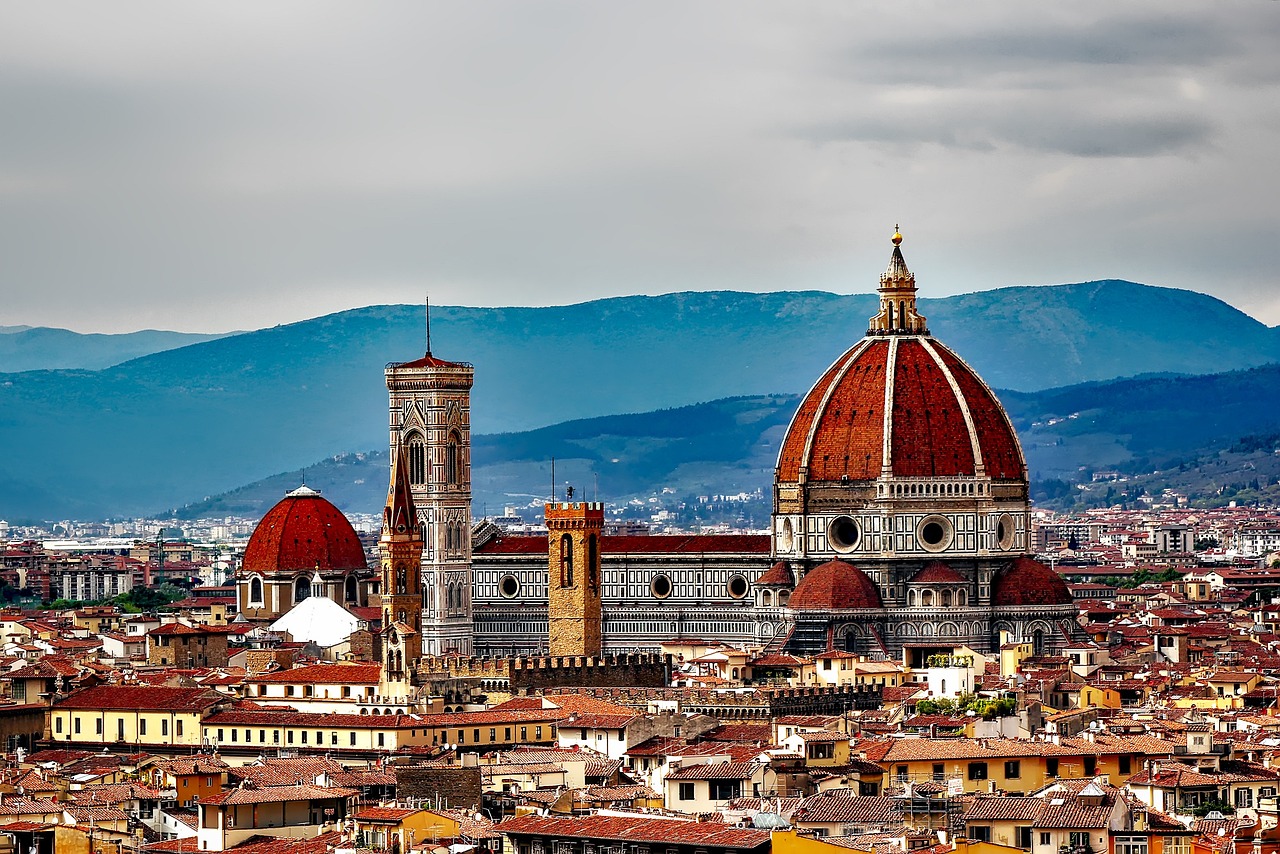 Ah, Florence! The birthplace of the Renaissance and the city that's packed with art, culture, and a cuisine that will tantalize your taste buds. A visit to Florence is a journey through time, where every cobblestone street and frescoed wall tells a story. For those planning to explore this Tuscan gem, here's a curated guide on where to eat, stay, and explore in Florence.
Where to Eat
Trattoria da Mario: Located near the bustling San Lorenzo Market, this historic eatery has been serving up traditional Tuscan fare since 1953. The ribollita (a hearty Tuscan bread soup) and the bistecca alla fiorentina (Florentine steak) are must-tries.
La Menagere: A mix of modern aesthetics and historical vibes, La Menagere is a unique experience. Serving as a restaurant, flower shop, and home décor store, the space offers a contemporary spin on Italian cuisine.
Gelateria La Carraia: No trip to Florence is complete without indulging in gelato. Overlooking the Arno River, this gelateria is famed for its creamy textures and myriad flavors.
Where to Stay
Hotel Brunelleschi: Nestled in the heart of the city, this luxurious hotel boasts rooms with views of Florence's iconic Duomo. The building, rich in history, is a blend of medieval architecture with modern amenities.
Palazzo Guadagni: Located in the Oltrarno district, this 16th-century palace turned hotel offers panoramic views of Florence from its beautiful rooftop terrace. The rooms are a mix of renaissance charm and modern comfort.
Ostello Tasso: For those on a budget, this chic hostel is a great option. Featuring a lively bar, rooftop terrace, and curated events, it's a hub for young travelers.
Where to Explore
The Uffizi Gallery: Florence is synonymous with art, and the Uffizi Gallery is its crown jewel. Home to thousands of Renaissance artworks, including pieces by Botticelli, Michelangelo, and Leonardo da Vinci, this museum is a testament to Florence's artistic legacy.
Ponte Vecchio: This medieval stone bridge is more than just a crossing over the Arno River. Lined with jewelers, art dealers, and souvenir shops, it's a bustling hub of activity. As the sun sets, the bridge becomes a vantage point for some of the most breathtaking views of the city.
Florence Cathedral (Il Duomo): Standing tall in the Piazza del Duomo, the cathedral, with its iconic dome designed by Brunelleschi, is a testament to Florence's architectural prowess. Climbing to the top offers a panoramic view of the city.
Boboli Gardens: An oasis in the midst of urban Florence, these gardens are a sprawling green expanse dotted with statues, fountains, and grottoes. A leisurely stroll here is a delightful break from the hustle and bustle of the city.
Hidden Gems
La Specola: Part of the Museum of Natural History of Florence, this lesser-known museum boasts an extensive collection of zoological specimens and wax anatomical models. It's a blend of science, art, and the macabre.
Sant' Ambrogio Market: While the San Lorenzo Market is more famous, Sant' Ambrogio offers a more local experience. From fresh produce to local cheeses, this is the place to get a taste of everyday Florentine life.
The Brancacci Chapel: Located in the church of Santa Maria del Carmine, this chapel is adorned with frescoes by Masaccio and Masolino, showcasing the evolution of Renaissance art.
Tips for Travelers
Time Your Visit: Florence can get quite crowded, especially during the summer months. If possible, plan your trip during the shoulder seasons (spring or fall) when the weather is pleasant and the crowds are thinner.
Reservations: Popular attractions like the Uffizi Gallery can have long waiting times. It's a good idea to book tickets in advance.
Get Lost: While it's essential to see the famous landmarks, some of Florence's real magic lies in its lesser-known alleys and squares. Take time to wander and discover the city's hidden treasures.
Florence, with its rich tapestry of history, art, and culture, promises an experience like no other. Whether you're savoring a plate of pappardelle, marveling at a Botticelli masterpiece, or simply soaking in the sunset hues over the Arno, the city is sure to leave an indelible mark on your heart.
Gastronomic Adventures
Enoteca Pinchiorri: For those seeking a truly luxurious dining experience, this three-star Michelin restaurant offers an exquisite blend of traditional Tuscan dishes and innovative culinary creations. The wine cellar, one of the best in Italy, promises a perfect pairing for every course.
Fiaschetteria Nuvoli: A short walk from the Piazza della Signoria, this old-world wine bar offers a genuine taste of Florence. With its vast selection of regional wines and a menu of traditional Tuscan snacks, it's a haven for wine lovers.
Mercato Centrale: Beyond just a market, this two-level gastronomic hub offers everything from fresh produce on the ground floor to a variety of food stalls on the upper level. Here, you can sample everything from local cheeses and cured meats to fresh pasta and baked goods.
Nightlife and Entertainment
Teatro della Pergola: One of the oldest theaters in the city, Teatro della Pergola, offers a range of performances, from classical operas to modern plays. The opulent interiors and excellent acoustics make it a must-visit for performing arts enthusiasts.
Volume: Situated in the heart of the Santo Spirito district, this bar-cum-bookshop offers a laid-back ambiance, making it perfect for an evening of cocktails and conversations.
La Loggia: For those wanting to dance the night away, this nightclub, housed in a 14th-century building, combines historic charm with modern beats.
Shopping Experiences
Via de' Tornabuoni: Florence's premier shopping street is lined with luxury boutiques and historic shops, offering everything from high-end fashion to artisanal crafts.
Scuola del Cuoio: This renowned leather school, located within the Monastery of Santa Croce, offers handcrafted leather goods. Visitors can also witness artisans at work, crafting beautiful bags, jackets, and accessories.
Il Papiro: For lovers of stationary and paper goods, Il Papiro offers handmade paper, marbled designs, and traditional Florentine stationary.
Day Trips from Florence
Fiesole: A short bus ride from Florence, Fiesole offers stunning panoramic views of Florence and the Tuscan countryside. Its Roman amphitheater and Etruscan ruins provide a fascinating glimpse into the region's history.
Chianti Region: A paradise for wine enthusiasts, the rolling hills of the Chianti region are dotted with vineyards, medieval villages, and rustic farmhouses. Several wineries offer tours and tastings.
Florence, with its myriad offerings, caters to every traveler's whim, be it art, cuisine, history, or fashion. The city, though deeply rooted in its Renaissance past, pulsates with a vibrant, modern energy. Each visit promises new discoveries and treasured memories. Whether it's your first time in this Tuscan gem or you're returning for the umpteenth time, Florence never ceases to enchant and inspire.