Where to Eat, Stay, and Explore in Munich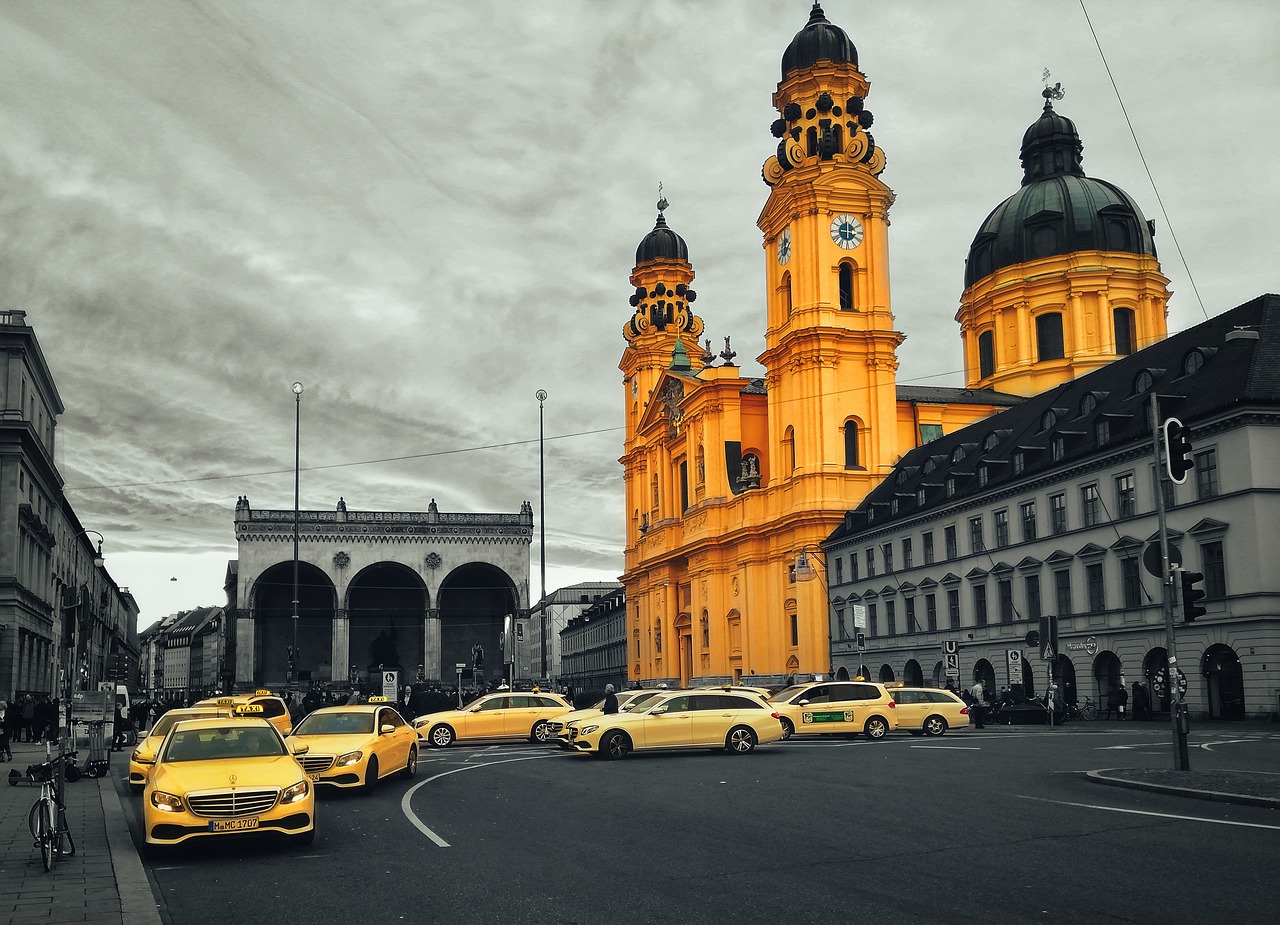 Munich, the capital of Bavaria, is a city that beautifully blends traditional German culture with modernity. Famous for its beer gardens, historical sites, and festivals, Munich offers something for every traveler. Whether you're a food lover, a history buff, or just looking for a relaxing getaway, Munich won't disappoint. Here's your comprehensive guide to where to eat, stay, and explore in Munich.
Where to Eat
Viktualienmarkt: A daily food market in the heart of Munich, Viktualienmarkt has over 140 stalls selling gourmet foods, fresh fruits, vegetables, meats, cheeses, and more. From traditional Bavarian dishes to international cuisines, it's a feast for the senses.
Hofbräuhaus: Established in 1589, this is probably Munich's most famous beer hall. It serves traditional Bavarian food like pretzels, sausages, and, of course, lots of beer. The live traditional Bavarian music adds to the ambience.
Tantris: For those looking for a fine dining experience, Tantris is a two-Michelin-starred restaurant offering an exquisite menu and impeccable service. The modern interiors are as impressive as the food.
Augustiner Bräustuben: Less touristy than Hofbräuhaus but just as traditional, this place offers an authentic Bavarian dining experience at a fraction of the cost.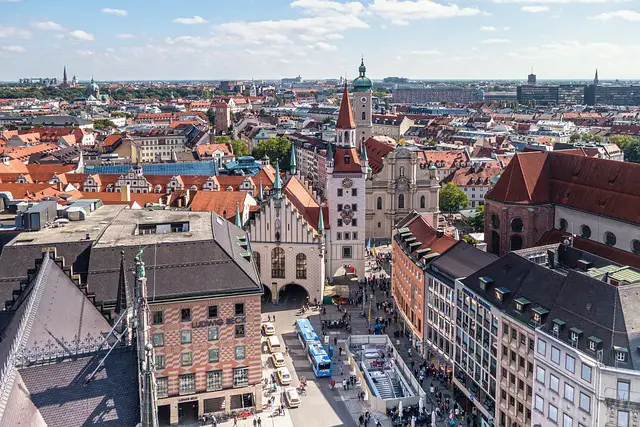 Where to Stay
Bayerischer Hof: Located in the city center, Bayerischer Hof is Munich's most luxurious hotel with a rich history. Offering multiple dining options, a spa, and a rooftop pool, it's the perfect place for those looking for opulence.
25hours Hotel The Royal Bavarian: A quirky and stylish hotel that offers a unique stay. Each room is distinctively designed, and the hotel even offers bicycles for guests to explore the city.
Motel One: For those traveling on a budget, Motel One offers a clean, comfortable, and affordable stay. The chain has several locations in Munich, making it convenient no matter which part of the city you're exploring.
Gästehaus Englischer Garten: This bed and breakfast provides a home-away-from-home experience. Located near the English Garden, it's perfect for those looking for a quiet and cozy stay.
Where to Explore
Marienplatz: The city's main square is home to the New Town Hall with its famous Glockenspiel. It's a bustling hub with many shops, restaurants, and historical sites.
English Garden: One of the world's largest urban parks, the English Garden is the perfect place for a leisurely stroll, a boat ride, or even surfing in the Eisbach River's standing wave.
Nymphenburg Palace: Once the summer residence of Bavarian monarchs, this baroque palace is a testament to the opulence of bygone eras. The palace grounds are as impressive as the interiors and make for a delightful walk.
Deutsches Museum: Situated on an island in the Isar River, it's one of the world's largest and most comprehensive science and technology museums. With interactive exhibits, it's a hit with both adults and children.
BMW Museum: Car enthusiasts will love this tribute to Bavaria's most famous car brand. The futuristic building houses a plethora of cars, bikes, and information about the brand's history.
Dachau Concentration Camp Memorial Site: Just a short train ride away from Munich, this site is a powerful and poignant reminder of the horrors of the Holocaust. A visit here is a moving experience and an important lesson in history.
Olympiapark: Built for the 1972 Olympics, the park is now a recreational space with sports facilities, a lake, and an observation tower. It's a great spot for a picnic or to catch a concert at the Olympiahalle.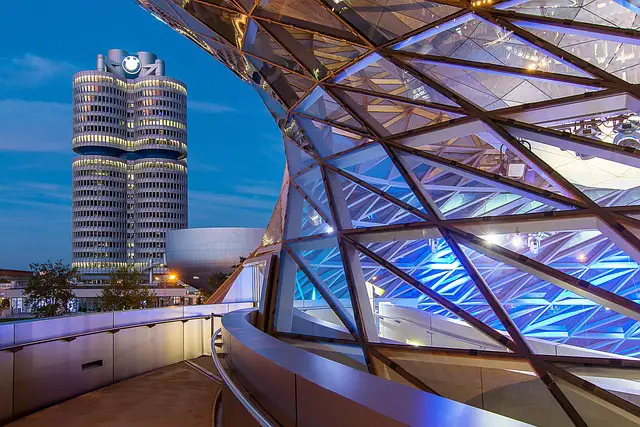 Munich offers a mix of rich history, vibrant culture, and modern amenities. Its beautiful architecture, world-class museums, and hearty Bavarian cuisine make it a must-visit. Whether you're there for Oktoberfest, the Christmas markets, or just a regular vacation, Munich promises an experience that you'll cherish.
Art and Culture
Pinakotheken: Munich's art scene is rich and diverse, and the trio of Pinakotheken museums showcases this beautifully. The Alte Pinakothek features European paintings from the 14th to 18th centuries, the Neue Pinakothek displays art from the 19th century, and the Pinakothek der Moderne is dedicated to modern and contemporary art.
Bavarian State Opera: Housed in a grand building, this opera venue stages some of the finest operatic and ballet performances in Germany. If you're in Munich between late June and late July, don't miss the Munich Opera Festival.
Munich Residenz: Once the royal palace of the Wittelsbach monarchs of Bavaria, this magnificent complex is now a museum displaying 1,300 rooms of the palace's former grandeur. It is also home to the Cuvilliés Theatre, a Rococo masterpiece.
Beer Gardens and Nightlife
Chinesischer Turm: Located within the English Garden, this is one of Munich's most famous beer gardens. It surrounds a Chinese pagoda, and with over 7,000 seats, it buzzes with life in good weather.
Gartnerplatz: A hip and happening area known for its nightlife, Gartnerplatz is where you'll find many of Munich's younger residents and visitors enjoying a night out at the numerous bars, clubs, and eateries.
P1 Club: If you're looking for a swanky clubbing experience, P1 is the place to be. Known as Munich's premier nightclub, it's where the elite and famous party.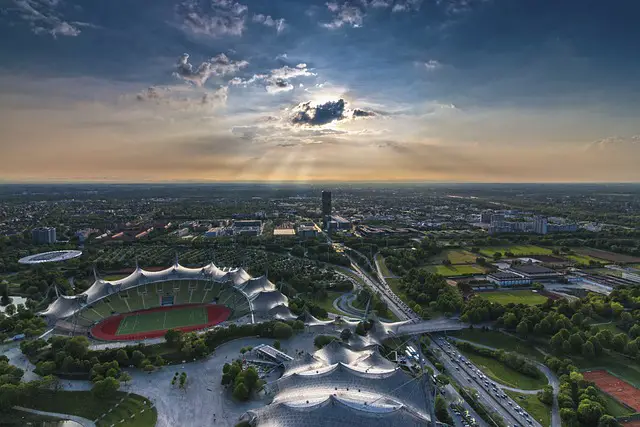 Day Trips from Munich
Neuschwanstein Castle: Often called the "fairy-tale castle", Neuschwanstein is just a short drive or train ride away from Munich. Commissioned by King Ludwig II of Bavaria, it is said to have inspired Walt Disney's Sleeping Beauty Castle.
Lake Starnberg: The fifth largest lake in Germany, Lake Starnberg is perfect for a day of relaxation. Whether you're up for a boat ride, a swim, or just want to picnic by its shores, it offers a serene escape from the city bustle.
Salzburg, Austria: Just a couple of hours away by train, this Austrian city is famous as the birthplace of Mozart and the setting for the movie "The Sound of Music". With its baroque architecture, fortress, and the scenic Salzach river, it's worth a visit.
Shopping
Maximilianstrasse: Munich's most upscale shopping street, Maximilianstrasse is where you'll find luxury brands, high-end boutiques, and beautiful window displays.
Sendlinger Strasse: A bustling shopping street offering a mix of international brands, local boutiques, and plenty of dining options.
Viktualienmarkt: Apart from being a food lover's paradise, Viktualienmarkt also has stalls selling traditional Bavarian crafts, souvenirs, and gifts.
Munich's charm lies in its diversity. It seamlessly marries the old and new, offering both historical richness and modern flair. Whether you are there for a few days or a few weeks, the city is bound to leave an indelible mark on your heart. So, immerse yourself in the Bavarian spirit, enjoy a stein of beer, revel in the arts, and let Munich mesmerize you.
Festivals and Celebrations
Oktoberfest: No mention of Munich is complete without referencing its most famous festival. Held from late September to the first weekend in October, Oktoberfest is the world's largest beer festival and travelling funfair. With traditional costumes, giant beer tents, hearty Bavarian food, and vibrant parades, it's an experience of a lifetime.
Munich Film Festival: Held annually in June and July, this is Germany's largest summer film festival. It features a wide variety of films, from international blockbusters to indie gems.
Tollwood Winter Festival: This cultural festival takes place in the Olympic Park during winter, offering a mix of live music, theatre, organic food, and a bustling Christmas market.
Hidden Gems
Asamkirche (Asam Church): This lesser-known Baroque church, built by the Asam brothers in the 18th century, is a real architectural gem. Its intricate interiors are absolutely captivating.
Lenbachhaus: An art museum with a focus on Expressionist art, it houses works from the Blue Rider (Blaue Reiter) group, including pieces by Kandinsky and Marc.
Michaeligarten: A lovely beer garden nestled by a lake in the eastern part of the English Garden. It's quieter than some of its counterparts, making it a peaceful spot to enjoy a beer and pretzel.
Local Tips
Public Transportation: Munich's public transportation system is efficient and extensive. Consider getting a day ticket or a Munich Card for unlimited rides and discounts on various attractions.
Bavarian Breakfast: Try a traditional Bavarian breakfast, which typically includes Weisswurst (white sausages), sweet mustard, and freshly baked pretzels.
Stroll in Schwabing: Once the bohemian heart of Munich, Schwabing is now a trendy neighborhood with a plethora of cafes, boutiques, and galleries. It's a great area to just wander and soak in the local vibe.
Sustainable Munich
Green Munich: The city is making strides in sustainability. Look out for "Bio" signs, which indicate organic food. Moreover, tap water in Munich is of high quality, so carry a reusable bottle and reduce plastic waste.
Bike Tours: Munich is a bike-friendly city with plenty of dedicated bike lanes. Consider joining a bike tour or renting a bike for the day to explore the city in an eco-friendly manner.
From its storied past and rich traditions to its contemporary innovations and cosmopolitan flair, Munich is truly a traveler's delight. It offers layers of experiences, waiting to be peeled back and savored. Whether you're seeking a deep dive into history, a gastronomic adventure, a shopping spree, or a tranquil escape into nature, Munich stands ready to enchant and inspire. Pack your bags and let the heart of Bavaria beckon you for an unforgettable journey. Safe travels!