Zurich, Switzerland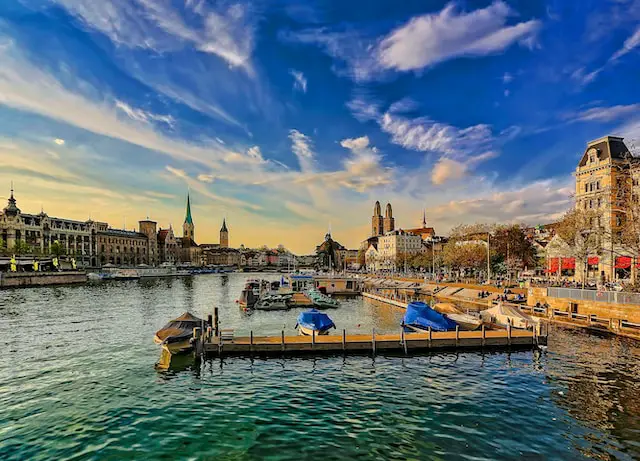 Zurich, the largest city in Switzerland, is situated in the central region of the country, resting in the heart of Europe. Known for its flourishing financial sector, global status, and breathtaking surroundings, Zurich seamlessly marries historical richness with modern dynamism.
Founded by the Romans over 2,000 years ago, Zurich's roots are deep, and its heritage is evident in the well-preserved structures that dot the cityscape. Encircled by the snow-clad Swiss Alps and crisscrossed by the tranquil Limmat River, this city offers an enchanting setting that has inspired artists, attracted intellectuals, and charmed tourists for centuries.
Zurich's old town, Altstadt, is a beautifully preserved section of the city that harks back to medieval times. The narrow cobblestone lanes, quaint shops, and historic buildings lend Altstadt an old-world charm. Among the iconic structures, the Grossmünster, a Romanesque-style Protestant church, and the Fraumünster, with its distinctive green spire and stained glass windows by Marc Chagall, stand out as a testament to the city's rich architectural heritage.
However, Zurich is not just about history; it's a pulsating metropolis and a global financial hub. The city houses many multinational corporations and the world-renowned Swiss banks. Zurich's Bahnhofstrasse is one of the most exclusive shopping streets worldwide, lined with luxury boutiques, top-tier brands, and elegant cafes. This seamless blend of opulence and efficiency lends Zurich an undeniably cosmopolitan flair.
Cultural offerings abound in Zurich, with over 50 museums and more than 100 art galleries. The Kunsthaus Zürich houses one of the most significant art collections in Switzerland, with works spanning the Middle Ages through contemporary times. Zurich also hosts the world's most extensive Swiss National Museum, providing a thorough insight into Swiss cultural history.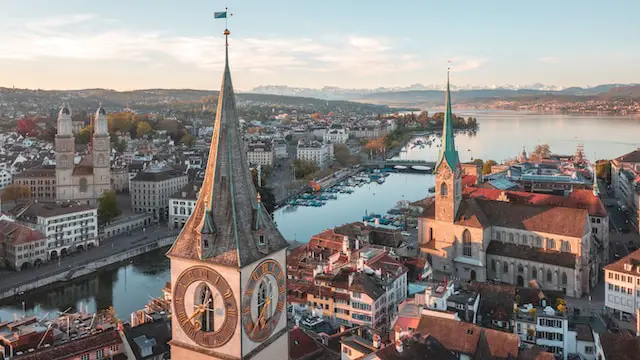 Zurich's thriving gastronomy scene is a testament to its multicultural population. From traditional Swiss dishes like fondue and raclette to global cuisine, food connoisseurs are spoilt for choice. The city's penchant for innovation is evident in its food culture, with several fusion restaurants and innovative culinary concepts. The city also boasts an exciting nightlife, with a plethora of bars, clubs, and the famous "langstrasse" street that never sleeps.
Zurich is not all urban hustle; it's generously endowed with natural beauty. Lake Zurich provides an idyllic retreat for both locals and visitors. Whether you're sailing, swimming, or simply strolling along the water's edge, the lake offers a serene respite from the city's pace. Similarly, the Uetliberg mountain provides panoramic views of the city and beyond, an ideal spot for hikers and nature lovers.
Despite its small size, Zurich leads in environmental sustainability. A robust public transport network makes car ownership unnecessary for many residents, while the city's 1,200 drinking water fountains attest to the excellent quality of its water. Zurich's commitment to green spaces within its urban environment is particularly evident in its numerous parks, which provide serene oases amidst the city buzz.
Education and innovation are deeply ingrained in Zurich's ethos. Home to the prestigious Swiss Federal Institute of Technology (ETH Zurich), one of the world's leading universities in technology and natural sciences, and the University of Zurich, the city draws a diverse, international student population. Zurich is also known for its commitment to innovation, with several tech start-ups and research centers making their home here.
Yet, what makes Zurich truly special is its quality of life. Regularly topping global livability rankings, Zurich offers a high standard of living, excellent public services, and a safe, clean environment. Its manageable size allows for easy navigation, while its geographical location in the heart of Europe provides unparalleled access to numerous destinations across the continent.
Zurich offers an impressive range of accommodation, from historic buildings in the Old Town to modern apartments overlooking the lake or the city. While living costs are high compared to global standards, salaries and living conditions match this, creating a balanced and comfortable lifestyle.
The city is also a model for social integration and diversity. Its population of over 400,000 people is made up of a myriad of nationalities, lending Zurich a truly cosmopolitan atmosphere. This harmonious fusion of cultures is reflected in the city's events, cuisine, and general way of life.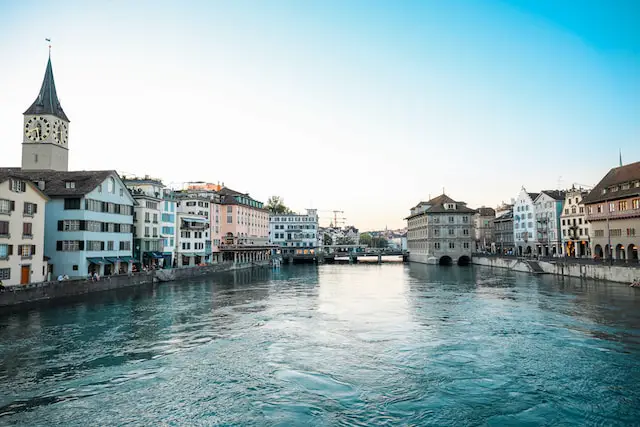 As a testament to its quality of life, Zurich pays great attention to health and wellness. With numerous sporting events, like the Zurich Marathon, and outdoor activities facilitated by its clean and scenic landscapes, the city fosters a healthy lifestyle among its residents. Plus, the Swiss healthcare system is renowned for its efficiency and high standards, adding another layer of security for those living in or visiting the city.
One of the most attractive aspects of Zurich is its four distinct seasons, each adding a unique charm to the city. Winter in Zurich is a magical time, with snow-covered streets, ice-skating rinks, and festive Christmas markets. Come spring, the city blooms, with vibrant flowers adorning public parks and the countryside, creating a visual spectacle for locals and tourists alike. Summer is perfect for taking a dip in the lake and enjoying al fresco dining, while autumn transforms the city into a picturesque landscape of orange and gold.
Zurich's festivals and events also contribute to its lively atmosphere. The Street Parade, one of the largest techno parades in the world, shows Zurich's more vibrant and colourful side. Similarly, the traditional Sechseläuten, which celebrates the arrival of spring, and the Christmas markets, which light up the city during the winter, add to Zurich's festive spirit.
Lastly, the people of Zurich add a significant part to the city's charm. Known for their efficiency and punctuality, the residents of Zurich are also welcoming and friendly. They take pride in their city and strive to maintain its pristine condition, contributing to Zurich's reputation as one of the cleanest cities in the world.
In conclusion, Zurich is a city of contrasts and harmonies. It combines the charm of a historic town with the dynamism of a financial hub, the innovation of a tech city with the tranquillity of a nature retreat. Its high quality of life, vibrant culture, and breathtaking landscapes make it a city that truly stands out. Whether you're drawn by its economic prospects, its educational institutions, its cuisine, or its natural beauty, Zurich promises a rich and fulfilling experience. Despite being deeply rooted in its traditions and history, it's a city that continues to look forward and evolve, staying at the forefront of innovation and sustainability. From the peaks of the Uetliberg to the banks of the Limmat, Zurich is a city waiting to be discovered.