15 best things to do in Cape Town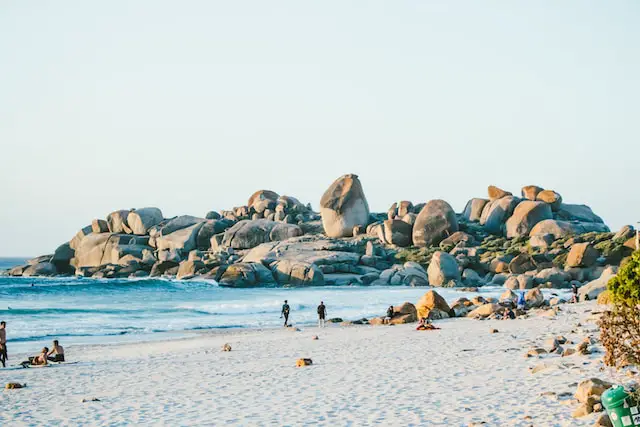 Cape Town, also known as the Mother City, is a vibrant city located at the southernmost tip of Africa. Nestled beneath the magnificent Table Mountain, it's renowned for its stunning natural beauty, diverse cultural heritage, and rich history.
Cape Town is the legislative capital of South Africa and the second most populous city in the country. Its unique geographic location, between the Atlantic Ocean and the mountainous areas, has resulted in breathtakingly diverse landscapes.
The city boasts a variety of attractions, from its lively Victoria & Alfred Waterfront, filled with shops, restaurants, and entertainment options, to its historic sites like Robben Island, where Nelson Mandela was imprisoned. Its multicultural neighborhoods, such as the colorful Bo-Kaap district and its beachfront areas like Camps Bay, each have their own unique charm and are well worth exploring.
Nature enthusiasts can enjoy the spectacular views from Table Mountain, either by hiking up or taking a cable car, visit the remarkable Cape of Good Hope, or encounter indigenous wildlife like African penguins at Boulders Beach. In addition, the Kirstenbosch National Botanical Gardens offers a tranquil retreat within the city.
Furthermore, Cape Town is situated in close proximity to the Cape Winelands, home to some of South Africa's premier wineries, making wine tasting tours a popular activity for visitors.
Cape Town is also known for its diverse food scene, which reflects the city's multicultural heritage. From the traditional Cape Malay cuisine to freshly caught seafood, there's a variety of delectable dishes to try.
Despite its beauty and charm, Cape Town also bears the scars of South Africa's apartheid past. Institutions like the District Six Museum and the tours to Robben Island serve as poignant reminders of this period in the country's history, enabling visitors to gain a deeper understanding of the city's past and its path towards reconciliation.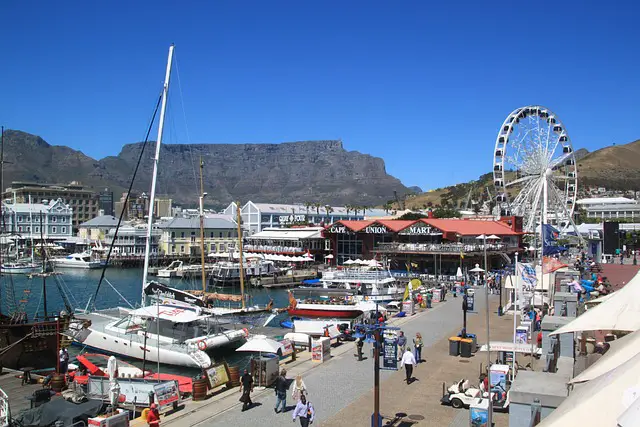 Overall, Cape Town is a city of contrasts, where natural beauty meets urban charm, and where a complex history meets a hopeful future. It's a city that has something for everyone, from the avid adventurer to the history buff, the foodie, and the culture enthusiast.
Explore Table Mountain – Start your journey with the most iconic landmark of Cape Town, Table Mountain. Choose between a stunning cable car ride or a challenging hike to reach the top. Once there, you'll be rewarded with panoramic views of the city and the coastline. It's an ideal place for a picnic or to simply enjoy the serenity of nature.
Visit the V&A Waterfront – A bustling hub of activity, the Victoria & Alfred Waterfront is a must-visit location for every traveler. Here, you'll find numerous shops, restaurants, and attractions such as the Two Oceans Aquarium and the Cape Wheel. Don't miss out on a harbor cruise to see the city from a new perspective.
Wine Tasting in Cape Winelands – Just outside Cape Town lies one of the world's premier wine regions. The Cape Winelands offers breathtaking landscapes and exquisite vineyards where you can indulge in a day of wine tasting. Towns like Stellenbosch and Franschhoek are well worth a visit.
Robben Island Tour – Step back in time and learn about South Africa's apartheid history by visiting Robben Island. This UNESCO World Heritage Site is where Nelson Mandela was imprisoned for 18 years. A former prisoner often leads the tours, adding a deeply personal perspective to the experience.
Boulders Beach Penguin Colony – Get up close and personal with African Penguins at Boulders Beach. These adorable creatures are a sight to behold in their natural habitat. Make sure to enjoy the crystal-clear waters and the scenic beach as well.
Kirstenbosch National Botanical Gardens – Nestled at the foot of Table Mountain, these botanical gardens are renowned for their stunning collection of indigenous plants. Walking through the garden's trails, one can admire the vibrant displays of flora, the sculpture garden, or even attend a summer sunset concert.
Explore Bo-Kaap – Known for its brightly colored houses and cobble-stoned streets, Bo-Kaap is rich in culture and history. Visit the Bo-Kaap Museum, try traditional Cape Malay cuisine, and interact with the warm and welcoming community.
Visit the Cape of Good Hope – Part of the Table Mountain National Park, this scenic spot is a haven for nature lovers. Enjoy the views from the old lighthouse, spot wildlife, and don't miss the spectacular sight of the Atlantic and Indian Oceans meeting.
Explore the Zeitz MOCAA – For art lovers, the Zeitz Museum of Contemporary Art Africa (MOCAA) is a must-visit. Housed in a stunningly converted grain silo, it showcases the best of African contemporary art.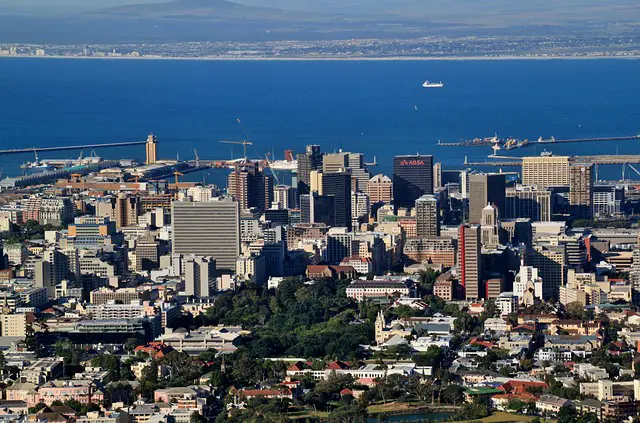 District Six Museum – Learn about a significant part of Cape Town's history at the District Six Museum. The exhibits tell the story of the area's forced clearance during the apartheid era, providing a moving account of the city's past.
Lion's Head Hike – For outdoor enthusiasts, the hike up Lion's Head is a must. Though less famous than its neighbor, Table Mountain, the hike offers 360-degree views of the city and the ocean. Plus, it's a perfect spot to watch the sunrise or sunset.
Shopping at Greenmarket Square – This bustling market in the heart of the city is a great place to pick up unique souvenirs, African art, and handcrafted jewelry. Plus, the lively atmosphere is an experience in itself.
Try Local Cuisine – Cape Town's food scene is a blend of its diverse cultures. Try Cape Malay curry, biltong, and boerewors. Don't forget to try a Gatsby – a local, hefty submarine sandwich filled with a variety of tasty ingredients.
Seal Island Boat Trip – Take a boat trip to Seal Island from Hout Bay. Here, you'll get a chance to watch a colony of over 6000 seals frolicking in their natural environment. Remember to carry your camera for some excellent wildlife shots.
Experience Township Life – For a more authentic experience, visit one of Cape Town's townships like Langa or Khayelitsha. Guided tours offer insights into the daily life of these communities, their struggles, and their vibrant culture. This will give you a deeper understanding of the diversity that shapes Cape Town.
In conclusion, Cape Town is a city full of exciting experiences that caters to a wide range of interests. From its rich history and vibrant culture to its beautiful natural landscapes and world-class cuisine, there is something for everyone to enjoy in this stunning South African city. So, pack your bags and set off on a journey to explore the best that Cape Town has to offer.