15 Best Things to Do in Lagos, Portugal
Lagos, a historic and lively city located in the Algarve region of Portugal, offers a unique blend of rich history, stunning beaches, and a vibrant nightlife. With its well-preserved ancient walls, picturesque cliffs, and delicious Portuguese cuisine, Lagos is a perfect destination for both adventure seekers and those looking to relax by the sea. Here are 15 of the best things to do in Lagos, Portugal:
Ponta da Piedade: This natural wonder consists of rock formations, cliffs, and grottoes sculpted by the sea over millennia. The panoramic views of the Atlantic, combined with the golden rock formations, make it a photographer's paradise. You can either hike down or take boat tours to explore the caves and grottoes.
Camilo Beach (Praia do Camilo): Accessible by a wooden staircase of over 200 steps, Camilo Beach offers a secluded haven with golden sands and turquoise waters. The surrounding cliffs provide a spectacular backdrop and a sense of seclusion.
Visit the Historic Center: Wander the cobbled streets of Lagos' old town, encircled by well-preserved city walls. The architecture tells tales of its Moorish and medieval history. Don't miss the beautiful churches like Igreja de Santo António.
Lagos Marina: A juxtaposition to the historic center, the modern marina area is filled with luxury yachts, bars, restaurants, and shops. You can enjoy a waterfront meal or simply watch the boats come and go.
Dona Ana Beach (Praia Dona Ana): One of Lagos' most popular beaches, Praia Dona Ana is known for its unique rock formations, clean sands, and clear waters. Ideal for both sunbathing and water activities.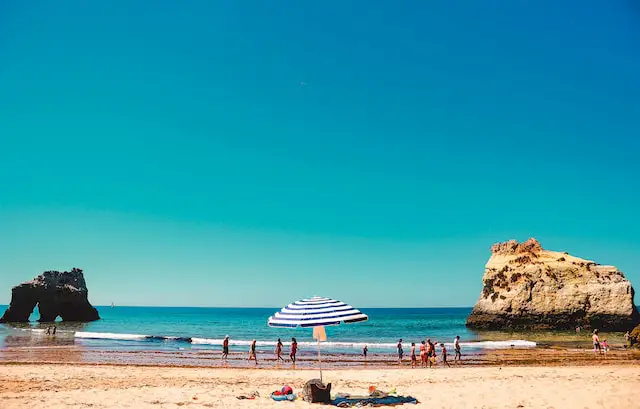 Fort of Ponta da Bandeira: Situated at the harbor entrance, this fortress dates back to the 17th century. It offers fantastic views of the sea and is home to a small chapel with remarkable azulejo tiles.
Kayaking and Canoeing: Embark on a sea adventure by renting a kayak or canoe. Explore hidden caves, secluded beaches, and enjoy the coastline from a unique perspective.
Museu Municipal Dr. José Formosinho: Dive into the region's history, archaeology, and ethnography. The museum also boasts a section on natural history, showcasing the biodiversity of the Algarve region.
Lagos Market (Mercado de Escravos): The site of Europe's first slave market, this historical building now serves as a museum. It stands as a testament to the darker periods in the region's history.
Enjoy the Nightlife: Lagos is known for its vibrant nightlife. From trendy bars like Roskos and Three Monkeys to lively clubs like Club-K and Stevie Ray's Blues Jazz Bar, there's something for everyone.
Taste Traditional Portuguese Cuisine: Savor local dishes like Cataplana (seafood stew), grilled sardines, and the famous Portuguese pastries. Visit restaurants such as Casa do Prego or Adega da Marina.
Indulge in Water Sports: The beaches of Lagos offer a plethora of water activities – from surfing to stand-up paddleboarding. Schools like Surf Seixe Academy and Extreme Algarve can get you started.
Batata Beach (Praia da Batata): Located close to the town center, this beach is perfect for families. Its sheltered location and nearby amenities make it a favorite among locals and tourists alike.
Lagos Living Science Center (Centro Ciência Viva de Lagos): A great spot for families, this interactive science center makes learning fun for all ages. Its exhibitions cover various topics, from regional biodiversity to the universe.
Shop for Souvenirs: Lagos has a variety of artisan shops where you can buy handmade crafts, pottery, cork products, and local delicacies like fig jam and almond pastries.
Lagos, Portugal, serves as a stunning blend of ancient history, natural beauty, and modern entertainment. Whether you're seeking a laid-back beach vacation, a cultural exploration, or a culinary adventure, Lagos promises an unforgettable experience. Each corner of this beautiful city whispers tales of the past, while also beckoning you towards the future. So, pack your bags and set sail for an adventure of a lifetime in Lagos!
Immersing Yourself in Lagos, Portugal
Go Dolphin Watching: The waters off the coast of Lagos are rich in marine life. Join a dolphin-watching tour and experience the thrill of seeing these magnificent creatures playfully swim alongside your boat. Companies such as Dolphin Seafaris and Days of Adventure offer tours, ensuring both safety and an informative experience.
Take a Wine Tasting Tour: The Algarve region is becoming increasingly known for its wines. Schedule a wine tasting session at one of the local wineries or vineyards and discover the flavors of the region. Quinta da Rosa and Monte da Casteleja are a couple of notable vineyards in the area.
Learn About Cork: Portugal is the world's largest producer of cork. Visit a cork factory or take a tour that showcases the process from tree to finished product. This is a unique way to understand the significance of the cork industry in Portugal's culture and economy.
Lagos Zoo: A bit off the typical tourist path, the Lagos Zoo offers a quiet retreat. It's home to a variety of animals, with a special focus on conservation and education. Perfect for families, the zoo provides a chance to see animals from all over the world in well-maintained habitats.
Relax in the Local Spas: After days of exploration, nothing beats a day of relaxation. Lagos offers several spas, like the Blue Ocean Spa or the Goldra Soul Retreat, where you can indulge in massages, facials, and other treatments to rejuvenate.
Attend Local Festivals: Throughout the year, Lagos celebrates various festivals. From traditional Fado music nights to the Lagos Food Fest, there's always something happening. Check local calendars to catch an event during your visit.
Take a Portuguese Cooking Class: The best way to take a piece of Lagos home with you is by learning to cook its traditional dishes. Join a cooking class and learn how to make dishes like Piri-Piri chicken or Bacalhau à Brás from local chefs.
Hike the Algarve Coastline: If you're up for some physical activity, there are various hiking trails along the coastline, offering stunning views of the Atlantic Ocean, dramatic cliffs, and hidden beaches. The Seven Hanging Valleys Trail is particularly renowned for its breathtaking vistas.
Visit Nearby Villages: While Lagos has a plethora of attractions, taking a day trip to nearby villages like Sagres, Silves, or Alvor can offer a deeper understanding of the Algarve region. Each has its unique history, attractions, and charm.
Dive into the Atlantic: With clear waters and a rich marine ecosystem, Lagos is a diver's paradise. Whether you're a beginner or an experienced diver, schools like Dive Time and Scuba Lagos offer courses and excursions that cater to all levels.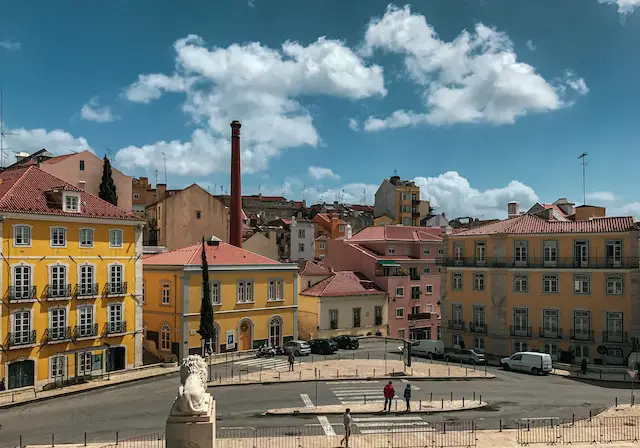 Lagos seamlessly weaves the tapestry of Portugal's illustrious history with the dynamic pulse of contemporary life. Every visit ensures a plethora of activities and experiences, waiting to be explored and cherished. Whether you're navigating the bustling streets of the historic center, feeling the rush of the ocean waves, or simply letting the melodies of Fado music transport you, Lagos promises memories that will last a lifetime. Join the myriad of travelers who have been enchanted by its magic and make Lagos, Portugal, your next dream destination.