Bali Travel Guide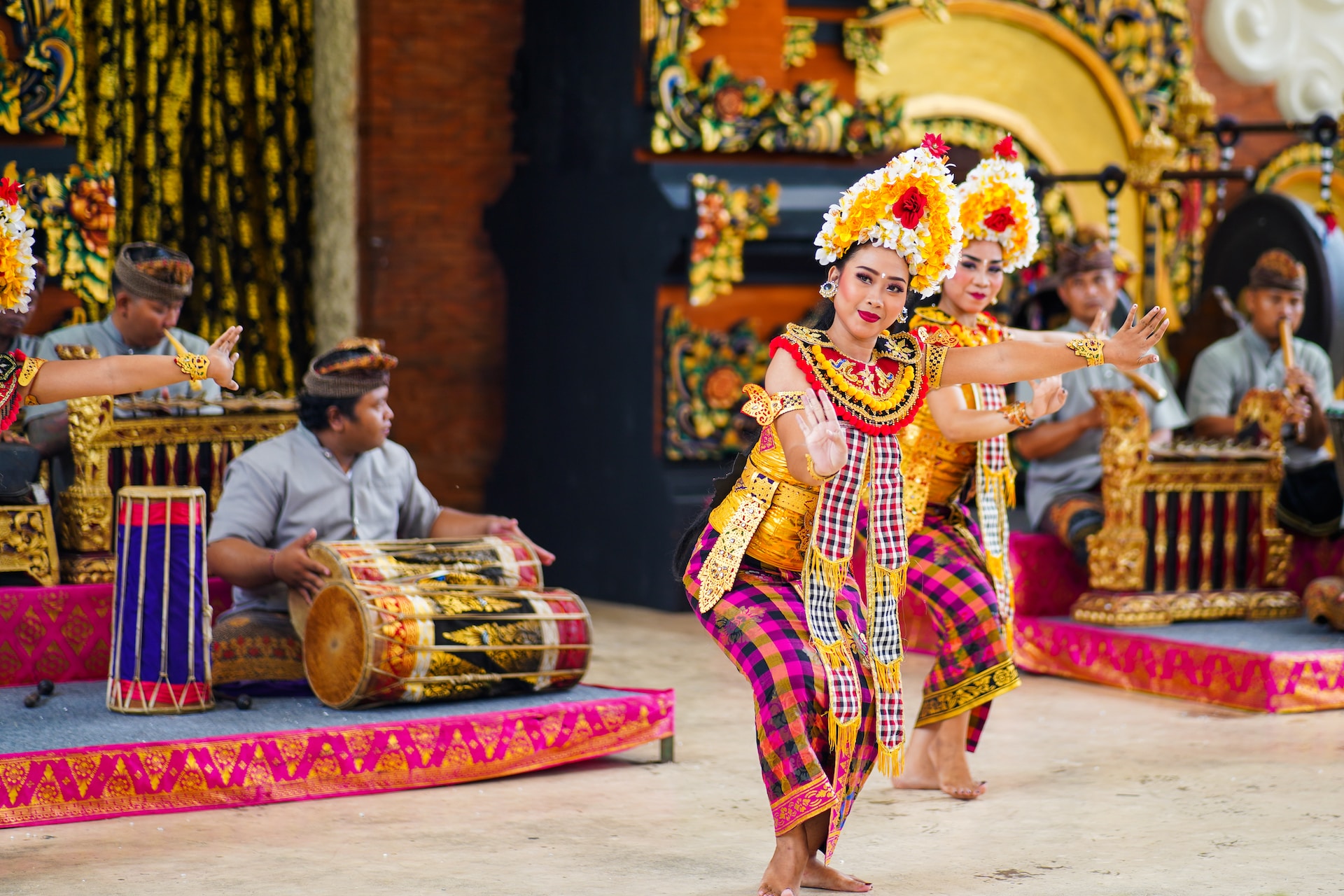 A mystical island set amidst the vast Indonesian archipelago, Bali is often referred to as the "Island of the Gods." Famed for its exquisite beaches, cascading waterfalls, verdant rice terraces, and vibrant culture, Bali offers an unparalleled experience for travelers. Whether you're a sun worshipper, an avid surfer, a yoga enthusiast, or simply seeking tranquility, Bali has something for everyone. This guide will delve deep into the wonders of Bali and provide tips to make the most of your journey.
Getting to Bali
By Air: The Ngurah Rai International Airport, also known as Denpasar International Airport, is the main gateway to Bali. Numerous international airlines offer direct flights.
By Sea: If you're island-hopping, various ferry services connect Bali to neighboring islands like Java and Lombok.
Getting Around
Rent a Scooter: A popular choice for many, scooters give the freedom to explore at one's pace. Ensure you have an international driving permit and always wear a helmet.
Hire a Driver: For those uncomfortable on two-wheelers, hiring a local driver is a convenient option, especially for day trips.
Taxi: Blue Bird Taxi is a reputable taxi service in Bali. Always insist on using the meter.
Top Attractions
Temples: Uluwatu, Tanah Lot, and Besakih Temple are just a few of the island's sacred marvels.
Beaches: Seminyak, Kuta, and Nusa Dua are perfect for relaxation, while Uluwatu and Canggu are surfer paradises.
Ubud: The cultural heart of Bali. Don't miss the Tegalalang Rice Terraces, Ubud Monkey Forest, and local art markets.
Waterfalls: Gitgit, Tegenungan, and Sekumpul are breathtaking waterfalls worth the trek.
Island Hopping: Nusa Penida, Nusa Lembongan, and the Gili Islands are serene escapes from Bali's hustle.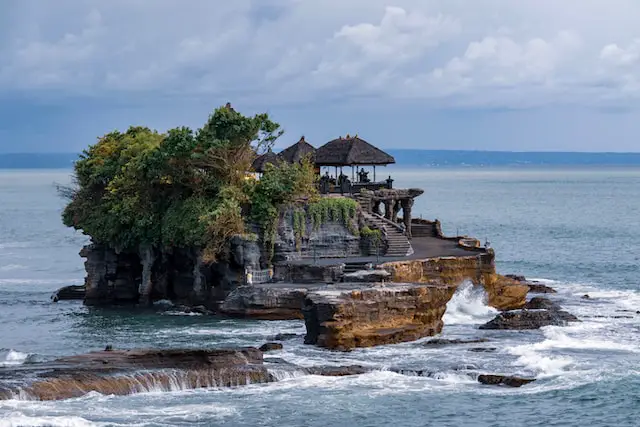 Culture & Traditions
Bali boasts a rich tapestry of traditions:
Festivals: Nyepi (Day of Silence) and Galungan are significant Balinese festivals. Participate or observe, but always respect local customs.
Dances: Witness the captivating Kecak and Barong dances that narrate ancient epics.
Crafts: Bali is renowned for its intricate woodwork, silver jewelry, and traditional Batik fabric.
Gastronomy
From upscale restaurants to local warungs (food stalls), Bali tantalizes the palate:
Must-tries: Nasi goreng (fried rice), mie goreng (fried noodles), babi guling (suckling pig), and lawar (a traditional mix containing coconut).
Drinks: Sip on arak (a traditional spirit) or enjoy the local Bintang beer.
Vegan & Vegetarian: Bali, especially Ubud, is a haven for plant-based diets, with numerous restaurants catering to vegan and vegetarian preferences.
Accommodation
Villas: Private villas, often with pools, offer a luxurious stay.
Hostels: Perfect for backpackers and solo travelers.
Boutique Hotels & Resorts: Ubud and Seminyak have some of Bali's most opulent resorts.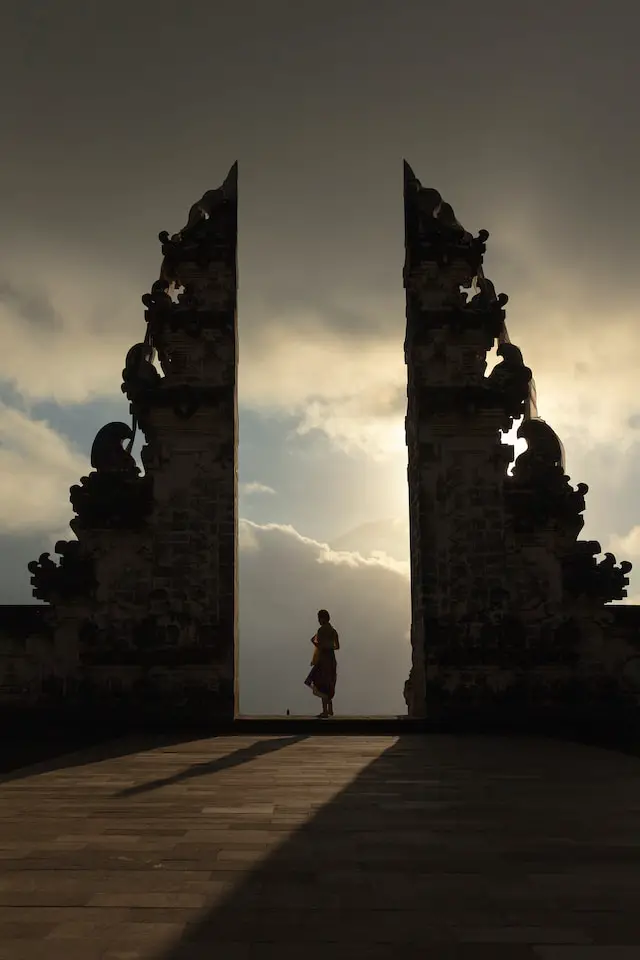 Activities
Surfing: Catch waves at Canggu, Uluwatu, or Padang Padang.
Yoga & Wellness: Ubud's yoga retreats, like the Yoga Barn, promise rejuvenation.
Snorkeling & Diving: Explore Bali's underwater paradise, especially around Amed and the Gili Islands.
Shopping: From Ubud's art market to Seminyak's chic boutiques, there's plenty for shopaholics.
Practical Tips
Currency: The official currency is Indonesian Rupiah (IDR). ATMs are widespread, but always have some cash.
Weather: Bali is tropical. The dry season (April-October) is ideal for beach activities, while the wet season (November-March) is lush and perfect for inland exploration.
Etiquette: Balinese are warm and welcoming. When visiting temples, wear appropriate attire (sarongs are often mandatory). Respect religious processions and ceremonies.
Safety: While Bali is generally safe, be wary of petty thefts. Also, exercise caution while swimming due to strong currents.
Beyond the Beaten Path
Northern Bali: Lovina, with its black sand beaches and dolphin sightings, offers a break from the south's bustle.
Sidemen Valley: A serene counterpart to Tegalalang, it boasts picturesque rice terraces.
Mount Batur: For the adventurous, a sunrise trek offers panoramic views.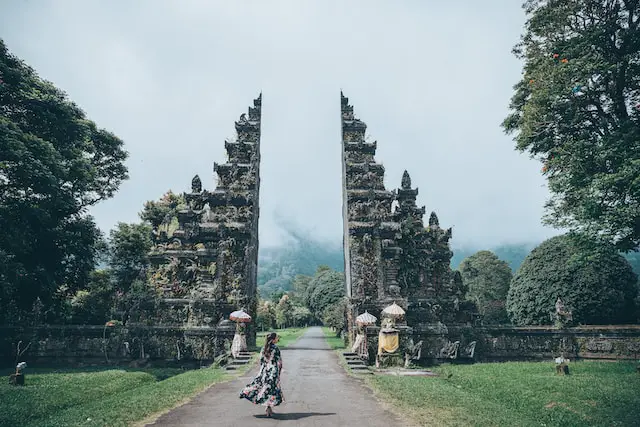 Bali, with its alluring blend of nature and culture, promises a transformative journey. From its enigmatic temples and cerulean beaches to its rhythmic dances and delectable cuisine, every moment in Bali is a step into the extraordinary. Whether you're seeking soulful introspection or adrenaline-pumping adventures, Bali is a canvas waiting to be painted with memories. So pack your bags and let the Island of the Gods enchant you!
Wellness and Spa
In Bali, wellness goes beyond just physical well-being; it encompasses a holistic approach that nurtures the mind, body, and soul.
Spa Treatments: Bali is famed for its luxurious spa treatments. Whether it's a traditional Balinese massage using aromatic oils or hot stone therapy, the island offers a variety of treatments to rejuvenate your senses.

Yoga Retreats: From scenic beachfronts to serene jungles, Bali houses numerous yoga retreats offering a tranquil environment to deepen your yoga practice while immersing in the beautiful landscapes.

Meditation Centers: Find your inner peace at one of Bali's meditation centers. They often offer guided meditation sessions, helping you to disconnect from the hustle and bustle of daily life.
Art and Craft
Bali is a treasure trove for art lovers, where age-old traditions meet contemporary artistry.
Art Villages: Batuan is known for its traditional Balinese paintings, Celuk for its gold and silver jewelry, and Mas for its wood carvings. These villages are home to artisans carrying forward centuries-old traditions.

Galleries and Museums: Visit ARMA Museum in Ubud for a fascinating insight into Balinese art. Blanco Renaissance Museum is another highlight, offering a blend of Balinese and Spanish artistry.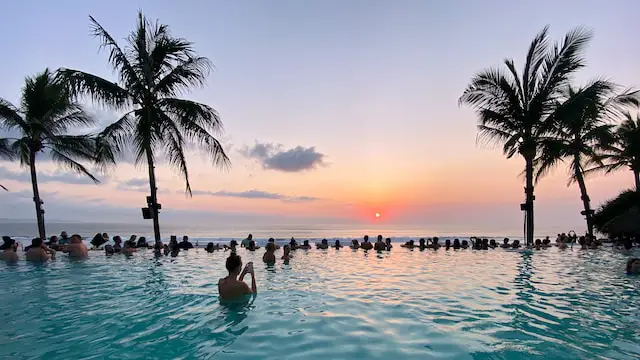 Craft Workshops: Engage in a workshop to learn the intricate craft of Balinese art, be it silver jewelry making, wood carving, or traditional Batik fabric painting.
Nightlife
As the sun sets, Bali transforms into a vibrant playground offering a rich nightlife experience.
Beach Clubs: Seminyak and Canggu are known for their trendy beach clubs, where you can enjoy sunset cocktails, international DJs, and beach parties that go on until dawn.

Night Markets: For a local experience, visit one of the night markets such as Gianyar Night Market, where you can indulge in delicious street food and shop for local crafts.

Bars and Pubs: Kuta's Jalan Legian is lined with bars and pubs offering live music, great cocktails, and a vibrant atmosphere.
Festivals and Events
Bali's calendar is dotted with festivals and events that offer a deep insight into its rich cultural tapestry.
Bali Arts Festival: Held annually in June and July, it showcases the island's art and culture through music, dance, art exhibitions, and culinary events.

Ubud Writers & Readers Festival: A paradise for literature enthusiasts, it hosts discussions, workshops, and cultural trips.

BaliSpirit Festival: A celebration of yoga, dance, and music, it attracts wellness enthusiasts from around the globe.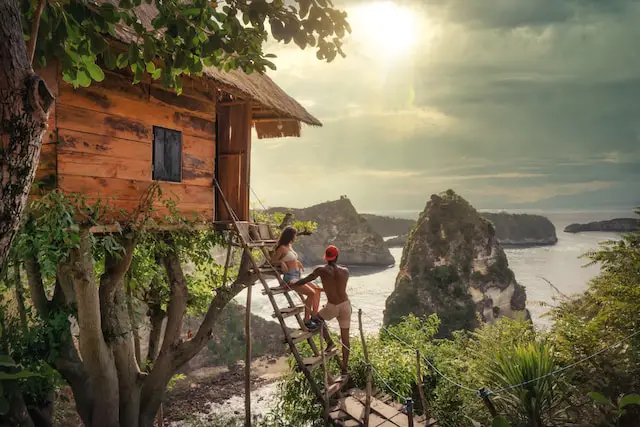 Adventure Activities
For those seeking an adrenaline rush, Bali offers a range of adventure activities.
White Water Rafting: The Ayung River provides an exhilarating white water rafting experience, meandering through lush jungles and picturesque rice fields.

Canyoning: Explore hidden canyons, rappel down waterfalls, and slide down natural water slides for a heart-pumping adventure.

Biking: Embark on a cycling tour through the scenic countryside, passing through traditional villages and verdant rice paddies.
Sustainable Travel
As a traveler, you can contribute to preserving Bali's natural beauty and cultural heritage through sustainable travel practices.
Support Local Businesses: Choose to stay in locally-owned accommodations, shop from local artisans, and eat at local restaurants to support the Balinese community.

Responsible Tourism: Be mindful of the environment by reducing plastic use and respecting the local customs and traditions.

Volunteer: Engage in volunteering opportunities to give back to the community through educational, environmental, or health initiatives.

Bali is more than just a destination; it's a mood, an aspiration, a tropical state of mind that offers a holistic experience that rejuvenates body, mind, and spirit. Whether you are dancing the night away at a vibrant beach club, finding solace in a yoga retreat, indulging in a traditional spa treatment, or exploring the rich art and culture, Bali promises to offer memorable experiences steeped in tradition and natural beauty.
As you explore the island of the gods, you're not just witnessing breathtaking landscapes but also immersing in a rich cultural tapestry that holds a spiritual significance. Bali offers a palette of experiences, a canvas of adventures, and a narrative of ancient traditions waiting to be explored. So as you set foot on this magical island, remember to travel responsibly and immerse yourself wholly in the authentic Balinese experience. Let your Bali adventure be not just a travel itinerary, but a journey of discovery, a story of adventure, and a chronicle of enriched experiences and cherished memories.