Bangkok Travel Guide on a Budget

Bangkok, the bustling capital of Thailand, is a city of contrasts, where centuries-old temples stand alongside gleaming skyscrapers, and traditional markets coexist with modern shopping malls. This captivating city offers a wealth of experiences for budget-conscious travelers, from mouthwatering street food to vibrant nightlife and rich cultural attractions. This comprehensive guide will provide tips and insights on how to make the most of your Bangkok adventure without breaking the bank.
Chapter 1: Preparing for Your Trip
1.1 Visa and travel requirements
Before traveling to Bangkok, ensure that you meet all visa and travel requirements. Most nationalities can enter Thailand visa-free or with a visa-on-arrival for stays of up to 30 or 15 days, respectively. Be sure to check the latest travel advisories and entry requirements, as they may change.
1.2 Currency and exchange
The currency used in Thailand is the Thai Baht (THB). It's advisable to exchange some money before arriving or use an ATM at the airport to withdraw local currency. While in Bangkok, use ATMs from reputable banks for favorable exchange rates and avoid money changers that charge high fees.
1.3 Internet and communication
Staying connected in Bangkok is relatively easy and affordable. Purchase a local SIM card upon arrival at the airport or a convenience store to access mobile data and make local calls. Free Wi-Fi is also available at many cafes, restaurants, and shopping malls.
Chapter 2: Budget Accommodation Options
2.1 Hostels
Bangkok offers a wide range of budget-friendly hostels, often with a choice of dormitory-style or private rooms. These accommodations are popular among backpackers and budget travelers, providing a social atmosphere and essential amenities at an affordable price. Popular hostel areas include Khao San Road, Silom, and Sukhumvit.
2.2 Guesthouses and budget hotels
Guesthouses and budget hotels are another affordable accommodation option in Bangkok. These establishments typically offer private rooms with basic amenities and may include extras like free breakfast or Wi-Fi. Look for guesthouses and budget hotels in areas like Chinatown, Banglamphu, and Siam.
Chapter 3: Transportation
3.1 Getting to Bangkok
To save money on flights, consider traveling to Bangkok during the low season (April to October). Booking flights in advance and being flexible with your travel dates can also result in lower fares.
3.2 Getting around Bangkok
Bangkok offers various budget-friendly transportation options, including the BTS Skytrain, the MRT subway, and public buses. Using these public transport systems is an efficient and affordable way to explore the city. For shorter distances, use metered taxis or motorbike taxis, and always negotiate the fare before starting your journey.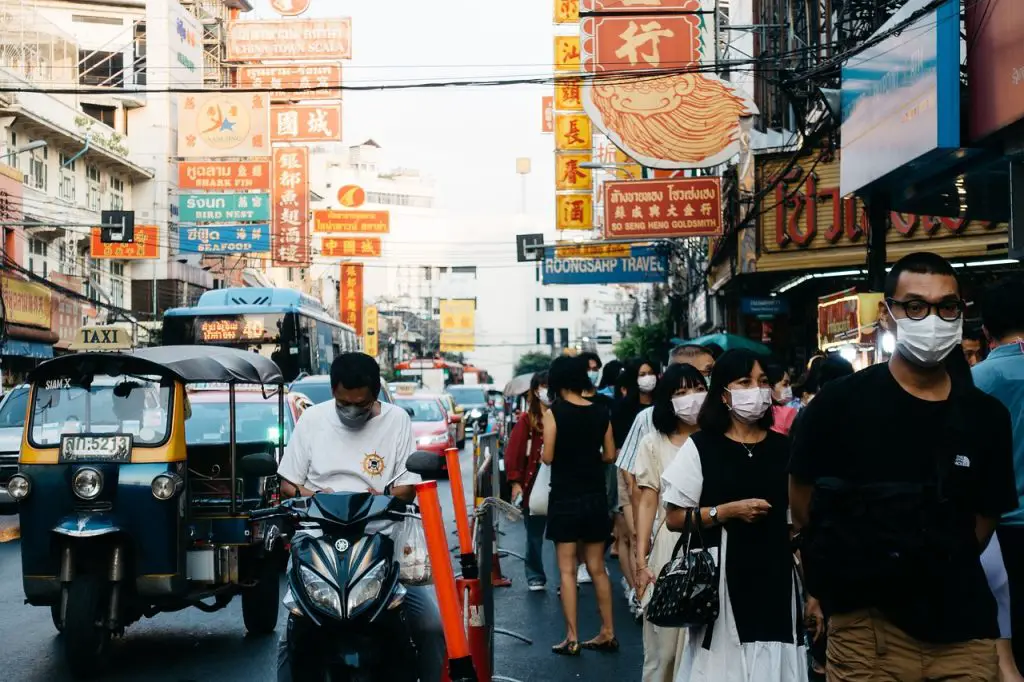 Chapter 4: Sightseeing on a Budget
4.1 Free attractions
Bangkok boasts several free attractions, such as Lumphini Park, Chatuchak Weekend Market, and the Erawan Shrine. Take advantage of these free sites to experience Bangkok's culture and vibrancy without spending a dime.
4.2 Temples
Bangkok is home to numerous stunning temples that charge minimal entrance fees, such as Wat Pho, Wat Arun, and Wat Saket. To save even more, consider visiting temples that are free to enter, like Wat Pathum Wanaram and Wat Benchamabophit.
4.3 Museums and galleries
Many museums and galleries in Bangkok offer free or low-cost admission. Some must-visit museums include the Bangkok National Museum, the Museum of Siam, and the Bangkok Art and Culture Centre. Be sure to research the days and times when these attractions offer discounted or free admission to save even more money.
Chapter 5: Budget-Friendly Dining
5.1 Street food
Bangkok is renowned for its incredible street food, which is not only delicious but also easy on the wallet. Explore the city's numerous street food markets, such as Yaowarat Road in Chinatown and Ratchawat Market, where you can sample a wide variety of local dishes, including pad Thai, mango sticky rice, and boat noodles, all at very affordable prices.
5.2 Food courts
Many shopping malls in Bangkok have food courts offering a diverse range of dishes at budget-friendly prices. These food courts are a great place to enjoy a meal in an air-conditioned environment while trying a variety of Thai and international cuisines.
5.3 Local eateries
Seek out local eateries, known as "shophouse" restaurants, which serve inexpensive and authentic Thai dishes. These establishments are often family-owned and provide a casual, welcoming atmosphere where you can enjoy delicious meals at a fraction of the cost of more formal restaurants.
Chapter 6: Entertainment and Nightlife on a Budget
6.1 Rooftop bars
While some of Bangkok's rooftop bars can be pricey, there are affordable options that offer stunning city views without the hefty price tag. Check out bars like Sky Train Jazz Club or Wanderlust Rooftop Bar, where you can enjoy a drink and a view without breaking the bank.
6.2 Night markets
Night markets are a quintessential Bangkok experience and a budget-friendly way to spend an evening. Visit markets like Rot Fai Market, Asiatique The Riverfront, or Patpong Night Market to shop for souvenirs, enjoy live entertainment, and sample tasty street food.
6.3 Live music venues
Bangkok is home to numerous live music venues that offer affordable or free entertainment. Head to venues like Saxophone Pub, Adhere the 13th Blues Bar, or Brick Bar to enjoy a night of live music spanning various genres, from jazz and blues to reggae and rock.
Chapter 7: Budget Travel Tips and Tricks
7.1 Take advantage of free walking tours
Many companies and local organizations offer free walking tours of Bangkok, allowing you to explore the city's history, culture, and hidden gems without spending a dime. These tours often operate on a tip-only basis, so you can decide how much you'd like to contribute at the end of the tour.
7.2 Learn some basic Thai
Having a basic understanding of Thai can help you navigate Bangkok more easily and save money by negotiating prices, understanding local transportation, and avoiding tourist traps.
7.3 Make use of local recommendations
Engage with locals, such as your hostel or guesthouse staff, to get recommendations for affordable restaurants, activities, and transportation options. This will help you discover hidden gems and experience Bangkok like a local.
7.4 Leverage discounts and promotions
Keep an eye out for discounts and promotions at attractions, restaurants, and entertainment venues. Websites like Klook or Traveloka often offer discounted tickets or packages, while some restaurants and bars may have happy hour deals or other promotions.
Conclusion
Bangkok is a dynamic and diverse city that offers a wealth of experiences for travelers on a budget. By following the tips and insights provided in this guide, you can make the most of your Bangkok adventure without breaking the bank. Embrace the city's vibrant culture, indulge in its incredible street food, and explore its rich history as you navigate the bustling streets and hidden alleys of the City of Angels. With a little planning and an adventurous spirit, your Bangkok trip can be both affordable and unforgettable.