Barbados Food and Rum Festival User Guide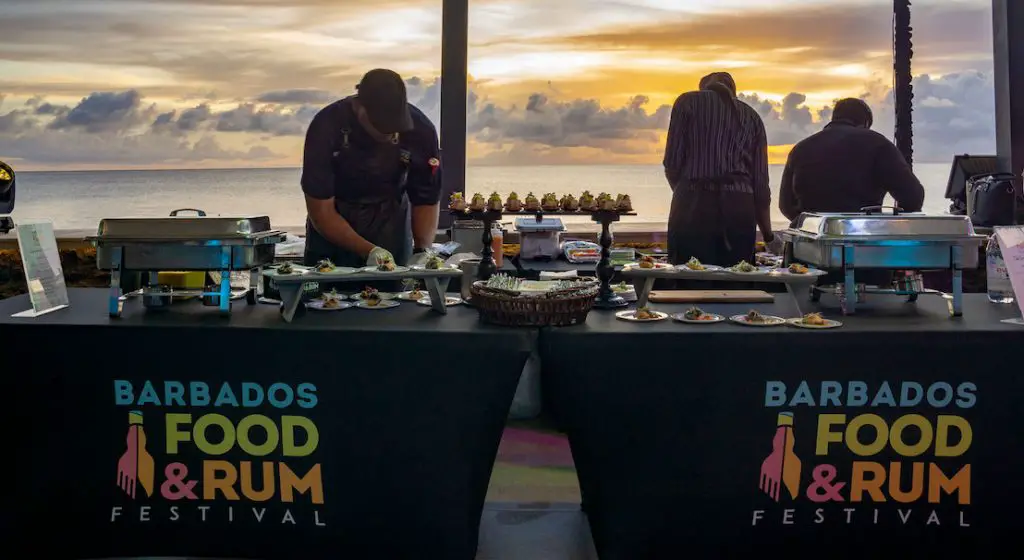 The Barbados Food and Rum Festival is an annual celebration of the island's rich culinary heritage, which brings together local and international chefs, mixologists, food enthusiasts, and travelers from around the world. Held in beautiful Barbados, the festival showcases the island's unique flavors and world-renowned rum in a variety of events, tastings, and parties. This user guide will provide you with all the information you need to fully experience the festival, from the schedule of events to tips for enjoying the local cuisine.
History of the Festival

The Barbados Food and Rum Festival was established in 2009 and has grown in popularity and size ever since. It began as a small gathering of food and rum enthusiasts, and today it is a highly anticipated event attracting thousands of visitors from across the globe. The festival is typically held over a four-day period in October or November, showcasing the best of Barbadian cuisine, culture, and of course, rum.
Getting to Barbados

Barbados is a beautiful island located in the eastern Caribbean, and it is easily accessible by air from major cities in North America, Europe, and other Caribbean islands. The main airport is the Grantley Adams International Airport (BGI), which is approximately 13 kilometers (8 miles) from the capital city of Bridgetown. Taxis, car rentals, and public transportation are available at the airport to help you reach your accommodations.
Accommodation Options

Barbados offers a variety of accommodation options to suit every budget and preference. From luxury resorts and boutique hotels to guesthouses and vacation rentals, you can find the perfect place to stay during the festival. It's important to book your accommodation well in advance, as the island can get busy during the event.
Festival Schedule

The Barbados Food and Rum Festival typically spans four days, with a packed schedule of events and tastings. While the program can vary from year to year, some key events include:
Opening Night: This is the official kick-off event, featuring a welcome reception, live entertainment, and an opportunity to sample some of the island's best food and rum.
Signature Rum Event: A showcase of Barbados' finest rums, where visitors can taste and learn about the history and production process of this celebrated spirit.
Gourmet Safari: A series of exclusive dinners hosted by renowned local and international chefs, offering a unique culinary experience at some of Barbados' finest restaurants.
Street Food Fair: A day-long event celebrating the island's diverse street food culture, with vendors offering a wide range of delicious dishes and treats.
Closing Party: The festival wraps up with a grand finale featuring live music, dancing, and a farewell toast to the amazing flavors of Barbados.
Exploring Barbadian Cuisine

Barbadian cuisine, also known as Bajan cuisine, is a delightful fusion of African, Indian, British, and Caribbean flavors. Some must-try dishes and delicacies include:
Cou-cou and Flying Fish: The national dish of Barbados, featuring cornmeal and okra cooked together and served with flying fish in a spicy tomato sauce.
Bajan Fish Cakes: A popular snack made of salted cod, herbs, and spices, deep-fried to perfection.
Macaroni Pie: A delicious baked dish featuring macaroni noodles, cheese, and a variety of seasonings, similar to a traditional mac and cheese.
Pudding and Souse: A unique combination of pickled pork and steamed sweet potato pudding, typically enjoyed on Saturdays.
Conkies: A traditional Barbadian dessert made from cornmeal, coconut, pumpkin, and spices, wrapped in a banana leaf and steamed.
6. Exploring Barbados' Rum Culture
Barbados is considered the birthplace of rum, with a history dating back to the 17th century. Today, the island is home to several world-renowned distilleries, each with its own unique flavors and production techniques. During the festival, you'll have ample opportunities to taste a variety of rums and even visit some of the distilleries themselves. Some notable distilleries include:
Mount Gay Rum: Established in 1703, Mount Gay is the world's oldest commercial rum distillery. Their signature rums are known for their smooth, rich flavor.
Foursquare Rum Distillery: A family-owned distillery, Foursquare is known for producing award-winning rums with a focus on quality and innovation.
St. Nicholas Abbey: A historic plantation and distillery, St. Nicholas Abbey offers visitors a glimpse into the island's past and a chance to sample their exceptional rums.
Tips for Enjoying the Festival

To get the most out of the Barbados Food and Rum Festival, keep these tips in mind:
Plan ahead: Make sure to check the festival's schedule and plan your itinerary accordingly. Events may require tickets or reservations, so it's essential to book in advance.
Stay hydrated: With the tropical climate and the abundance of rum, it's important to drink plenty of water throughout the day.
Be adventurous: Don't be afraid to try new dishes and flavors. The festival is all about exploring and celebrating the diverse tastes of Barbados.
Pace yourself: With so many culinary delights and rum tastings, it can be easy to overindulge. Remember to savor each bite and sip, and give yourself time to fully appreciate the experience.
Dress comfortably: Many events are held outdoors, so dress appropriately for the weather and wear comfortable shoes for walking and standing.
Bring cash: While some vendors may accept credit cards, it's always a good idea to have some local currency on hand for smaller purchases.
Discovering Barbados Beyond the Festival

While the Food and Rum Festival is a major highlight, Barbados has plenty more to offer visitors. Be sure to explore the island's beautiful beaches, historic sites, and lush gardens. Some must-visit attractions include:
Harrison's Cave: A fascinating underground cave system featuring stunning limestone formations, waterfalls, and pools.
Hunte's Gardens: A lush, tropical paradise where you can wander through beautifully landscaped gardens and enjoy the tranquil atmosphere.
Andromeda Botanic Gardens: A picturesque six-acre garden boasting a diverse collection of plants from around the world, as well as a lovely cafe.
Barbados Wildlife Reserve: A unique opportunity to observe the island's native animals, including green monkeys, in their natural habitat.
Oistins Fish Fry: A lively weekly event featuring fresh seafood, live music, and local vendors selling crafts and souvenirs.
Conclusion
The Barbados Food and Rum Festival is an unforgettable experience for foodies, rum enthusiasts, and travelers looking to immerse themselves in the island's unique culinary culture. With a wide range of events, tastings, and parties, this four-day festival offers something for everyone. Armed with this user guide, you'll be well-prepared to make the most of your time at the festival and enjoy all the delicious flavors that Barbados has to offer.