Boracay Philippines Travel Guide
Boracay, a small island in the Philippines, is renowned for its powdery white sand beaches, crystal-clear waters, and vibrant nightlife. This tropical paradise has been a favorite destination for both local and international tourists for decades. If you're planning a trip to Boracay, this comprehensive travel guide will provide you with all the essential information you need.
Getting to Boracay:

By Air: The nearest airport to Boracay is the Godofredo P. Ramos Airport in Caticlan. Major airlines operate daily flights from Manila and other key cities to Caticlan. Upon arrival, you'll need to take a short boat ride to Boracay Island.
By Sea: For those who prefer a scenic journey, there are ferries that operate from Manila to Caticlan. The sea voyage can take several hours, but it offers a unique perspective of the Philippine archipelago.
Best Time to Visit:

Boracay has a tropical climate, which means it's warm throughout the year. However, the best time to visit is during the dry season, from November to April. The wet season, from June to October, can bring heavy rains and typhoons.
Top Attractions:

White Beach: The island's most famous beach, White Beach, stretches for over 4 kilometers and is divided into three stations. It's the perfect place to relax, sunbathe, and enjoy water sports.
D'Mall: Located in Station 2, D'Mall is a bustling shopping area with a variety of restaurants, shops, and entertainment options.
Puka Shell Beach: A quieter alternative to White Beach, Puka Shell Beach is known for its unique shells and serene ambiance.
Mount Luho: For a panoramic view of the island, head to Mount Luho, the highest point in Boracay.
Activities:

Water Sports: Boracay offers a plethora of water activities, including scuba diving, snorkeling, kite surfing, and parasailing.
Island Hopping: Explore the nearby islands and hidden beaches by joining an island-hopping tour.
Sunset Sailing: Experience the breathtaking sunset while sailing on a traditional Filipino boat called a "paraw."
Spa Treatments: Indulge in a relaxing massage or spa treatment, with many establishments offering beachfront services.
Nightlife:

Boracay's nightlife is as vibrant as its days. Beachfront bars, clubs, and restaurants come alive with music, dance, and fire performances. Popular spots include Club Paraw, Epic, and Cocomangas.
Local Cuisine:

Filipino food is a delightful fusion of various culinary traditions. Must-try dishes in Boracay include Adobo (marinated meat), Sinigang (sour soup), and fresh seafood. Don't forget to try the island's famous "Chori Burger" and "Halo-Halo" for dessert.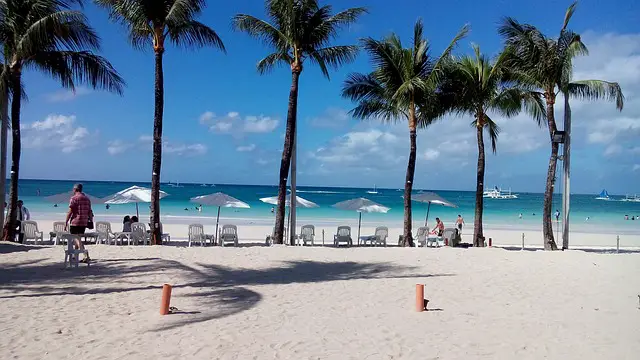 Accommodation:

Boracay offers a range of accommodations, from luxury resorts to budget-friendly hostels. Popular areas to stay include Station 1 for upscale resorts and Station 2 for mid-range hotels and proximity to D'Mall.
Environmental Responsibility:

In 2018, Boracay was closed for six months for rehabilitation due to environmental concerns. Since its reopening, there have been stricter regulations to preserve the island's natural beauty. As a visitor, it's crucial to be responsible and adhere to the island's guidelines, such as proper waste disposal and avoiding single-use plastics.
Local Etiquette:

Filipinos are known for their hospitality and friendliness. When interacting with locals, it's essential to be respectful and polite. A simple "Salamat" (Thank you) can go a long way.
Safety Tips:

Boracay is generally safe for tourists. However, it's always advisable to be cautious, especially at night. Avoid leaving your belongings unattended on the beach and be wary of street vendors selling tours or products at inflated prices.
Boracay is a slice of paradise that offers a perfect blend of relaxation and adventure. Whether you're a beach bum, a food enthusiast, or an adrenaline junkie, Boracay has something for everyone. With its stunning landscapes, rich culture, and warm hospitality, it's no wonder Boracay remains one of the top travel destinations in the world. Pack your bags and get ready for an unforgettable tropical getaway!
Sustainable Tourism:

With the recent rehabilitation efforts, there's a renewed emphasis on sustainable tourism in Boracay. Visitors are encouraged to support local businesses, engage in eco-friendly activities, and minimize their environmental footprint. Participate in beach clean-ups, opt for reef-safe sunscreens, and choose tour operators that prioritize sustainability.
Cultural Experiences:

While Boracay is known for its beaches, it's also rich in culture. Attend local festivals like the Ati-Atihan, a vibrant celebration with colorful parades, dances, and music. Visit the Boracay Community Center to learn about the indigenous Ati community and their traditions.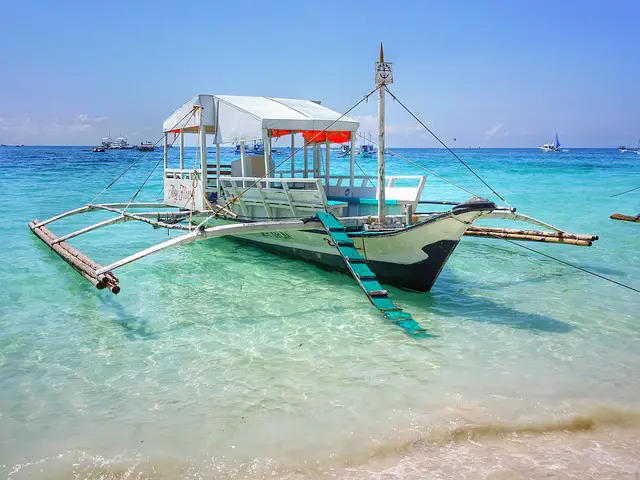 Off-the-Beaten-Path:

For those looking to escape the crowds, there are several lesser-known spots on the island. Bulabog Beach, on the eastern side, is a haven for kite surfers. Tambisaan Beach is a quiet spot ideal for snorkeling and discovering marine life.
Shopping:

Boracay offers a unique shopping experience. From D'Mall's bustling stalls to boutique stores selling handmade crafts, there's something for every shopper. Don't forget to pick up souvenirs like woven hats, shell crafts, and local delicacies.
Practical Tips:

Currency: The official currency is the Philippine Peso (PHP). While many establishments accept credit cards, it's advisable to carry cash, especially for small purchases.
Language: Filipino and English are the official languages. Most locals speak and understand English, making communication easy for tourists.
Transport: Getting around Boracay is easy with tricycles, the island's primary mode of transport. You can also rent bicycles or walk along the beach paths.
Respect for Nature:

Boracay's charm lies in its natural beauty. When exploring the island, refrain from touching marine life, avoid stepping on corals, and don't collect shells or sand as souvenirs. These small actions can make a significant difference in preserving Boracay's pristine environment.
Events and Festivals:

Throughout the year, Boracay hosts various events, from international beach volleyball tournaments to music festivals. Check the local calendar to see if your visit aligns with any special events.
Health Precautions:

While Boracay is relatively safe health-wise, it's essential to drink bottled water, avoid street food that hasn't been cooked thoroughly, and protect yourself from mosquitoes.
Adventure Activities:

For thrill-seekers, Boracay offers activities like cliff diving at Ariel's Point, ziplining at Fairways and Bluewater, and helmet diving to walk on the ocean floor.
Departure:

As your trip concludes, ensure you've settled all bills and have your transportation arranged for your departure. The island's beauty and the memories you've created will undoubtedly beckon you for a return visit.
Boracay's allure is undeniable. Its blend of natural beauty, cultural richness, and the warmth of its people makes it a destination worth exploring time and again. As you soak in the sun, dance to the island rhythms, and savor the flavors of Filipino cuisine, you'll understand why Boracay remains a gem in the heart of the Philippines. Safe travels!