Buenos Aires Travel Guide on a Budget
Buenos Aires, the capital of Argentina, is a vibrant city that offers a unique blend of European elegance and Latin American passion. Known for its rich culture, historic architecture, tango dancing, and mouth-watering cuisine, Buenos Aires has plenty to offer travelers on a budget. Here's a guide to help you make the most of your visit without breaking the bank.
Accommodations:

Budget accommodations in Buenos Aires are plentiful, with options ranging from hostels to budget hotels and affordable Airbnb rentals. Some popular budget-friendly neighborhoods to consider include Palermo, San Telmo, and Recoleta. Expect to pay around $10-20 per night for a dorm bed in a hostel, $30-60 for a private room in a budget hotel, and $30-70 for an Airbnb rental.
Transportation:

Public transportation in Buenos Aires is efficient and affordable. The city's subway system, known as the Subte, is the quickest way to navigate the city, with a single ride costing around ARS 30 (approx. $0.30). Buses, or "colectivos," are another cost-effective option, with fares starting at ARS 25 (approx. $0.25) per trip. Taxis are relatively affordable but can add up quickly if used frequently. Instead, consider using rideshare apps like Uber or Cabify for a more budget-friendly alternative.
Food:

Buenos Aires is known for its delicious and diverse culinary scene, with plenty of budget-friendly options available. Empanadas, choripán, and milanesa are popular Argentine street foods that can be found for just a few dollars. Parrillas (grill houses) offer budget-friendly cuts of Argentina's famous beef, while local pizza joints and pasta shops provide a taste of the city's Italian influence. Don't forget to indulge in some local pastries, like medialunas or facturas, at a neighborhood bakery. Expect to spend around $5-10 for a meal at a casual eatery or street food vendor.
Attractions:

Many of Buenos Aires' top attractions can be enjoyed for free or at a low cost. Some must-see sights include:
Recoleta Cemetery: This famous cemetery is the final resting place of notable Argentinians, including Eva Perón. Entrance is free, but guided tours are available for a fee.
San Telmo Market: Visit this bustling market on Sundays to browse antiques, handicrafts, and street food. Entry is free.
Palermo Parks: These expansive parks are perfect for picnicking, people-watching, or simply relaxing in the sun. Entry is free.
MALBA (Museo de Arte Latinoamericano de Buenos Aires): This contemporary art museum houses an impressive collection of Latin American art. Admission is ARS 340 (approx. $3.50) for adults, and free on Wednesdays.
Casa Rosada: The iconic pink presidential palace offers free guided tours on weekends, which must be booked in advance through their website.
Caminito: This colorful street in the La Boca neighborhood is known for its vibrant buildings, tango performances, and street art. Walking around is free, but expect to pay for tango shows or souvenirs.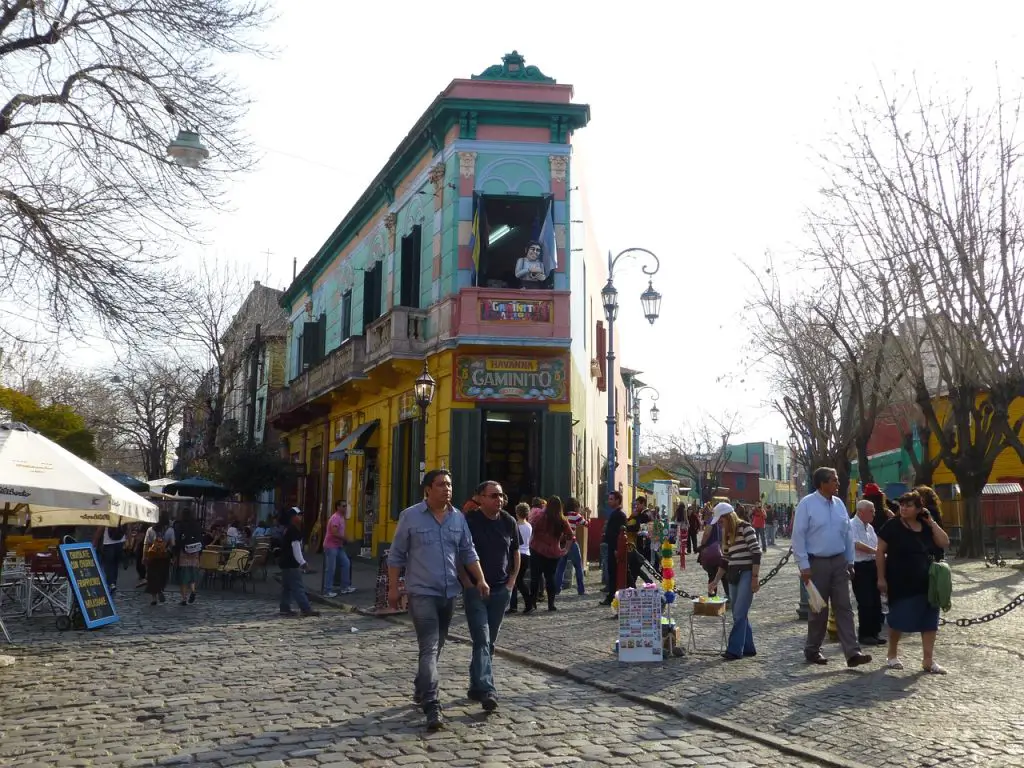 Tango: Experience the passion of Argentine tango at a milonga, where you can watch or even join in the dancing. Many milongas offer free or low-cost beginner lessons before the main event, with entrance fees typically ranging from ARS 150 to 300 (approx. $1.50 to $3). Some popular milongas include La Catedral, La Viruta, and Club Gricel. Additionally, you can often find free open-air tango performances in public squares and parks, particularly in the San Telmo and La Boca neighborhoods.
Free Walking Tours:

Free walking tours are an excellent way to get acquainted with Buenos Aires' history, architecture, and culture while sticking to a budget. Several companies offer free guided tours in various parts of the city, including the historic center, Recoleta, and San Telmo. These tours usually operate on a "pay-what-you-wish" basis, so you can contribute an amount that fits your budget.
Day Trips:

Buenos Aires is well-connected to several nearby destinations that make for great budget-friendly day trips:
Tigre: This charming town is situated in the Parana Delta and is easily accessible by train. Once there, you can explore the Puerto de Frutos market, take a boat tour of the delta, or relax in one of the riverside parks. A round-trip train ticket costs around ARS 60 (approx. $0.60).
Colonia del Sacramento, Uruguay: Just a short ferry ride across the Rio de la Plata lies the picturesque town of Colonia del Sacramento. This UNESCO World Heritage Site is known for its cobblestone streets, historic buildings, and quaint atmosphere. Budget ferries cost around $30 for a round-trip ticket.
Estancia (Ranch) Visit: Experience traditional Argentine gaucho culture with a day trip to an estancia. Many ranches offer day packages that include transportation, meals, and activities such as horseback riding, folk music performances, and gaucho demonstrations. Prices vary, but expect to pay around $50-100 per person.
In conclusion, Buenos Aires offers plenty of budget-friendly options for accommodations, transportation, food, and attractions. By being mindful of your spending and taking advantage of free or low-cost activities, you can experience the best of this vibrant city without breaking the bank.