Edinburgh Travel Guide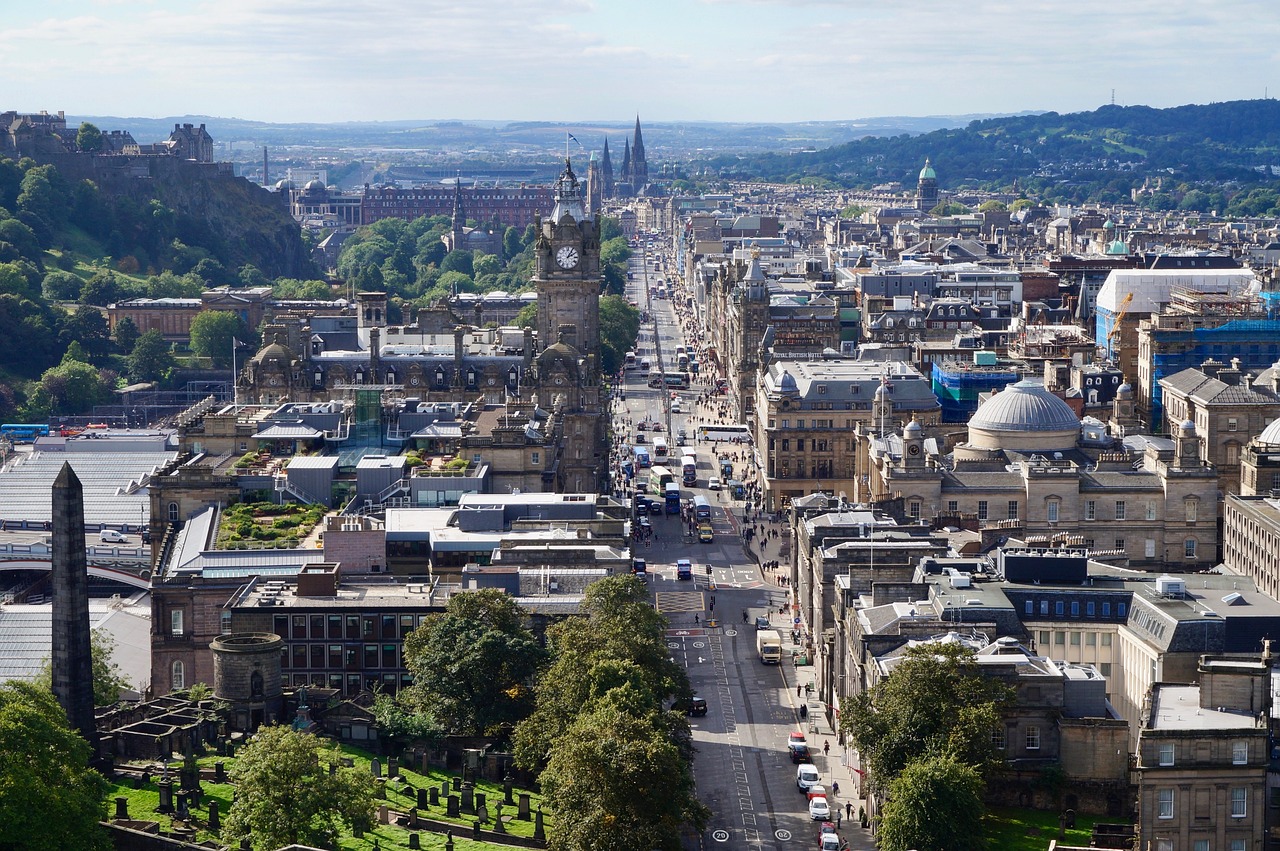 Edinburgh, the capital city of Scotland, is a mesmerizing blend of ancient history, stunning architecture, and vibrant culture. With its cobblestone streets, historic castles, and world-renowned festivals, Edinburgh offers a unique experience for every traveler. This guide will provide you with essential tips and recommendations to make the most of your visit to this enchanting city.
Historical Highlights:
Edinburgh Castle: Dominating the city's skyline, Edinburgh Castle is a must-visit. This historic fortress has played a pivotal role in Scotland's history. Explore the Crown Jewels, the Stone of Destiny, and enjoy panoramic views of the city from its ramparts.
The Royal Mile: Stretching from the Castle to the Palace of Holyroodhouse, the Royal Mile is the heart of the Old Town. Wander through its narrow alleys, discover hidden courtyards, and immerse yourself in the city's rich history.
Holyrood Palace: The official residence of the British monarch in Scotland, this palace is a beautiful example of Renaissance architecture. Don't miss the historic apartments of Mary, Queen of Scots, and the beautiful Holyrood Abbey ruins.
Cultural Experiences:
Edinburgh Festivals: The city is famous for its festivals, especially the Edinburgh International Festival and the Edinburgh Festival Fringe. Held in August, these events transform the city into a cultural hub, showcasing theater, music, dance, and comedy from around the world.
Scottish National Galleries: Art enthusiasts should visit the National Gallery, the Portrait Gallery, and the Gallery of Modern Art. These institutions house impressive collections of European paintings, Scottish art, and contemporary works.
The Scotch Whisky Experience: Learn about Scotland's national drink, its history, production process, and of course, enjoy a tasting session.
Natural Beauty:
Arthur's Seat: For those who love the outdoors, a hike up Arthur's Seat, an extinct volcano, is a must. The summit offers breathtaking views of the city and the surrounding countryside.
Royal Botanic Garden: A peaceful retreat in the heart of the city, this garden boasts a vast collection of plants from around the world, including a stunning Chinese hillside and a tropical palm house.
Culinary Delights:
Traditional Scottish Cuisine: Try haggis, neeps, and tatties, or indulge in fresh seafood. Edinburgh offers a range of dining options, from historic pubs to Michelin-starred restaurants.
Afternoon Tea: Experience the British tradition of afternoon tea at one of the city's elegant hotels or tea rooms. Enjoy scones, sandwiches, and a selection of teas.
Shopping and Souvenirs:
Grassmarket and Victoria Street: These historic areas offer a range of independent boutiques, vintage shops, and artisanal stores. Perfect for unique souvenirs and gifts.
Princes Street: Edinburgh's main shopping street, where you'll find major brands, department stores, and the beautiful Princes Street Gardens.
Practical Tips:
Getting Around: The city is compact and best explored on foot. However, there's an efficient bus and tram system for longer distances. Consider purchasing an Edinburgh Travel Card for unlimited travel.
Weather: Edinburgh's weather can be unpredictable. It's advisable to pack layers and always carry an umbrella.
Currency: Scotland uses the British Pound (£). ATMs are widely available, and most places accept credit cards.
Edinburgh is a city that effortlessly combines its rich history with a dynamic modern culture. Whether you're a history buff, a nature lover, or a foodie, Edinburgh has something to offer. With its warm and welcoming residents, world-class attractions, and undeniable charm, a trip to Edinburgh is sure to be an unforgettable experience. Plan your visit, soak in the atmosphere, and create memories that will last a lifetime.
Off the Beaten Path:
Dean Village: Once a milling village, Dean Village is now a tranquil oasis in the heart of the city. Stroll along the Water of Leith, admire the historic architecture, and visit the Well Court, a picturesque 19th-century housing complex.
Cramond Island: Accessible by a causeway during low tide, this tidal island offers a unique adventure. Explore the remnants of WWII defenses, enjoy the coastal views, and watch for seals and seabirds.
Nightlife and Entertainment:
The Royal Lyceum Theatre: For those who appreciate the performing arts, the Lyceum offers a range of plays, from classic to contemporary.
Edinburgh's Pubs: Experience the local nightlife by visiting traditional pubs. Many offer live music, especially folk sessions. The Grassmarket area is particularly lively, with a mix of tourists and locals.
Ceilidh: Immerse yourself in Scottish culture by attending a ceilidh, a traditional Scottish dance. Don't worry if you don't know the steps; locals are always eager to teach newcomers!
Family-Friendly Attractions:
Edinburgh Zoo: Home to the UK's only giant pandas, the zoo offers a fun day out for families. Watch the famous penguin parade and discover over 1,000 rare and endangered animals.
Museum of Childhood: This museum offers a nostalgic journey through the history of childhood toys, games, and pastimes.
Dynamic Earth: An interactive science center where visitors can experience the primeval forces of nature, from volcanoes to glaciers.
Seasonal Events:
Hogmanay: Edinburgh's New Year's Eve celebration is one of the world's most famous. With street parties, concerts, and a spectacular fireworks display over the castle, it's an event not to be missed.
Edinburgh's Christmas: From late November to early January, the city transforms into a winter wonderland with Christmas markets, ice skating, and festive lights.
Accommodation:
From luxury hotels like The Balmoral and The Waldorf Astoria to quaint bed and breakfasts in the Old Town, Edinburgh offers a range of accommodation options to suit every budget. For a unique experience, consider staying in a historic building or a boutique hotel.
Edinburgh is more than just a destination; it's an experience. The city's rich tapestry of history, culture, and natural beauty ensures that every visitor leaves with cherished memories. Whether you're exploring the haunted alleyways, enjoying the festivals, or simply soaking in the views from Arthur's Seat, Edinburgh promises a magical journey. So pack your bags, set your itinerary, and embark on an adventure in Scotland's captivating capital.