Faro District
Situated at the southernmost region of Portugal, Faro District comprises the entirety of the Algarve region, an area synonymous with idyllic beaches, historic architecture, and a vibrant culture. As the Algarve's administrative center, Faro itself is a charming city that seamlessly marries the past and present, from its well-preserved medieval quarters to its lively modern districts. However, Faro District extends far beyond the city limits, encompassing a diverse range of landscapes, towns, and attractions.
Faro City, the district's capital, is often seen as a gateway to the Algarve due to Faro Airport's proximity, one of Portugal's busiest international airports. The city itself boasts a rich tapestry of historical sites. One of the most striking is the Cidade Velha (Old Town), enclosed by ancient walls built during Roman and Moorish eras. Inside, visitors can wander through winding, cobblestone streets to discover the city's cathedral, Sé de Faro, and the 18th-century Episcopal Palace.
However, Faro is more than its historical heart. The modern city brims with culture, shopping, and nightlife. Notably, the Rua de Santo António and the nearby streets are lined with boutiques, restaurants, and bars, making them a hive of activity.
While Faro's urban appeal is undeniable, the city's natural beauty, particularly the Ria Formosa lagoon, a natural park and a haven for migratory birds, is equally captivating. The lagoon's intricate system of islands and waterways offers ample opportunities for boating, birdwatching, and beachgoing.
Moving away from the capital, the Faro District unfolds into an array of stunning locales. To the west of Faro, visitors will find the lively town of Albufeira, a once-sleepy fishing village turned popular holiday destination. Albufeira is renowned for its gorgeous beaches, such as Praia da Oura and Praia dos Pescadores, its buzzing nightlife, and charming old town.
In contrast to Albufeira's hustle and bustle, the town of Tavira, located towards the district's eastern boundary, offers a more tranquil experience. Tavira's whitewashed houses, Renaissance and Roman bridges, and a plethora of churches exemplify traditional Algarvian architecture. The town's unhurried pace is a perfect respite for those seeking relaxation. Yet, the expansive Ilha de Tavira beach, reachable by ferry, is a reminder of the Algarve's ever-present coastal allure.
Lagos, another noteworthy town in the Faro District, holds a critical place in Portugal's maritime history as a launching point during the Age of Discoveries. Today, Lagos charms visitors with its historic center, the vibrant marina, and beautiful beaches like Praia da Dona Ana and Praia do Camilo. Additionally, the iconic Ponta da Piedade, a series of stunning rock formations and sea caves, is a must-visit.
Inland Faro District offers a different perspective of the Algarve, swapping sandy beaches for rolling hills, verdant valleys, and traditional villages. Here, the district's agricultural heartland, visitors can explore vineyards and partake in wine tasting sessions. Towns like Alte and Salir, nestled in the foothills of the Serra do Caldeirão, provide a glimpse into the Algarve's rural traditions and way of life.
Faro District's culinary scene deserves a special mention. The region's gastronomy reflects its Mediterranean setting and maritime history. Fresh seafood is a staple, with cataplana (seafood stew) and grilled sardines being favorites. Faro's famed piri-piri chicken and regional dishes such as xerém (a hearty cornmeal dish) highlight its diverse cuisine. For the sweet-toothed, local pastries like Dom Rodrigos and morgados are a delight, offering a taste of the region's Moorish past. Various food festivals throughout the year celebrate this culinary heritage, providing a gastronomic feast for locals and tourists alike.
Beyond the towns and the cuisine, the Faro District is a hub for outdoor activities. With the Atlantic Ocean at its doorstep, water sports such as surfing, sailing, and diving are popular. The region's mild climate and stunning landscapes also make it an ideal destination for golf, hiking, and cycling. In particular, the Via Algarviana, a long-distance trail stretching across the district from Alcoutim to Cabo de São Vicente, offers a unique way to explore the region's varied landscapes.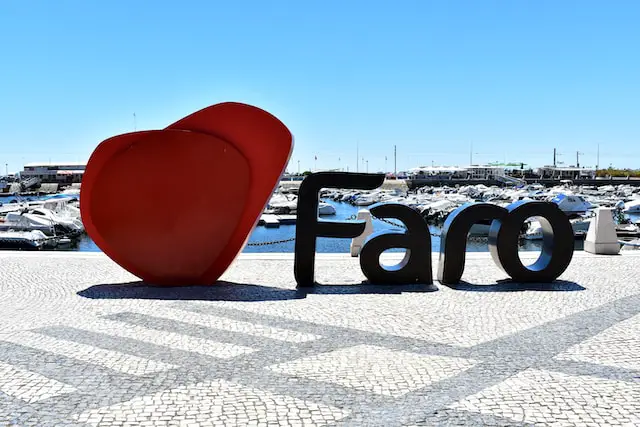 The district's cultural calendar is equally bustling, with numerous events held throughout the year. From religious processions during Easter to the boisterous summer festivals and the traditional sardine festivals, there is always a celebration to look forward to. The Faro International Motorcycle Rally, one of Europe's largest motorcycle events, and the Festival F, a large music festival held in Faro, showcase the district's diverse and vibrant cultural scene.
Yet, despite its popularity, Faro District has not lost its soul. It remains a place where tradition is valued, from the hand-painted azulejo tiles that adorn many buildings to the local crafts found in the markets. It's a region where Fado music echoes in the streets, and where every meal is a leisurely affair enjoyed with family and friends.
In conclusion, Faro District is a captivating mix of natural beauty, historical significance, cultural richness, and gastronomic delights. From its sun-drenched coast to its verdant interior, its bustling cities to its tranquil villages, it offers a multifaceted experience that caters to a variety of preferences and interests. The district encapsulates the spirit of the Algarve – a place of warm hospitality, unhurried rhythms, and a deep sense of history. It's a place that invites exploration and promises unforgettable experiences. Whether you're a history enthusiast, a nature lover, a foodie, or a sun-seeker, Faro District is sure to leave you enchanted.