Munich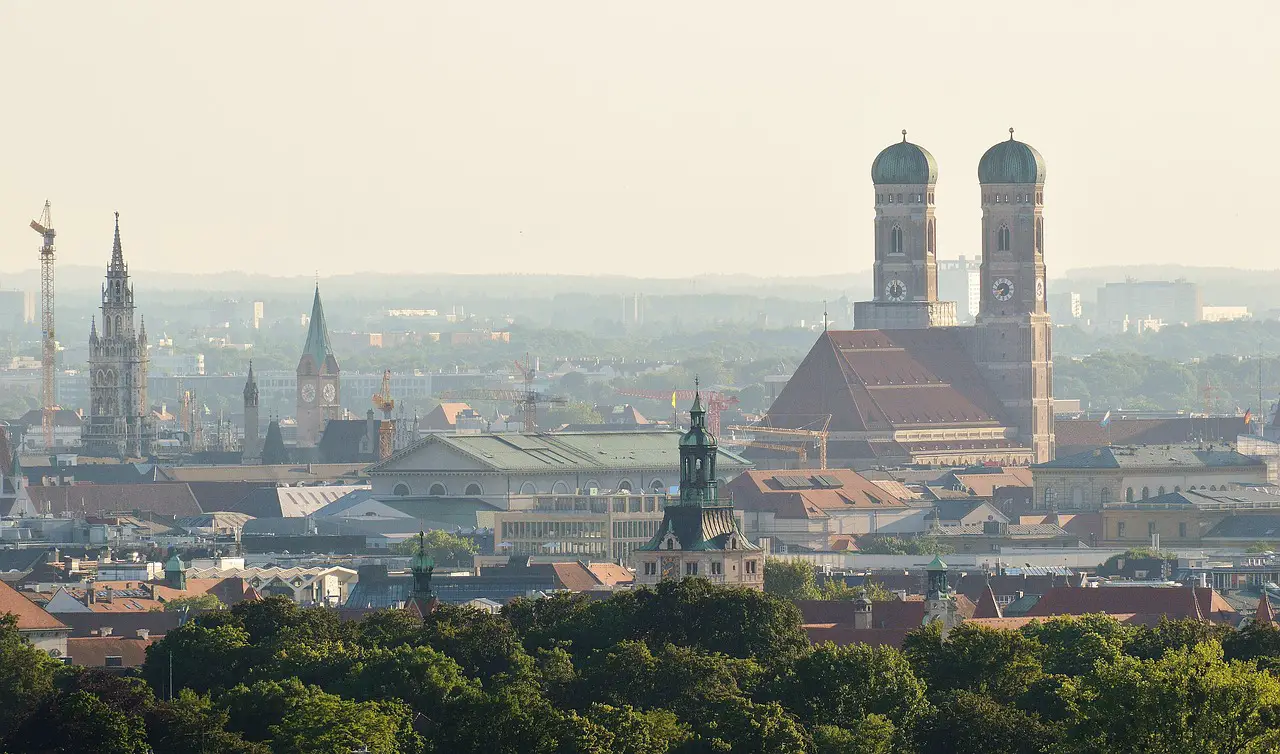 With a rich history spanning over eight centuries, Munich is a city that perfectly balances a reverence for its past with a focus on the future. Known in German as München, the city of over 1.5 million people is the capital of Bavaria and the third-largest city in Germany.
At first glance, Munich might seem like a city straight out of a fairy tale, replete with grand historic buildings, beautiful parks, and bustling beer gardens. Yet, beyond the attractive facade, Munich is a thriving metropolis with a vibrant arts scene, cutting-edge technology industries, and a rich blend of tradition and innovation.
Historical Overview
Munich's history is as diverse as the city itself. Founded in the 12th century, the city has been the capital of Bavaria since the Duchy of Bavaria was established. The city's name, München, stems from the Old/Middle High German term 'Munichen,' meaning 'by the monks,' which indicates the city's early connection to the Benedictine monks who ran a monastery at the site that was later to become the Old Town of Munich.
Over the centuries, Munich played a significant role in shaping the history of Germany and Europe. The city was heavily influenced by the Bavarian royal family, the House of Wittelsbach, which ruled for over 700 years until the end of World War I. During this time, Munich experienced periods of prosperity and expansion, interrupted by wars and various calamities.
The city also bore witness to darker times. In the 20th century, Munich was a significant site for the rise of National Socialism, with Adolf Hitler and the Nazi Party holding their first meeting in the famous Hofbräuhaus in 1920. During World War II, Munich suffered extensive damage but was later rebuilt, keeping much of its historic architecture intact.
Architectural Wonders
Munich is well-known for its architectural diversity, showcasing styles from Gothic and Baroque to postmodern designs. The Frauenkirche, with its unmistakable onion-domed towers, is a symbol of the city. This Gothic cathedral offers a stunning panorama of Munich from its south tower.
Another architectural gem is the Nymphenburg Palace, a Baroque masterpiece that served as the summer residence of Bavarian monarchs. With its grand facade, beautiful gardens, and intricate interiors, it's a testament to the opulence of Bavaria's royal past.
Yet, Munich isn't only about historic architecture. The city is also home to modernist and contemporary structures. The BMW Welt and Museum showcases the city's contribution to the world of automobiles in an ultra-modern setting.
Culture and Traditions
Bavarian traditions run deep in Munich. The city is globally known for Oktoberfest, an annual 16-day beer festival attracting millions of visitors from around the world. This tradition originated in the 19th century to celebrate the October 1810 wedding of Crown Prince Ludwig. Today, it's a celebration of Bavarian music, culture, and, of course, the region's world-renowned beer.
Beyond Oktoberfest, Munich boasts a vibrant arts and culture scene. Museums like the Alte Pinakothek, Neue Pinakothek, and Pinakothek der Moderne collectively host one of the world's most comprehensive collections of European art. Munich is also the home of many prominent composers, including Richard Strauss and Carl Orff, and the city's opera, ballet, and orchestra are internationally acclaimed.
Innovation and Industry
While the city holds fast to its traditions, Munich is also forward-looking. It's a global hub for innovation and industry, with several multinational corporations calling the city home, including Siemens and BMW
Indeed, Munich has established itself as one of Europe's leading technology centers. Its reputation as the "Silicon Valley of Europe" is well-deserved, given the presence of major tech corporations and a host of start-ups. The city is at the forefront of sectors such as automotive engineering, biotechnology, software development, and environmental technology.
The automotive industry is particularly significant. BMW's headquarters in Munich showcases the city's commitment to this industry. The stunning, four-cylinder tower – an iconic piece of modern architecture – is complemented by the BMW Welt and Museum. Here, visitors can marvel at the brand's history and latest innovations. Meanwhile, the Audi headquarters located nearby in Ingolstadt further bolster the region's reputation as an automotive powerhouse.
In the software industry, Microsoft's decision to locate its German headquarters in Munich demonstrates the city's strength in this sector. Numerous start-ups have followed suit, drawn to the area's robust infrastructure and pool of talent.
Moreover, Munich is home to several world-class universities and research institutions, including the Technical University of Munich (TUM) and Ludwig Maximilian University (LMU). These institutions provide a steady stream of well-educated graduates and foster a strong culture of innovation and entrepreneurship. TUM, for instance, is renowned for its research in physics, chemistry, and engineering.
Culinary Delights
An exploration of Munich would not be complete without discussing its culinary scene. Bavarian cuisine, hearty and satisfying, is a source of pride for the locals. Traditional dishes such as pretzels, Weisswurst (white sausage), and Schweinshaxe (roasted pork knuckle) are enjoyed in the city's numerous beer gardens and taverns.
Yet, Munich is not limited to its traditional fare. The city has an impressive selection of gourmet dining options with several Michelin-starred restaurants. Innovative chefs have found ways to put modern twists on classic dishes, creating a culinary scene that is both rooted in tradition and forward-thinking.
Green Munich
Despite being a bustling metropolis, Munich has managed to maintain a commitment to green spaces. The Englischer Garten, larger than New York's Central Park, offers residents and tourists a vast space for relaxation and outdoor activities. The park's beer gardens, like the one at the Chinese Tower, are popular destinations in summer.
Another testament to Munich's green city planning is the Isar River. Once a polluted waterway, it has been transformed into a vibrant recreational area. On warm days, residents can be seen swimming, picnicking, or simply relaxing by its banks.
Munich is a city of contrasts—traditional yet innovative, historic yet modern, bustling yet green. Whether you're drawn to its rich history, vibrant culture, culinary delights, or technological advancements, Munich has something for everyone. Its seamless blending of the past with the present makes it a truly unique city worth exploring.