Oxford, England Travel Guide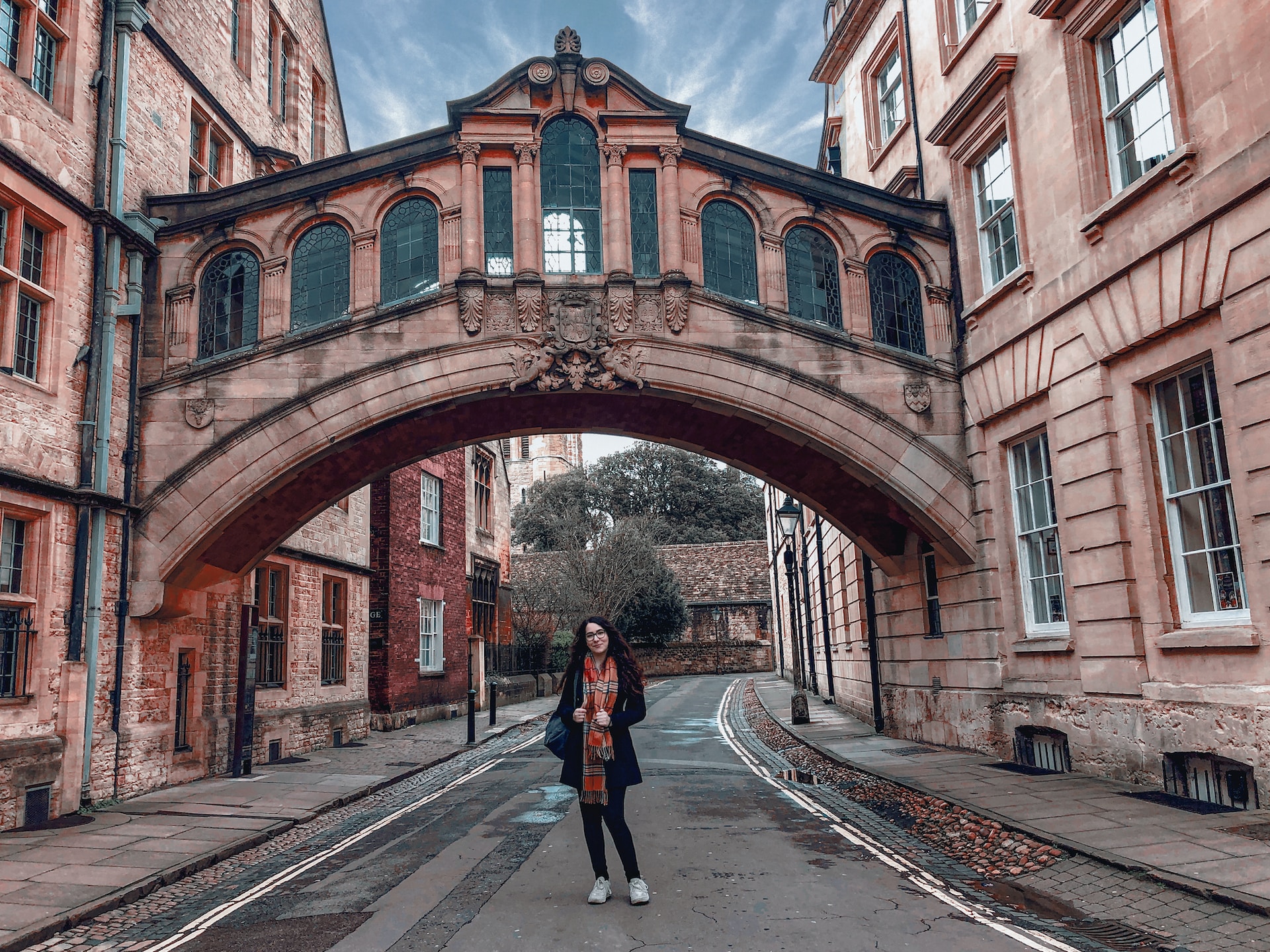 Steeped in history, iconic architecture, and an undeniably unique charm, Oxford is often referred to as the "City of Dreaming Spires" due to its picturesque skyline. Whether you're a history buff, a literary enthusiast, or simply looking to immerse yourself in quintessential English culture, Oxford promises a memorable getaway. This guide will help you navigate the best of Oxford, ensuring a trip brimming with insights and delightful memories.
Historical Overview:
Situated in the heart of England, Oxford has a rich history that spans over 1,000 years. The University of Oxford, the oldest in the English-speaking world, is the city's pride and joy. Established in the 12th century, its presence has shaped the town's character, culture, and global reputation. Notably, the university has produced a myriad of luminaries from former British Prime Ministers to renowned authors like J.R.R. Tolkien and C.S. Lewis.
Top Attractions:
a. The University of Oxford: It's impossible to visit Oxford without experiencing its prestigious university. Comprising 39 constituent colleges, each with its own unique history and architectural marvel, a guided tour will offer you insights into student life, historic events, and the stories behind its stunning edifices.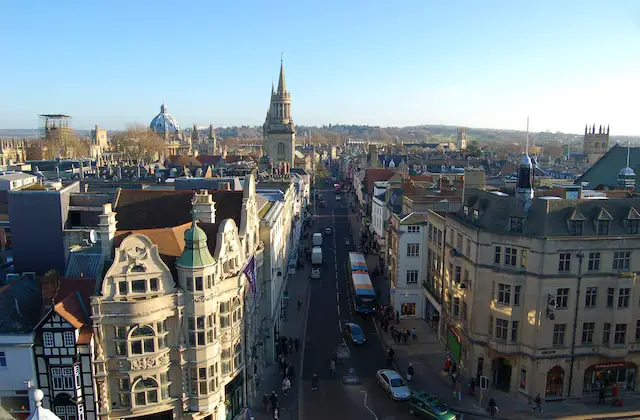 i. Radcliffe Camera: A neoclassical masterpiece, the Radcliffe Camera is an iconic sight. Originally built as a science library, it's now a reading room for the Bodleian Library.
ii. Bodleian Library: One of Europe's oldest libraries, it's a treasure trove of over 13 million items. The Divinity School, with its ornate ceiling, is a must-see.
iii. Oxford University Museum of Natural History: A haven for science lovers, this museum houses significant collections, including the remains of the dodo bird.
b. Christ Church: Among the university's colleges, Christ Church is the most visited. With its stunning chapel, grand dining hall (which inspired Hogwarts' Great Hall in the Harry Potter films), and serene meadows, it's a microcosm of Oxford's beauty and history.
c. Ashmolean Museum: As the world's first university museum, the Ashmolean boasts a diverse collection spanning millennia, from ancient Egyptian mummies to modern art.
A Literary Journey:
Oxford has deeply influenced countless writers. A stroll through its cobblestone streets feels like a walk through the pages of a classic novel.
a. Alice's Shop: This quaint store inspired Lewis Carroll's Alice in Wonderland. Originally a candy store frequented by Alice Liddell (the real-life inspiration for the titular character), it's now a souvenir shop dedicated to the tale.
b. The Eagle and Child: This historic pub was a regular haunt for writers like C.S. Lewis and J.R.R. Tolkien. Sitting in its cozy corners, one can almost hear the whispers of their literary discussions.
Outdoor Activities:
a. Punting on the Cherwell: Embrace Oxford's tradition by punting along the River Cherwell. Rent a punt from Magdalen Bridge Boathouse and glide along the water, passing under bridges and by beautiful university parks.
b. Botanic Gardens: Established in 1621, these gardens provide a peaceful escape, with diverse plant collections and themed sections.
Shopping and Dining:
a. Covered Market: A historic market dating back to the 18th century, you'll find a mix of stalls, from butchers and bakers to gift shops and cafes.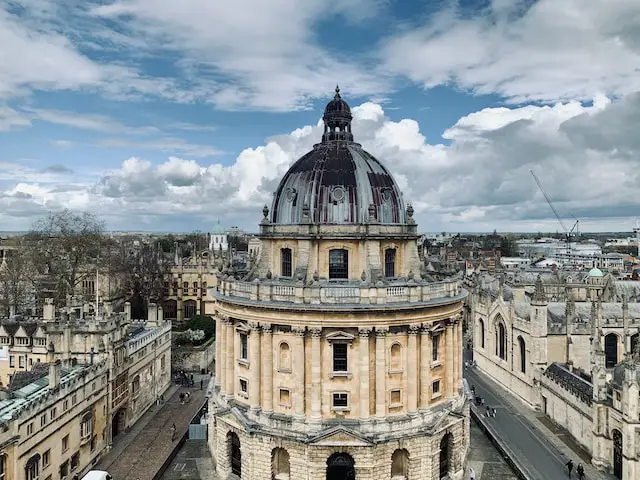 b. Restaurants: Oxford offers a variety of dining options. For traditional British fare, try 'The Turf Tavern,' a hidden gem with a rich history. If you're seeking international cuisine, 'Kazbar' offers delightful Spanish tapas.
Getting Around:
Oxford is best explored on foot, given its compact nature. However, for destinations further afield, the city has a reliable bus network. Bicycles are also popular and can be rented from several locations.
Tips for Travelers:
Weather: Oxford has a temperate maritime climate. It's advisable to carry an umbrella and wear layers.
Stay: Accommodation options vary from luxury hotels to budget-friendly hostels. For a unique experience, consider staying in a historic guesthouse or a university dorm during vacations.

Oxford, with its rich tapestry of history, culture, and academia, is more than just a city—it's an experience. From the towering spires of its historic buildings to the tranquil waters of the River Cherwell, it promises a journey through time and a deeper appreciation for the world's intellectual and cultural treasures. So, pack your bags, grab a book, and set forth on a trip to this timeless English gem.
Festivals and Events:
a. Oxford Literary Festival: Held annually in March or April, this week-long event is a haven for bibliophiles. It attracts renowned authors, poets, and literary critics from around the world for talks, workshops, and debates.
b. May Morning: A centuries-old tradition, May Morning is celebrated on the 1st of May. The day begins with a choir singing at the top of Magdalen Tower, followed by celebrations and revelry across the city.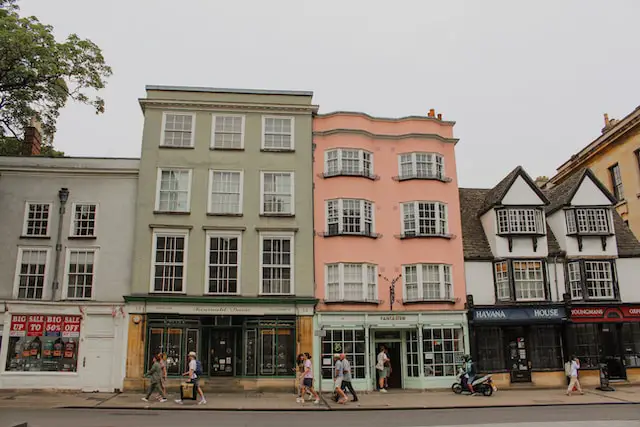 c. Oxford Open Doors: Organized every September, this event provides free access to many of Oxford's historic sites, some of which are not usually open to the public.
Beyond Oxford – Nearby Attractions:
a. Blenheim Palace: A short journey from Oxford, this UNESCO World Heritage Site is the birthplace of Sir Winston Churchill. With its grand architecture, lavish interiors, and expansive gardens, Blenheim offers a glimpse into England's regal past.
b. Cotswolds: A picturesque region known for its rolling hills, historic villages, and stone-built houses. A day trip here offers a peaceful retreat from city life.
c. Bicester Village: For those inclined towards luxury shopping, this designer outlet village is just a 30-minute drive away, offering discounted luxury brands in a village-style setting.
Nightlife and Entertainment:
a. New Theatre Oxford: Hosting a mix of musicals, drama, and live concerts, it's the city's prime spot for evening entertainment.
b. The Oxford Artisan Distillery: For those interested in spirits, a tour of this distillery offers insights into gin and whiskey production, topped off with tastings.
c. Cowley Road: Lined with bars, pubs, and music venues, it's the heart of Oxford's nightlife. From live music at the O2 Academy to relaxing at eclectic bars, there's something for everyone.
Practical Information:
Currency: British Pound Sterling (GBP).
Language: English.
Accessibility: Oxford is a historic city; while many main attractions are wheelchair accessible, some older sites might pose challenges. It's advisable to check in advance.
Safety: Oxford is generally safe for tourists. However, like any other city, it's essential to be cautious and aware of your surroundings.
Oxford, an enchanting blend of the past and the present, offers travelers a multifaceted experience. Whether it's the pursuit of academic excellence, the lure of literary trails, the serenity of nature, or the allure of rich traditions and culture, the city beckons with open arms. With every visit, there's something new to discover, making Oxford a city that you'd want to revisit time and again. With this guide in hand, embark on a journey that promises not just sights to see, but stories to cherish and memories to hold dear.