THE 25 BEST Things to Do in Pattaya

Pattaya, situated on Thailand's eastern Gulf coast, is renowned for its mesmerizing beaches, vivid nightlife, and a plethora of activities that appeal to tourists from around the globe. Whether you're a thrill-seeker, a beach lover, or a history enthusiast, Pattaya has something for everyone. Here's our pick for the top 25 things to do in this vibrant city:
Pattaya Beach: This 4-km long crescent-shaped beach offers a blend of water sports, shopping, and beachside relaxation. It's the go-to spot for sunbathing and enjoying local street food.
Walking Street: This is where Pattaya's nightlife truly shines. Packed with clubs, bars, restaurants, and street performers, it's a sensory extravaganza you shouldn't miss.
Jomtien Beach: A quieter alternative to Pattaya Beach, Jomtien is perfect for windsurfing, kiteboarding, and enjoying a more relaxed atmosphere.
Sanctuary of Truth: This intricately carved wooden temple stands as a testament to traditional Thai craftsmanship. It's a fusion of art, culture, and philosophy.
Coral Island (Koh Larn): Just a short ferry ride from Pattaya, this island offers pristine beaches, crystal clear waters, and a range of water activities.
Nong Nooch Tropical Botanical Garden: This 500-acre botanical park showcases themed gardens, cultural shows, and even has an elephant show.
Mini Siam: Experience the world in miniature form. This park showcases mini replicas of famous landmarks from Thailand and the world.
Floating Market: Experience traditional Thai life by shopping on boats. You can buy souvenirs, fresh produce, and even sample various local dishes.
Art in Paradise: An interactive art museum where you can become part of 3D art pieces. It's a delightful place for photo enthusiasts.
Wat Phra Yai (Big Buddha Hill): This massive 18-meter tall Buddha statue is not just a spiritual landmark but also offers panoramic views of Pattaya.
Cabaret Shows: Tiffany's and Alcazar Cabaret shows are renowned for their dazzling performances, vibrant costumes, and state-of-the-art set designs.
Underwater World: A mesmerizing aquarium housing over 5,000 marine creatures. You can walk through a 100-meter long tunnel and experience life under the sea.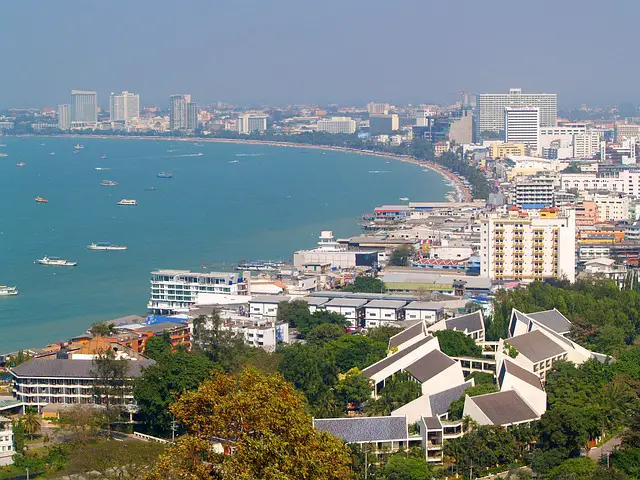 Ripley's Believe It or Not! Museum: From oddities to intriguing facts, this museum promises an exciting exploration of the weird and wonderful.
Silverlake Vineyard: Enjoy the scenic beauty of grape fields, sample wines, and learn about winemaking in a setting reminiscent of the European countryside.
Cartoon Network Amazone: Thailand's first cartoon-themed water park. Perfect for families, it offers thrilling rides and countless hours of fun.
Buddha Mountain (Khao Chi Chan): Here, a massive golden Buddha image is engraved onto a cliff surrounded by lush scenery.
Tiger Park: Get up close with tigers, take photos, and even feed them if you dare!
Pattaya Viewpoint: Offering a panoramic view of Pattaya's crescent bay, this is the perfect spot for some great photo ops.
Pattaya Dolphin World: Witness stunning dolphin performances and get a chance to swim with these incredible marine creatures.
Elephant Village: A sanctuary for retired working elephants. You can watch cultural shows, take a trek, or simply learn more about these magnificent creatures.
Pattaya Night Bazaar: Shop for souvenirs, clothing, and local goods at reasonable prices.
Mimosa: Dubbed as "The City of Love", it's a recreation of a European-style village with shops, restaurants, and cabaret shows.
The Blue Hole: A diving site near Pattaya, it's a hidden underwater sinkhole known for its vivid marine life and unique underwater structure.
Pattaya Sheep Farm: A fun family attraction where you can feed sheep, ride ponies, and enjoy the picturesque setting.
ATV Adventures: Explore the Thai countryside on an all-terrain vehicle, maneuvering through challenging trails and taking in the breathtaking landscapes.
Pattaya is not just a beach and nightlife destination. It offers a plethora of attractions, cultural experiences, and activities that can cater to the preferences of every traveler. Whether you want to explore the underwater world, indulge in Thai culture, or simply laze around on the beach, Pattaya promises a memorable experience. So pack your bags and get ready for a Thai adventure like no other!
Thai Cooking Classes: Thai cuisine is loved globally for its intricate flavors and mouthwatering dishes. Several cooking schools in Pattaya offer classes where you can learn to prepare authentic Thai dishes, making it a great souvenir to take home.
Skydiving: For adrenaline junkies, skydiving over Pattaya provides not only the rush of the jump but also aerial views of the city's magnificent coastline.
Muay Thai Training: Engage with Thailand's national sport. Whether you're a seasoned fighter or a curious beginner, Pattaya has numerous Muay Thai gyms where you can train or simply watch live matches.
HarborLand: Southeast Asia's largest indoor playground for kids, this is a haven for families with young children. It's a colorful, safe space for kids to have fun while adults shop or relax.
Ramayana Water Park: One of Asia's biggest water parks, Ramayana offers thrilling slides, a lazy river, and a wave pool, making it a fantastic day out for both kids and adults.
Thepprasit Night Market: Held on weekends, this bustling market is a hub for local street food, clothing, and trinkets. It's a perfect spot to immerse yourself in the local vibe and do some bargain shopping.
Sriracha Tiger Zoo: Just outside Pattaya, this zoo boasts a large number of tigers, crocodiles, and other animals. Daily shows, including tiger and crocodile feedings, offer an entertaining day out for the family.
PATTAYA Bungy Jump: One of the longest-running bungy jumps in Asia, leap from a height of 60 meters and experience an adrenaline rush like no other.
The Chocolate Factory & Restaurant: A treat for the senses, explore the world of chocolate-making, indulge in chocolate tasting, and dine in a beautifully themed restaurant.
The Million Years Stone Park & Pattaya Crocodile Farm: A beautiful garden filled with bonsai, fossilized trees, and colorful flowers. The accompanying crocodile farm, with its thrilling shows, provides an added layer of entertainment.
Dive with Sharks: The Pattaya Dive Center offers a unique opportunity for divers to swim alongside blacktip reef sharks in a safe environment.
Soi Buakhao Market: A less crowded alternative to other night markets, it's great for local produce, street food, and affordable clothing.
Tuxedo Illusion Hall: A magic show venue where renowned magicians showcase their captivating tricks, illusions, and interactive performances.
Pattaya Shooting Park: For those interested in trying their hand at shooting, archery, or even clay shooting, this park provides an opportunity to learn and practice under expert supervision.
Windmill Resort's Go-Kart Track: Experience the thrill of go-karting on a professional track, suitable for both beginners and experienced racers.
To further enhance your stay, it's essential to indulge in Pattaya's hospitality offerings. The city boasts a range of accommodations, from luxurious resorts to budget hostels, ensuring a comfortable stay for every type of traveler. Don't forget to indulge in the sumptuous Thai cuisine and perhaps even join the locals in one of their vibrant festivals if your timing is right. With so much to offer, Pattaya truly is a gem in Thailand's crown of tourist destinations.