Top 10 Winter Places to Visit in North America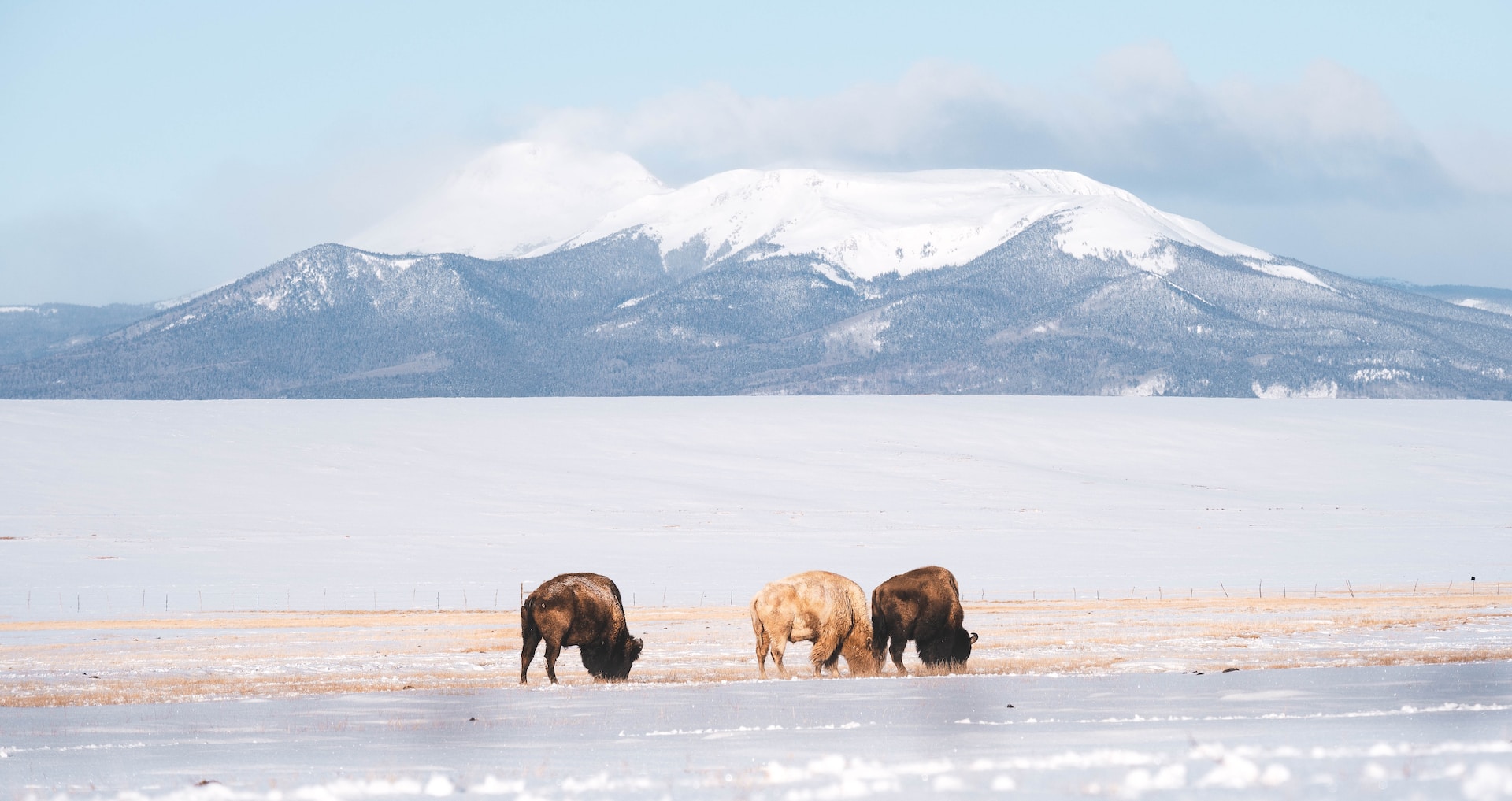 Winter in North America is synonymous with sparkling snowscapes, festive celebrations, and the magic of the holiday season. Whether you're in search of a white winter wonderland, a festive marketplace, or a retreat to snuggle up in front of a fireplace, North America offers a diverse array of destinations. Here's our selection of the top 10 winter places to visit:
Breckenridge, Colorado:

Known primarily as a ski town, Breckenridge is a winter paradise with its pristine ski slopes and cozy lodges. But beyond skiing, the town's historic district offers a charming setting with its well-preserved buildings, art galleries, and shops. The International Snow Sculpture Championships in January are a must-see.
Quebec City, Quebec:

The city becomes a real-life winter fairytale during the snowy months. With its cobblestone streets, historic architecture, and the annual Quebec Winter Carnival – one of the world's largest winter carnivals – this place is a must-visit. Don't forget to enjoy a night at the Hôtel de Glace, North America's only ice hotel.
New York City, New York:

While New York is a year-round destination, there's something magical about Central Park under a blanket of snow, the Rockefeller Center Christmas Tree, and ice skating rinks popping up across the city. The winter holiday window displays of the major department stores are an attraction in themselves.
Banff, Alberta:

Located in the heart of the Canadian Rockies, Banff offers majestic landscapes with its snow-covered mountains and frozen lakes. Apart from skiing and snowboarding, you can relax in the Banff Upper Hot Springs or explore the Ice Magic Festival at Lake Louise.
Jackson Hole, Wyoming:

A haven for winter sports enthusiasts, Jackson Hole offers some of the best skiing terrains in North America. The stunning Teton Range backdrop and opportunities to explore nearby national parks like Yellowstone make it a holistic winter destination.
Lake Tahoe, California/Nevada:

Straddling the border of California and Nevada, Lake Tahoe's pristine waters are surrounded by snow-capped mountains during winter. Both the north and south shores offer ski resorts, with activities ranging from snowmobiling to sledding. For those looking for nightlife, the Nevada side boasts casinos.
Stowe, Vermont:

A classic New England winter destination, Stowe is not just about its ski slopes. The village retains an old-world charm with its historic churches, quaint inns, and picturesque surroundings. Enjoy the local maple syrup on a pile of pancakes for the authentic Vermont experience.
Santa Fe, New Mexico:

For those who prefer milder winter weather, Santa Fe is a delightful escape. The city is known for its Pueblo-style architecture and vibrant arts scene. The farolitos, paper lanterns with candles inside, lining rooftops and sidewalks during the Christmas season, add a unique charm.
Chicago, Illinois:

The Windy City shines bright during winter with its festive decorations and activities. Millennium Park transforms into a giant ice rink, and Navy Pier's Winter WonderFest offers indoor fun. The architecture boat tours, albeit chilly, give a unique perspective of the snow-draped city.
Anchorage, Alaska:

For the adventurous at heart, Anchorage offers a winter experience like no other. Witness the aurora borealis, go dog sledding, or join the festivities during the Fur Rendezvous winter festival. Plus, it's a gateway to some of the state's most pristine wilderness areas.
North America's diverse geography and culture are vividly displayed in its winter destinations. From the snowy peaks of the Rockies to the festive streets of Quebec City, each location offers a unique experience. Whether you're a thrill-seeker looking for the next skiing adventure or someone who just wants to sip hot cocoa by the fireplace, there's a winter spot in North America waiting for you. As always, when planning a trip during the colder months, it's essential to consider weather conditions and be prepared with appropriate attire and equipment. Safe travels and happy winter explorations!
Having highlighted the top destinations for winter wonder in North America, it's also essential to consider the nuances of winter travel, ensuring that your experience is both unforgettable and smooth.
Embrace the Off-Peak: While places like New York City and Quebec City can be bustling during the holidays, visiting shortly after can offer a quieter, more relaxed experience. Many resorts also offer discounted rates post-holiday season.
Dress in Layers: It might seem basic, but layering is the secret weapon of every winter traveler. Thermal base layers, fleece mid-layers, and waterproof outer layers can make a world of difference. Don't forget waterproof boots, hats, gloves, and scarves!
Winterize your Vehicle: If you're embarking on a road trip, ensure your vehicle is winter-ready. This includes checking the antifreeze levels, battery, brakes, and tires. Always keep emergency supplies, including blankets, food, water, and a flashlight.
Explore Indoor Attractions: Use the cold as an opportunity to explore the cultural side of destinations. Museums, art galleries, indoor markets, and theaters can offer a cozy respite from the chilly outdoors.
Be Flexible: Winter weather can be unpredictable. Flights might be delayed, and plans could change. Always have a backup plan, and consider investing in travel insurance that covers weather-related disruptions.
Stay Active: Embrace winter activities – not just skiing or snowboarding, but also snowshoeing, ice fishing, or even winter hiking. These activities not only offer a unique perspective of the landscape but also keep you warm!
Experience Local Winter Delicacies: Every region has its winter specialty. Whether it's hot apple cider in New England, poutine in Quebec, or spicy chili in New Mexico, treat your taste buds to local winter flavors.
Respect the Environment: Winter ecosystems can be fragile. If you're exploring national parks or natural areas, stick to marked trails and avoid disturbing wildlife. Remember the principle of leaving no trace.
Stay Connected: Especially if you're venturing into remote areas, it's essential to let someone know your itinerary. Consider carrying a satellite phone or a GPS beacon in areas without cell service.
Celebrate Local Festivities: Beyond the major holiday celebrations, many towns and cities have local winter festivals, parades, or events. These can be a great way to engage with the local culture and community.
In Summary:
Winter in North America, with its diverse offerings, promises something for every traveler. From the thrill of winter sports to the serenity of a snow-covered landscape, the magic of the season is undeniable. However, being prepared and considering the above tips can make your journey even more seamless and enjoyable. Embrace the season, take in its beauty, and make memories that will last a lifetime.