What is the best month to visit Quebec City?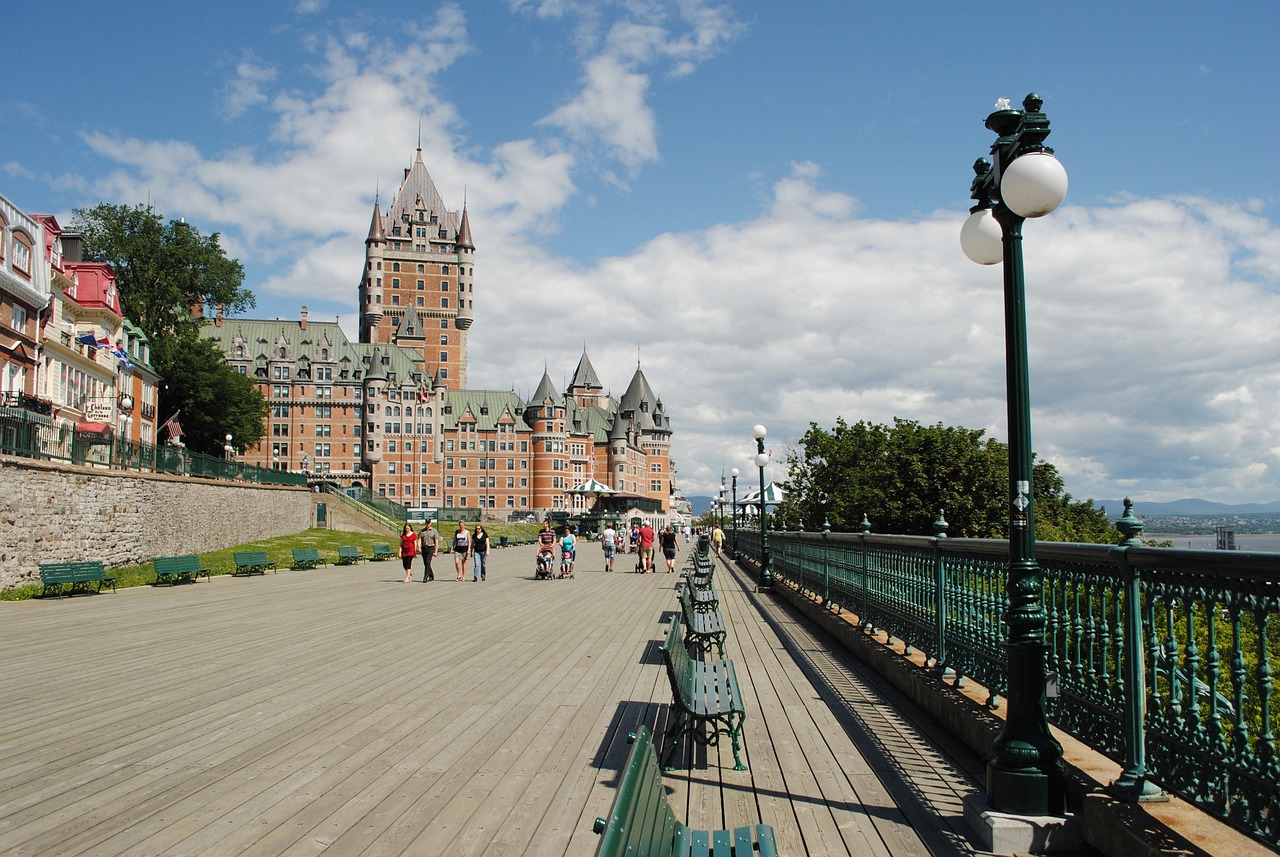 Determining the best month to visit Quebec City depends on the type of experience you desire. This beautiful city offers a plethora of attractions and activities, each with its own distinct charm that varies with the seasons. Let's delve into what each month brings to Quebec City, allowing you to make an informed decision about the perfect time for your visit.
Starting with winter, if you are a fan of the colder season and enjoy winter sports, December to February can be an ideal time. December is the heart of the holiday season, and the city takes on a festive air. Buildings are adorned with twinkling lights, and a white blanket of snow gives the city a fairy-tale-like allure. The iconic Château Frontenac is a sight to behold, especially when lit up against the winter night. Winter enthusiasts can enjoy outdoor activities like ice-skating, snowshoeing, and skiing in nearby resorts.
In late January to mid-February, the city hosts the renowned Quebec Winter Carnival, one of the world's largest winter carnivals. This event transforms the city into a winter wonderland with ice palaces, snow sculptures, parades, and numerous activities, including the traditional snow bath where participants don bathing suits and roll around in the snow. If you're willing to brave the chilly temperatures, these winter months can be quite an adventure.
As winter fades, March and April welcome spring, a season of renewal. The weather gradually warms, though it can still be unpredictable with occasional snow and rain showers. These months are less crowded, offering a peaceful atmosphere and lower accommodation prices. Although outdoor activities may be limited due to the thawing period, you can take advantage of the city's indoor attractions, such as museums, galleries, and shopping centers.
May and June are delightful months to visit Quebec City. Spring is in full bloom, with flowers adding color to the city's parks and gardens. The weather is typically mild, ideal for walking tours around Old Quebec or bicycle rides along the St. Lawrence River. It's also a great time to enjoy a trip to Montmorency Falls or Jacques-Cartier National Park.
The summer months of July and August are arguably the most popular time to visit. The weather is generally warm, with average high temperatures around 25 degrees Celsius (77 degrees Fahrenheit). These months are perfect for outdoor activities and sightseeing. The city is vibrant, with numerous events like the Festival d'été de Québec, a massive outdoor music festival featuring artists from around the world, and the New France Festival, which celebrates the city's early French colonial history.
However, with popularity comes larger crowds and higher prices for accommodations. If you don't mind the bustling atmosphere and are a fan of lively festivals and warm weather, summer could be your best bet.
Autumn arrives in September and lasts through November. This season is incredibly beautiful in Quebec City, with the changing foliage painting the city in brilliant hues of red, orange, and gold. The weather is cooler but still comfortable for exploring. Harvest time means fresh local produce, making it an excellent season for food lovers. The wine harvest, in particular, leads to numerous events and celebrations.
Notably, October hosts the Image Mill, an amazing multimedia show projected on the grain silos at the city's port. It's the world's largest projection, illustrating Quebec City's history in a unique, larger-than-life format.
In conclusion, the best month to visit Quebec City depends on personal preference. Winter offers snow-filled adventures and festive holiday charm.
Spring presents a tranquil getaway with fewer crowds. Summer is for those who enjoy warm weather, outdoor activities, and cultural festivals. Autumn offers stunning fall colors and delightful culinary experiences.
Each season, each month, unveils a different facet of Quebec City's charm. Whether it's the snow-capped beauty of December or the vibrant life of July, Quebec City is a year-round destination, continually transforming and evolving with the seasons.
From the icy embrace of December to February, the city unveils a landscape that can be likened to a winter wonderland. The charming old-world architecture of Quebec City, dusted in fresh snow, offers a picturesque backdrop for the season's festivities. Outdoor enthusiasts revel in the plethora of winter sports available, from ice-skating in Place D'Youville to skiing in nearby resorts. The frosty ambiance is warmed by the annual Quebec Winter Carnival, where the city is ablaze with activities, from ice sculpture contests to night parades.
As winter subsides, March and April bring the awakening whispers of spring. Though these months might still hold the remnants of winter chill, the city begins its transformation into a landscape brimming with blooming flora. It's a peaceful period with fewer tourists, which can provide a more intimate experience of the city and its attractions.
When May and June roll in, Quebec City is adorned in the full bloom of spring. The cityscape is awash with color as flowers blossom and trees regain their lush greenery. It's a delightful period to explore the city's parks, walk the historic district, or enjoy a scenic bicycle ride along the St. Lawrence River.
The arrival of July and August signals the height of summer. These months imbue the city with an infectious energy. Streets and parks come alive with locals and tourists alike, all drawn by the warm weather and the multitude of events that the city hosts. The Festival d'été de Québec and New France Festival are significant highlights, attracting visitors from around the globe with their vibrant celebration of music, culture, and history.
However, as summer transitions into fall, September to November ushers in a period of crisp air and stunning visuals. The city is set ablaze with the fiery hues of autumn as leaves change color, providing a striking contrast against the cobblestone streets and historic buildings of Old Quebec. The season's harvest also enhances the city's gastronomy scene, as fresh local produce is plentiful, making it a delightful time for culinary explorations.
Ultimately, determining the best month to visit Quebec City is subjective and depends on your preferences. Are you captivated by the magical allure of a winter wonderland, or do you prefer the vibrant energy of summer festivals? Does the tranquil beauty of spring call to you, or are you fascinated by the fiery hues of fall?
Every season in Quebec City brings with it a unique flavor and a myriad of experiences that cater to various interests, from historical explorations and cultural immersions to gastronomic adventures and nature escapades. Whether you're a winter adventurer, a spring romantic, a summer explorer, or an autumn gastronome, Quebec City is a destination that promises unforgettable experiences all year round. The charm of Quebec City is enduring, ever-present in every season and every month, waiting for you to discover and fall in love with.