Where to Eat, Stay, and Explore in Zürich
Zürich, Switzerland's largest city, is a captivating blend of modernity and tradition. Nestled along the banks of the pristine Lake Zürich, surrounded by the majestic Swiss Alps, Zürich offers a rich tapestry of experiences for travelers. From its world-class culinary scene to its historical old town, and its picturesque natural beauty, Zürich is a destination that leaves a lasting impression on all who visit. In this guide, we will delve into where to eat, stay, and explore in Zürich to help you make the most of your visit to this enchanting city.
Where to Eat
Zürich's culinary scene is a culinary adventure waiting to be explored. From traditional Swiss dishes to international cuisine, the city offers a diverse range of dining options to cater to every palate. Here are some must-visit places to savor the flavors of Zürich:
Restaurant Kronenhalle: Located in a historic building, this restaurant is a Zürich institution. It's known for its classic Swiss dishes like Zürcher Geschnetzeltes (sliced veal in creamy mushroom sauce) and its impressive collection of art, including works by Picasso and Chagall.
Zeughauskeller: For a taste of traditional Swiss cuisine, head to Zeughauskeller. Here, you can savor dishes like sausages, rosti (Swiss potato dish), and cheese fondue in a rustic, historical setting.
Le Dezaley: This charming restaurant specializes in Swiss-French cuisine. Be sure to try their delectable cheese fondue or raclette, both iconic Swiss dishes.
Clouds: If you're looking for a modern, upscale dining experience with panoramic views of the city, Clouds is the place to be. Their diverse menu offers a fusion of international flavors, and their rooftop bar is perfect for cocktails.
Sprüngli: For a sweet treat, visit the legendary confectionery Sprüngli. Sample their famous Luxemburgerli macarons or indulge in a hot chocolate accompanied by delectable pastries.
Street Food at Helvetiaplatz: If you're looking for a more casual dining experience, visit the food stalls at Helvetiaplatz. Here, you'll find a variety of international street food options, from falafel to sushi.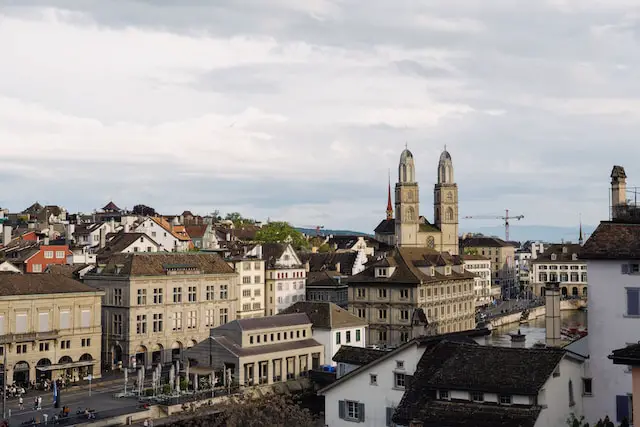 Where to Stay
Zürich offers a wide range of accommodation options, from luxury hotels to boutique guesthouses and budget-friendly hostels. Here are some recommendations based on different preferences and budgets:
The Dolder Grand: This iconic luxury hotel is perched atop a hill overlooking the city and Lake Zürich. It offers elegant rooms, a world-class spa, and Michelin-starred dining. The Dolder Grand provides a truly opulent experience.
Baur au Lac: Another top-tier luxury option, Baur au Lac is known for its impeccable service and stunning lakeside location. It's a favorite among celebrities and dignitaries.
Hotel Storchen: Located in the heart of Zürich's old town, this charming boutique hotel offers a cozy and authentic Swiss experience. Its riverside terrace is a lovely spot for dining.
25hours Hotel Zürich West: For a more contemporary and trendy atmosphere, consider staying at 25hours Hotel Zürich West. It's located in the vibrant District 5 and offers stylish, colorful rooms.
Swiss Star Apartments: If you prefer self-catering accommodations, Swiss Star Apartments provides well-appointed apartments in various locations across the city. They are a great choice for those seeking more space and independence.
Hostels: Zürich also has a selection of budget-friendly hostels, such as the ETH Zurich Hostel and City Backpacker – Hotel Biber. These options cater to backpackers and budget-conscious travelers.
What to Explore
Zürich boasts a wealth of cultural, historical, and natural attractions. Whether you're interested in art, history, or outdoor adventures, there's something for everyone in this vibrant city:
Old Town (Altstadt): Zürich's historic old town is a picturesque maze of narrow streets, charming squares, and medieval buildings. Stroll through its cobblestone alleys, visit St. Peter's Church with the largest clock face in Europe, and explore the Swiss National Museum to delve into the country's history.
Lake Zürich: The pristine waters of Lake Zürich offer a tranquil escape in the heart of the city. You can take a boat cruise, swim in designated areas, or simply relax on the lakeside promenades.
Swiss Alps Day Trip: Zürich is an excellent base for day trips to the Swiss Alps. You can easily reach destinations like Mount Titlis, Jungfraujoch, or Interlaken for breathtaking mountain scenery and outdoor activities.
Zürich Zoo: Located in a lush park, the Zürich Zoo is home to a wide variety of animals from around the world. It's an ideal family-friendly attraction.
Kunsthaus Zürich: Art enthusiasts should not miss the Kunsthaus Zürich, one of Switzerland's most important art museums. It houses an impressive collection of European art, including works by Alberto Giacometti and Marc Chagall.
Zürich Botanical Garden: For a peaceful escape, visit the Botanical Garden. It's a serene oasis featuring a diverse array of plant species from different climates.
Bahnhofstrasse: Shopaholics will love Bahnhofstrasse, one of the world's most exclusive shopping streets. Explore high-end boutiques, department stores, and cafes along this bustling avenue.
Uetliberg Mountain: If you're up for a hike, take a short train ride to Uetliberg Mountain. The summit offers panoramic views of the city, Lake Zürich, and the Alps. It's especially beautiful during sunset.
Zürich, with its rich cultural heritage, stunning natural beauty, and culinary delights, is a city that has it all. Whether you're interested in exploring its historical old town, savoring Swiss delicacies, or simply taking in the breathtaking scenery, Zürich offers a memorable experience for every traveler. So, pack your bags and embark on a journey to discover the wonders of this Swiss gem.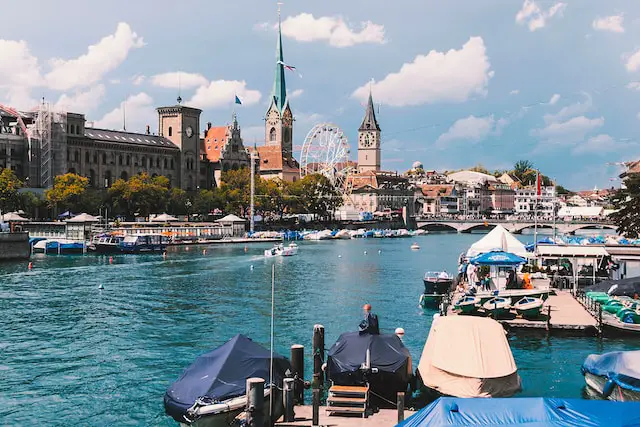 Day Trip Ideas
While exploring Zürich itself can keep you busy for days, the city's strategic location allows for exciting day trips to nearby destinations. Here are some day trip ideas to consider:
Lucerne: Just an hour's train ride from Zürich, Lucerne is a charming city known for its well-preserved medieval architecture and stunning lake views. Don't miss the Chapel Bridge (Kapellbrücke) and a boat trip on Lake Lucerne.
Bern: Switzerland's capital, Bern, is approximately 1.5 hours away by train. Explore the UNESCO-listed old town, known for its medieval architecture, clock tower (Zytglogge), and the Bear Park.
Zug: Known for its picturesque old town and the beautiful Lake Zug, this town is only a 30-minute train ride from Zürich. Stroll along the promenade, visit museums, and enjoy the local cuisine.
Rhine Falls: Europe's largest waterfall, Rhine Falls, is around a 1.5-hour drive from Zürich. Witness the power of nature up close and take a boat ride to get even closer to the cascading waters.
Chur and the Swiss Grand Canyon: Located a little over an hour from Zürich, Chur is the oldest city in Switzerland and serves as a gateway to the nearby Rhine Gorge, often referred to as the "Swiss Grand Canyon." Explore the gorge's stunning landscapes and hike along the Rhine River.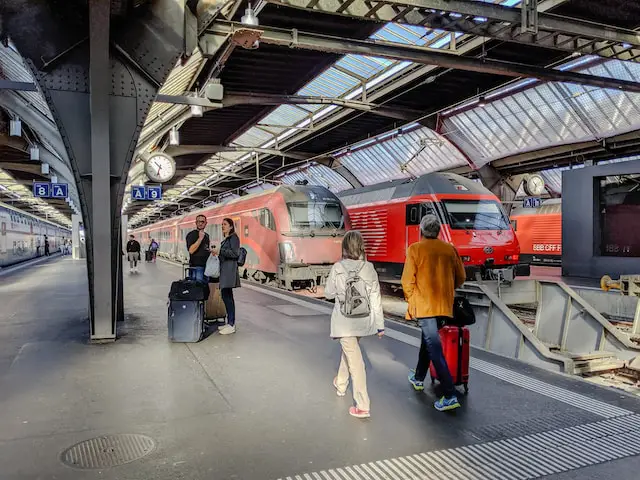 Tips for Exploring Zürich
Swiss Travel Pass: Consider getting a Swiss Travel Pass, which provides unlimited travel on the Swiss Travel System network, including trains, trams, and buses. It also offers free or discounted entry to many museums and attractions.
Zürich Card: If you plan to spend most of your time in Zürich, the Zürich Card provides unlimited 2nd class travel by tram, bus, train, boat, and cableway within the city and surrounding region. It also grants free or reduced admission to many museums.
Local Cuisine: Don't leave Zürich without trying local specialties like cheese fondue, raclette, and Swiss chocolate. Explore the city's markets, such as the weekly farmers' market at Bürkliplatz, to sample fresh produce and artisanal products.
Language: While Swiss German is the most commonly spoken language, English is widely understood in Zürich, making it relatively easy for English-speaking travelers to navigate the city.
Public Transportation: Zürich's public transportation system is efficient and well-connected. Trams and buses are the primary modes of transport within the city, and trains provide access to nearby towns and attractions.
Safety: Zürich is considered one of the safest cities in the world. It's common to see locals and tourists walking around at all hours, even late at night.
Zürich is a city that effortlessly combines modernity with tradition, offering travelers a diverse range of experiences. From savoring delicious Swiss cuisine to exploring the historical old town and taking in the natural beauty of the Swiss Alps and Lake Zürich, the city has something for everyone. Whether you're a history buff, an art enthusiast, or an outdoor adventurer, Zürich's attractions and day trip options will captivate your heart and leave you with lasting memories of this enchanting Swiss destination. So, plan your trip, immerse yourself in Zürich's unique culture, and enjoy all that this remarkable city has to offer.