55 Most Romantic Places in the U.S. to Visit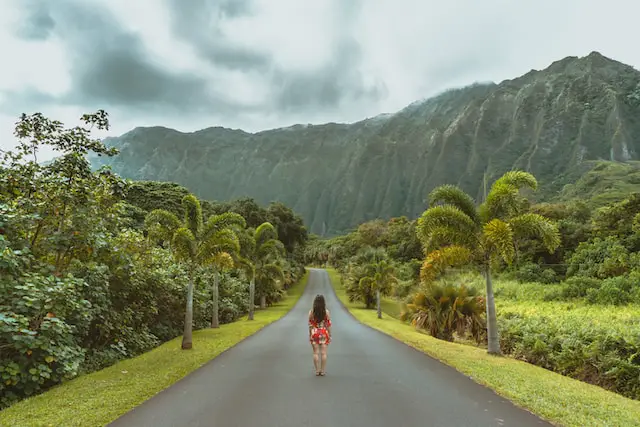 The United States is blessed with a diverse landscape that offers an abundance of romantic getaway destinations. From the pristine beaches of Hawaii to the majestic peaks of Colorado, the U.S. is home to some of the most romantic places in the world. Here are 55 of the most enchanting spots to consider for your next romantic getaway.
Maui, Hawaii: With its lush landscapes, serene beaches, and luxurious resorts, Maui provides the perfect backdrop for a romantic retreat. Don't miss the breathtaking Road to Hana drive.
Charleston, South Carolina: This charming southern city, with its cobblestone streets, historic architecture, and waterfront parks, is perfect for lovers. Try a horse-drawn carriage ride around the city.
Savannah, Georgia: Known for its southern charm, beautiful parks, and historic homes, Savannah is a romantic destination filled with old-world glamour.
Sedona, Arizona: Famous for its red rock formations, Sedona offers a unique and stunning landscape for outdoor-loving couples. A hot air balloon ride at sunset is a must.
Aspen, Colorado: In winter, cozy up in a mountain lodge, and during summer, take romantic hikes through wildflower meadows.
Napa Valley, California: Wine-loving couples will find this region's vineyards, tasting rooms, and fine dining restaurants irresistibly romantic.
New Orleans, Louisiana: With its vibrant music scene, delicious cuisine, and unique culture, New Orleans offers a lively and unusual romantic getaway.
Miami, Florida: The city's vibrant nightlife, beautiful beaches, and luxury resorts make it a perfect romantic escape.
Portland, Maine: Visit this coastal city for its historic charm, fantastic seafood, and romantic harbor views.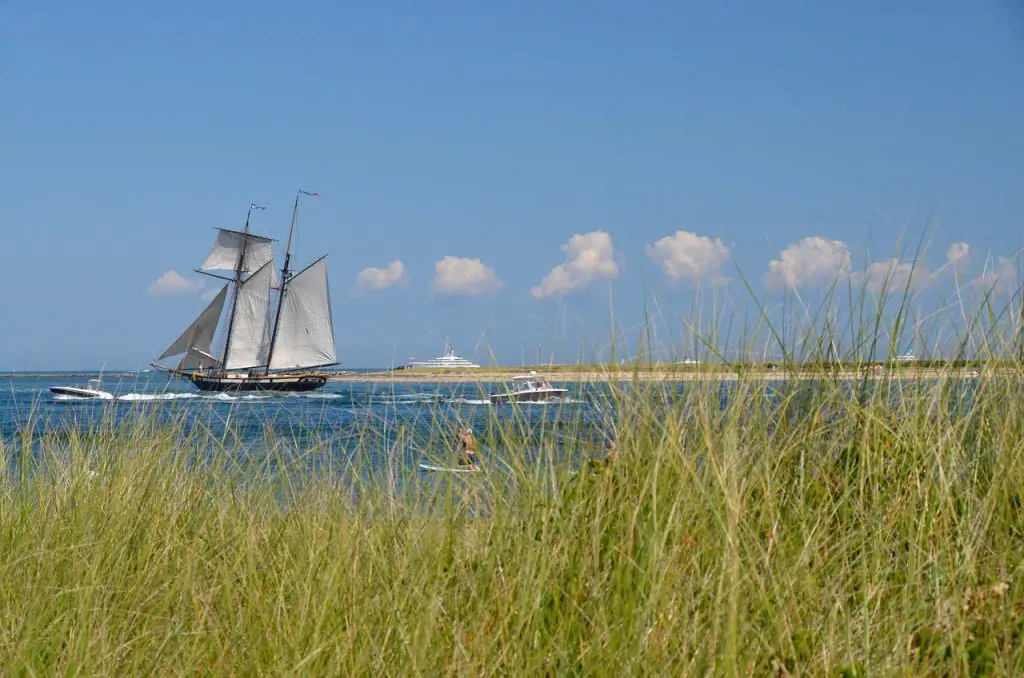 Nantucket, Massachusetts: This quaint island offers beautiful beaches, historic lighthouses, and a charming downtown area.
San Francisco, California: The Golden Gate City is famous for its picturesque views, fantastic food, and vibrant culture.
Lake Tahoe, California/Nevada: Whether it's skiing in winter or boating in summer, Lake Tahoe offers year-round romance with its stunning natural beauty.
Santa Fe, New Mexico: Visit for the city's rich history, unique architecture, and a vibrant arts scene.
Key West, Florida: The southernmost point in the U.S. offers beautiful beaches, crystal clear waters, and stunning sunsets.
Portland, Oregon: Known for its coffee culture, food scene, and beautiful rose garden, Portland is a hip and happening place for lovebirds.
Chicago, Illinois: Enjoy a romantic boat ride on Lake Michigan or a scenic walk along the city's riverwalk.
Nashville, Tennessee: For music-loving couples, the live music and rich history of Nashville are hard to beat.
Big Sur, California: With its dramatic coastline and beautiful hiking trails, Big Sur is a paradise for nature-loving couples.
Cape Cod, Massachusetts: Famous for its quaint villages, lighthouses, and beaches, Cape Cod offers a classic New England romantic retreat.
Austin, Texas: Enjoy the city's lively music scene, beautiful parks, and delicious barbecue.
Newport, Rhode Island: Known for its Gilded Age mansions and sailing culture, Newport offers a luxurious romantic getaway.
Charlottesville, Virginia: Visit for the city's rich history, stunning architecture, and the nearby Shenandoah National Park.
Jackson Hole, Wyoming: With its rugged mountain beauty, Jackson Hole is
an ideal destination for adventurous couples. The Grand Teton National Park offers incredible hiking, while the luxurious resorts and spas allow for relaxation after a day in the great outdoors.
Hilton Head, South Carolina: Hilton Head's beautiful beaches, golf courses, and scenic bike paths make it a lovely place for a romantic retreat.
Boulder, Colorado: Experience the stunning natural beauty of the Rocky Mountains with hikes, bike rides, or simply enjoying a picnic with a view.
Las Vegas, Nevada: For an exciting getaway, Las Vegas offers dazzling shows, gourmet dining, and the chance to elope at a moment's notice!
Palm Springs, California: Offering a retro charm, world-class golf courses, and relaxing spas, Palm Springs is a desert oasis.
Martha's Vineyard, Massachusetts: The island's beautiful beaches, charming lighthouses, and quiet countryside make it a wonderful romantic getaway.
Saratoga Springs, New York: Known for its historic mineral springs, horse racing, and charming downtown area, Saratoga Springs is a delightful retreat.
St. Augustine, Florida: As the oldest city in the U.S., St. Augustine's rich history and Spanish architecture provide a unique backdrop for romance.
Burlington, Vermont: Visit this charming city for its beautiful Lake Champlain views, lively arts scene, and farm-to-table dining.
Boothbay Harbor, Maine: This coastal town offers picturesque scenery, boating excursions, and charming shops and restaurants.
Asheville, North Carolina: Visit for the city's vibrant arts scene, historic architecture, and the nearby Blue Ridge Mountains.
Annapolis, Maryland: Known for its maritime history and colonial architecture, Annapolis offers a quaint and quiet romantic getaway.
Carmel-by-the-Sea, California: This charming beach city is perfect for romantic walks on the beach, wine tasting, and shopping at local boutiques.
Montauk, New York: Known as "The End" for being at the tip of Long Island, Montauk offers beautiful beaches and a laid-back vibe.
San Antonio, Texas: The city's River Walk is ideal for a romantic stroll, followed by some authentic Tex-Mex cuisine.
Sonoma, California: Another wine country paradise, Sonoma offers vineyard tours, wine tastings, and beautiful landscapes.
Sausalito, California: This charming town offers stunning San Francisco Bay views, boat tours, and unique art galleries.
Galena, Illinois: Visit for the town's historic charm, scenic landscapes, and wine tasting tours.
Mendocino, California: Known for its rugged coastline and beautiful redwood forests, Mendocino is a picturesque and quiet getaway.
Santa Barbara, California: With its Spanish colonial architecture, vineyards, and beautiful beaches, Santa Barbara is often referred to as the American Riviera.
The Florida Keys: These tropical islands offer stunning coral reefs for snorkeling and diving, delicious seafood, and beautiful sunsets.
Gatlinburg, Tennessee: As the gateway to the Great Smoky Mountains National Park, Gatlinburg offers hiking, horseback riding, and cozy mountain cabins.
Block Island, Rhode Island: Just off the coast of Rhode Island, this island offers beautiful beaches, lighthouses, and cliffside views.
Kennebunkport, Maine: Known for its maritime charm, beautiful beaches, and historic architecture, Kennebunkport is a quintessential New England getaway.
Chincoteague, Virginia: This coastal town is famous for its wild ponies, beautiful beaches, and serene landscapes, offering a peaceful retreat for nature-loving couples.
Sarasota, Florida: With its beautiful beaches, vibrant arts scene, and Ringling Museum of Art, Sarasota combines culture and seaside charm.
Telluride, Colorado: This mountain town is known for its skiing, but its summer festivals and beautiful fall foliage make it a year-round romantic destination.
Alexandria, Virginia: With its cobblestone streets, historic buildings, and waterfront views, Alexandria exudes colonial charm.
Monterey, California: Visit the famous Monterey Bay Aquarium, take a scenic drive along the Pacific Coast Highway, or enjoy a picnic on the beautiful beaches.
Mackinac Island, Michigan: Step back in time in this car-free island. Horse-drawn carriages, bicycle rides, and fudge shops add to the romantic appeal.
Lahaina, Hawaii: Enjoy a luau, watch the sunset on Kaanapali Beach, or take a boat tour to spot whales in this historic Hawaiian town.
Amelia Island, Florida: This barrier island offers beautiful beaches, historic sites, and a charming downtown area.
Juneau, Alaska: For truly adventurous couples, Juneau offers glaciers to explore, wildlife to spot, and northern lights to marvel at.
Conclusion
With diverse landscapes, vibrant cities, and charming towns, the United States offers a plethora of options for romantic getaways. Whether you prefer a beach retreat, a mountain adventure, a wine country escape, or a historic city tour, there's a perfect romantic destination for every couple in the U.S. It's time to start planning your next romantic getaway today!