Bristol England Travel Guide for Digital Nomads
Bristol, a bustling city in the southwest of England, is the epitome of a digital nomad's haven. Characterized by its illustrious maritime history, a vibrant art scene, eclectic neighborhoods, and an inviting tech scene, it has become a popular choice for digital nomads from around the globe.
Overview of Bristol

Bristol lies along the River Avon, and its scenic waterways form a significant part of its charm. Its historic seaport, the Floating Harbour, teems with unique houseboats, vintage markets, and waterside eateries. The city is also known for its vibrant street art, much of it a tribute to the infamous street artist Banksy, who originated here.
Bristol is a fusion of the old and the new. As you walk through the city, you'll find 18th-century architecture sitting alongside contemporary structures. It is a city that celebrates its history, but also welcomes innovation, making it an ideal location for digital nomads who thrive in a vibrant, dynamic environment.
Working in Bristol

Bristol's thriving tech scene provides an attractive backdrop for digital nomads. The city is known for its successful start-ups, digital innovators and is a hub for aerospace, robotics, and fintech industries. With super-fast internet connectivity and a plethora of coworking spaces, Bristol is a digital nomad's paradise.
Co-working Spaces

Coworking spaces abound in Bristol, each offering a unique set of amenities. Desklodge House is one of the city's best, providing hot desks, meeting rooms, and an engaging community of freelancers and entrepreneurs. Another notable space is Origin Workspace, known for its wellness-focused environment, complete with a workout studio and an on-site gym.
The Guild, located in a historic building, combines the charm of Bristol's history with the convenience of modern amenities, offering a perfect blend of past and present. For those looking for a more relaxed atmosphere, the Tobacco Factory has a unique coworking space on the top floor, boasting stunning views of the city.
Cafes

If you prefer a less formal setting, Bristol's café culture won't disappoint. Coffee + Beer is a favourite among locals, providing quality brews during the day and a selection of craft beers in the evening. The Watershed Café, located by the Floating Harbour, offers a vibrant atmosphere, fast Wi-Fi, and a brilliant view of the waterfront.
Living in Bristol

Bristol is made up of numerous districts, each with its unique charm and amenities.
Neighborhoods

Clifton is known for its regency architecture, the iconic Clifton Suspension Bridge, and the vast Clifton Downs – an expanse of greenery perfect for unwinding. It has a number of high-end boutiques, cozy pubs, and cafes.
In contrast, Stokes Croft, often referred to as Bristol's bohemian quarter, is teeming with street art, independent shops, and an energetic nightlife scene. Easton, a multicultural neighbourhood, is home to St. Mark's Road, where you can sample cuisines from around the world.
Cost of Living

The cost of living in Bristol, while not as high as London, can be pricier than other cities in the UK. You can expect to pay between £800 to £1,200 per month for a one-bedroom apartment in the city center. However, the city offers excellent value for the quality of life it provides.
Leisure in Bristol

Bristol's cultural scene is rich and varied, offering something for everyone.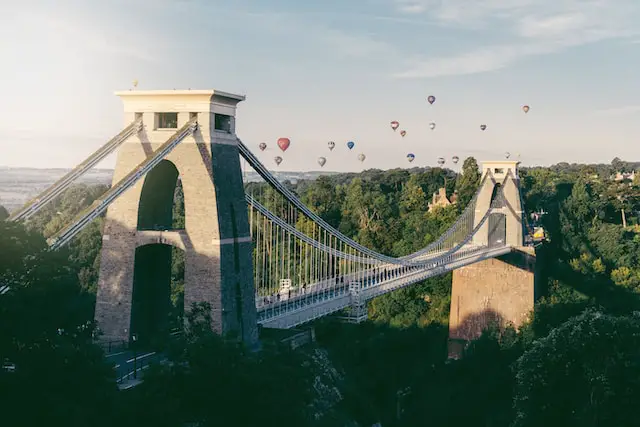 Art and Culture

Street art is ubiquitous in Bristol. You can see the work of Banksy, the city's most famous son, on a self-guided Banksy walking tour. The Bristol Museum & Art Gallery houses world-class collections of art, archaeology, geology, and natural history.
Nature and Outdoor Activities

Bristol's parks and green spaces offer plenty of opportunities for outdoor activities. Ashton Court Estate, a 16th-century mansion and park, is perfect for hiking and cycling. Bristol's harbourside is a lovely place to stroll, offering fantastic views and numerous waterside restaurants and bars.
The city's location in southwest England also makes it an ideal base for exploring other attractions such as the ancient Roman city of Bath, the Cotswolds, and the Mendip Hills.
Food and Drink

Bristol's food scene is one of the most exciting in the UK, with a variety of food markets, independent restaurants, and gastropubs. For street food lovers, St. Nicholas Market, affectionately known as St Nicks, is a must-visit. The Michelin-starred restaurant Casamia offers an innovative dining experience for those looking for something more upscale.
Bristol's craft beer scene is booming. Breweries like Moor Beer, Lost and Grounded, and Left Handed Giant offer brewery tours and tastings.
Conclusion

Bristol's mix of rich history, vibrant culture, thriving tech scene, and quality of life make it a compelling choice for digital nomads. With a strong community, ample co-working spaces, a diverse food scene, and plenty of leisure activities, it's easy to see why Bristol is a favorite among remote workers. Whether you're looking to stay for a month or a year, Bristol is a city that will undoubtedly inspire and excite you.